After the much bigger Boston, Worcester is the most populous city and largest center for the arts in New England. As such, countless top-class museums and performing arts venues are scattered about town with the 1857 Mechanics Hall and Worcester Art Museum being the pick of the bunch.
Due to its central setting in Massachusetts, it is known as the 'Heart of the Commonwealth' with the city lying almost equidistant from both Boston and Springfield. Its other nickname is the 'City of the Seven Hills' with its rolling valleys remarkably containing twelve colleges and loads of pretty parks.
Offering up the perfect mix of history, art and outdoor activities, the Woo is an oft-overlooked gem that has a lot going for it. With concerts, shows and art exhibitions taking place all the time, there are always some new things to do in Worcester to discover.
In this post, we'll cover:
12. Hanover Theatre
Along with Mechanics Hall, the Hanover Theatre is definitely one of the most memorable venues at which to see a show in Worcester. Its opulent interior with all its shining chandeliers and impressive dome makes it a delightful place to catch Broadway shows, theatre performances and comedic acts.
Known as the 'cultural jewel of Central Massachusetts', the city's oldest and finest vaudeville theatre was first opened to the public in 1904. Shortly afterwards it was remodeled as a movie palace, only shutting in 1998 due to dwindling numbers and a sense of decline about the place.
Now thankfully restored to its former glory, its hallowed stage puts on a packed schedule of touring Broadway shows and top-class musical acts. Its elegant auditorium also boasts terrific acoustics and perfect views from all its comfy seats.
11. Worcester Common
MOOT&T / Flickr
The heart and soul of life in town, the gorgeous green Worcester Common is set just a stone's throw from the theatre, right in the center of the city. As well as being lined by lots of impressive buildings and bustling businesses, its lush lawns are studded with important monuments and memorials.
Established back in 1669, the common has slowly dwindled in size as the city has grown around it. Looming above the oval end of the park is the wonderful Worcester City Hall and its lofty tower which were partly modeled after Italian Renaissance palazzos.
Dotted about its scenic confines, you can find striking memorials dedicated to the Civil War, WWII and Vietnam War. Another of its main landmarks is the Burnside Fountain and its bronze statue of a boy riding a sea turtle. Lined by countless shops and restaurants, the common has a lively feel with farmers' markets and live music regularly taking place.
10. American Antiquarian Society
DaSilva / Flickr
Located next to the Worcester Polytechnic Institute on the north side of town is the exceptional American Antiquarian Society. Both a national research library and learned society, it houses a huge collection of weighty tomes and manuscripts, many of which are exceedingly rare or even unique.
On the initiative of Isaiah Thomas the early American printer, the country's oldest national historical society was set up in 1812. A century later, it moved into its current Georgian Revival-style building which now contains more than four million books, pamphlets, periodicals and newspapers.
At the AAS, guests can peruse exhibits on printing in eighteenth-century British North America and even see a copy of the Bay Psalm Book; the very first book printed in the nation. Talks and musical presentations are also held at the institute during the year.
9. Worcester Historical Museum
For those interested in learning everything there is to know about the City of the Seven Hills, a trip to the Worcester Historical Museum is simply a must. Situated in the center, just a few blocks from the common, its galleries are full of interesting exhibits and centuries-old artifacts.
Founded in 1875, it now occupies a beautiful brick building that used to house the headquarters of the city's horticultural society. Crammed inside are loads of well-done displays and historical photos that look at everything from the colonial-era and Civil War to local industry and citizens' inventions that impacted the world.
Its artifacts and artworks also uncover the origins of the iconic 'smiley face' design and Worcester's unlikely connection to deep-sea diving. In addition, the museum operates the nearby 1772 Salisbury Mansion which is well worth visiting for the informative tours around its well-restored interior.
8. Bancroft Tower
Looking very much like a miniature feudal castle from the days of yore, Bancroft Tower makes for some fabulous photos and viewing. Perched atop a massive hill in Salisbury Park, it gazes out over downtown Worcester in the distance with lovely green grounds and woods lying all around it.
Built out of boulders and cobbles, the two-story structure features two crenelated square towers at each end with a larger, off-center circular one rising between them. It was erected in 1900 by the wealthy philanthropist Stephen Salisbury III in memory of his childhood friend George Bancroft. At the bottom of the tower is a memorial plaque dedicated to the prominent historian and statesman.
Now a National Historic Landmark, the 56-foot-high tower is a very peaceful and photogenic place to stop by with leafy paths winding their way all about the park.
7. Mechanics Hall
Often ranked among North America's most beautiful concert venues, Mechanics Hall is a must-visit when in Worcester. Aside from its exquisite Renaissance Revival-style architecture, it is renowned for excellent acoustics and the stunning details of its decor.
Actually built in 1857 to house the educational and cultural activities of the Mechanics association, its grand and cavernous interior was only turned into a performing arts venue in 1977. Since then, it has put on thousands of sold-out shows with everything from concerts and theatre performances to lectures, comedy shows and dance productions taking place.
Besides all its refined rooms that have been tastefully restored, it is also known for its original 1864 Hook Organ which is the oldest unaltered one in the Western Hemisphere. What makes its shows so special though are the hall's phenomenal acoustics which are often compared with those of Carnegie Hall in New York City.
6. Elm Park
Long a firm favorite with families, Elm Park is home to lots of picturesque paths, picnic areas and a well-equipped playground. Lying just a short drive directly west of downtown, its gorgeous green spaces make it a great place to relax, unwind or enjoy some outdoor activities.
Established in 1854, the park has recently undergone a huge renovation which has seen shiny new swings and slides installed and paths repaved. Its iconic old iron bridge over the Lincoln Pond was also restored and made accessible to all.
While the original part of the park is lovingly landscaped, the newer Newton Hill portion across the avenue is much wilder and untamed with basketball and tennis courts also being dotted about.
5. Blackstone River Greenway
A wonderful way to see yet more of the city and its scenic surroundings is to walk, run, jog or cycle along the Blackstone River Greenway. As well as connecting numerous communities and tourist attractions in Worcester, it takes you past a wealth of pristine nature spots and pretty parks.
Once completed, the almost fifty-mile-long trail will reach from the center of Worcester to Providence in Rhode Island. As it is, the multipurpose path only stretches until Millbury at the moment, some 2.5 miles away.
Even so, it is still well worth exploring the idyllic greenway as it mostly follows alongside both the Blackstone River and its adjacent canal. In addition to enjoying fine views over the waterways and their surrounding nature, you can also learn more about the history of the area in the Blackstone Heritage Corridor Visitor Centre.
4. Wormtown Brewery
Wormtown Brewery / Facebook
After all the sightseeing, shows and strenuous outdoor activities, what better way to relax than with a freshly pulled pint at the Wormtown Brewery. At their trendy facility along Worcester's restaurant row, you can take terrific tastings of its delicious ales and IPAs with free tours on offer at weekends.
Since starting out life as an ice cream stand in 2010, the brewery has accumulated a staggering 180 awards for its imaginative brews produced from locally sourced ingredients. They consistently push the boundaries of what's possible, as some IPAs taste of pumpkin and chocolate pecan and others of blueberry lemon and strawberry rhubarb.
As the brewery has a lively yet laidback feel, its taproom is a very pleasant place to spend time with tasty food and live music only adding to the ambience.
3. EcoTarium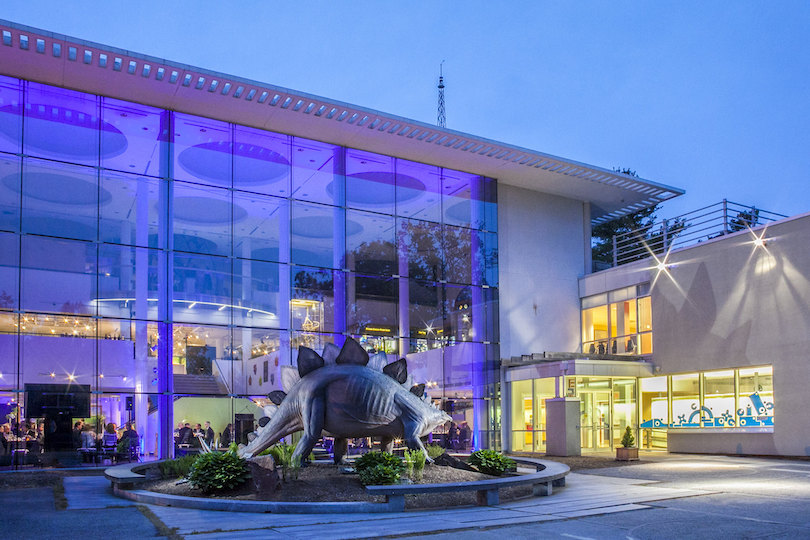 MOOT&T / Flickr
Head just a bit further east of the brewery and you'll come across the outstanding EcoTarium which is New England's leading science and nature museum. Full of fun hands-on activities, its sprawling campus encourages young and old alike to interact with the natural world all around them.
While its roots date back to 1825, it moved to its current site in the seventies after having outgrown all its previous locations. Constantly improving, the splendid science center now has three floors of interactive exhibits to explore while spacious enclosures home to otters and mountain lions lie outside.
Visitors can also take a relaxing train ride around its grounds or hike about its trails. While the museum's collection of fossils is always a popular draw, its planetarium takes you on an unforgettable journey to the outer reaches of the galaxy.
2. Green Hill Park
Covering an enormous area northeast of downtown is the peaceful and picturesque Green Hill Park. By far the largest green space in the city, its plethora of scenic paths and pristine playing fields offer up all kinds of exciting outdoor activities.
Once the private estate of the Green family, the vast tract of land was donated to Worcester in 1905 for all its citizens to enjoy. Spread across the crest of one of its seven hills, it includes an arboretum, ponds and lawns with a petting zoo and golf course also dotted about amidst all the greenery.
Among the park's main landmarks is the charming old shelter that was completed back in 1910 and the moving Massachusetts Vietnam Veterans Memorial.
1. Worcester Art Museum
Destination Worcester / Flickr
Undoubtedly the city's standout sight, the Worcester Art Museum boasts a world-class collection of paintings, photos and sculptures. Founded in 1898, it now occupies a ginormous building, just to the north of downtown.
The second-largest art museum in New England after Boston's Museum of Fine Arts, its four floors display about 40,000 artifacts and art pieces that date from antiquity to the present day. On show are not just masterpieces by Gauguin, Monet and Goya among others, but gorgeous Japanese prints and old arms and armor from around the Americas.
Particularly impressive is its grand Renaissance court decorated with elaborate Antioch mosaics and the twelfth-century Chapter House that was bought over from France and painstakingly reassembled in the museum. In addition to all its incredible treasures, the important cultural institute also puts on plenty of talks, lectures and workshops during the year.
Map of Things to Do in Worcester, MA