Taking a dip in the ocean right after work is something most people can only dream about. For some reason that turquoise sea and beautiful sandy beach just isn't next door. And moving out of the city and away from work doesn't sound like a good idea in this time of recession.
But there are a few places that offer the best of both worlds: city sophistication and great beaches. This top 10 includes those famous cities that are blessed with some of the best city beaches in the world.
10. Jumeirah Beach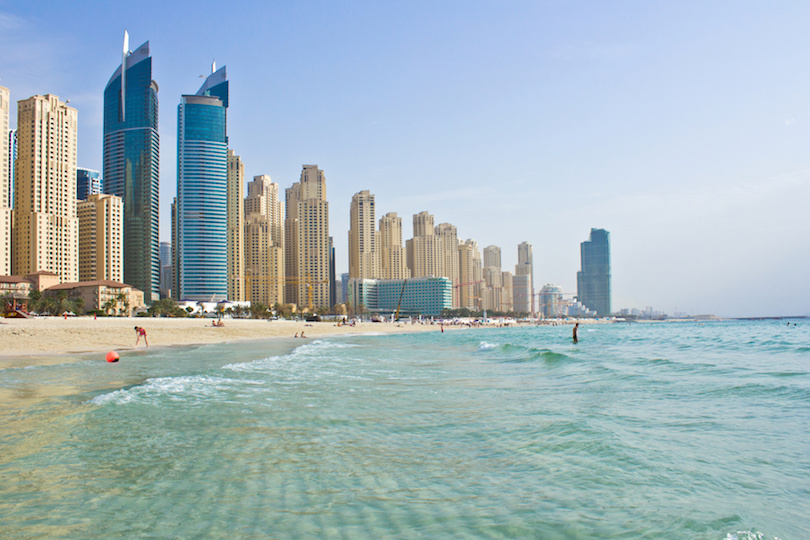 Jumeirah Beach is the most popular beach in Dubai and probably best known for the Burj Al Arab 7 Star Hotel and Jumeirah Beach Hotel that both rise high above the sand. Other attractions here are the warm turquoise waters of the Arabian Gulf and the soft white sand.
Unfortunately, as a result of rapid expansion and poor planning Dubai's beaches have been contaminated with raw sewage in recent months, leading doctors to warn of health risks. This has prompted Dubai to use the international 'blue flag' system in the future to signify to bathers that their swimming spot is eco-friendly.
9. Barceloneta
Barceloneta is Barcelona's main city beach. It's close to the center, easily accessible by public transport and has among the best fish restaurants in town. Along the 1,100 meter sandy beach runs a walkway popular with joggers and cyclist. Not surprisingly this place can get crowded, especially during the summer months when the beach bars (chiringuitos) open up and the beach quickly fills up with locals and tourist.
8. Clifton Beach
RobW_ / Flickr
Cape Town has some of the best city beaches in the world to offer. Clifton Beach is certainly the trendiest of them all and is situated on the west Atlantic side only ten minutes from the city.
Clifton is actually a series of four beaches separated by a stretch of granite boulders. All the beaches have almost pure white sand and offer beautiful views and sunsets. The water although blue and appealing, is always very chilly averaging around 12 to 16 °C, and only bearable on a hot summer day.
7. Bondi Beach
The closest ocean beach to the center of Sydney, Bondi Beach has become synonymous with Sydney's beach lifestyle, and is very popular with Australians as well as international tourists. The beach is roughly a kilometer long and features many surf shops, cafés, restaurants, and bars along its promenade.
There is an underwater shark net for safety reasons although a shark did attack a surfer at Bondi Beach earlier this year, almost severing one of his hands, in the first reported attack in 80 years.
6. Repulse Bay Beach
Repulse Bay is Hong Kong's most popular city beach, located on the south side of Hong Kong Island. Sheltered by a cove, the bay offers a long and broad sandy beach with a calm tide and gentle wave, a sharp contrast with the frantic intensity of Hong Kong's downtown business area.
There is a park in traditional Chinese style near the beach that includes huge statues of the Kwun Yum and Tin Hau goddesses, which are more than ten meters high. Repulse Bay is one of the most expensive residential areas in Hong Kong due to the breath-taking views and nice surroundings.
5. Venice Beach
NickiMM / Flickr
Venice Beach is just one of those places you need to visit when you come to Los Angeles. The sandy three-mile beach here is just one of the attractions. During the summer season and on weekends, the Ocean Front Walk fills up with street performers and people just doing their thing: biking, rollerskating, swimming, sunbathing, and people watching.
Muscle Beach is a special area where fanatic bodybuilders pump iron in a public show of strength. California's governor Arnold Schwarzenegger used to be one of the regulars here during the 70s.
4. Ipanema
Ipanema, made famous by the bossa nova song "The Girl from Ipanema", is a beautiful city beach in Rio de Janeiro with miles and miles of pure white sand and two spectacular mountains called the Dois Irmãos (The Two Brothers) to the west side.
It can become crowded here, especially in the weekends and during holidays, as lots of locals flock to Ipanema Beach from the suburb of Ipanema. But if you get tired from the beach you can always cross the Avenida Atlantica to the upscale shops, awesome eateries and nightspots.
3. South Beach
Before Miami Vice, South Beach was a place where crime kept residents indoors at night and hotels stood mostly vacant. In the late 1980s helped by the TV show's popularity a renaissance began in South Beach, with an influx of fashion industry professionals moving into the area. Today South Beach is the most popular and richest area of Miami Beach. The area is known for its hip clubs and wild nightlife as well as its famous art deco design.
2. Waikiki Beach
Honolulu's Waikiki Beach is probably the first beach that comes to mind when most people think of Hawaii. With its magnificent views of the volcano Diamond Head and usually warm and cloud-free climate it is one of the most popular vacation destinations in the world.
Consequently, it is also by far the most crowded with high-rise resort hotels all along the 2.5 kilometer (1.5 mile) beach. Waikiki is a good place for learning how to surf as the waves are quite gentle, if you can manage not to hit or be hit by other beginners that is.
1. Copacabana
Located right in the center of Rio de Janeiro, Copacabana is one of the most famous city beaches in the world. The area offers a wonderfully rich setting of mountains and sea with the spectacular Sugarloaf mountain cascading right down into the Atlantic Ocean.
Copacabana is about 4 kilometers (2.5 miles) long with plenty of hotels, shops, bars, restaurants and nightclubs along it's sidewalk. With something always going on during the day and along the sidewalks at night, the beach has a non-stop party atmosphere, from people checking out the scene, playing volleybal and soccer, to drinking, eating and just relaxing.