One of the most beautiful cities in the world, Cape Town is set in a scenic spot along South Africa's southwest coast. Overlooked by the imposing Table Mountain, its combination of iconic natural sites and enticing neighborhoods make it irresistible to many.
Originally established in 1652 as a supply station for the Dutch East India Company's ships, it mostly hugs the sparkling shores of Table Bay. Over the years, it has slowly grown into the Rainbow Nation's second-largest city and now acts as its legislative capital. Very multicultural, its diverse population has had a profound impact on its history and culture, architecture and cuisine.
See also: Where to Stay in Cape Town
This makes the Mother City fascinating to explore as colourful neighborhoods like Bo-Kaap lie next to secluded beach communities and the sleek V&A Waterfront. While it also has a rich artistic scene to delve into, resplendent nature never lies far away. Besides hiking about its famous mountains and hills, other things to do in Cape Town include you seeing cute penguins or cage dive with sharks.
Besides these tourist attractions, add in the renowned Robben Island and all the wonderful wineries nearby and it is no surprise Cape Town is one of the most popular places to visit on the continent.
In this post, we'll cover:
27. Bay Harbour Market
Lots of fun to explore, the bustling Bay Harbour Market lies half an hour's drive south of the center of town. Along with its delicious dishes and delightfully made handicrafts, it boasts some unbelievable views and brilliant live music.
Located in a former fish factory alongside Hout Bay, its 100 stalls spill into covered alleys and courtyards. Since being established in 2011, the happening market has been a favorite Friday night hangout of locals and tourists alike.
Asides from sampling some fresh seafood and South African wines, you can pick up everything from cupcakes and ice cream to handcrafted jewellery, carvings and clothes. Also, open on Saturdays and Sundays, it has a laidback ambience with local music acts often performed by the bay.
26. Bloubergstrand Beach
On the opposite side of the city to the market is the absolutely stunning Bloubergstrand Beach. Lying along the shores of Table Bay, its sweeping sands offer some of the best views of Table Mountain's instantly recognizable outline, far off in the distance.
Meaning 'Blue Mountain Beach' in Afrikaans, it and the seaside suburb alongside it are named after a nearby hill. Divided into two sections known as Big Bay and Small Bay, it has tons of exciting outdoor activities to try.
While the former's wild winds attract kitesurfers and windsurfers, the latter's white sands are perfect for lounging about lazily. You can also enjoy picnics and braais here or explore its nearby rock pools and nature reserve. This is home to loads of local fauna and flora with a number of excellent seafood restaurants also found nearby.
25. Groot Constantia
One of Cape Town's 'Big 6', Groot Constantia lies ten minute drive from Hout Bay and Kirstenbosch National Botanical Garden. The oldest winery in SA, the heritage site has a museum, restaurants and wine tastings for guests to enjoy.
Set in a very picturesque spot amidst gorgeous grounds and vineyards, the attractive old estate was founded in 1685. Its magnificent Cape Dutch manor house now contains interesting exhibits on farm life here over the centuries. These look at the lives of both the masters and their slaves, historic wine production and Constantia Valley's botany.
Other than examining its old artifacts, furniture and artworks, you can take tours around its cellars and vineyards. Afterwards, make sure to sample some wines or stop for a sumptuous meal at either Jonkershuis or Simon's Restaurant. Although we had already been to Stellenbosch, we thought Groot Constantia was still worth visiting for its unique history, idyllic setting and incredible wines.
24. Stroll along Sea Point Promenade
For yet more spectacular views over the city, ocean and mountains, slowly stroll along the Sea Point Promenade. Backed by the Lion's Head and Signal Hill, the winding route is very popular with joggers, cyclists and dog-walkers alike.
Hugging the wild Atlantic, the pretty promenade stretches seven kilometers in total, taking you from Bantry Bay to Mouille Point. Along the way, it passes several beaches, outdoor art installations and a saltwater swimming pool. You can also visit the historic 1824 Green Point Lighthouse and the lovely park of the same name.
On top of enjoying some exercise and basking in the breathtaking views, you can stop off at some of the numerous bars and restaurants lining the route. One of Cape Town's most affluent and exclusive suburbs, Sea Point is situated just south of its CBD.
23. Company's Gardens
An oasis of peace and calm, the Company's Gardens occupy a prominent spot right in the center of the city. Bordered by many of its most important museums and art galleries, it has lots of lush green spaces, colourful flowerbeds and astounding old monuments for visitors to wander around.
The oldest garden in all of South Africa, it was created in the 1650s by the Dutch East India Company. In addition to providing fresh produce for the fledgling settlement, its vegetable gardens replenished ships rounding the Cape.
Nowadays, it contains a remarkable range of plants, flowers, trees and shrubs with historical statues dotted here and there. These include an arresting Artillery Monument, a sculpture of Cecil Rhodes and the 1805 Lioness Gateway. Table Mountain also looms dramatically above its verdant foliage and the Iziko South African Museum found on its grounds.
22. Cage Dive with Great White Sharks
If after the peaceful walks and gardens, you want to really set your heart racing, then cage diving with Great White Sharks should be on your list of things to do in Cape towns! From the center of town, numerous companies run unforgettable excursions to see the majestic creatures up close and personal.
Most of these transport you two hours down the cape to Gansbaai – the 'Great White Shark Capital of the World'. On the way to the dive site, some fifteen minutes offshore, your knowledgeable guide will tell you what to expect. After learning about the famous sharks and getting kitted out in wetsuits, you can finally enter the sturdy floating cage.
Although not a given, adventurous guests can almost always spot some Great White Sharks swirling about beneath the waves. Watching them shoot by the cage is an exhilarating experience with other sharks and marine life usually sighted alongside them.
The best time of year to go cage diving is from June through to September. This is when the visibility is clearest, the water is coldest and plenty of Great Whites migrate to the area.
21. South African Jewish Museum
Back in the city center alongside the Company's Gardens is the South African Jewish Museum. Very interesting to explore, its artifacts and exhibits examine the history of Judaism and Jewish life in the country over the last 150 years.
A marvel of modern architecture, its galleries house countless displays of the community's origins, identity and impact on South Africa. Historical photos and audio-visual installations also shine a light on their important role in opposing apartheid and aiding Nelson Mandela.
At the site, you can also see the Rainbow Nation's oldest and most impressive synagogue. There is also a fine collection of Japanese miniatures to peruse before visiting the moving Holocaust Center alongside it. This tells the stories of families who had relatives in Europe during WWII and survivors who made it to SA.
20. Camps Bay Beach
Another picture-perfect spot to spend some time is Camps Bay Beach. Very popular with both locals and tourists alike, its white sands offer loads of fun activities and amazing mountain views. The little secluded suburb is also known for its trendy cocktail bars and terrific restaurants.
Located just south of Sea Point, the small bay and beautiful beach line the western coast of the Cape Peninsula. Asides from swimming and sunbathing, you can splash about its tidal pools and clamber about cool rock formations. All the while, there are divine panoramas to enjoy of the Twelve Apostles looming above the entire coastline.
After topping up your tan, you can also try out great restaurants like the Codfather, PRIMI and Tiger's Milk. Chinchilla is another popular haunt due to the spectacular sunsets and views available from its terrace. With so much going for it, Camps Bay Beach was one of our favorite stops in Cape Town.
19. Canal Walk Shopping Center
The largest shopping center in the city, Canal Walk is the ideal place to head for some retail therapy. Its 400 stores, restaurants and cinema lie ten minutes' drive northeast of the center in Century City.
First unveiled to the public in 2000, the upscale complex showcases some stunning 'Cape Venetian' architecture. Once past its grand entrance and gorgeous grounds and water features, you'll find tons of wrought-iron pillars, elegant corinthian columns and atrium-like ceilings decorating its interior.
After shopping til you drop at stores like H&M, Nike and Skechers, hit up its cavernous food court for some much-needed refreshments. The massive two-story mall also has a movie theater showing all the latest releases. Outside, its relaxing canal walk takes you past pretty ponds and flowerbeds.
18. Zeitz MOCAA
Home to an incredible collection of contemporary African artworks, Zeitz MOCAA can be found right in the heart of the Victoria & Alfred Waterfront. A must for art aficionados, its enthralling exhibitions occupy what was once a huge, historic grain silo.
The largest museum of its kind on the continent, it was only established in 2017 with its cutting-edge collection now spread across seven floors. On show is everything from fantastic prints and paintings to thought-provoking textiles, carvings and video installations. Many galleries feature works by South Africans with others focusing on modern masterpieces by Malian, Congolese and Kenyan artists.
Just as impressive as the range of artworks is the absolutely remarkable building itself. Completely re-imagined, its enormous atriums and event spaces, spiral staircases and concrete corridors are all very atmospheric to explore. In the end, we actually preferred its striking shapes and unusual design to the collection! Its rooftop bar also boasts breathtaking views of the city and the mountains around it.
17. Greenmarket Square
Along with the waterfront, Greenmarket Square is one of the loveliest and liveliest neighborhoods to walk about in Cape Town. Dotting its surrounding streets are dozens of shops and restaurants while a flea market mainly selling African arts, crafts and souvenirs sprawls across its old cobblestones.
Set right in the center of the City Bowl area, the historic square has been around since 1696. Over the centuries, it has served as a slave market, vegetable market, and parking spaces. Plenty of important political protests also took place here during Apartheid.
Now one of the most popular tourist attractions in Cape Town, its rows of colourful stands and stalls sell locally-crafted jewellery, clothes and statues. Overlooking it are some important historical buildings like the Old Town House. Well worth visiting, the refined Rococo-style structure now houses a fine collection of Dutch Golden Age artworks.
16. Old Biscuit Mill
Another place people head to eat, shop, drink and make merry is the Old Biscuit Mill in Woodstock. A very vibrant community, it contains scores of creative design shops, unique boutiques and top-class restaurants serving up culinary treats.
Affectionately known as the Mill, the must-visit, mixed-use space occupies what was once a biscuit factory in the early 1900s. Transformed into a dynamic artistic hub just over ten years ago, its small shops display intriguing designs by local craftspeople. While some sell one-of-a-kind furniture pieces and fashion items, others focus on paintings, photos, sculptures and prints.
On top of this, the cool-looking industrial-style complex is home to a number of award-winning dining establishments. On offer are mouthwatering curries, tacos and burgers with the fun Neighborhoods Market being held outside at the weekends. Only adding to the ambience is the sublime street art on show and the live music that often lights up the bustling venue.
15. Lion's Head & Signal Hill
Two of Cape Town's most distinctive, defining landmarks, the Lion's Head & Signal Hill both make for some phenomenal photos. Together with Table Mountain, the mighty mounts form the colossal City Bowl – the coastal settlement's breathtaking backdrop.
Bordered by Bo-Kaap, Sea Point and the V&A Waterfront, the two hulking great hills look somewhat sphinx-like when seen alongside each other. While the former towers 699 meters in total and is more pointed, the latter is much longer, lower and flatter. In the past, signal flags were flown here to warn visiting ships about the weather and communicate anchoring instructions.
From atop both of them, you can enjoy spellbinding views of the city and coast below. Aside from hiking or driving up their side, adrenaline seekers can paraglide down for an even more memorable experience.
14. Visit the Cape Winelands
As the Rainbow Nation is renowned for its reds, whites and roses, a visit to the Cape Winelands is an absolute must. Covering a massive part of the Western Cape, its fertile vineyards start appearing just forty minutes' drive east of town.
For centuries now, grapes have been grown here thanks to the area's hot dry summers and cool wet winters. Its picturesque plains encompass scores of outstanding wineries with the historic university town of Stellenbosch lying at its heart.
From here, you can take terrific wine-tasting tours at award-winning estates like Beyerskloof, Haute Cabriere and Middelvlei. We really loved the superb wines we sampled and the gorgeous settings of each winery. To top it off, their grounds usually boast unforgettable panoramas of the dramatic Cape Fold Mountains in the distance.
13. Two Oceans Aquarium
Yet another top tourist attraction along the Victoria & Alfred Waterfront is the Two Oceans Aquarium. As its name suggests, its large tanks contain shimmering shoals of fish, sharks and sea turtles from both the Atlantic and Indian oceans that border South Africa.
A firm favorite with families, the state-of-the-art aquarium was opened in 1995 with over 8,000 fish inhabiting its exhibits. Among its more than 300 marine species on show are seahorses and starfish, amazing moray eels and cute African penguins.
Other than seeing its lush kelp forests and camouflaged octopi, visitors can learn about the country's coastal and oceanic ecosystems. Besides its informative yet entertaining penguin and shark feeding sessions, the undoubted highlight is its immense I&J Ocean Exhibit. Watching majestic manta rays and sea turtles swirl about the aquarium's ginormous wall of water really is an epic experience.
12. District Six Museum
Offering up an invaluable look at the area under Apartheid is the very well-done District Six Museum. Its artifacts, photos and exhibits detail how the brutal nationalistic government destroyed the once vibrant multiracial neighborhood during the 1970s.
Situated just a short walk southeast of the center, the museum occupies an old Methodist church in what was once District Six. As residents resisted efforts to turn it into a 'whites only' area, the army eventually evicted 60,000 of them. Its buildings were then bulldozed so they couldn't return.
Covering its floor is a large map of the neighborhood depicting its layout and where the roads and houses were. The handwritten notes of former inhabitants and historic photos also help preserve its memory and what happened. Along with the very moving Apartheid Museum in Johannesburg, it was the best museum on the subject we came across in South Africa.
11. Chapman's Peak Drive
Winding its way along the western coast of the Cape Peninsula, Chapman's Peak Drive is one of the most spectacular roads in the world. With endless ocean to one side and rearing rocky mountains to the other, cruising along Chappies is simply a must when in Cape Town.
An incredible engineering accomplishment, its meandering route was hewn into the sheer rock side between 1915 and 1922. Overlooking precipitous drops, the road stretches nine kilometers in length and connects Hout Bay to Noordhoek. Towering above it is the prominent peak for which it is named.
As you twist and turn along the marine drive, you can drink in delightful views of the coast and cape. Sunset is a particularly stunning time as the sun glints so magically off of the sparkling waves below. Make sure to stop at some picnic and whale-watching spots to snap pics and linger longer looking at the view.
10. Surf at Muizenberg
Muizenberg Beach is a coastal suburb of Cape Town. The sandy beach isn't very long, but the water is warmer to swim in than other Cape Beaches. Its biggest attraction, however, may be the waves that make it popular with surfers; it is where surfing began in South Africa. Muizenberg Beach is a good place to learn this water sport, with lessons readily available.
The area fell into disrepair in the late 20th century, but is now pulling itself back up to its former splendor. Non-beach attractions include the house that Cecil Rhodes built and where he died in 1902.
9. Cape Point
Although it is not actually the southernmost tip of the continent, much more people go to Cape Point than Cape Agulhas further down the coast. This is because its rocky headland looks so dramatic and so much striking scenery and nature can be found nearby.
Now protected as part of the nature reserve of the same name, the jagged promontory juts out into the wild waters of the Atlantic. Perched atop its craggy cliffs are two lonely lighthouses to photo, one old and one new. Taking you up to them and the point's phenomenal viewpoints is the popular Flying Dutchman Funicular.
Another of Cape Town's 'Big 6', the picturesque point also has baboons, bucks and even ostriches to spy. With pristine beaches and excellent restaurants to try, Cape Point and its riveting panoramas are definitely not to be missed.
8. Boulders Beach Penguin Colony
There aren't too many places in the world where one can walk on the beach, sunbathe or swim with penguins as companions, but Boulders Beach is one of them.
Two penguins settled on this beach, an hour's drive from Cape Town, in 1982. Now more than 2,000 penguins call this beach home. These are African penguins, sometimes called "jackass" penguins because their chirps sound more like a donkey's bray than a bird tweet.
The path to the penguin area is wheel-chair accessible and allows visitors to get within a few feet of the penguins. While the penguins are used to humans, visitors should look, but not touch them, as they may bite if they get scared.
7. Castle of Good Hope
The Castle of Good Hope, shaped like a pentagon, is the oldest surviving colonial building in South Africa. The Dutch East India Company started construction on it in 1666 to replenish supplies for ships; its gate design includes the coats of arms of several Dutch cities.
It is a Cape military installation today, as well as home to the Castle Military Museum and the Iziko Museums of Cape Town. The Military Museum tells the history of the Cape, while the Iziko Museum displays historical paintings and antique furniture, known as the William Fehr collection.
6. Clifton Beaches
Cape Town has some of the best city beaches in the world to offer. Clifton Beach is certainly the trendiest of them all and is situated on the west Atlantic side only ten minutes from the city center. Clifton is actually a series of four beaches separated by a stretch of granite boulders.
All the beaches have almost pure white sand and offer beautiful views and sunsets. Unfortunately though the water looks blue and appealing, is in fact always very chilly averaging around 12 to 16 °C, and only bearable on a hot summer day.
5. Kirstenbosch
Renowned for its colourful flowers and captivating landscapes, Kirstenbosch is certainly one of the world's most magnificent botanical gardens. Tucked away at the eastern foot of Table Mountain, it is sure to astound nature lovers and outdoor enthusiasts alike.
Home to plants, flowers, trees and shrubs from almost every single one of South Africa's delightfully different biomes, it sprawls across an absolutely enormous area. While some parts of the garden are immaculately attended to, others are left wild and free.
Weaving their way amidst its manicured lawns and lush leafy sections are plenty of pretty paths for guests to explore. Aside from ambling past its stone statues or along its canopy trail, you can always enter its large glass conservatory. A couple of restaurants and cafes are also dotted about as is an outdoor amphitheater that hosts concerts and shows.
4. Bo-Kaap
Also known as the Malay Quarter, the colourful Bo-Kaap is certainly one of the most famous parts of Cape Town. Located just above the center on the slopes of Signal Hill, all its brightly painted houses and charming cobbled streets make for some fabulous photos.
Founded in the 1760s, the unique neighborhood was historically home to many Cape Malays; freed slaves from South East Asia. As they were mostly Muslim, the area is also noted for its mosques and shrines. Auwal Mosque for instance is the oldest in all of South Africa. You can learn more about its fascinating history and heritage in the enthralling Iziko Bo-Kaap Museum.
Its main appeal however is simply strolling about snapping photos of all its traditional buildings clad in vibrant pinks and yellows, reds, blues and greens. Coupled with the scenic mountains rising up in the background, its cheery streets really are a photographer's dream.
3. Victoria & Alfred Waterfront
Another of the most popular places to head in Cape Town is the vibrant Victoria & Alfred Waterfront. Set in the center alongside the ocean, the chic shopping and entertainment complex is overlooked by the towering Table Mountain.
A central part of the city's history, the waterfront started out as just a small jetty in 1654. Still part of South Africa's oldest working harbor, it has since transformed into an amazing mixed-use hub. Now you'll find hundreds of upscale shops and enticing restaurants here, a fun aquarium and excellent art museum too. There is also an African crafts market selling unique souvenirs while regular live music acts only add to its atmosphere.
We really enjoyed wandering along its picture-perfect waterfront, watching the colourful boats come and go. From here, you can also take sightseeing cruises along the coast or hop on a ferry to Robben Island.
2. Robben Island
Located just off the coast of Cape Town, Robben Island is not a place to go if visitors are looking only for a good time. Over a span of three centuries, Robben Island was used as a military base, a hospital for those with socially unacceptable diseases such as lepers and as a prison for political prisoners.
Its most famous prisoner was undoubtedly Nelson Mandela, who was imprisoned here for 18 years; he went on to become president of South Africa following his release. Today Robben Island is a popular place to visit in Cape Town and can be reached by ferry from the V&A Waterfront.
1. Table Mountain
Undoubtedly the city's standout symbol and sight, Table Mountain looms above both Cape Town and its lovely coastline. Recognized the world round for its famous flat-topped plateau, it has a myriad of great hiking, rock climbing and wildlife viewing opportunities for visitors to enjoy.
Flanked on either side by the Devil's Peak and Lion's Head, the mount is now protected as a national park. While steep, craggy cliffs line its thousand-meter-high plateau, a wide range of plants and trees also coat its slopes. Meandering their way up to its soaring summit and spellbinding viewpoints are a number of idyllic but arduous hiking trails.
Whether you climb up or take the rotating cableway, you're guaranteed unbelievable vistas of the city. Besides gazing out over Cape Town and the glinting bay below, you can cast your eye over the entire coast and Robben Island far off in the distance. A must-visit, Table Mountain was definitely one of the main highlights of the two weeks we spent exploring South Africa.
Maps of Tourist Attractions in Cape Town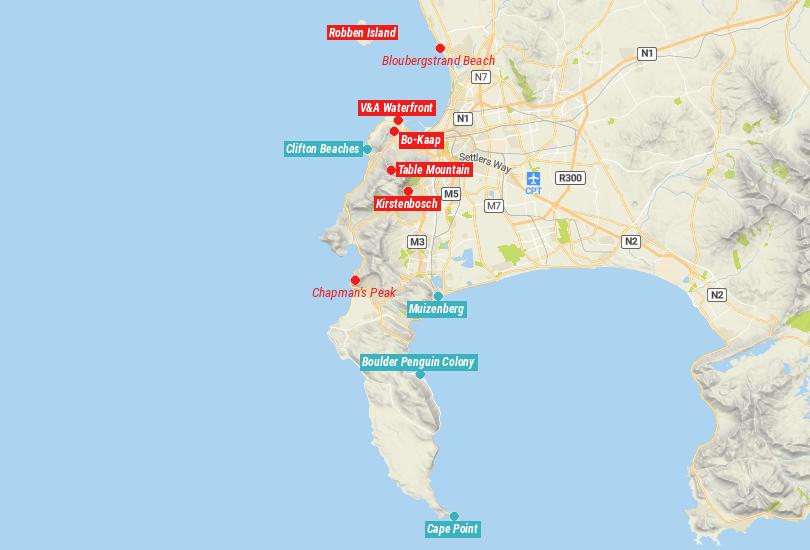 © OpenStreetMap © MapTiler © Touropia
© OpenStreetMap © MapTiler © Touropia