With canals galore, beautiful gabled houses, world-class museums and more, Dutch cities are certainly home to some fine sights. Wandering around their cobbled streets or taking a canal boat along the waterways is magical, and there is a welcoming and friendly air about the country in general.
Laidback, but with a sense of fun, exploring all that the bet cities in the Netherlands have to offer will provide you with lasting memories. Before you know it, you may find yourself returning time and time again to the Netherlands.
Map of cities in the Netherlands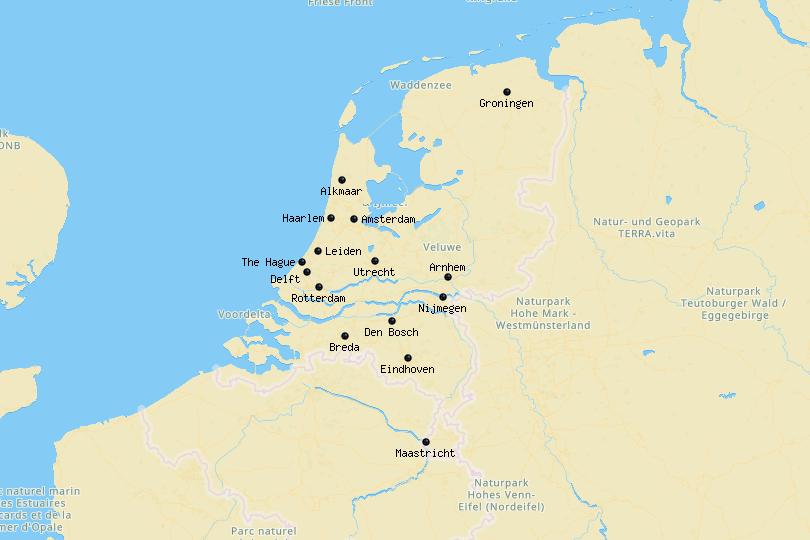 © OpenStreetMap © MapTiler © Touropia
15. Breda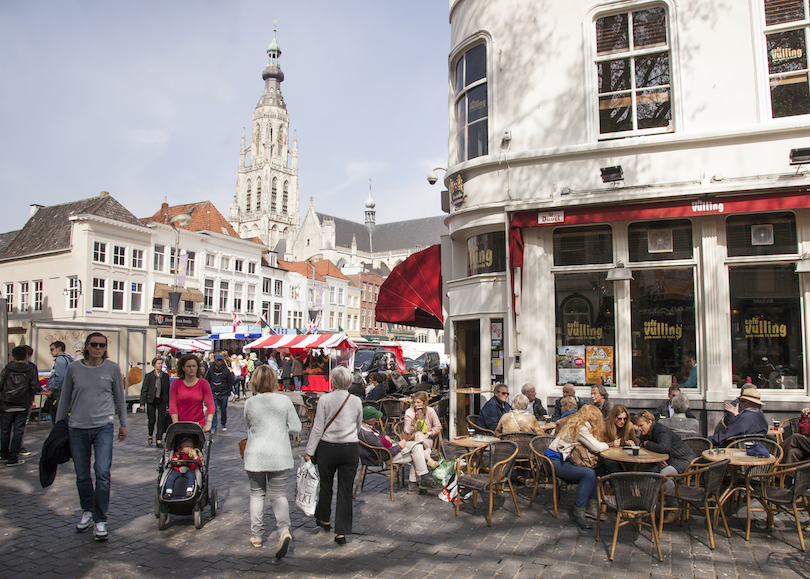 © Ahavelaar / Dreamstime
A laidback place with a pretty center, Breda´s main square has an impressive Gothic cathedral that towers over the cafes and shops down below. Not far from the border, there´s a lively feel to the city, with bustling bars and cheap restaurants mixed between the old buildings.
With some nice nature spots in the surrounding area and the lovely Valkenburg park to stroll around, Breda is a peaceful place to spend some time.
14. Eindhoven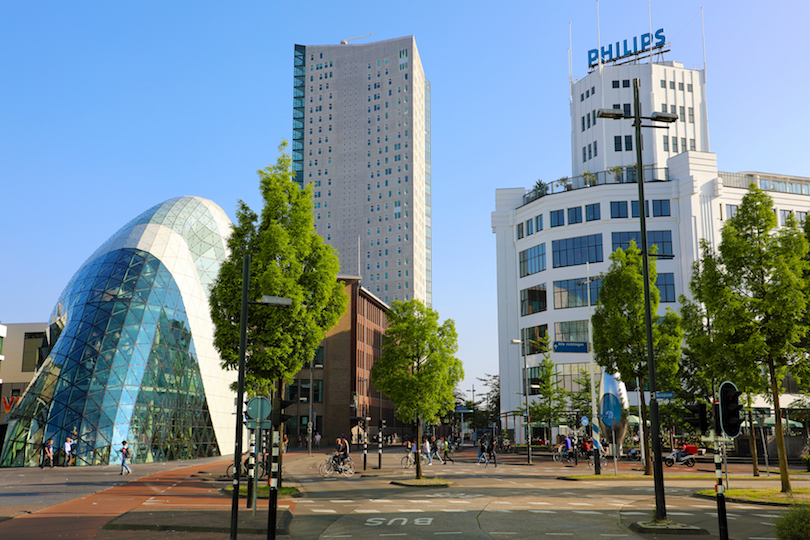 © Sergiomonti / Dreamstime
Until recently a tiny village, Eindhoven´s population grew drastically after the electrical firm Philips moved here; now, almost everything in the city revolves around the company – even the main train station was moved to better accommodate their needs!
Although there is not much to see, a lot of research in the technological and industrial fields goes on here and it is the capital of design for the Netherlands. If you´re not working here, there are few reasons to visit, with most people simply overnighting in Eindhoven before getting an early flight.
13. Alkmaar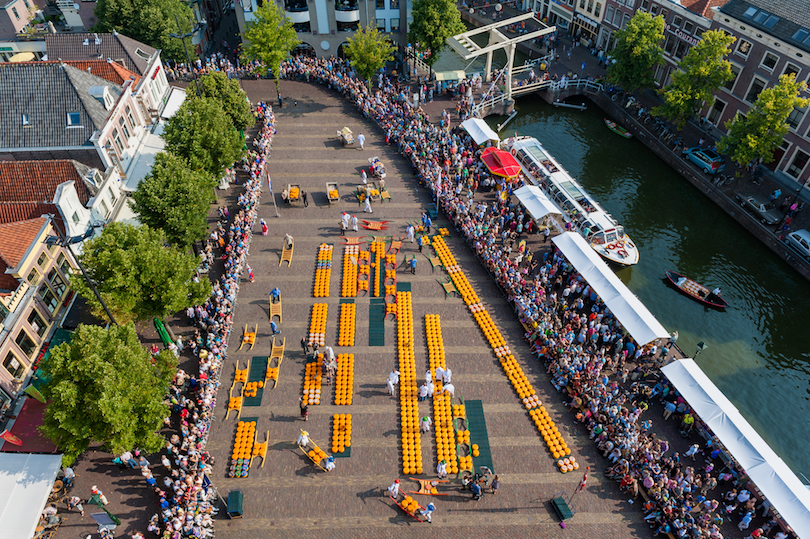 © Allard1 / Dreamstime
Although it is a pleasant place, one thing and one thing only attracts tourists to the city – its famous cheese market. Every Friday morning between April and September, an elaborate ceremony takes place whereby buyers smell, taste and feel the texture of cheese before haggling over a price.
Once the transaction has been concluded, the impressive looking cheeses are carried away by porters from the guild to be weighed. Entertaining and bizarre, get here early for a good view.
12. Arnhem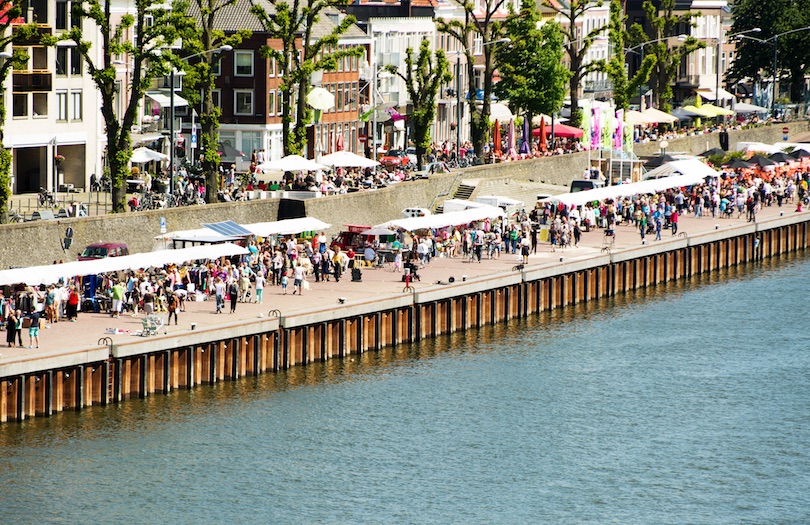 © Marcel Rommens / Dreamstime
Formerly a wealthy resort, Arnhem´s city center is a slightly drab place despite being rebuilt after the Second World War. Due to the number of troops who died here, many British people still visit Arnhem for its battle sites.
There are lots of interesting attractions surrounding the city, such as Burger´s Zoo and the airborne museum. An important fashion city in the Netherlands, there are some top notch restaurants and bars scattered throughout the city.
11. Den Bosch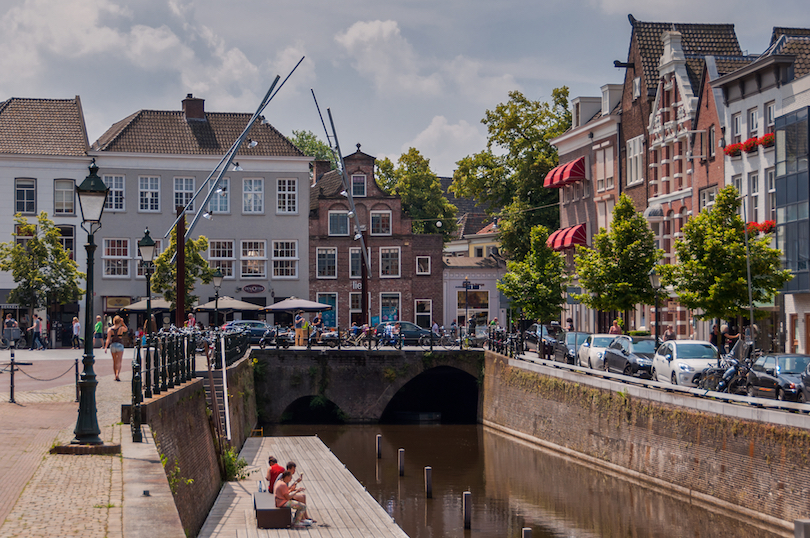 © Dabldy / Dreamstime
The capital of North Brabant, Den Bosch´s streets and markets teem with life every Wednesday and Saturday, as traders descend upon the town to sell their wares. Its two main highlights are undoubtedly the awe-inspiring cathedral and the museum dedicated to the artist Hieronymous Bosch, who once resided here in the 15th Century. With a lovely canal system, beautiful townhouses, and cute old bridges, Den Bosch is well worth exploring.
10. Nijmegen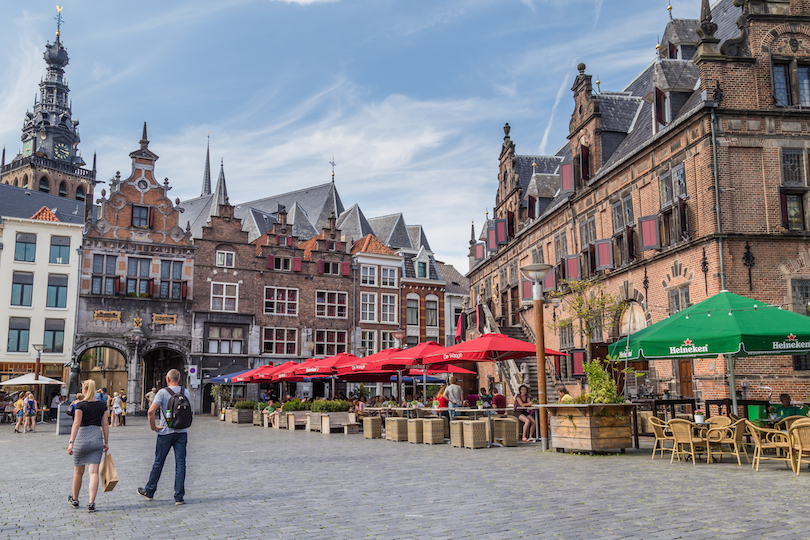 © Hilda Weges / Dreamstime
Lying on the banks of the River Waal, Nijmegen may be one of the oldest towns in the country, although many of its old buildings were unfortunately destroyed in the Second World War. Many of them were reconstructed, however, and some nice buildings still dot the center.
With the large student population breathing life into this ancient place, one of the best things to do here is to walk along the lovely riverside promenade and watch the world go by.
9. Haarlem
A picturesque place that is quintessentially Dutch in appearance, Haarlem lies just fifteen minutes from Amsterdam by train and is definitely worth a visit. With its lovely old buildings, twisting canals and cobbled streets, Haarlem is certainly charming, and there are many great artworks on display in its galleries and museums. At the center of the flower-growing region, when in bloom, Haarlem is a great base from which to visit the colorful fields.
8. Leiden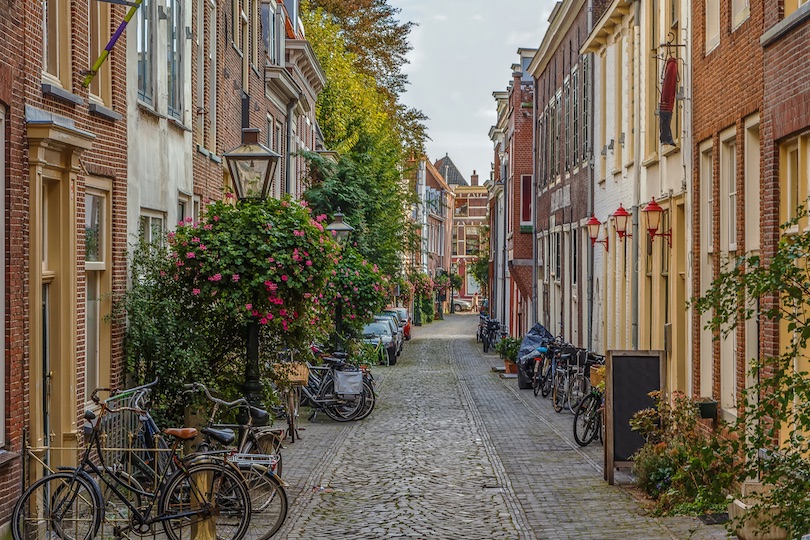 Due to its proximity to Amsterdam, Leiden is a great day trip option, as it has a host of things to see and do. The historic center of the city is a joy to explore. Its plethora of canals, 17th Century buildings and narrow alleys give Leiden a charming feel to it, and there are lots of great museums to visit.
With the oldest university in the country and a huge student population, there is a youthful ambiance to its old streets. There are also innumerable bars and cafes worth checking out. The birthplace of the famous Rembrandt, from Leiden, you can easily visit the nearby colorful tulip fields.
7. Groningen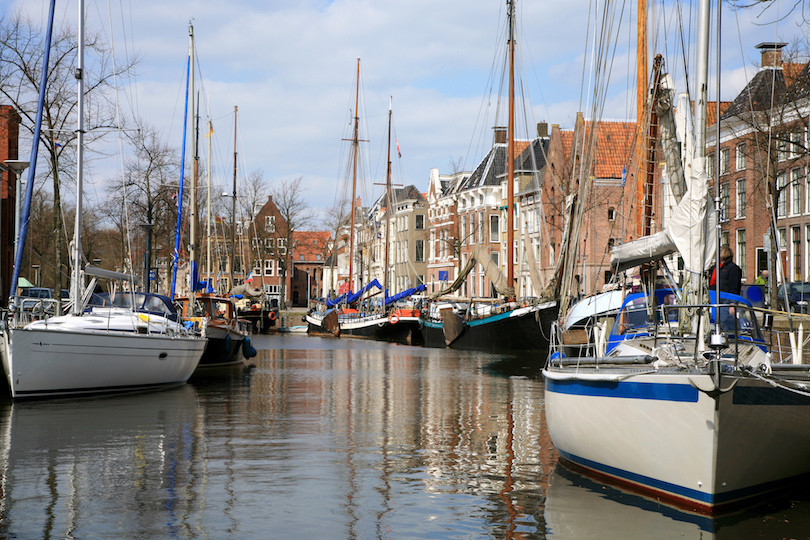 © Mazurowska / Dreamstime
Located in a rural and quiet part in the north of the country, venturing into Groningen´s city center can be quite a shock – it is a trendy, lively place brimming with energy and is completely pedestrianized.
An eclectic range of architectural styles can be found in the center, due to the rapid rebuilding of the city after it was almost completely destroyed in the Second World War. With a large student body, there is a vibrant arts and culture scene, as well as cheap restaurants and a lot of good bars to choose from.
6. Maastricht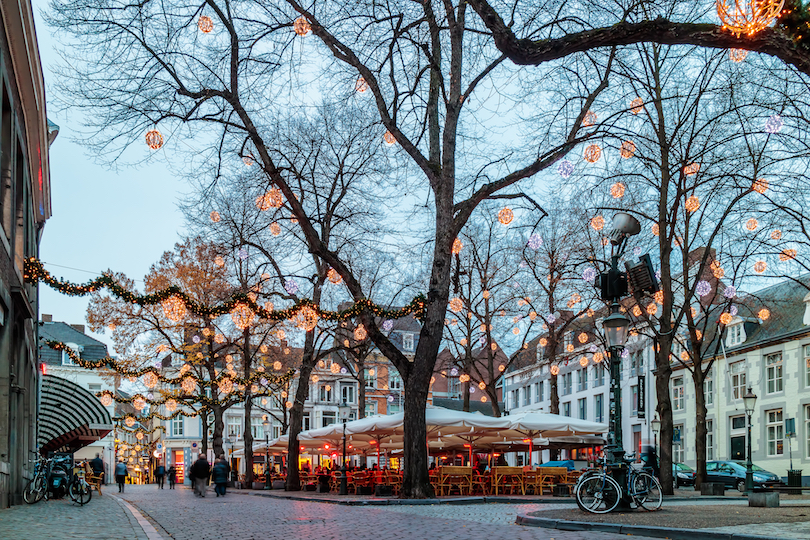 © Dutchscenery / Dreamstime
Lying on the banks of the Meuse River, Maastricht´s proximity to Belgium and Germany makes it a popular destination for citizens of both nations, as well as the Dutch themselves. A vibrant place, its streets thrum with life. Maastricht is home to a multilingual and multicultural population, as exemplified by its large student body hailing from all around Europe. As such, it is a mix of cultures and very different from other Dutch cities. This is demonstrated by its diverse and excellent culinary scene.
With contemporary architecture lying next to beautiful old buildings, towering cathedrals and trendy boutiques, wandering along its bustling cobbled streets is exhilarating – the festive Carnival being the highlight of the year.
5. Rotterdam
The second largest city in the Netherlands, Rotterdam is home to one of the biggest and busiest port on earth, with numerous waterways and canals crisscrossing the city. Having sustained considerable damage during the Second World War, the city is now characterized by futuristic and innovative architecture, although there is still an underlying grittiness to the place.
Rotterdam is a lively and diverse place, with great museums, cultural attractions, and of course, fantastic dining and drinking options befitting of such a large metropolis.
4. Delft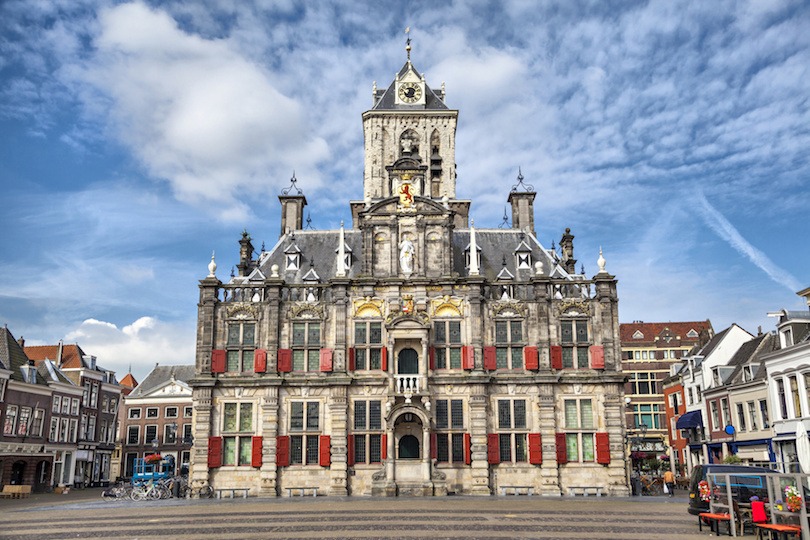 A popular day trip destination, it is easy to see what makes Delft such an attractive option. With its lovely medieval center and picturesque canals crossed by brick bridges and lined with trees, the city is quaint and peaceful.
Its most famous son, the painter Johannes Vermeer, is just one of many who has sung its praises over the ages. Famous for the distinctive blue and white tiles and ceramics that are produced here, visiting the Delftware factories is popular among tourists.
But, despite its wealth of beautiful old buildings, it is the atmosphere rather than any particular attraction that makes it worth visiting. Try and stay for the evening; once the day-trippers have left. the city´s canals shimmer delightfully in the lamp light.
3. Utrecht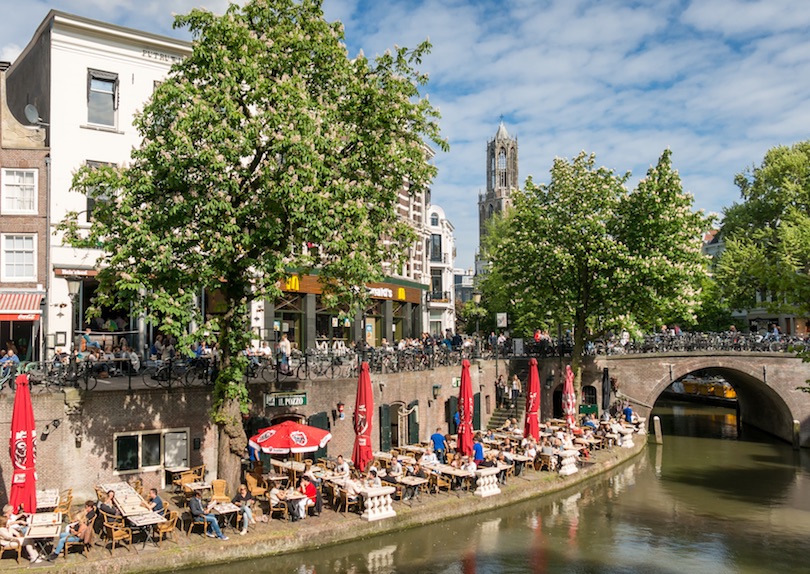 © TasFoto / Dreamstime
One of the oldest cities in the country, Utrecht´s winding canals twist their way around its delightful medieval center, which has the arrestingly beautiful Domkerk cathedral towering above it. Although the sprawling suburbs do not make the best impression as you enter the city, its ugly tangled web of roads are soon forgotten once you get a feel for this lively place with its fun atmosphere.
Thanks in part to its huge student population, Utrecht has loads of cheap and cheerful bars and cafes, as well as lots of great eating options. Although there are not really many sights to visit, it is the ambiance of Utrecht that makes it a pleasure to visit.
2. The Hague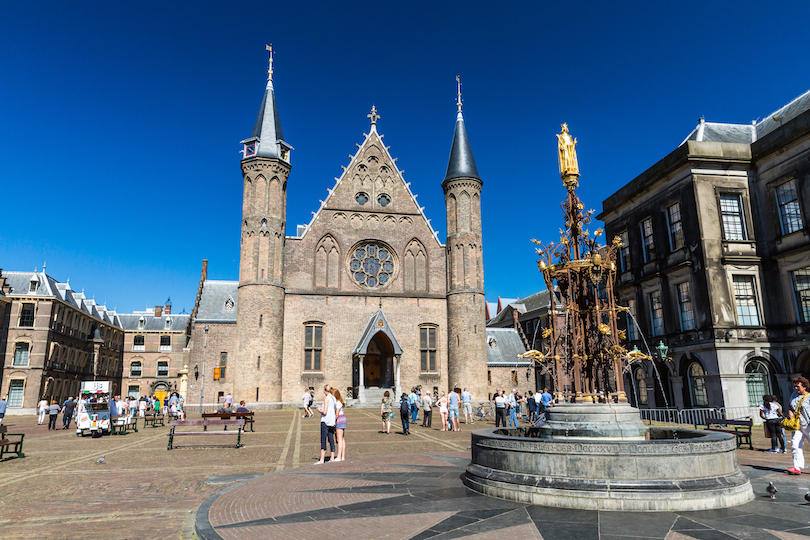 © Oscity / Dreamstime
With the seat of government and the royal family residing within its confines, it seems slightly strange that The Hague is not the capital of the country. More appropriately, this large city has a stately air about it.
Grand mansions and canal houses line leafy boulevards, while embassies and government buildings surround its fine parks. Due to the international bodies such as the UN and EU, the city is very multicultural. It is much more laid back than edgy Amsterdam, and has a number of fine dining options and interesting museums on offer. Lying on the North Sea, it is home to Scheveningen – a very popular seaside resort in the country.
1. Amsterdam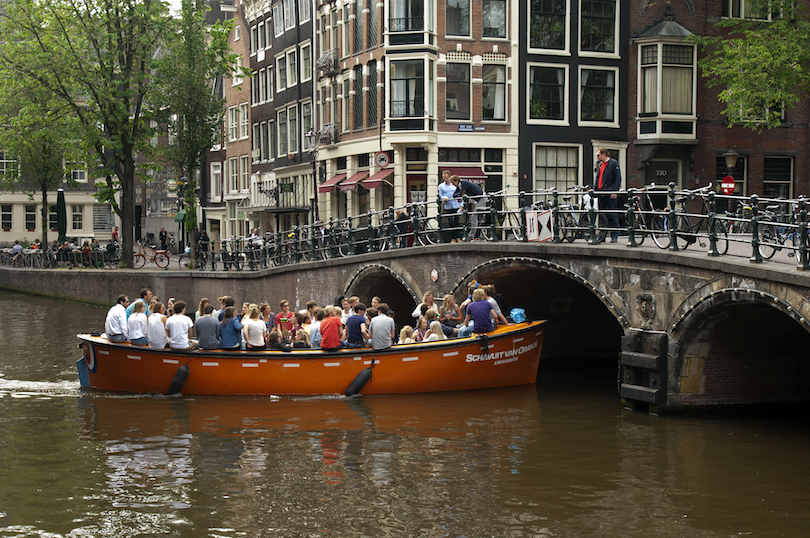 © Sjors737 / Dreamstime
Wandering along the cobbled streets that line the iconic canals, it is easy to see why attractive Amsterdam is one of the most popular tourist destinations in Europe. Beautiful gabled buildings and charming old bridges are everywhere you look. There are a number of world class museums on offer, such as the Rijksmuseum, Van Gogh Museum and Anne Frank House.
Easily navigable on foot, one of the city´s main draws is simply wandering alongside its canals or taking a boat trip along their peaceful waters. With a youthful vibe and welcoming population, this liberal and cosmopolitan city has some atmospheric cafes and restaurants. It also has a lively nightlife in the form of clubs, bars and coffee shops – while the red-light district is never too far away.
A fantastic capital city with so much to see and do, just watch out for the bikes when crossing the road!