With all the many exciting things to see and do in Amsterdam, it is no wonder that the city ranks as one of the world's top tourist destinations. However, not venturing outside of the city would mean missing out on amazing experiences and sights such a 400-year old cheese-weighing tradition, a medieval village and the world's largest flower garden.
With plenty of train and bus connections, tourists can easily plan day trips to see some of these hidden gems. Check out these great day trips from Amsterdam.
Map of day trips from Amsterdam
© OpenStreetMap © MapTiler © Touropia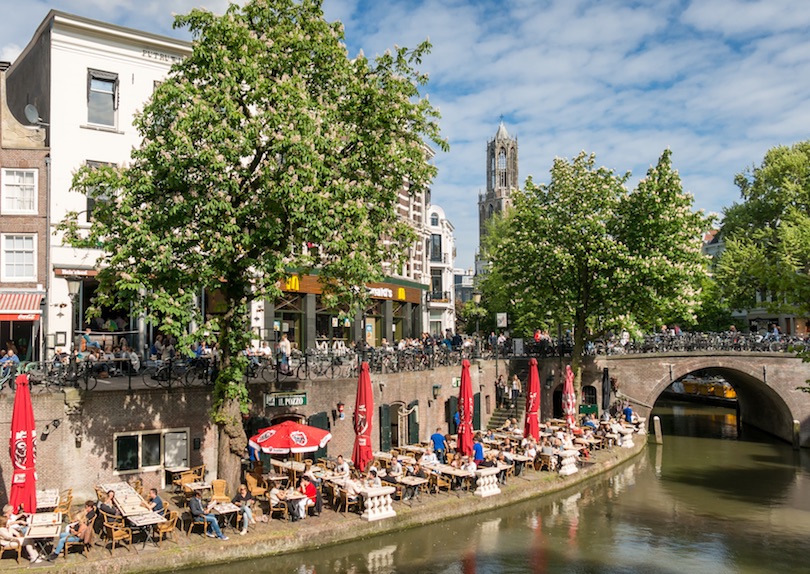 © TasFoto / Dreamstime
Utrecht is a good place for visitors to delve into the Netherlands' past. This ancient city has been the religious center of the country since the eighth century. It was once the most important city in Holland until it was surpassed by Amsterdam in the Dutch Golden Age (17th century).
Not too many visitors venture the 50 km (31 miles) off the beaten path from Amsterdam, but more travelers should make the time to come to this historic city. It's been called the most beautiful canal city in Europe – take that, Venice! A city known for independent thinking and creativity, Utrecht is perfect for visitors who enjoy the sidewalk café life, while looking up at the surrounding Gothic buildings.
Shoppers definitely will like the Hoog Catharijne, Holland's largest indoor mall. Plus, this quintessential Dutch city, which exudes Old World charm, is easily traversed in a day on foot.
Getting to Utrecht
The easiest way to get to Utrecht is to take a train from Amsterdam Central Station; it takes just under half-an-hour to get from one to the other. The Intercity train leaves very regularly. At peak times, one leaves roughly every five to ten minutes. From the station, you're just a short walk from the city center and all of Utrecht's beautiful canals and cobbled streets.
Cheese lovers will naturally want to gravitate to Edam, the small town where the famous cheese originated. This pale yellow round cheese, which comes wrapped in a red paraffin coat, was the world's most popular cheese in the 14th to 16th centuries because it doesn't spoil.
Spoilage is not a problem these days, because this smooth popular cheese doesn't last long enough around the kitchen to go bad. Wednesday is a great day to visit Edam, a half-hour drive from Amsterdam, because the traditional cheese market happens then, with participants wearing traditional garb. If it's a Wednesday in July or August, so much the better, because farmers bring their cheese to market loaded on boats or horses.
Edam was once a shipbuilding city, with ships carrying cargo that included Edam cheese because it could be traded for exotic spices. The city's other main draw is the Edam Museum that is located in a 400-year-old residence.
Getting to Edam
As it is only a half hour bus ride away, getting to Edam from Amsterdam couldn't be easier. As such, it makes for a very easy day-trip. Simply jump on the 314 bus from Amsterdam Central Station. The famous cheese market is just a short walk from Edam bus station. Due to its proximity to the delightful fishing village of Volendam, you can easily visit both of them in just one trip – the same 314 bus services the two of them.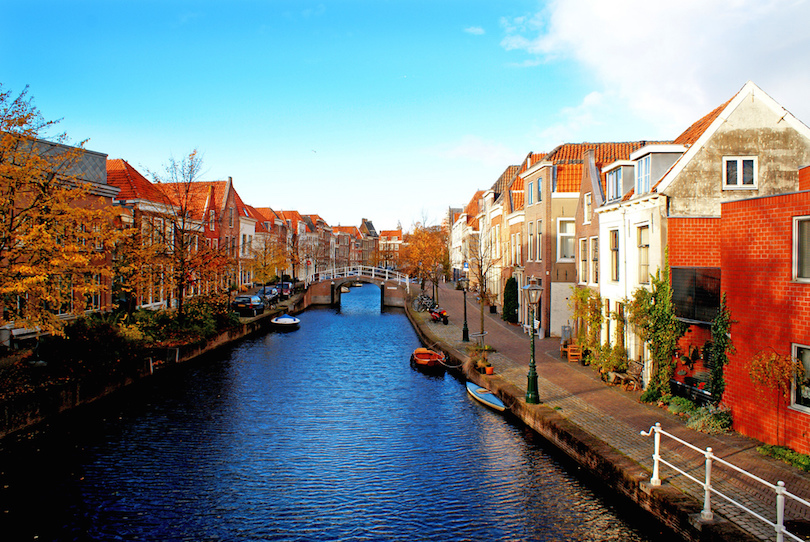 habaneros / Flickr
The picturesque city of Leiden is a must-see for its scenic, tree-lined canals that are marked with old windmills, wooden bridges and lush parks. A boat ride down one of these lovely canals makes for an unforgettable experience.
There are plenty of things to see and do in Leiden such as the numerous museums that range from science and natural history to museums dedicated to windmills and Egyptian antiquities. Pay a visit to the Hortus Botanicus to see its sprawling botanical gardens and the world's oldest academical observatory. Admire the beautiful architecture of the 16th century Church of St. Peter and check out its association with several historic people, including American pilgrims.
Getting to Leiden
Lying to the southwest of Amsterdam on the way to The Hague, it only takes 40 minutes by train to get to Leiden. To reach the city center from the train station, you just cross a couple of lovely canals and wander along picturesque cobbled streets until you get to the impressive Hooglandse Kerk and other sights. As The Hague is just 15 minutes away by train from Leiden, it is very easy to see both charming cities in only one day. You could even combine it with a trip to the popular seaside resort of Scheveningen, which lies right next to it.
sara / Flickr
Travelers who don't have time for Italy but don't want to miss out on a canal ride should head to Giethoorn, a quaint Dutch village known as "Little Venice" or "Venice of the Netherlands." Pretty much the only way to get around this traditional Dutch village is by boat or by walking from island to island – Giethoorn boasts 180 bridges.
The village is especially popular with Chinese tourists – upwards of 200,000 Chinese visit Giethoorn with its 2,000 residents annually. Giethoorn is quite picturesque with red-thatched houses lining the canals.
The village is quite peaceful, with no loud noises, making it a perfect day getaway from Amsterdam, about 120 km(75 miles) away in another world. Visitors can glide over the water trails at their own pace since motorboats are available for rent – the boats have quiet electric motors so as not to disturb the serene ambiance.
Getting to Giethoorn
If you have your own car with you or have rented one, Giethoorn is an easy drive away and lies 120 kilometers to the northeast of Amsterdam. Head southeast out of the city to Almere; from there, simply follow the A6 to Emmeloord. Here, you need to turn off and take the N331, which will take you directly to Giethoorn. All in all, it should take around 90 minutes, and part of the journey is alongside the glittering waters of the Markermeer.
A nice way to get to know Giethoorn better is to take a guided tour around its scenic canals and beautiful islands. With a boat tour included, as well as ample time to explore the village at your leisure, it makes for a lovely day out.
© TonyTaylorStock / Dreamstime
Nearly 800 years ago, a dam was built on the Rotte River on the North Sea; a city grew up around it. That city became Rotterdam, the largest port in Europe, not surprising since the Rhine, Scheldt and Meuse rivers provide access to central Europe. Just 80 km (50 miles) from Amsterdam, Rotterdam offers so many things for visitors to see and do.
Because much of Rotterdam was destroyed during WWII, the architecture is varied. Travelers can take a harbor cruise to absorb the spectacular skyline. More great views of the city can be found atop Euromast, at 606 feet high, one of the highest towers in the country.
American history buffs may want to visit Pilgrim Fathers Church where the pilgrims worshipped before departing for Plymouth Rock and the New World. Travelers of all ages will enjoy the zoo and a ride on a coach that's a motor vehicle one minute and a boat the next.
Getting to Rotterdam
From Amsterdam, it couldn't be simpler to get to Rotterdam; an Intercity train will whisk you there in just an hour and fifteen minutes. A high-speed Thalys is even quicker; this only takes 40 minutes. Upon arrival, you're just a short walk away from many of its most amazing quirky buildings and brilliant museums.
To make the most of their time in the country, many people decide to take a guided tour around Rotterdam. Some of them even include stops at the neighboring cities of Delft and The Hague – both are well worth visiting if you have the chance.
7. Alkmaars Cheese Market
[SEE MAP]
Jim Forest / Flickr
A 40-minute train ride from Amsterdam will bring visitors to Alkmaar and its famous cheese market tradition that dates back to 1593. Every Friday between April and September, visitors can watch while costumed cheese traders re-enact a centuries-old practice of weighing more than 2,000 cheeses, stacking them on sled-style carriers and loading them onto trucks.
This colorful and lively event is so popular and fun to watch that it draws about 100,000 spectators annually. What's more, there are plenty of stalls surrounding the market where visitors can buy Dutch cheeses like Gouda and Edammer.
Getting to Alkmaar
As the famous cheese market lies right in the center of Alkmaar, it is straightforward to get there by public transport from Amsterdam. Visitors need to take an Intercity train to Alkmaar from Amsterdam Central Station; this only takes 40 minutes. From the train station, it is a 15-minute walk to the market. On the way, you pass such sights as the beautiful church of Grote of Sint-Laurenskerk.
Another option is to take a guided tour; this not only takes you around the bustling cheese market, but also includes a stop at the lovely windmill village of Schermerhorn.
With all the government buildings located here, visitors might think The Hague is the capital of the Netherlands. It's not – Amsterdam is the constitutional capital even though the cabinet, the legislature and the Supreme Court are located in this coastal city.
The city also is home to most embassies and 150 international organizations, including the International Court of Justice. All this bureaucracy aside, however, a visit to The Hague will keep visitors busy. Only an hour's drive from Amsterdam, the city has a vibrant night life centered around its three main squares.
Not to be missed in the city center is the Binnenhof, a complex of 13th century waterside Gothic buildings where the Dutch parliament meets. Other sights to enjoy include Madurodam, a miniature Dutch city; Mauritshuis, with its paintings by Rembrandt and Vermeer; Beelden aan Zee, an underground sculpture museum, and shopping in boutiques around the Grote Marktstraat.
Getting to the Hague
From Amsterdam Central Station, The Hague is around 50 minutes away by train. Once you arrive, you'll find yourself just a stone's throw away from the Mauritshuis and Vredespaleis. Trains depart regularly, so you'll never find yourself waiting for long if you miss one.
If you don't have much time left in the Netherlands, you may want to consider taking a guided tour, as some of them take you not only around The Hague, but also to neighboring Delft and Rotterdam. This is a great way to see everything – from Rotterdam's experimental architecture to Delft's famous blue-and-white pottery and The Hague's important government buildings – all in just one day.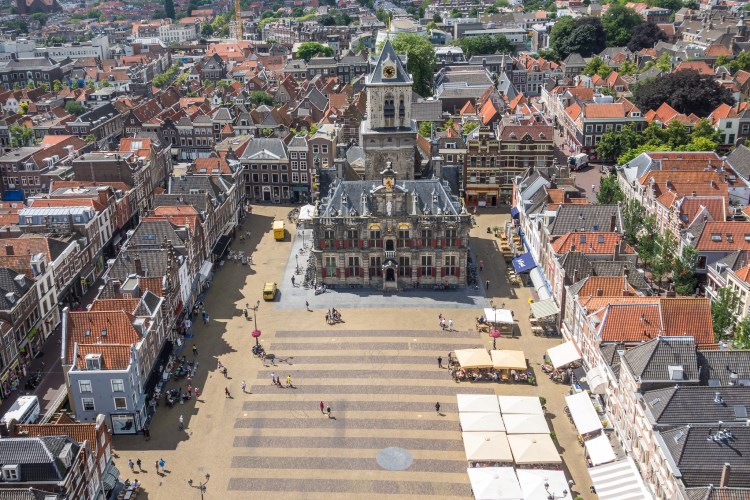 AJ4141 / Flickr
When travelers to the Netherlands think of Delft, their thoughts most likely turn to the pretty blue and white pottery the city is famous for. This tin-glazed pottery has been made here since the 16th century; it is based on Chinese ceramics. Vases, bowls and plates are especially popular, so this is a place to stock up on souvenirs.
But there's more to do in this canal city than shop for pottery. There's the Oude Kerk where Johannes Vermeer is buried, and the Nieuwe Kerk, where members of the Dutch royal family are buried. The Renaissance-style ornate Delft City Hall is across from the Nieuwe Kerk; today its where civil wedding ceremonies are held.
Other sites include the old weighing house and an 18th century windmill that was restored to working order in 2013. Hungry travelers can snack on Scheve Jantjes, a butter cookie that comes in a Delft blue tin container.
Getting to Delft
Just over an hour from Amsterdam by train, Delft is an effortless and convenient day trip; you merely need to sit back and relax in comfort while watching the world go by. Trains leave every half hour, and once you arrive, you're just a short walk away from all the main sights. Due to its proximity to the Hague, you can easily stop by the neighboring city on the way there or back, as it is just a short train journey away.
To come away with a greater understanding of both fabulous cities, many people opt to take a guided tour, as this enables you to see all the main sights in just one day. As it is combined with a visit to the Madurodam Miniature Park, it is ideal for people who are pressed for time but want to see as much of the Netherlands as possible.
Lies Thru a Lens / Flickr
Bruges is a well-preserved medieval town in the northern region of Belgium surrounded by beautiful canals and old city walls. This postcard-perfect town makes an ideal day trip from Amsterdam because of its fabulous attractions and activities.
Meander along the cobblestone paths of the city center to explore the historic walls and gates. Climb the stairs of the high tower at the Belfort Grote Markt to hear the bells ring and see wonderful views of the area. Visit the Basilica of the Holy Blood, which claims to contain a vial of blood belonging to Jesus Christ.
Tour the Brewery De Halve Maan to see how Belgian beer is processed and be rewarded with a free drink. Savor free samples of delicious Belgian chocolate at the Choco-Story Museum. Ride in a horse-drawn carriage around the old city.
Getting to Bruges
The beauty of Europe is that so many magnificent cities and sights lie so close together. Just across the border in Belgium, you'll find Bruges is just a three-hour train ride away. From Amsterdam Central Station, you can take either an hour and fifteen minutes fast Thalys train to Antwerp, or a slightly slower Intercity train, which takes just under two hours. At Antwerp, you then board a direct train to Bruges, which takes about an hour. Once you arrive, you need to follow the signs to the historic center; it's about a 15-minute walk through some lovely old cobbled streets.
A more convenient option is to sign up for a guided tour; this takes you directly to Bruges in a private coach. You'll have commentary on the way telling you all about the city and the wonderful scenery you pass through. Once there, you can either take a guided tour around its spectacular sights or explore the picturesque city at your leisure.

Accommodation: Where to Stay in Bruges
Want to experience authentic Dutch heritage? Hop on a bus in Amsterdam and travel 30 minutes north to the charming fishing village of Volendam. Visitors can walk around the bustling harbor to see colorful boats and have photos taken of themselves dressed in Dutch costumes with striped clothing, high-pointed bonnets and wooden clogs.
A stroll around the old village offers many attractive sights such as historic houses built on stilts and a beautiful 17th century church. Visit the Volendam Museum to learn about the village's history and see artifacts, vintage furnishings and folk art.
Getting to Volendam
Located on the beautiful Ijselmeer lake, Volendam is just a 30-minute bus journey away from Amsterdam Central Station. Just take bus 316 in the direction of Volendam-Edam; these leave every 15 minutes at peak times.
Many people who visit Volendam also combine it with a trip to the marvelous outdoor museum of Zaanse Schans. The best way to do this it to take a guided tour, as a private coach then takes you between the two. This is a very time-efficient way to see as much of this beautiful part of the Netherlands as possible. Some people even decide to include a visit to the nearby peninsula of Marken in their tour.
Step back into Dutch history with an excursion to Zaanse Schans. Located 20 minutes from Amsterdam in the city of Zaanstad, the neighborhood of Zaanse Schans is a living, outdoor museum containing an impressive collection of historic windmills and other buildings. Here at this popular tourist attraction, visitors can learn about traditional Dutch life and watch various demonstrations such as cheese-processing, coffee-grinding and clog-making.
There is even a wonderful pancake restaurant here where visitors can dine on hearty Dutch food. Buy souvenirs here like cheeses, clogs and miniature Zaanse houses. For a special treat, see all of Zaanse Schans with a scenic ferry ride around the area.
Getting to Zaanse Schans
From Amsterdam Central Station, visitors wishing to take a trip to the Zaanse Schans have a couple of options available to them. By bus, it is around a 40-minute journey on the Rnet-bus 391, and this runs every 15 minutes.

By train is a bit quicker, as it only takes 20 minutes, but as the nearest station is Zaandijk-Zaanse Schans, you then need to walk the last 15 minutes. There will be lots of signposts pointing you the right way, so it's almost impossible to go wrong.

Another way to see the fabulous outdoor museum is to take either a half-day or full-day guided tour. This will teach you all about the history of the place, as well as enable you to sample local products and witness how traditional wooden clogs were made. As part of the tour, visitors also get to check out the charming village of Volendam, and can opt to take a ferry to the cute and quaint village of Marken.
1. Keukenhof Gardens
[SEE MAP]
No list of day trips from Amsterdam would be complete without including the world's largest flower garden, located near the small town of Lisse. Attracting more than 800,000 visitors annually, Keukenhof Gardens showcases an 80-acre complex of remarkable gardens that are designed in various themes such as the English Garden, Japanese Garden and Historical Garden.
Planted every year with seven million flower bulbs, these gardens explode into spectacular beauty each spring. To see and capture stunning photographs of these flower gardens, plan a trip during the open season that begins mid-March and ends mid-May. Situated across from the gardens is the Keukenhof Castle, which is opened year-round and frequently hosts events like festivals, music concerts and medieval fairs.
Getting to Keukenhof
Located just a short distance away from the center of Amsterdam, the majestic Keukenhof Gardens are just under an hour away from the capital by bus or train. When heading to the gardens, it is a good idea to buy a Combiticket; this includes entrance to the gardens as well as the public transport to get there and back. Depending on what option you choose, it will cost between 25 and 36 euros for an adult ticket – these can be bought online in advance.

By train, you need to head to either Schiphol Airport or Hoofddorp. From these stations, you then need to transfer to the Keukenhof Express line number 858 and 859 respectively. The bus will take you directly to the gardens.

From the center of Amsterdam, there are also a number of buses you can take. Bus lines 300, 340, 341 and 397, for instance, all take you to Hoofddorp, where you again need to take the Keukenhof Express number 859 to the gardens.

To avoid the hassle of getting there by public transport, many people prefer to take a tour to Keukenhof Gardens; this includes direct transport and means you can enjoy the tulips at your leisure without having to worry about the journey back to Amsterdam.