Making up one half of the historical region of the same name (the western part is found in Belgium), Limburg is the southernmost province in the Netherlands. As it is quite different from the rest of the country, it is a fascinating place to explore.
Due in part to its proximity to both Belgium and Germany, the province has a unique history and heritage, and many people speak Limburgish alongside Dutch. This rich culture is on show wherever you go in Limburg; the best example is found in the gorgeous city of Maastricht – the undoubted crown jewel of the province.
With lots of rolling hills and age-old castles dotted about the countryside, Limburg is well worth checking out. Explore this unique province with our list of the best places to visit in Limburg.
Map of the best places in Limburg
© OpenStreetMap © MapTiler © Touropia
10. Miljoenenlijn Steam Train
[SEE MAP]
Boarding the Miljoenenlijn Steam Train is like stepping back in time. You'll feel like a true-blue traveler as your train clacks along the tracks with steam billowing out from above the old locomotive.
It's not only train lovers who will enjoy a nostalgic ride in one of its carriages. Running between Landgraaf and Simpelveld, the steam train takes you through some beautiful, hilly countryside, with lots of farms and fields to either side of you.
Pulling into one of the two stations feels momentous as the whistle blows and you grind to a halt. While passengers are sure to enjoy the peaceful ride, you can add to the occasion by arranging to have English High Tea while watching the world pass by the window.
9. Nationaal Park De Maasduinen
[SEE MAP]
Encompassing everything from sand dunes and lakes to forests and heathlands, Maasduinen National Park – as it's known in English – is a great place to head to if you're looking to immerse yourself in nature. Lying right next to the border with Germany, the park stretches out in a long line.
Tucked away among its many different landscapes, you can find camping sites and hiking trails to meander along peacefully. With lots of different fauna and flora to discover, the scenery changes before your eyes, and the vivid colors of the heath and forests contrast delightfully with the reflective waters of its many lakes.
ekenitr / Flickr
Lying on the banks of the Meuse and Witbeek rivers, with lots of other lakes and waterways found nearby, the small town of Thorn is a picturesque place to visit that has a very charming look and feel to it.
Known as the 'white village' because nearly all of its buildings are painted white, Thorn is full of wonderful architecture, with its fine abbey church being the highlight of the lot. A lovely way to visit Thorn is to take a scenic boat ride from Wessem. Arriving at the glistening white town by water is an amazing experience as you see its buildings appear in the distance.
7. Netherlands American Cemetery and Memorial
[SEE MAP]
Located just a stone's throw away from Maastricht, the Netherlands American Cemetery and Memorial is a somber place to visit, with a seemingly endless array of white gravestones stretching as far as the eye can see.
Set among perfectly manicured green lawns with solitary trees popping up here and there, the white headstones are those of American soldiers who died fighting the Nazis in the Netherlands in WWII.
Very thought-provoking to behold, the Netherlands American Cemetery and Memorial is certainly worth a visit; the calm and quiet that greets you as you enter is perfect for some peaceful contemplation and soul searching.
6. National Park de Meinweg
[SEE MAP]
Alupus / Wikipedia
Bordering Germany in the east of the province, Meinweg National Park – as it is known in English – is home to some absolutely lovely scenery. It's a great place to go hiking, with lots of different species of fauna and flora to seek out. Although it's quite hilly, a number of ponds and forests can be found dotted around the national park, while slowly flowing streams and babbling brooks meander their way through the picturesque countryside.
In addition to all the delightful scenery on show, Meinweg also boasts over a hundred different species of bird, while boars, snakes, foxes, and stoats can also be spotted from time to time.
Jeroen Kransen / Flickr
Meaning 'three-country point' in English, Drielandenpunt is where the Belgian, Dutch, and German borders come together. Thanks to the Schengen Area's open borders, you can say you have been to three countries in just a couple of footsteps. Remarkably enough, the small hill upon which the border is located is actually the highest point in the whole of the Netherlands.
From atop of the nearby observation tower, you have a lovely view out over the surrounding countryside. While it only takes a couple of minutes to see the monument that marks the Drielandenpunt, there is a fun labyrinth for you to try out right next to it, and the charming town of Vaals is well worth checking out for its cozy cafes and laidback vibe.
Divided in two by the Meuse River that runs through it, Venlo is the second-largest municipality in Limburg after Maastricht and is a pleasant place to spend a day or two. While most of its historic center was destroyed during the Second World War, there are some nice buildings and architecture for you to check out, with its beautiful town hall being the highlight of the lot.
Its scenic city center has lots of great bars, restaurants, and cafes on offer, and its central square is full of outdoor terraces that are packed during the summer months. If you want to learn a bit more about Venlo and the surrounding region, it is well worth visiting the local history museum, which has lots of interesting exhibits on art, artifacts, and archaeology from Limburg.
Another city that lies on the banks of the Meuse River, Roermond is located in the center of Limburg, just a stone's throw away from the German border. Despite being founded all the way back in 1231, not all that many historical sites remain in Roermond due to WWII and an earthquake in 1992, although there are two beautiful old churches for you to check out.
While Munsterkerk and Sint-Christoffelkathedral are the undoubted highlights, the city's bustling center is fun to wander around, with lots of outdoor terraces and cafes to grab a drink at.
As several lakes are clustered to either side of Roermond, there are plenty of water sports on offer, with sailing, windsurfing, swimming, and water skiing all popular pastimes. In summer, the city's few beaches are full of people taking in the sun.
With the atmospheric ruins of an old castle overlooking the town, a cute historic center full of cafes and restaurants for you to enjoy, and two picturesque, small rivers coursing their way between cobbled streets and beneath tiny bridges, it's no wonder that the charming town of Valkenburg is a popular tourist destination.
While it's certainly a lovely place to stroll around peacefully while taking in its many charms, it is well worth exploring the surrounding countryside, which is home to some crumbling castle ruins, stately homes, and quintessential Dutch farmhouses. With many well sign-posted hiking trails and bike paths for you to venture along, you can't get lost, and the scenery is simply stunning.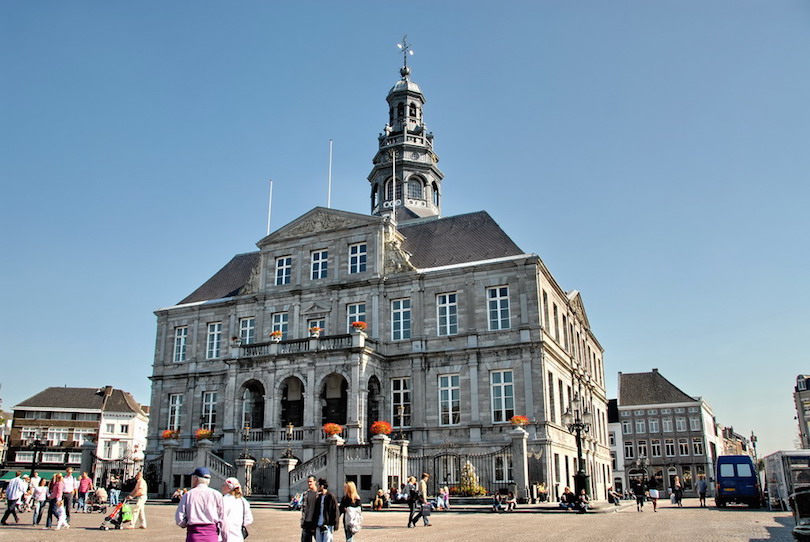 FaceMePLS / Flickr
One of the most beautiful cities in the whole of the Netherlands, Maastricht is a delightful place to visit, with a plethora of great things for you to see and do. Taking a trip to Limburg without stopping in Maastricht is almost criminal. Due to its proximity to both Belgium and Germany, the city has a very unique history, culture, and identity, and its multicultural and multilingual population lends its streets a very vibrant feel.
While a myriad of fantastic bars, restaurants, and cafes line its cobbled streets, Maastricht's main attractions are its wealth of incredible historical and cultural landmarks. Although life in the city revolves around the gorgeous Vrijthof Square, St Servaas Basilica and Onze Lieve Vrouwebasiliek are also well worth checking out for the lovely architecture.
Maastricht is great to visit at any time of the year, but its lively Prince Carnaval is an unforgettable event to attend and take part in; parades of brightly-costumed revelers take to the streets and music and laughter ring out wherever you go.