The capital city of Amsterdam is a must-see for any visitor to the Netherlands. It has fabulous art museums, the Anne Frank House and numerous canals. But Amsterdam is not Holland. To really get a feel for the country, you need to get out to the small towns in Holland. They're charming, filled with history, cobblestone streets, picturesque architecture, canals and windmills. Many of the cities started out as fortresses; some fortifications can still be seen today. Enjoy the spring fields of daffodils and tulips as you savor life in the slow lane.
Johan Bakker / Wikipedia
Zierikzee is an ancient town located on a former island in Zeeland. Chock full of history, Zierikzee has more than 500 historical monuments. A favorite site with visitors is Sint-Lievensmonstertoren, a 12th century church named for a Scottish martyr. It was destroyed by fire in 1832 and then demolished, but the Dikke Tower remains; climb to the top for panoramic views of the city. Since Zierikzee is a seaside fishing city, be sure to take in the Maritime Museum and the medieval North and South port gates.
jack_of_hearts_398 / Flickr
Doesburg was once the most important fortified city in the Netherlands due to its strategic defensive location on the river IJssel. Spend time looking at the old houses, since many of them have shields that tell something about the residents built into the walls. Good places to visit include mustard museum, vinegar factory, herb garden, the Lalique glass museum and De Waag, the town hall that is reportedly the oldest public place in Holland. Another top site is the old Reformed Church that looks more like a warehouse.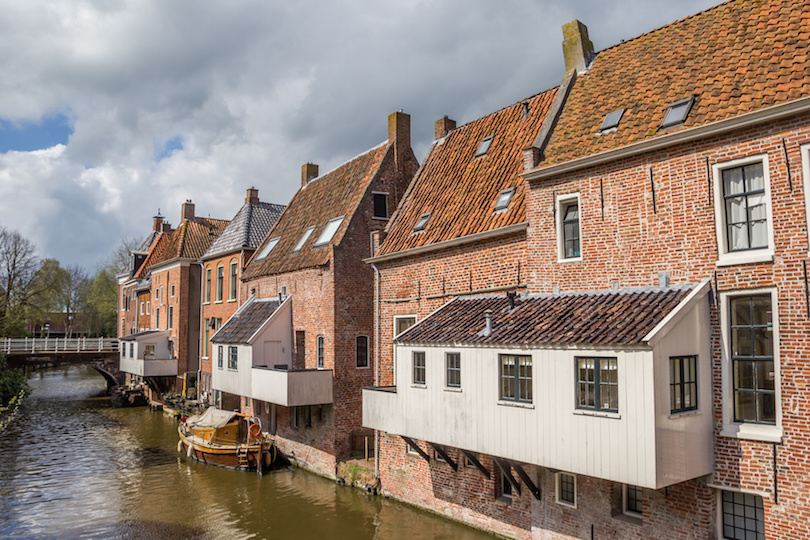 Appingedam was once an important trading center and seaport because it had access to the sea. Today it is an historic medieval city known for its hanging kitchens, i.e., small rooms off buildings that stick out over Damsterdiep canal. Saturday afternoon is a good time to take a ferry ride around the city. Biking and walking are good ways to explore the compact city center with its town hall that dates back to 1630 and Nicolai Church that is even older.
FaceMePLS / Flickr
If you think your body is out of whack, head to Oudewater where you can get a certificate saying your weight is in proportion to your height. This practice dates back to the 16th century witch trials in Europe. People would flock there to be certified they weren't witches. You, too, can be weighed today at Heksenwaag or witches scales. Sorcery aside, Oudewater is a charming old town (it was founded in 1265) with medieval houses lining canals.
David van der Mark / Flickr
Domburg, an ancient village in Zeeland on the North Sea, has been attracting tourists since the 17th century and a seaside resort since the 19th century. It's famous for 40 stores with Latin inscriptions and drawings of gods washed up on shore after a fierce storm in 1647. Domburg was an artist colony, hosting such painters as Mondrian and America's James Whistler. Domburg offers typical resort activities, including beaches, biking, sports fishing, , surfing and horseback riding, and is perfect for travelers wanting a break from historic sites.
Harlingen is a picturesque historic harbor town in Friesland that is about as far north in the Netherlands as you can get. It is filled with lovely medieval mansions. As you explore the town, be on the lookout for gable stones that were used to find houses before there were house numbers. Some indicate the purpose of the building they're on, such as the gold angel on the oldest stone building in town; it once housed a Masonic lodge. Old warehouses dating back to the 17th century also abound.
Naarden is unique among fortress towns. The buildings in this town, founded in 1300, are clustered in a large circle, surrounded by gigantic green "lance" tips that extend into a moat. This configuration is known as a star fortress. Aerial views of the layout are awesome! Home of the Netherlands Fortress Museum, Naarden also is famous for its textile industry and Bach's St. Mathews Passion on Good Friday.
ekenitr / Flickr
Located in Limburg near the border with Beligum, Thorn was a tiny principality back in the 12th century. The smallest independent state in the Holy Roman Empire, Thorn was ruled over by an abbess who was assisted by 20 nuns of noble birth. You can visit the ornate 10th century St. Michaelskerk Abbey Church, the focal point of the town. Today, Thorn is known as the "while village" because of the white-washed stone houses in the center of town.
Volendam sits on land that was reclaimed from the Zuiderzee in the 14th century, making it popular with farmers and fishermen. This pretty town also became popular with artists such as Picasso and Renoir. It remains popular with tourists from Amsterdam who come to see its old fishing boats and residents dressed in traditional Dutch clothing, and brown buildings topped with red-pointed roofs. This is the stuff picture postcards are made of!
sara / Flickr
Don't have time to visit Venice, then a visit to Giethoorn is in order. It's a city filled with serene canals that refers to itself as "the Venice of the North." With 90 km (55 miles) of canals, some houses can only be reached by boat. This is a good place to take a canal boat ride or, if you're a do-it-yourelfer, you can rent a boat for your own tour that will take you by canal-side cafes and thatched houses, and under arching bridges.