Encompassing many of South Africa's most popular tourist attractions, the Western Cape has a seemingly never-ending list of amazing places for visitors to check out. Indeed, the fourth-largest province in the country has a staggering array of beautiful landscapes on show, with Cape Town's distinctive backdrop and the gorgeous scenery of the Garden Route just two of its many highlights.
Boasting some of the oldest settlements in the country, the Western Cape also has lots of history for you to delve into, with the famous Robben Island attracting crowds of visitors every year. Whether it's the vineyards and wineries of Stellenbosch, the fantastic whale watching at Hermanus, or the adorable penguins at Boulders Beach, one could spend a lifetime exploring all the best places to visit in Western Cape.
Western Cape Map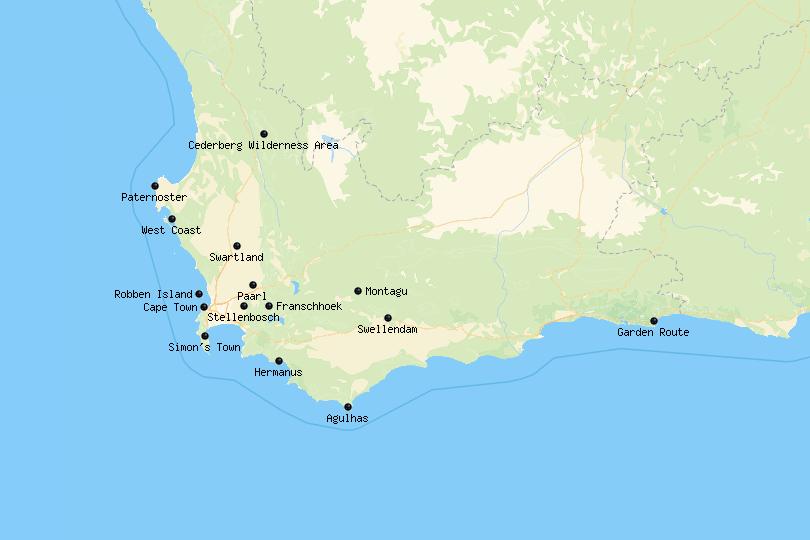 © OpenStreetMap © MapTiler © Touropia
One of the oldest fishing villages in the Western Cape, sleepy, laidback Paternoster is a great place to head to if you're looking for a quiet holiday. The white-washed cottages, rugged coastline, and beautiful white-sand beaches certainly make for a scenic setting.
Although ideal for people looking to kick back and relax, Paternoster also has a wealth of great outdoor activities for you to enjoy, with hiking and mountain biking around the Cape Columbine nature reserve particularly popular pastimes.
In addition to this, visitors can also go kayaking, snorkeling, and scuba diving, or even take a dolphin or whale watching tour to catch a glimpse of the area's abundant marine life.
14. Agulhas National Park
[SEE MAP]
Located at the southernmost tip of the continent, where the Atlantic and Indian Oceans dramatically meet at the Cape of Storms, Agulhas National Park is a fascinating place to visit. Over the centuries, numerous ships and sailors have met their fate along its unwelcoming, rugged coastline.
Humans have long inhabited the area, and while exploring the park, visitors can check out the old lighthouse and museum, which house part of shipwrecks and ancient stone utensils once used by the Khoisan people.
With lots of marine, mammal, and birdlife also on show, the national park is delightful to hike around; wherever you go, the scenery is absolutely stunning. With dolphins, whales, and porpoises sometimes spotted offshore, Agulhas National Park is definitely worth visiting if you have the chance.
One of the oldest towns in the whole of South Africa, the charming and picturesque Swellendam definitely merits a visit. There are many historical and cultural landmarks to see around town, while its location at the foot of the Langeberg Mountains makes for a spectacular setting.
With a laidback, peaceful feel to it, Swellendam is very pleasant to wander around, with plenty of impressive colonial-era architecture and national monuments on show. The region's many farms mean that there is loads of delicious local produce for you to try out too.
Just a stone's throw away from the town are Marloth Nature Reserve and Bontebok National Park, both of which have a multitude of fantastic trails and paths for you to hike along.
Nestled away in the Langeberg Mountains with rivers either side of it, it's not without good reason that the small town of Montagu is known as the 'mountain mecca.' Famed for its fantastic wineries and vineyards, its scenic setting, and healing mineral springs, Montagu really is a treat to visit. Many guests end up staying longer than they intended.
While its wonderful hot springs and beautiful gardens are perfect for relaxing in, visitors can also go abseiling, mountain biking, or paragliding in the surrounding natural areas. Lying along Route 62 – the country's very own version of Route 66 in the States – Montagu is also a great base from which to explore the Klein Karoo.
Founded all the way back in 1687, Paarl boasts a rich history and culture, with lots of lovely Cape Dutch houses, elegant gardens, and national monuments on show.
Surrounded by towering mountains and fauna and flora-filled nature reserves, the town also has lots of great local produce and delicious wines for you to try out; all produced on its many farms and vineyards.
While ambling around the peaceful town and taking in the impressive Georgian, Victorian, and Edwardian buildings is a lovely way to pass the time, visitors shouldn't miss out on a trip to the nearby Drakenstein Prison. It was from here that Nelson Mandela was finally released from captivity.
Lying just to the north of Cape Town, the beautiful Swartland region of South Africa consists of endless fertile plains shimmering with golden wheat in the summer, with farms, vineyards, and orchards punctuating the landscape.
In winter, the scenery is just as arresting; the region takes on a dark appearance due to the Renosterbos bushes that flower in the area.
Known as the breadbasket of the Cape, Swartland also boasts some lovely towns and villages, such as Darling, Riebeek West, and Riebeek Kasteel. A plethora of fresh produce is sure to be on offer wherever you may go from the many picturesque farms in the region.
Located just outside of Cape Town on the Cape Peninsula, Simon's Town's has a scenic and sheltered setting on the shores of False Bay. This location means that for more than 200 years, it has been a naval base to both the British and South African navies.
The beautiful mountains looming over the town not only form an impressive backdrop but are also home to a number of great trails and paths for visitors to explore.
One of the main attractions is the magnificent Boulders Beach, which is famed for its cute residents; many people come to the beach to gaze at the hundreds of African penguins inhabiting its sandy shores.
With lots of great seafood for the taking, and shark cage diving, boat trips, and kayaking also available, Simon's Town makes for a fabulous day trip from Cape Town, with lots for you to see and do.
Founded in 1688 in a gorgeous, verdant valley of the same name, Franschhoek boasts a wealth of fantastic vineyards and wineries, with lots of great restaurants to boot.
The small town is very picturesque, as it is surrounded by mountains. One of the best ways to explore the valley is to board the Franschhoek Wine Tram, which takes you to many of South Africa's best wine estates.
While relaxing in the beautiful surroundings and sampling delicious wines is how many people choose to spend their time in Franschhoek, there are also some excellent mountain biking trails and hiking paths for you to explore in the nearby mountains and hills.
7. West Coast National Park
[SEE MAP]
Centered around the shimmering blue waters of Langebaan Lagoon, West Coast National Park will delight nature lovers and outdoor aficionados alike. It is bursting with white dunes, verdant wetlands, and a rugged Atlantic Ocean coastline.
With plenty of migratory birds, and mammals such as mountain zebra, ostriches, and antelope on show, it is a great place to spot local wildlife, and many hiking paths and trails wind their way through its diverse landscapes.
Only an hour and a half's drive from Cape Town, West Coast National Park attracts visitors looking to immerse themselves in nature and escape the city's bustling streets.
South African Tourism / Flickr
Located just off the coast of Cape Town in Table Bay, it is on Robben Island that Nelson Mandela was famously imprisoned for 18 of his 27 years spent in jail as he protested against the apartheid regime in South Africa.
While the island has mainly been used throughout its history to house political prisoners, nowadays, it is a popular museum and tourist attraction. Many people come to the former prison to learn about both the lives of its former inmates and life in South Africa under both colonial rule and apartheid.
A very interesting and moving place, visiting Robben Island is a must for anyone interested in learning more about the country's troubled past.
Knutson Laura / Flickr
Famous for its fantastic whale watching, Hermanus is the place to head to if you want to catch a glimpse of these majestic creatures up close in their natural habitat. The small town has a number of great vantage points to spy them from, with Gearing's Point the best of the bunch.
Alternatively, you can take a whale-watching boat tour or go sea kayaking around the bay. Although whales are what most people come for, Hermanus has some lovely rugged coastline for you to explore, as well as some breathtakingly beautiful beaches, such as those of Voelklip and Pearly.
4. Cederberg Wilderness Area
[SEE MAP]
Covering a vast expanse of territory, the Cederberg Wilderness Area encompasses some spectacular scenery. Domineering mountains stand side by side with impressive rock formations, such as the distinctive Wolfberg Arch and the awe-inspiring Maltese Cross.
A very peaceful place to visit, Cederberg Wilderness Area has some great hiking, mountain biking, and rock climbing for visitors to enjoy. There's also some fascinating San rock art dating back millennia on show.
tbsnwrth / Flickr
Stretching more than 300 kilometers along the southwest coast of South Africa, the Garden Route is very popular with locals and foreigners alike. It takes you past some breathtaking scenery, with lots of lovely little towns and villages for you to stop off at along the way.
Sandwiched between the Outeniqua and Tsitsikamma mountains and the Indian Ocean, the beautiful beaches and bays that dot the scenic coastline offer up a myriad of astounding views and outdoor activity opportunities.
With idyllic towns such as Knysna, Plettenberg Bay, and Mossel Bay for you to check out, it's no wonder that the Garden Route is one of South Africa's prime tourist destinations.
For wine lovers, no visit to South Africa can be complete without stopping by Stellenbosch to sample some of the region's fantastic local produce. There is a multitude of great wineries, vineyards, and wine estates for you to delve into.
Located in the heart of the Cape Winelands, Stellenbosch is the second oldest European settlement in the country. The center of town has lots of lovely Cape Dutch colonial architecture to discover.
With a lively and multicultural feel to its streets, thanks to its large university, the town has some great nightlife on offer, and visitors will never tire of Stellenbosch's scenic setting below the mountain of the same name.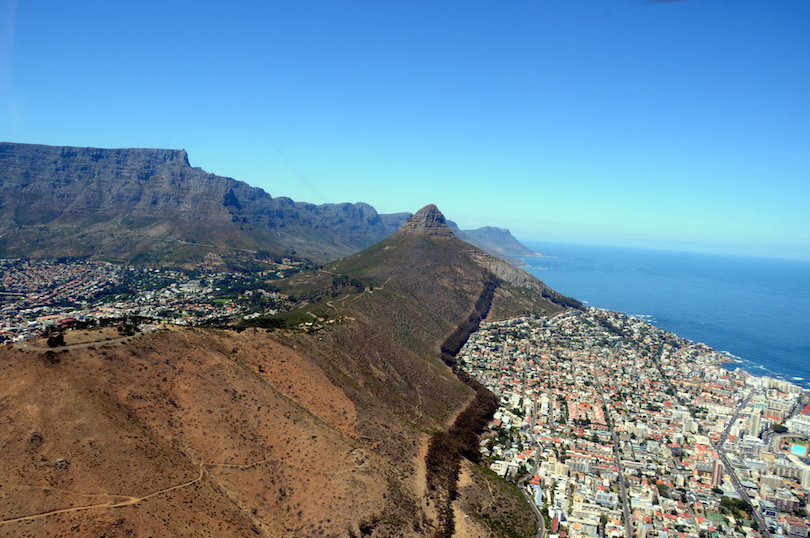 paulscott56 / Flickr
The second-largest city in South Africa, Cape Town is located in a breathtakingly beautiful setting on the shores of Table Bay, with the famous Table Mountain, Devil's Peak, and Lion's Head looking down on it.
Blessed with such a dramatic backdrop, the city is visually stunning, and the vibrant feel about its streets is no less alluring.
The continent's southernmost city and the oldest settlement in the country, Cape Town is bursting with important and interesting historical and cultural landmarks. Robben Island lies just offshore, and the surrounding nature offers up a wealth of great outdoor activities.
With lots of fascinating museums, a thriving arts and culture scene, and great restaurants, nightclubs, and bars to boot, Cape Town really does have something for everyone to enjoy.