If you're planning a vacation to South Africa, then you'll almost certainly be spending time in Cape Town. Named for the Cape of Good Hope, and the southernmost city in Africa, Cape Town is an incredible destination. Surrounded by epic landscapes, beaches, cliffs and wineries, Cape Town is packed with outdoor attractions and scenery. However, the cultural mecca is also home to colorful neighborhoods like Bo-Kaap, the historic Robben Island and world-class museums. While there is so much that you can enjoy while in Cape Town, it is also worth escaping the city for a day and seeing the surrounding region. From wineries to penguin colonies, here are just a few of the best day trips from Cape Town to enjoy.
Best Organized Day Trips
dreamstime/© Wernerl
A 90-minute drive outside of Cape Town brings you to Langebaan, a coastal town located on the shores of Saldanha Bay. The main reason to head to Langebaan is to experience a relaxed beach that feels a world away from the hustle and bustle of Cape Town. There are still traditional heritage fishing villages along the coast, and small wooden fishing boats dot the blue horizon. Restaurants located right on the beach let you dig your toes into the sand as you dine on fresh seafood that was caught earlier that day. Kitesurfing is also a popular pastime, and you can take kitesurfing lessons on the beach at Langebaan.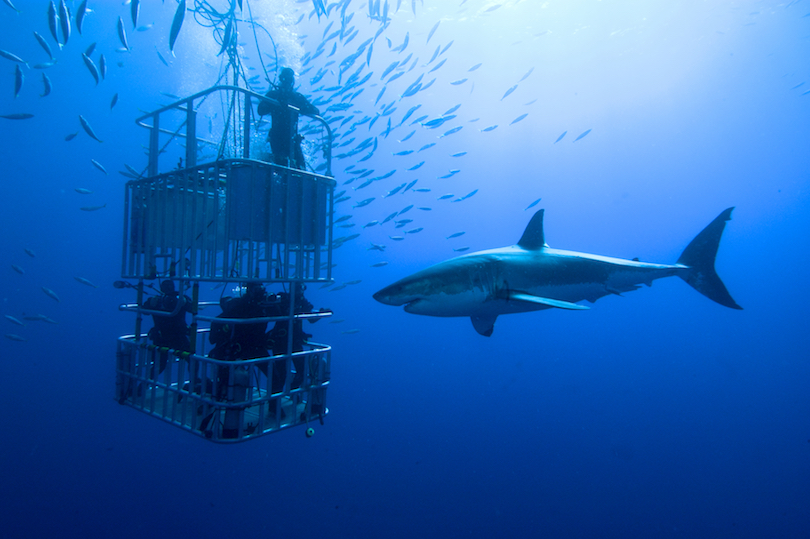 dreamstime/© Stefan Pircher
If you're a serious adrenaline junkie in search of the next big thrill, then great white shark cage diving may be the solution. There are several places around Cape Town where you can try this incredible experience. As the name suggests, you're scuba diving within a cage, and great white sharks come right up to your protected space. Gaansbaai, about two hours south of Cape Town, offers shark cage diving throughout the year. In the South African winters, or between June and October, it is possible to try great white shark cage diving in False Bay, which is under an hour's drive from Cape Town.
dreamstime/© David Steele
Every year during the spring months of August and September, certain parts of South Africa burst into a kaleidoscope of colours with their impressive display of various wild flowers. The West Coast National Park is the perfect area for a day trip from Cape Town to see the wild flowers, as it is located right next to the town of Langebaan. Outside the wildflower season, the white sand beaches and small islands in the Saldanha Bay are the top attractions in the park, and the whole area is a popular birdwatching destination. Plenty of hiking trails lead you along the coast, and there are countless vantage points beloved by photographers. You may even spot some local wildlife, which can include springbok, Cape mountain zebras, ostriches and wildebeest.
flickr/Pictrues
Boulders Beach is a stunning destination just outside of Cape Town that offers beautiful scenery, but the main attraction is definitely the penguins. Just 20 years ago, African penguins settled in this area, and now the colony is large and uses Boulder Beach as its breeding ground. You can often spot penguins throughout the coastal area, but a small fee can take you right to the heart of it all. There are only a limited number of people allowed on the beach with the penguins in a given day, so getting there early ensures you'll get the chance to see them up close.
flickr/Knutson Laura
South of Cape Town is Hermanus, a seaside town known for its spectacular whale watching opportunities. If you want to spot whales in their natural habitats, then Hermanus is the ideal place to do so. Southern Right Whales migrate along the coast annually, and they tend to make a stop at Hermanus to calve and to care for their young. The best time of year to spot whales is from June all the way through to December. A boat trip can get you up close and personal with Southern Right Whales, Bryde Whales and Humpback Whales. However, it is also entirely possible to spot whales right from the shoreline, which is a cheaper option for travelers on a budget.
dreamstime/© Bigpressphoto
Inland from Cape Town is Stellenbosch, which is located smack dab in the heart of Cape Winelands. While the region is home to countless wineries and vineyards, serious oenophiles know that Stellenbosch is the center of it all. Wine tours are the number one attraction in Stellenbosch, or you can map out your own tour for tastings at each stop. As a major wine destination, the food in Stellenbosch is fantastic. On Church Street, in particular, you'll find well over a dozen wonderful eateries, many of which have menu items paired specifically with local wines. The city itself is also home to a large university, an abundance of Cape Dutch architecture and impressive nightlife.
At the southernmost tip of the Cape Peninsula is the Cape of Good Hope, a must-see destination on your Cape Town trip. As you get close, you'll enter the Table Mountain National Park. From the Cape of Good Hope, you can look out over False Bay and perhaps even spot a few migrating whales. On the cape itself is Cape Point, a spectacular destination with breathing views over stone cliffs, lush green valleys and beautiful beaches. Cape Point boasts miles of hiking paths, making it the perfect place to work up a sweat or snap some photographs.