If you're planning a vacation to South Africa, then you'll almost certainly be spending time in Cape Town. Named for the Cape of Good Hope, and the southernmost city in Africa, Cape Town is an incredible destination. Surrounded by epic landscapes, beaches, cliffs and wineries, Cape Town is packed with outdoor attractions and scenery. However, the cultural mecca is also home to colorful neighborhoods like Bo-Kaap, the historic Robben Island and world-class museums. While there is so much that you can enjoy while in Cape Town, it is also worth escaping the city for a day and seeing the surrounding region. From wineries to penguin colonies, here are just a few of the best day trips from Cape Town to enjoy.
Map of day trips from Cape Town
© OpenStreetMap © MapTiler © Touropia
A 90-minute drive outside of Cape Town brings you to Langebaan, a coastal town located on the shores of Saldanha Bay. The main reason to head to Langebaan is to experience a relaxed beach that feels a world away from the hustle and bustle of Cape Town. There are still traditional heritage fishing villages along the coast, and small wooden fishing boats dot the blue horizon. Restaurants located right on the beach let you dig your toes into the sand as you dine on fresh seafood that was caught earlier that day. Kitesurfing is also a popular pastime, and you can take kitesurfing lessons on the beach at Langebaan.
Getting to Langebaan
While it is just about possible to get to Langebaan from Cape Town by public transport, buses run quite infrequently, so it a good idea to check in advance when they are running. The journey takes two and a half hours, and buses depart from Cape Town station.
Driving is much easier, and means you can explore the treasures of the Western Cape at your leisure. The R27 runs directly between Cape Town and Langebaan and should take about an hour and a half to two hours to drive from one to the other. While in the area, you should definitely explore the beautiful scenery of the West Coast National Park if you have the time; the natural wonders on show are breathtaking.
Indeed, many people opt to take a guided tour, as this enables them to see as much of the Western Cape as is possible in just one day. As well as visiting the lovely villages of Langebaan and Yzerfontein, guests also stop off to taste delicious local produce along the way and view the beautiful birds and flowers found in the West Coast National Park.
6. Great White Shark Cage Diving
[SEE MAP]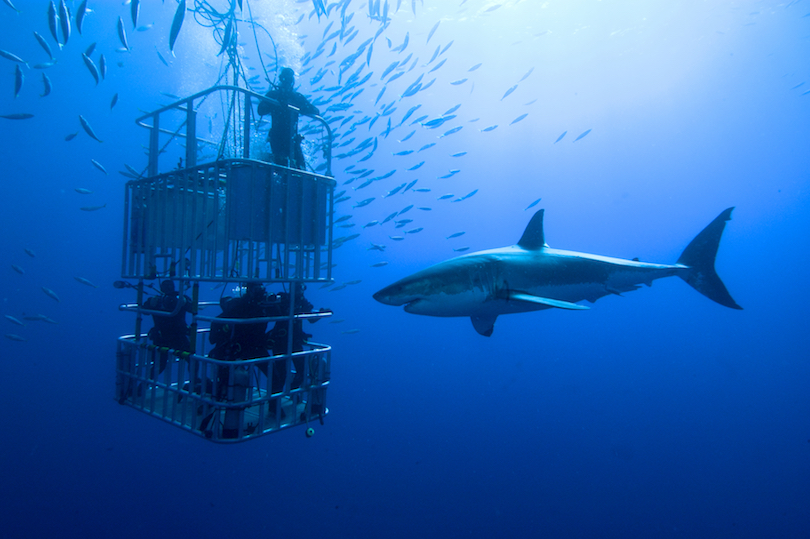 If you're a serious adrenaline junkie in search of the next big thrill, then great white shark cage diving may be the solution. There are several places around Cape Town where you can try this incredible experience. As the name suggests, you're scuba diving within a cage, and great white sharks come right up to your protected space. Gaansbaai, about two hours south of Cape Town, offers shark cage diving throughout the year. In the South African winters, or between June and October, it is possible to try great white shark cage diving in False Bay, which is under an hour's drive from Cape Town.
Taking a Cage Diving Tour
The only way to experience the thrill of Great White Sharks circling you is to take a cage diving tour; this really will offer unforgettable memories. After having been driven to Gansbaai, it is time to suit up and learn all about the huge predators from a marine biologist before entering the underwater world in your protective cage. The waters around Gansbaai are renowned for the large number of Great White Sharks that live here, so you have excellent chances of seeing the awe-inspiring creatures up close.
5. West Coast National Park
[SEE MAP]
Every year during the spring months of August and September, certain parts of South Africa burst into a kaleidoscope of colors with their impressive display of various wild flowers. The West Coast National Park is the perfect area for a day trip from Cape Town to see the wild flowers, as it is located right next to the town of Langebaan. Outside the wildflower season, the white sand beaches and small islands in the Saldanha Bay are the top attractions in the park, and the whole area is a popular birdwatching destination. Plenty of hiking trails lead you along the coast, and there are countless vantage points beloved by photographers. You may even spot some local wildlife, which can include springbok, Cape mountain zebras, ostriches and wildebeest.
Getting to West Coast National Park
Lying around 90 kilometers to the northwest of Cape Town, the national park is very simple to drive to, as the R27 will take you all the way there. The journey takes an hour and a half. Once you arrive, you can either park and explore some of its lovely little paths on foot, or drive from one site of interest to the other. Both the villages of Yzerfontein and Langebaan are well worth visiting while you're in the area.
A fun and friendly way to explore this wonderful part of the Western Cape is to take a full-day guided tour. This not only takes you to enjoy the spectacular scenery of the national park, but it also lets you sample some of the region's fantastic local produce as you go. With stops at Langebaan, Yzerfontein, and Khwa ttu village also included, it is an action-packed day with loads for you to see and do.
4. Boulders Beach Penguin Colony
[SEE MAP]
Pictrues / Flickr
Boulders Beach is a stunning destination just outside of Cape Town that offers beautiful scenery, but the main attraction is definitely the penguins. Just 20 years ago, African penguins settled in this area, and now the colony is large and uses Boulder Beach as its breeding ground. You can often spot penguins throughout the coastal area, but a small fee can take you right to the heart of it all. There are only a limited number of people allowed on the beach with the penguins in a given day, so getting there early ensures you'll get the chance to see them up close.
Getting to Boulders Beach
As the lively penguin colony is located just outside of Simon's Town, the best way to get there by public transport is to take a direct train from Cape Town; these take roughly an hour and ten minutes. Once you arrive, Boulders Beach is around a 40-minute walk away, so you can either take a taxi there or wander through Simon's Town sightseeing as you go.
Another option is to drive from Cape Town. While the journey does take roughly the same length of time, it does mean that you can stop off at places along the way or continue to Cape Point after seeing the penguins. The M6 takes you all the way there from Cape Town. On the way, you'll pass below Table Mountain, along a scenic coastal road, and past the beautiful Chapman's Peak.
If you don't feel like driving or taking the train there yourself, you may want to consider taking a guided tour. As well as taking you to see the adorable African penguins, you'll also pass along the beautiful Chapman's Peak road and visit the Cape of Good Hope for some fantastic views over the ocean. As you go, your knowledgeable guide will tell you everything there is to know about the penguins and delightful scenery you pass.
Knutson Laura / Flickr
South of Cape Town is Hermanus, a seaside town known for its spectacular whale watching opportunities. If you want to spot whales in their natural habitats, then Hermanus is the ideal place to do so. Southern Right Whales migrate along the coast annually, and they tend to make a stop at Hermanus to calve and to care for their young. The best time of year to spot whales is from June all the way through to December. A boat trip can get you up close and personal with Southern Right Whales, Bryde Whales and Humpback Whales. However, it is also entirely possible to spot whales right from the shoreline, which is a cheaper option for travelers on a budget.
Getting to Hermanus
To drive to Hermanus from Cape Town is very simple; along the way, you'll pass through some lovely scenery. It is well worth taking the coastal route at least one way for the beautiful views on offer, although this does add a bit of time to the two-hour journey. The quickest way there is to simply take the N2 heading southeast most of the way. At exit 90, turn off onto the R43, and this will take you straight there.
To see whales up close in their natural habitat, many visitors to Cape Town take a whale watching tour to Hermanus, as whales breed just off of the coast. On your boat trip, you'll have the chance to see whales, dolphins, and seals; catching a glimpse of the majestic creatures is exhilarating. After that, the tour culminates in a visit to Hermanus and a stop at a local winery to sample some of its delicious produce.
Inland from Cape Town is Stellenbosch, which is located smack dab in the heart of Cape Winelands. While the region is home to countless wineries and vineyards, serious oenophiles know that Stellenbosch is the center of it all. Wine tours are the number one attraction in Stellenbosch, or you can map out your own tour for tastings at each stop. As a major wine destination, the food in Stellenbosch is fantastic. On Church Street, in particular, you'll find well over a dozen wonderful eateries, many of which have menu items paired specifically with local wines. The city itself is also home to a large university, an abundance of Cape Dutch architecture and impressive nightlife.
Getting to Stellenbosch
From the main station in Cape Town, trains run quite frequently to Stellenbosch and the journey time is around one hour. Once you arrive in Stellenbosch, you'll find that everything is within walking distance, although you will need to take a taxi or two if you want to visit any of the surrounding vineyards and wineries.
As such, it is probably a better idea to visit Stellenbosch by car, as this enables you to stop at various wineries as you go. It is very easy to drive there; all you need to do is head east on the N1 and turn off at exit 39 onto the R304. This will take you directly to Stellenbosch. It's a good idea to plan your journey in advance, so you know which wineries you want to head to.
As most people visit Stellenbosch for its vineyards and wineries, the best way to see a number of them in one day is to take a guided tour. In addition to stopping off and sampling delicious wines at various estates, you'll also get taken around the town itself and to Franschhoek – a lovely little village. As you travel through the beautiful scenery, your guide will tell you all about the places you pass, as well as the history of wine in the Cape.
1. Cape of Good Hope & Cape Point
[SEE MAP]
At the southernmost tip of the Cape Peninsula is the Cape of Good Hope, a must-see destination on your Cape Town trip. As you get close, you'll enter the Table Mountain National Park. From the Cape of Good Hope, you can look out over False Bay and perhaps even spot a few migrating whales. On the cape itself is Cape Point, a spectacular destination with breathing views over stone cliffs, lush green valleys and beautiful beaches. Cape Point boasts miles of hiking paths, making it the perfect place to work up a sweat or snap some photographs.
Getting to Cape of Good Point
As there is no direct public transport link that takes you straight to the Cape of Good Hope and Cape Point from Cape Town, you'll first have to take a train to Simon's Town; these depart regularly from the central station and take about an hour and ten minutes in total. Once you arrive, you can either take a taxi the remaining 25 kilometers or even rent a bike and cycle there if you want to really immerse yourself in the wonderful nature.
By car, it is simpler to get there; this also means you can stop off to see the penguins at Boulders Beach or drive past the spectacular scenery of Chapman's Peak and Nordhoek. From the center of Cape Town, head south out of the city on the M3 and follow it when it turns into the M64. Continue on this route for a short while before taking the M4 along the southeastern coast of the peninsula all the way to Cape Point. All in all, it should take you about an hour and a half to get there.
Another lovely way to visit Cape Point is to take a guided tour of the Cape Peninsula. This is particularly worthwhile if you're pressed for time. As well as seeing the Cape of Good Hope, you'll also see penguins in Simon's Town, seals at Hout Bay, and explore the delightful botanical gardens of Kirstenbosch. With an expert guide on hand, you'll learn a lot about the Cape Peninsula as well as see all of its main sights.