A delightfully diverse place, New York State is much more than just the bright lights, entertainment and attractions of the Big Apple. Exploring 'The City That Never Sleeps' is a must, but visitors that venture further afield will come across wonderful wineries, waterfalls and wilderness.
The untamed Adirondacks, for instance, offer awesome outdoor activities while the Hudson Valley and Finger Lakes contain countless wineries. The latter also has fun water sports to try, as do the Hamptons and Thousand Islands. While these are all home to stupendous scenery, the iconic Niagara Falls is undoubtedly the state's standout natural sight.
Besides major cities such as Buffalo and Rochester, famed holiday destinations, such as Lake Placid and The Catskills also offer plenty of things to do in New York State. Add in NYC's top-class museums and tourist attractions and the Empire State really does have it all.
In this post, we'll cover:
23. Brooklyn Bridge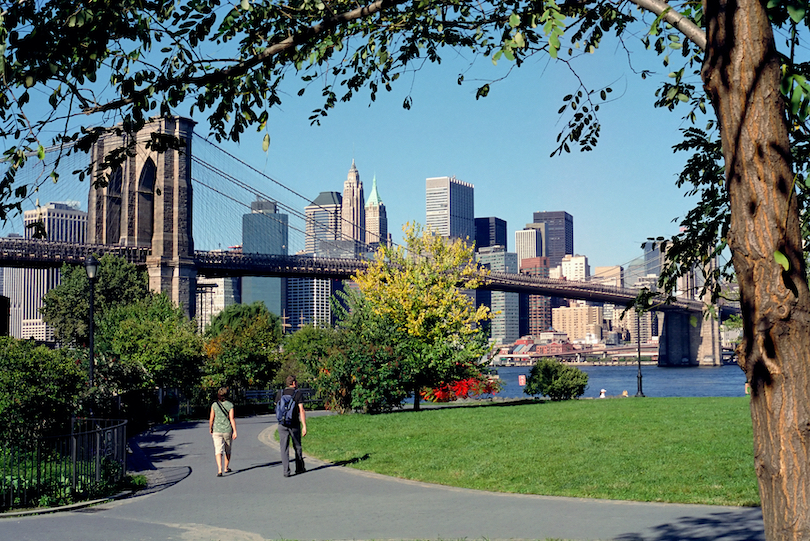 One of New York City's unmissable landmarks is the beloved Brooklyn Bridge. Used by thousands of pedestrians, cyclists and motorists each day, it boasts sweeping views over the Manhattan and Brooklyn skylines.
Built between 1869 and 1883, the stupendous suspension bridge connects the two famous boroughs together. Spanning 6,016 feet in length across the East River, it showcases a unique stone and steel design. From its giant Gothic Revival towers stretch long, thick cables while an elevated pedestrian walkway runs above its busy roads.
An architectural and engineering marvel, the National Historic Landmark has appeared in countless films, TV shows and artworks over the years. From its promenade, you can snap fabulous photos of the harbor, boroughs, and the bridge itself.
22. Saratoga Race Course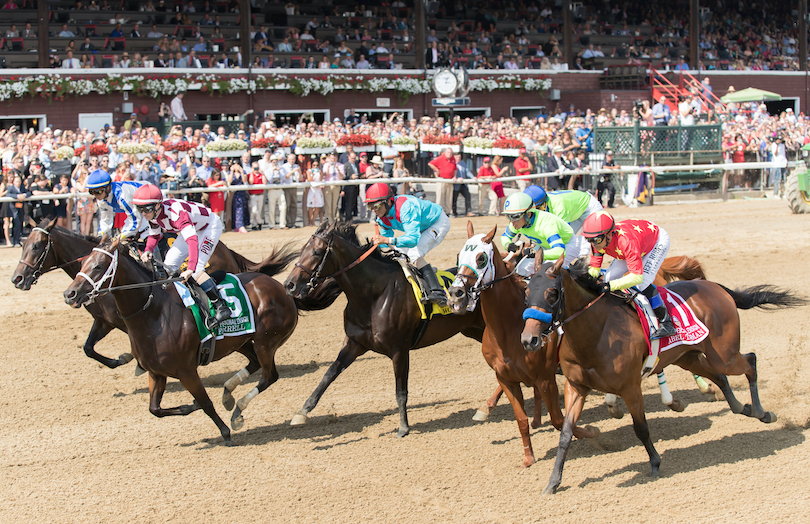 On the southeastern outskirts of Saratoga Springs you can find one of the most revered race tracks in the nation. Since 1863, thrilling Thoroughbred horse races have been held at the hallowed course from July through to September.
Often listed among the world's greatest sporting venues, its dirt and turf tracks are lined by gigantic, historic grandstands. As well as seats and suites, restaurants and bars look out over the horses racing neck and neck down below. During the summer season, all kinds of high-stakes races take place six days a week.
Besides watching a race, visitors can take tours around the Saratoga Race Course. As you wander about its paddocks and Hall of Fame, you'll learn all about the rich history and heritage of the race track.
21. The Hamptons
Long a popular haunt and holiday destination of wealthy New Yorkers, The Hamptons lie at the east end of Long Island. Strung out along its South Fork are a series of scenic seaside towns and villages to visit.
Home to expensive beach houses and exclusive country clubs, the affluent area includes some of the most valuable real estate in the country. Here you'll find high-end restaurants, luxury boutiques and local art galleries with trendy bars and chic yacht clubs.
While beautiful beaches hug the Atlantic, the interior is mostly made up of pristine farmland. Splendid state parks can also be found along the coast that offer fun outdoor activities and relaxing recreation opportunities.
20. Ausable Chasm
An amazing natural phenomenon, the enormous Ausable Chasm has awed and inspired tourists ever since the 1870s. Nestled in the northeast of the state, not far from Lake Champlain, its snaking river and sheer sandstone cliffs certainly make for a spectacular sight.
Formed over millennia, the gigantic gorge stretches about two miles in total and rises around the rushing Ausable River. Sometimes called the 'Little Grand Canyon of the East', its rough waters are lined by fantastic falls and rock formations.
While epic views and photos can be enjoyed from its bridge, more adventurous visitors may want to rock climb or raft along the river. A more peaceful, yet no less picturesque pastime, is hiking atop the chasm's steep sides.
19. The Catskills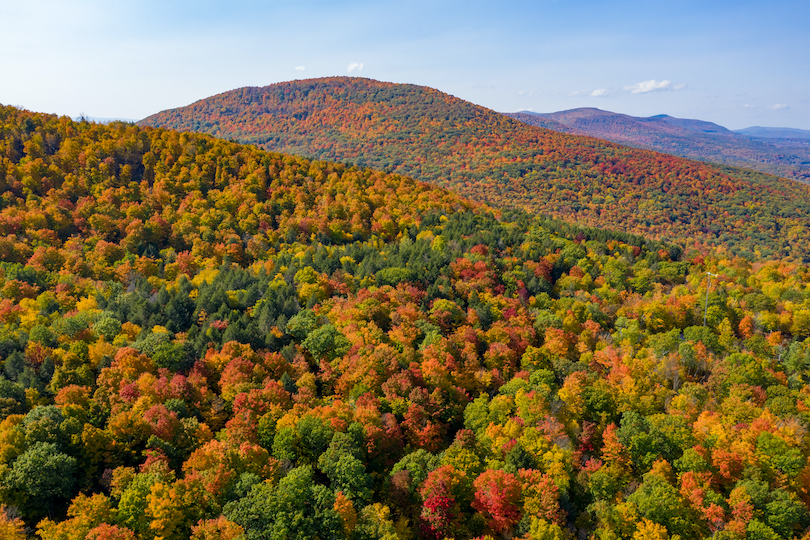 Home to stunning landscapes, The Catskills are another very popular place to explore. Within an hour's drive of New York City, you can find yourself among the rugged mountain range's wild and rural spaces.
Due to the serene and secluded nature, many people come to hike, bike and camp amidst its vast forests and valleys. Outstanding winter sports and wildlife watching can also be had while its rivers and lakes lend themselves perfectly to fishing and rafting.
Besides experiencing the great outdoors, The Catskills also have plenty of little towns and villages to check out. The most famous of these include Woodstock, Windham and Kingston, which was once New York's state capital.
18. Cooperstown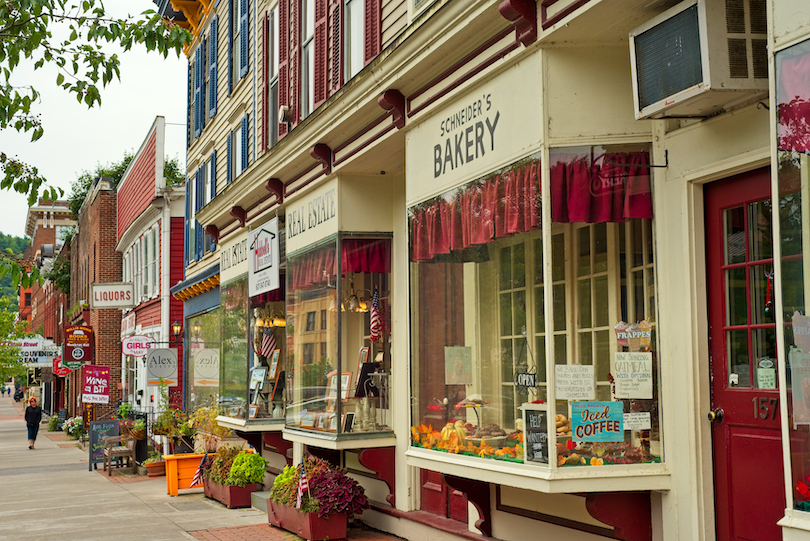 Situated at the southern end of Otsego Lake is the quiet and quaint village of Cooperstown. A lovely little place, it is most known for being home to the brilliant National Baseball Hall of Fame and Museum.
While this is undoubtedly its top attraction, the small settlement actually has much more to see and do. Founded in 1786, it has a very well-preserved historic district to explore packed with centuries-old buildings, businesses and monuments. Alongside all its attractive architecture are several small museums and art galleries to visit.
In addition to exploring its history and culture, you can hike and bike along the lakeshore or enjoy swimming, fishing and boating. One of the best times to visit is in summer when the Glimmerglass Opera Festival takes place.
17. Robert Treman State Park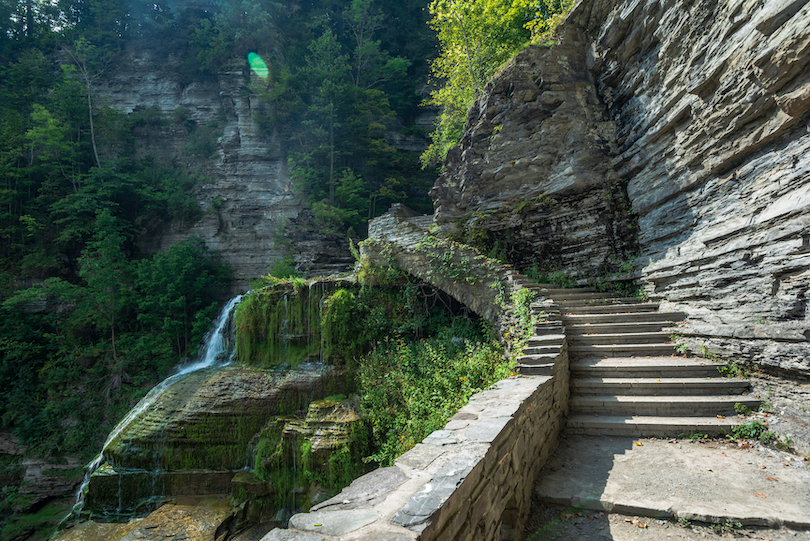 With wonderful waterfalls and views wherever you go, Robert Treman State Park certainly makes for a great day out. As it lies just outside of Ithaca, visiting the idyllic nature spot can easily be combined with the breathtaking Buttermilk Falls nearby.
Created in 1920, the park is named after the man who purchased the land, planted hundreds of trees and preserved it for future generations. While a valley, woods and rock formations make up most of its territory, it also has a swimming hole where you can take a refreshing dip.
The highlight, however, is its delightful gorge trail which takes you past twelve twinkling waterfalls. The most impressive is the 115 ft Lucifer Falls with Devil's Kitchen also attracting lots of plaudits.
16. Thousand Islands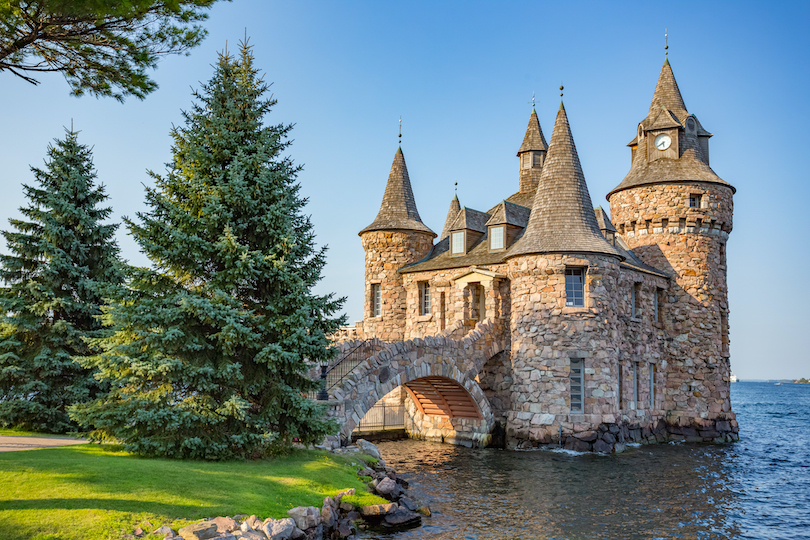 Straddling the US-Canada border in the north center of the state is the incredible archipelago of the Thousand Islands. Long a favorite vacation spot of the rich and famous, its innumerable isles offer up rest, relaxation and recreation in a picture-perfect setting.
Numbering 1,864 in total, its islands lie at the spellbinding spot where the St. Lawrence River meets Lake Ontario. While some are simply rocky outcroppings with a solitary tree, others house historic villages, holiday homes and nature reserves.
On boat tours about its bays, you can spy massive and majestic mansions such as Boldt Castle and Singer Castle tucked away on private islands. Aside from seeing how the one percent live, you can also hike and bike about the islands' parks or sail around their waters yourselves.
15. Strong National Museum of Play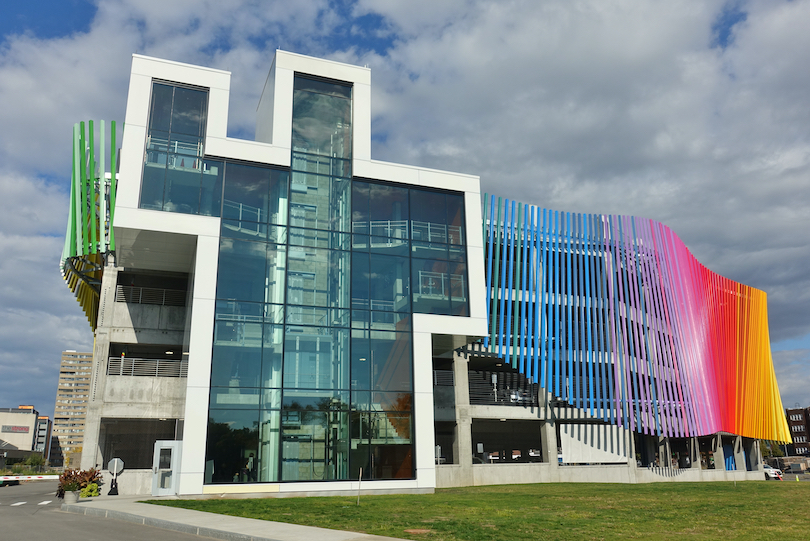 Both educational and entertaining, the superb Strong National Museum of Play can be found in the heart of Rochester. Ideal for families with young children, it contains hundreds of interactive exhibits and has countless hands-on activities and experiments to try out.
First opened to the public in 1982, its ginormous galleries now occupy a large modern building in downtown. Originally dedicated to interpreting the social and cultural history of average Americans, its collection now instead focuses on the past, present and future of play. While some sections look at storybooks and TV shows, others cover carousels, comic books and video games.
Kids and adults can also explore Sesame Street sets and enter the world of the Berenstain Bears. As well as building things, you can amble around its aquarium and see rooms full of colorful toys.
14. Watkins Glen State Park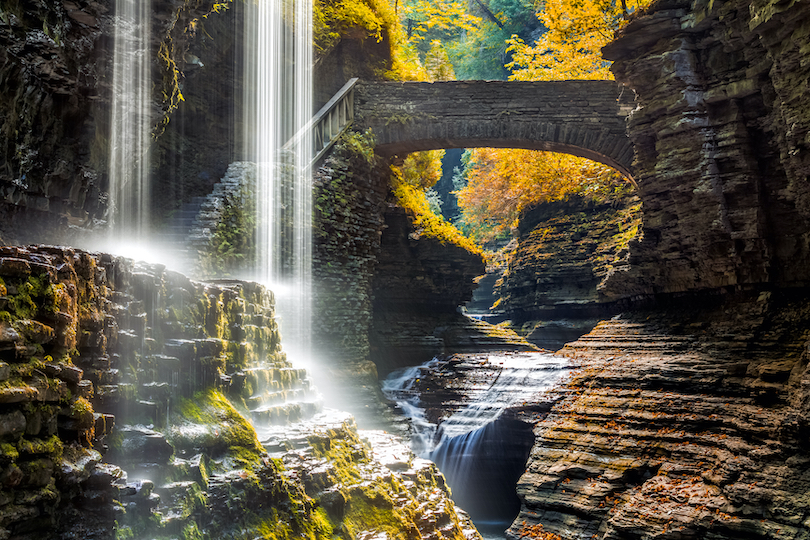 Lying at the southern end of Seneca Lake you can find the cascading waterfalls and dramatic rocky cliffs of Watkins Glen State Park. Part of the Finger Lakes Region, it has some awesome views and exciting outdoor activities for visitors to enjoy.
Set just outside of the small village of the same name, its rugged realms and verdant woodlands are cut through by a long, narrow gorge. Formed during the last Ice Age, its craggy shale and sandstone cliffs really make for a striking sight. This is because nineteen sparkling waterfalls course their way down its walls while rapids line the gushing Glen Creek down below.
To get the best photos and views, you can hike along its rim or even descend into the gorge itself. A number of campsites are also dotted about the park as are playgrounds, picnic areas and pavilions.
13. Lake George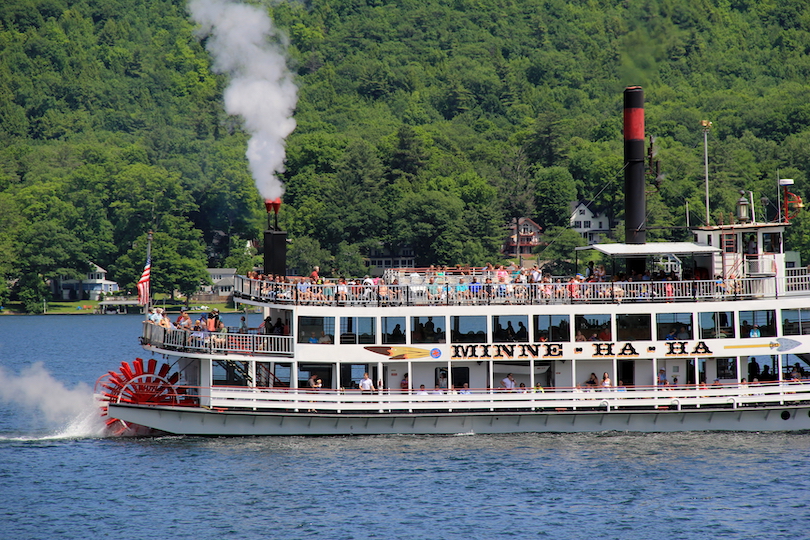 A top year-round tourist destination, the large and lovely Lake George lies tucked away amongst the Adirondacks. As well as lakeside activities and an amusement park, there are almost endless forests to explore and cozy cabins and campgrounds to stay at.
Stretching over thirty miles in length, its reflective waters lie directly north of both Saratoga Springs and Albany. Due to its sublime scenery, New Yorkers and out-of-staters alike come to relax, unwind and immerse themselves in nature. Its extensive outdoor activities include not just horseback riding and hiking but boating, kayaking and whitewater rafting.
On top of this, the town of Lake George has ample shops, restaurants and of course hotels with golf courses and local historical sights located nearby. In the cold winter months, visitors can also enjoy skiing and snowmobiling at its resorts.
12. Coney Island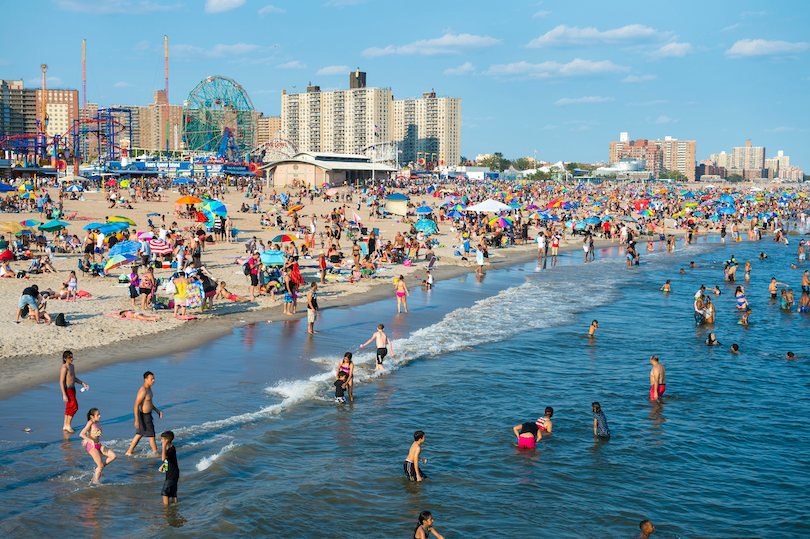 For well over a century, residents of the Big Apple have flocked to Coney Island in search of some much-needed sun, sea and sand. Besides a bustling boardwalk and beautiful beach, it has charming old fairground rides, a pier and an aquarium to check out.
Now actually connected to Long Island, the seaside neighborhood makes up the southernmost part of Brooklyn. Easily accessed from downtown on the train, it has all kinds of enticing attractions and entertainment opportunities to enjoy. Its two amusement parks for instance house thrilling rides and rollercoasters and classic carnival games.
After taking a spin on the Coney Island Cyclone – a wonderful old wooden rollercoaster from 1927 – you can bask in sweeping views of Manhattan from atop the Wonder Wheel. Lounging on the beach with an ice cream in hand is another great way to relax. As is strolling along its pier and gazing out over the Atlantic.
11. Hudson Valley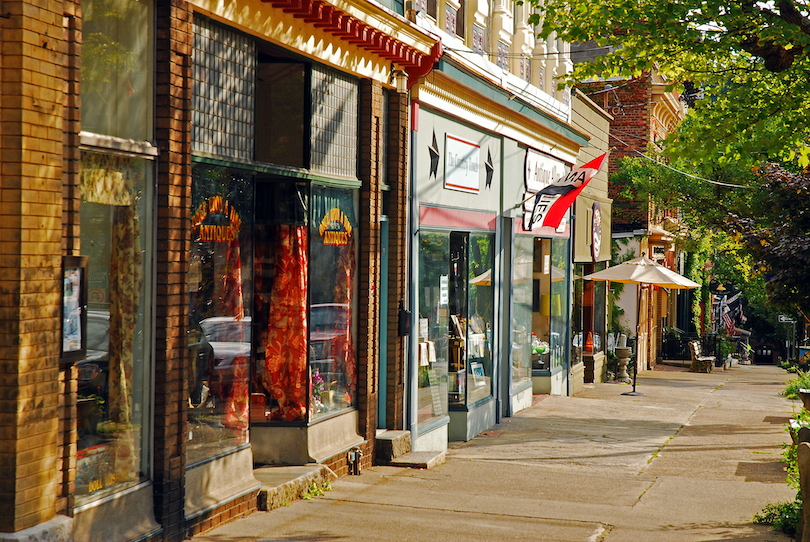 Encompassing an enormous area, the Hudson Valley extends from Albany in the north to Westchester just outside of NYC. While much of it is rural, pockets of life and local farms and wineries can be found here and there.
Along both banks of the Hudson River are vast swathes of fertile farmland with bucolic landscapes on show wherever you go. As it is known for its agriculture and organic produce, many people visit its vineyards, orchards and fabulous farm-to-table eateries.
A foodie's dream destination, its small towns and villages are full of local restaurants, artisanal food shops and farmers markets. Some interesting museums and historical sights are also scattered about while scenic drives, hikes and cycle rides can be enjoyed in the gorgeous countryside.
10. Metropolitan Museum of Art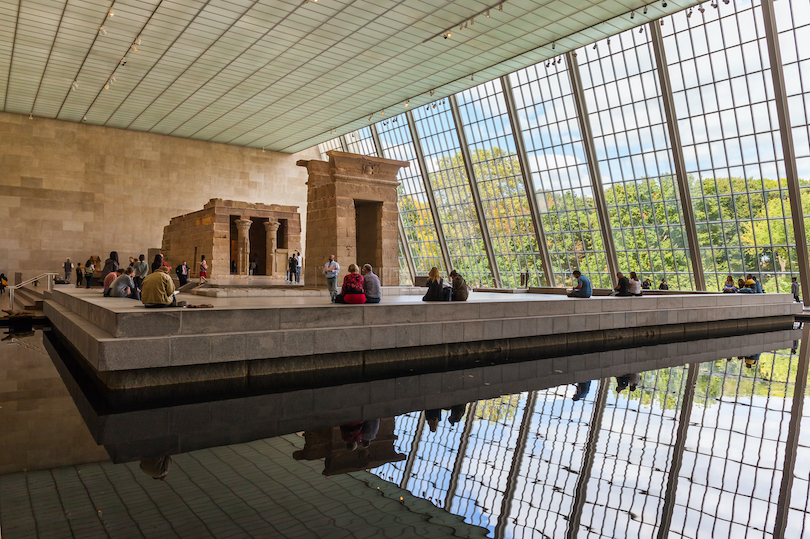 As it is the largest museum in the Western Hemisphere, 'the Met' is definitely not to be missed when in New York City. Boasting a colossal collection of more than two million artworks and artifacts, its humongous galleries really are fascinating to peruse.
Located along the Museum Mile, the magnificent museum lies on the eastern edge of Central Park on Manhattan's Upper East Side. Established in 1870, it now displays masterpieces by Rembrandt, Picasso and Michelangelo among others alongside ancient Egyptian, Greek and Roman artifacts.
Covering millennia of art history, its huge holdings range from ceramics and sculptures to drawings, paintings and furniture. Only adding to the experience is the elegant architecture of all its exhibition halls, cloisters and roof garden.
9. Fire Island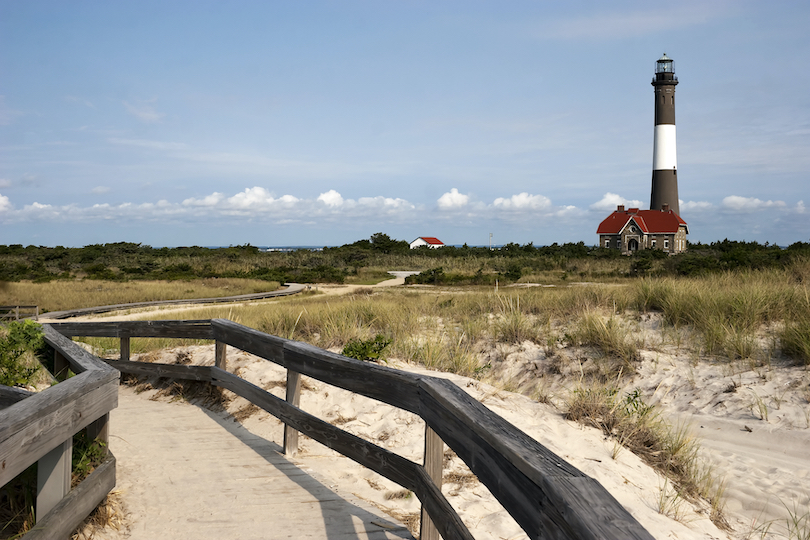 A long, thin strip of land, the scenic, serene and sandy Fire Island runs parallel to the South Shore of Long Island. While much is protected as part of its National Seashore, seasonal resort communities are strung out along the barrier island.
As most of its attractions, activities and hotels shut in winter, most people head to the isle during the sunny summer months. Then you can sunbathe, swim and sail at its protected beaches or surf on the rougher Atlantic side. Hiking, fishing and camping can also be enjoyed in its picturesque parks.
Home to some iconic gay resorts, the former whaling base has some interesting historic sights and impressive nature spots to see. These include the fantastic old Fire Island Light and atmospheric Sunken Forest.
8. Lake Placid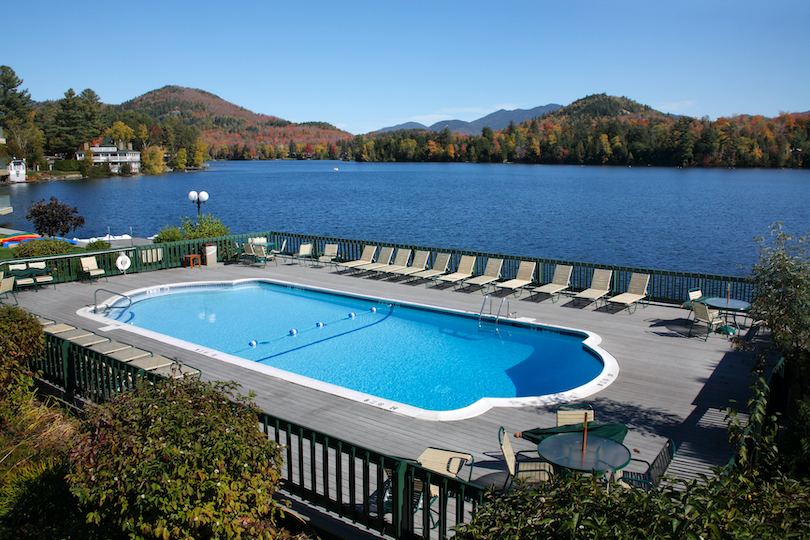 Nestled amidst the soaring Adirondacks alongside sparkling lakes is the popular year-round resort town of Lake Placid. While it offers endless outdoor pursuits, the charming village is particularly synonymous with snow sports. This is because it hosted both the 1932 and 1980 Winter Olympics.
As such, a myriad of amazing Olympic sites and sports venues are dotted about town. Although still used by elite-level athletes, locals and tourists can skate, ski and bobsled around the state-of-the-art facilities. Its quaint center also hosts a marvelous museum packed with Olympic-related artifacts, exhibits and of course medals.
Aside from skiing and snowboarding in the mountains, you can hike and bike about while taking in its phenomenal vistas. In summer, visitors can also swim and kayak about its reflective lakes.
7. Frank Lloyd Wright's Martin House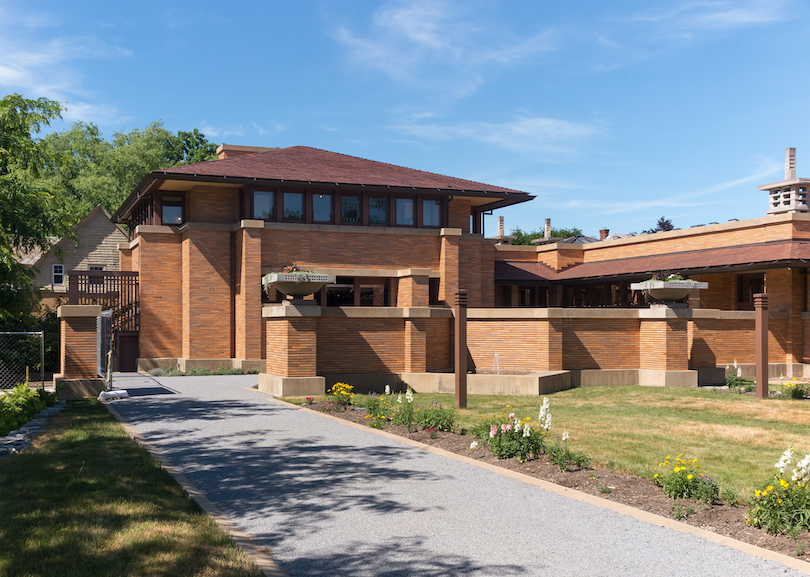 Regularly ranked among his greatest works, Frank Lloyd Wright's Martin House really is a treat to tour around. Located just east of Delaware Park, its brilliant buildings and lush green gardens lie ten minutes' drive from downtown Buffalo.
Built between 1902 and 1905, the huge house exhibits superb Prairie School architecture – the renowned architect's signature style. Besides its unusually large size and open plan layout, the house is noted for its intricate details and designs. Fine furnishings and incredible art glass windows make its elegant interior a delight to explore.
After having wandered around the main Martin House, you can see some of the other buildings that dot the pretty property. These include not just a conservatory and carriage house but a pergola and a gardener's cottage too.
6. Central Park
Acting as the green lung of New York City, the world-famous Central Park sprawls across a massive part of Manhattan. Surrounded on all sides by glinting skyscrapers, its lakes, meadows, woods and lawns offer a welcome respite from the hustle and bustle of the city all around.
First opened in 1858, the enormous urban park now encompasses scenic spots like the Great Lawn, Sheep Meadow and the Lake. Winding their way amongst its plentiful ponds and playing fields are miles of paths and roads to walk, run or cycle along. You can also row about its waterways or catch shows and performances at its numerous stages.
Central Park is also home to top attractions such as Belvedere Castle, Central Park Zoo and the Met. With a staggering number of things to see and do, its gorgeous green confines are certainly not to be missed when in the Big Apple.
5. Finger Lakes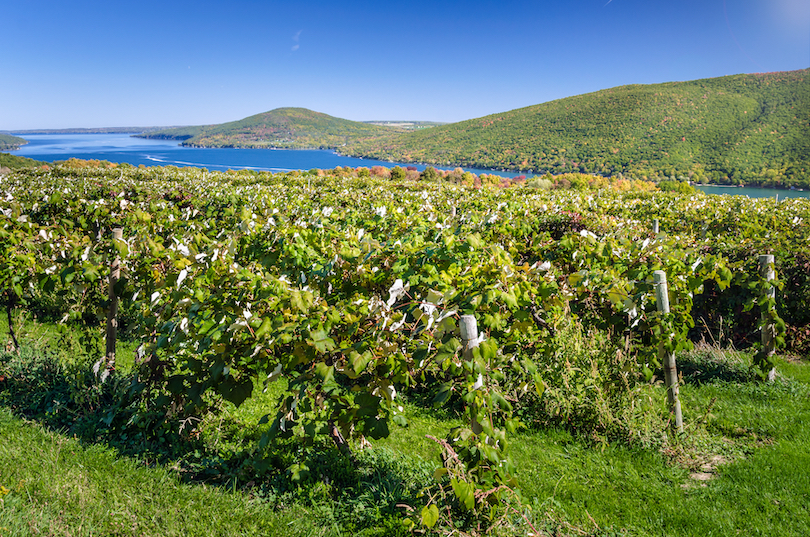 Another picture-perfect part of the state to hit up is the breathtaking Finger Lakes region just south of Lake Ontario. Known for their wineries and watersports, the eleven long, narrow lakes each have their own unique appeal and attractions.
Roughly oriented from north to south, the shimmering lakes were carved by glaciers during the last Ice Age. Lining their shores are numerous state parks and nature reserves where you can hike, bike and camp amidst the mountains and forests. Visitors can also kayak and sail around the lakes or fish and swim along the shoreline.
Dotting the region are well over a hundred wineries and countless distilleries to try out. While most towns in the Finger Lakes are very quiet and calm, lively nightlife can be found in larger cities and college towns such as Rochester and Ithaca.
4. Letchworth State Park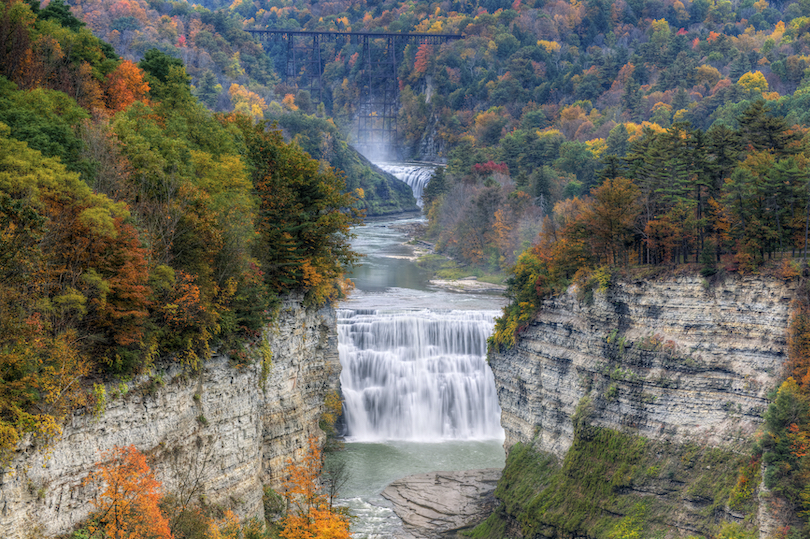 Also part of the Finger Lakes region is the stunning Letchworth State Park. Known for its delightful waterfalls and dramatic cliffs, it has outstanding outdoor activities for nature lovers to enjoy.
Centered around the Genesee River's gorge you can find verdant woods, scenic viewpoints and over fifty wonderful waterfalls. As its walls are so steep and reach 550 feet in places, it is often called the 'Grand Canyon of the East'. Particularly impressive are its three largest Upper, Middle and Lower Falls which make for some fabulous views and photos.
Besides basking in their beauty, you can raft along the river's rapids, hike its seventy miles of trails and camp overnight. Thanks to the umpteen activities and spellbinding scenery, it is routinely ranked among the best state parks in the country.
3. Times Square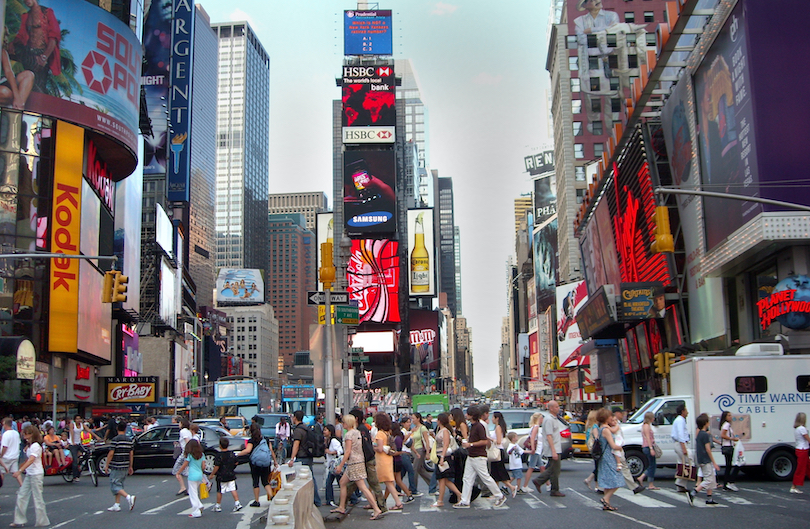 Emblazoned with bright lights and billboards, Times Square lies right in the heart of the Big Apple's bustling Theater District. One of the most visited tourist attractions on Earth, it is referred to as both 'The Crossroads of the World' and 'the Center of the Universe'.
Sprawled across five blocks of midtown Manhattan, the bowie-shaped space is bordered by themed restaurants, theaters and shops. As it is a major hub for art and commerce, entertainment and media, the sides of its skyscrapers are coated in flashing neon lights and dazzling advertisements.
While countless important landmarks and attractions lie nearby, simply walking about, taking in its energy and watching its superb street performers is an experience in itself. One of the most popular and packed times of year to visit is New Year's Eve for the annual ball drop.
2. Niagara Falls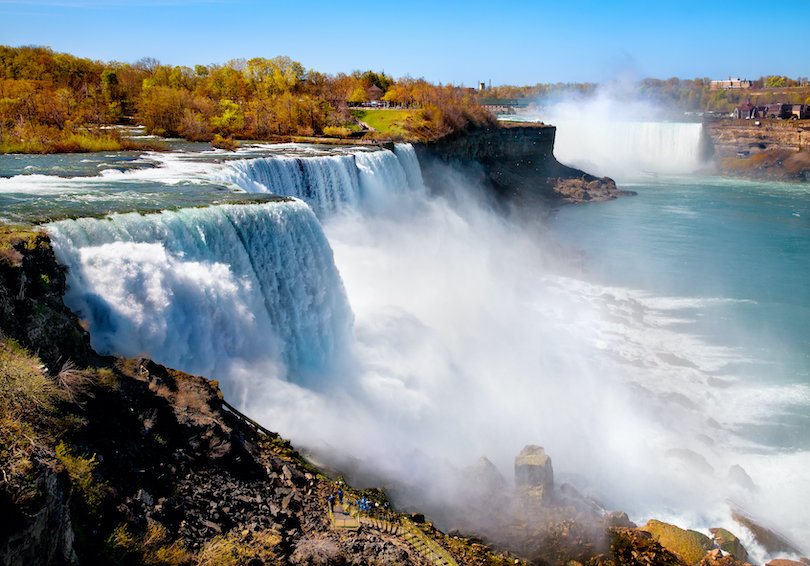 One of the world's most spectacular natural sights, the incredible Niagara Falls straddles the US-Canada border. From both sides, guests can enjoy phenomenal views of the wide waterfalls with unforgettable boat trips taking you to the foot of their jet white waters.
Made up of three massive and majestic falls, it stretches over 3,000 feet in total with some parts towering more than 160 feet in height. By far the largest of these is Horsehoe Falls in Canada, with Bridal Veil Falls and American Falls falling on the US side.
Due to its sheer size, scale and splendor, Niagara Falls has long been a major attraction. Although the town itself is quite touristy and tacky, the waterfall doesn't disappoint with its remarkable flow-rate, vertical drop and viewpoints.
1. Statue of Liberty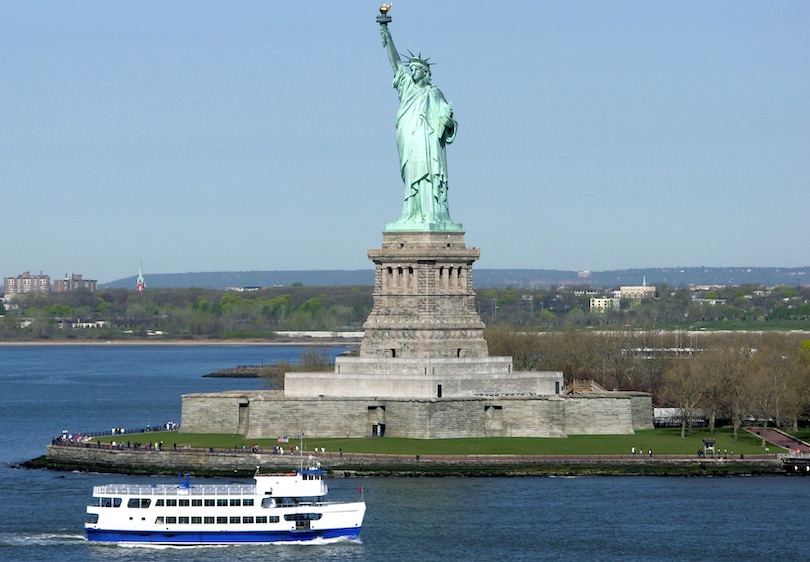 Arguably New York City's most iconic sight, the Statue of Liberty has welcomed new arrivals to the country for well over a hundred years. One of the nation's defining symbols, the stupendous copper statue rises imperiously above the harbor from its pedestal on Liberty Island.
Gifted by the people of France, the colossal figure of Lady Liberty was erected in 1886 to celebrate the centennial of the States. Towering 305 feet in total, she presides with a torch raised and crown on head over the surrounding waters. From atop the marvelous monument, you can drink in views of New York City's sparkling skyline.
As well as taking tours of the island, you can also stop by the immersive museum before visiting nearby Ellis Island and learning about the history of immigration to the US.
Map of Things to Do in New York State