Despite being the capital of the state of New York, Albany is often overlooked with not too many people making it up to the 'Cradle of the Union'. Those who do are sure to be pleasantly surprised since the oldest chartered city in the country has a rich history and thriving cultural scene.
The economic and cultural heart of the Capital District, its downtown and architecturally interesting buildings lie on the west bank of the Hudson River. Aside from ogling at all the unusual structures and skyscrapers in Empire State Plaza, you can also catch superb concerts and shows at the city's numerous performing arts venues.
New York's capital since 1797, Albany has several centuries worth of architectural styles while excellent museums offer a captivating look into its past. With lovely nature reserves and parks to check out, alongside lively neighborhoods, there are always a few things to do in Albany for everyone to enjoy.
In this post, we'll cover:
14. Lark Street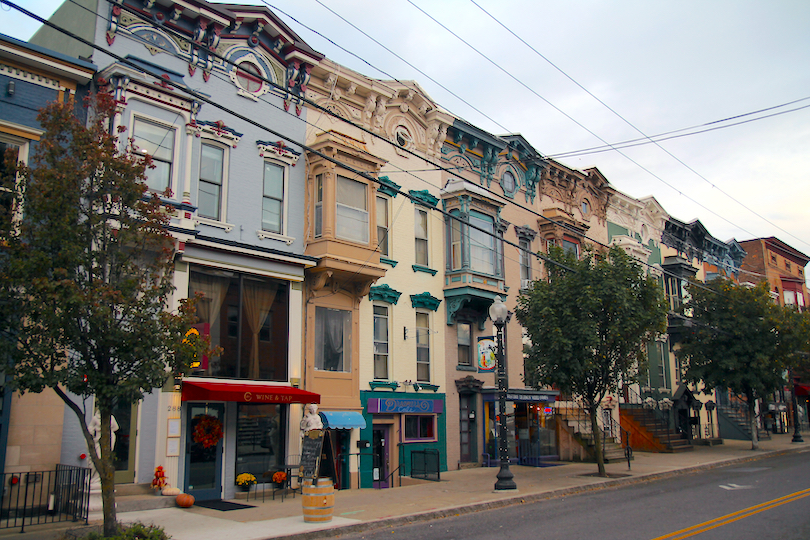 One of the hippest, most happening spots in town, lively Lark Street lies just a couple of blocks away from both Empire State Plaza and the Erastus Corning II Tower. Often referred to as Albany's 'Greenwich Village', it is lined by interesting local shops and art galleries with cozy restaurants and cool little bars also featuring.
Now a major arts and entertainment district, the historic avenue acts as the main drag of the vibrant residential neighborhood. Colorful nineteenth-century brownstone buildings border the street while cobblestone intersections only add to the area's considerable charm.
If you're after diverse shops, delicious global cuisine and exciting nightlife, Lark Street is definitely the place to go. In addition to catching a gig at the Washington Avenue Armory, you can also attend the annual LarkFEST which sees hundreds of artists display their works while musical acts perform.
13. Albany Pine Bush Preserve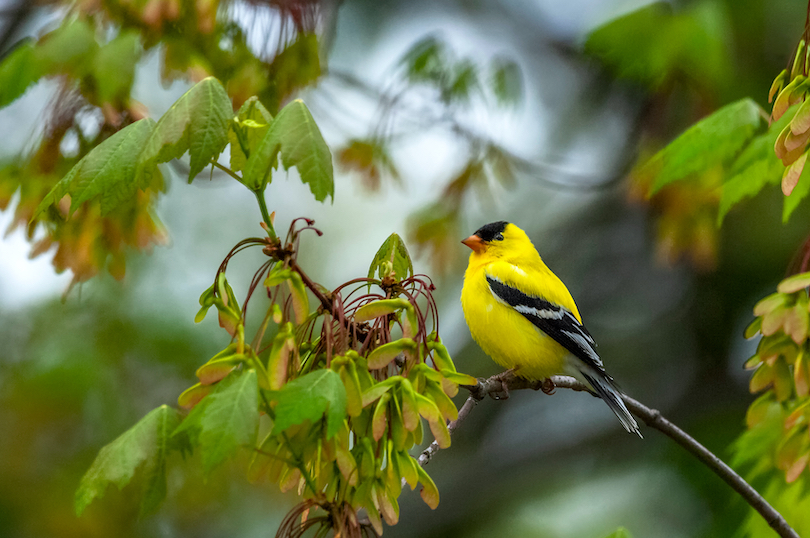 On the northwestern outskirts of Albany is one of the last remaining swathes of pristine pine bush in the States. At the vast preserve, you can hike and bike around the sand dunes and swamps, forests and ravines and enjoy some wonderful wildlife viewing.
Formed thousands of years ago by retreating glaciers, the unique ecosystem now counts among the largest inland pine barrens in the world. Historically regarded as desolate and dangerous to cross, its untouched habitats are a haven for local wildlife with hundreds of species of birds and butterflies to be spotted flitting amidst the trees.
Aside from hiking or horseback riding along rambling trails, you can also learn more about all its fauna and flora at the preserve's superb discovery center.
12. Erastus Corning II Tower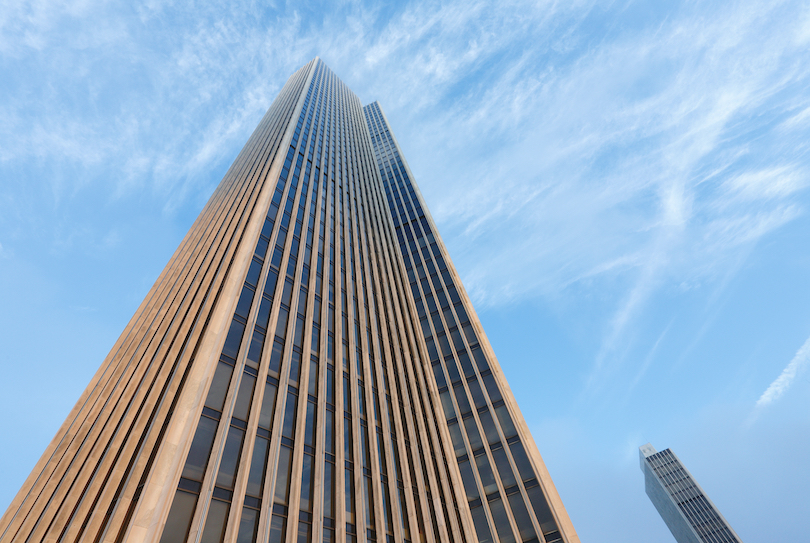 If you're after the best view imaginable of the city and its surroundings, make sure to go up the colossal Erastus Corning II Tower. Rising dramatically above Empire State Plaza, its lofty observation deck boasts stunning panoramas of not just Albany and the Adirondacks but the Hudson River, Catskills and Berkshire Mountains too.
Since being completed in 1973, the humongous building has dominated the city's skyline with its 44 stories towering a whopping 589 feet in height. The tallest skyscraper in the state outside of NYC, it is named after Albany's former mayor of over forty years.
From the forty-second floor, you can bask in breathtaking views over the entire area and spot many of the city's main sights far below.
11. Crossgates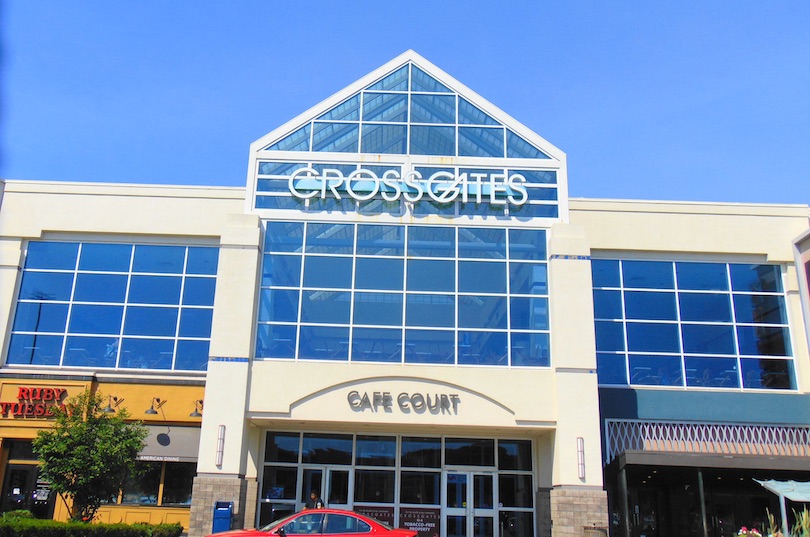 JJBers / Flickr
On the way back into town, you'll come across the cavernous Crossgates which is one of the largest shopping centers in the country. With over 220 unique shops and restaurants packing out its two floors, the massive mall is undoubtedly the Capital Region's main shopping, dining and entertainment destination.
First opened to the public back in 1984, its flagship stores now include Macy's, JCPenney, Best Buy and Burlington among others. Dotted about in between them are countless shops where you can buy accessories and clothes, beauty products and home decor items.
Its sprawling site also has forty excellent eateries for guests to choose with both fine dining and fast food options being on offer. On top of this, there is also an arcade and IMAX to try out while yet more stores can be found at the nearby Crossgates Common Plaza.
10. Times Union Center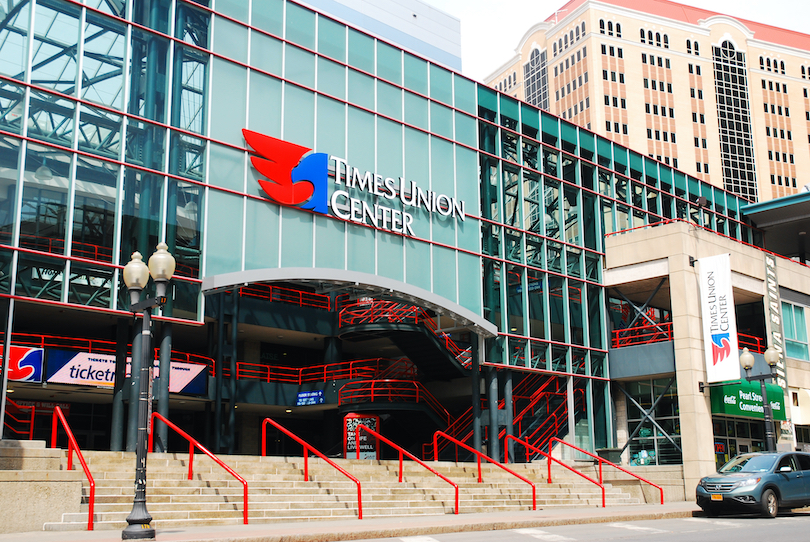 Right in the city center is one of Albany's top venues to catch an exciting concert, show or sporting event. Conveniently located, the intimate and atmospheric Times Union Center hosts hundreds of memorable performances and matches each year.
Now known as the MVP Arena, after having previously also been called the Knickerbocker Arena, it was built in 1990 as part of a larger plan to rejuvenate the downtown area. Since Frank Sinatra sang at the multipurpose facility's opening, everyone from Celine Dion and Elton John to Fleetwood Mac and Justin Timberlake have performed on stage.
The arena also acts as the home pitch of several sports teams, like the Albany Empire indoor football team and Siena Saints college teams. Amazing Monster Jam events and WWE fights also take place here, as do ice shows and trade events.
9. Trip to Troy
Just fifteen minutes drive up the Hudson River from Albany, Troy is well worth visiting. Besides being known for its wealth of well-preserved Victorian buildings, the 'Collar City' has some interesting old landmarks and eclectic antique shops for visitors to check out.
During the early years of American industrialization, Troy thrived thanks to its iron, steel and textile industries. While decades of decay followed once its manufacturers headed elsewhere, it now boasts one of the best-preserved downtowns of any big city in the country.
This makes its center a treat to wander around as a rich collection of Belle Epoque, Gothic Revival and other Romantic period townhouses are on show wherever you go. Other than all the astounding architecture, daytrippers can explore the waterfront farmers market or enjoy a concert at the highly-rated Troy Music Hall.
8. Albany Institute of History & Art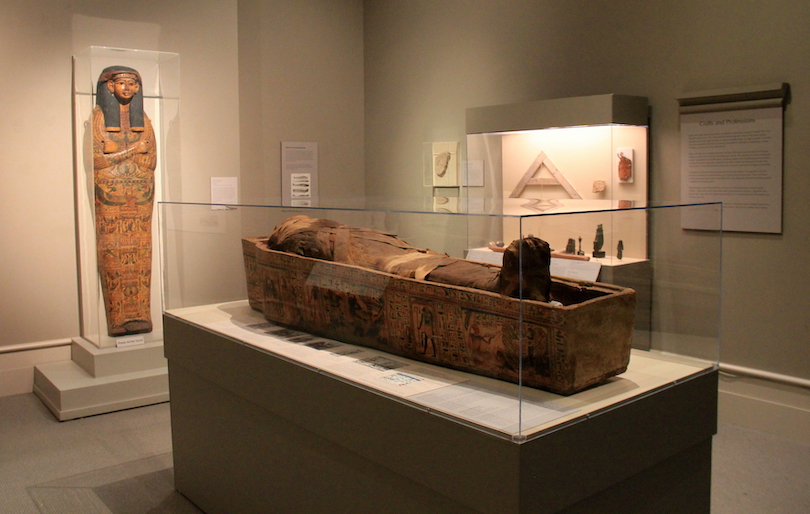 For those interested in learning more about the local area, the Albany Institute of History & Art is an absolute must. Situated just a short walk from the state capitol, it contains a fascinating array of paintings, photos and furniture that highlight what life used to be like in the Upper Hudson Valley.
As the institute was founded in 1791, it is impressively one of the oldest museums in the States with its exhibits and artworks now displayed across three delightfully different buildings. Whereas one is a Classical Revival structure and another exhibits some arresting Beaux-Arts architecture, a modern glass building connects the two.
Inside, you'll find sections dedicated to colonial Albany and the formation of American identity with others examining the riveting Hudson River School landscapes. With Egyptian mummies on display alongside important portraits and sculptures; it makes for a great day out for all the family.
7. The Egg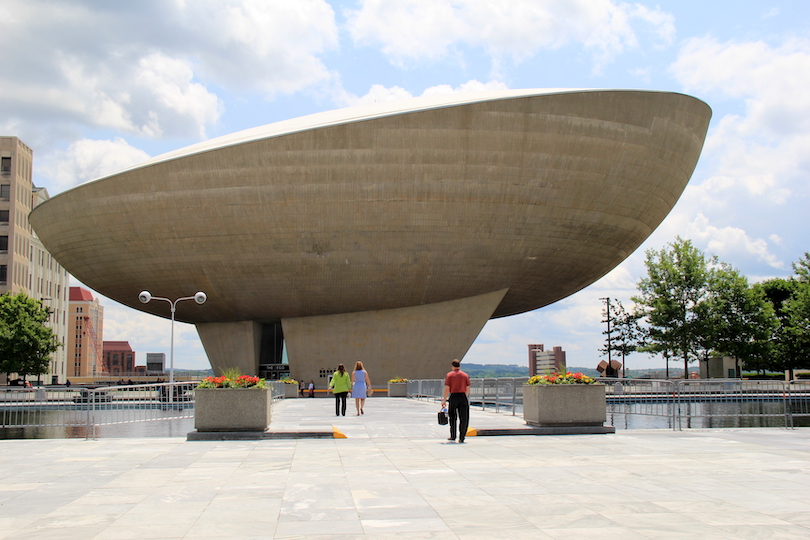 Instantly recognizable due to its distinctive design, The Egg occupies one corner of the Empire State Plaza. Now one of the city's most iconic landmarks, the ultra-modern performing arts center puts on a packed schedule of shows and events each year.
Built between 1966 and 1978, the unusually shaped structure houses two state-of-the-art theaters that are both known for their excellent acoustics and intimate settings. These host everything from plays and dance performances to concerts, cabaret and comedy shows.
As it is home to both a modern dance art group and a classical ballet company, the world-class venue always has something new and interesting for you to watch. Either before or after having enjoyed a show, you can always head to one of the numerous restaurants and shops that lie near the square.
6. USS Slater DE-766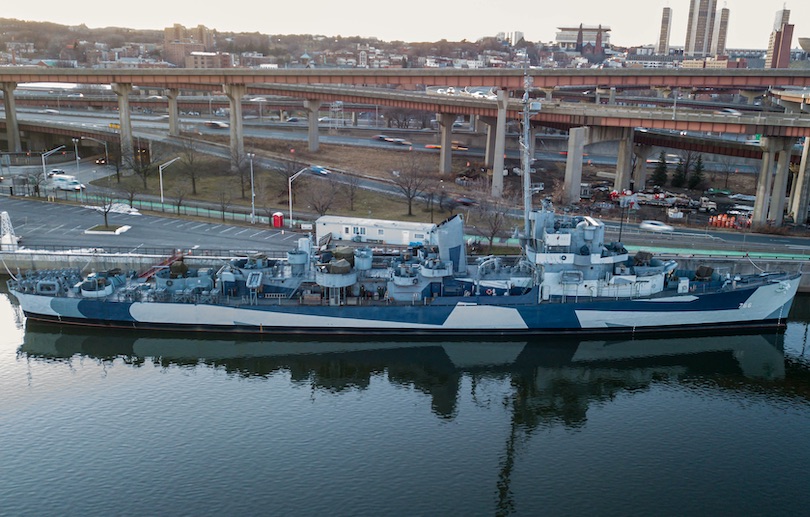 Another very interesting historic sight to hit up is the enormous USS Slater DE-766 which now lies permanently docked along the Hudson River. The last remaining WWII-era destroyer escort ship in the US, it has terrific tours for you to take both above and below deck.
Now preserved as a historic museum ship, the hulking grey destroyer was decommissioned in 1991 after almost fifty year's service in the American and Greek navies. Aside from accompanying convoys across the Atlantic, it served in the Pacific and patrolled around the eastern Aegean.
Visitors can now learn all about the National Historic Landmark while taking tours around her guns, galley and below-deck quarters. The USS Slater has also featured in numerous films over the years such as The Guns of Navarone and Last Operations Under the Orion.
5. New York State Capitol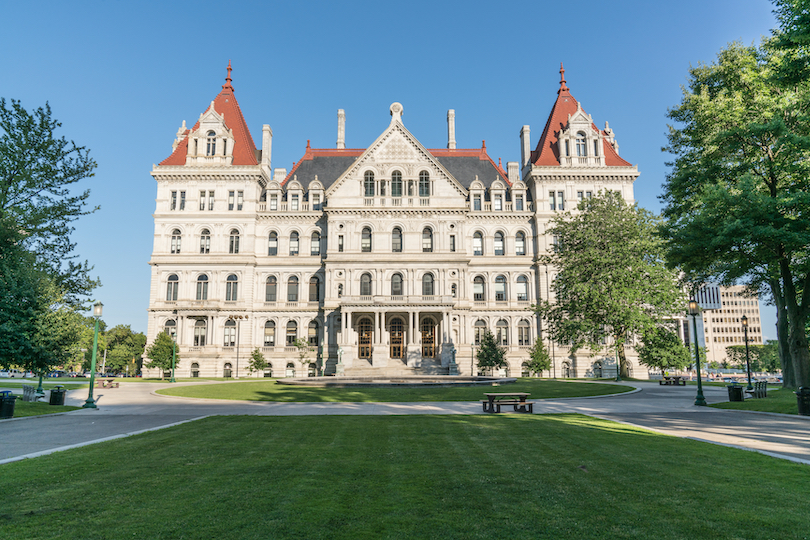 An incredible building, the New York State Capitol showcases some elegant if imposing Renaissance Revival-style architecture. During weekdays, guests can tour its equally arresting interior which dominates and defines one side of the Empire State Plaza.
Since being completed back in 1899, the striking structure has served as the seat of New York's state government. The most expensive government building of its time, the extravagant edifice took over thirty years to build with three teams of architects working on its four vast floors and refined Mansard roof.
Once past its fetching facade, you'll find grand chambers and halls that are decorated with elaborate geometric patterns and ornately hand-crafted capitals. Highlights include the magnificent Moorish-style Assembly Staircase and marble and mahogany-decked State Chamber.
4. Empire State Plaza
While some have described Empire State Plaza as architecturally intimidating, plenty of others have delighted in its diverse array of unique and unusual buildings. Besides the stunning state capitol and several government departments, these include The Egg and Erastus Corning II Tower among many others.
The brainchild of Governor Nelson Rockefeller, the sprawling complex was built between 1965 and 1976 at a staggering cost to the city. The idea was to inject the size, scale and style of places such as Brasilia and Versailles into the center while transforming the capital's skyline at the same time.
It certainly succeeded in some respects as the plaza is now one of the main places to visit in Albany thanks to its varied architecture and attractions. In addition to its mammoth modern buildings, three pretty reflecting pools dot its center as do dozens of abstract artworks and over fifteen memorials.
3. Schuyler Mansion
Marco Varisco / Flickr
Now preserved as a state historic site, Schuyler Mansion and its surrounding estate are located just a short walk south of the Empire State Plaza. Full of period pieces and personal belongings, its rooms offer up a fascinating insight into the life and times of the renowned Revolutionary War General and early US senator.
From 1763 to 1804, Philip J. Schuyler, his wife Catherine and their countless children lived in the splendid Georgian-style house. Very well-preserved, its two floors are now packed with all kinds of artifacts and artworks that highlight how they used to live.
On tours, your knowledgeable guide will point out some of the mansion's finer features and provide more information on the general's considerable achievements. Afterwards, guests can stroll about its grounds or stop by the visitor center which also has exhibitions on the house and family.
2. Washington Park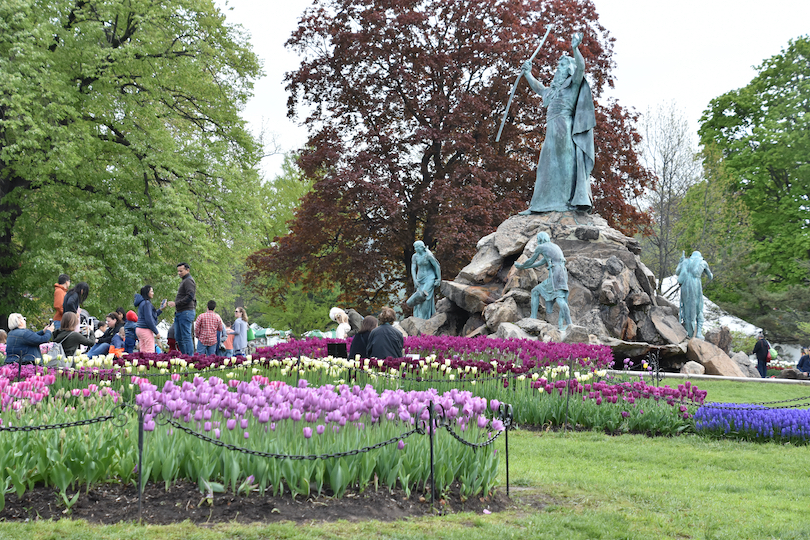 In complete contrast to the concrete confines of the nearby Empire State Plaza, Washington Park is awash with gorgeous greenery and plant life. Aside from its extensive outdoor activities, it also puts on a large number of cool cultural events and community festivals over the year.
Despite being a hub of activity at any time of day, the city's premier park is the perfect spot to relax, unwind and immerse yourself in nature. As well as spacious lawns and English-style gardens, it has a lovely lake and loads of colorful flowerbeds to amble around. Impressive monuments such as the King Memorial Fountain line its paths with playgrounds and playing fields dotted here and there.
Other than hiking and cycling amidst its giant old oaks and miniature bonsais, you can attend great events like the traditional Tulip Festival which pays tribute to the city's Dutch heritage.
1. New York State Museum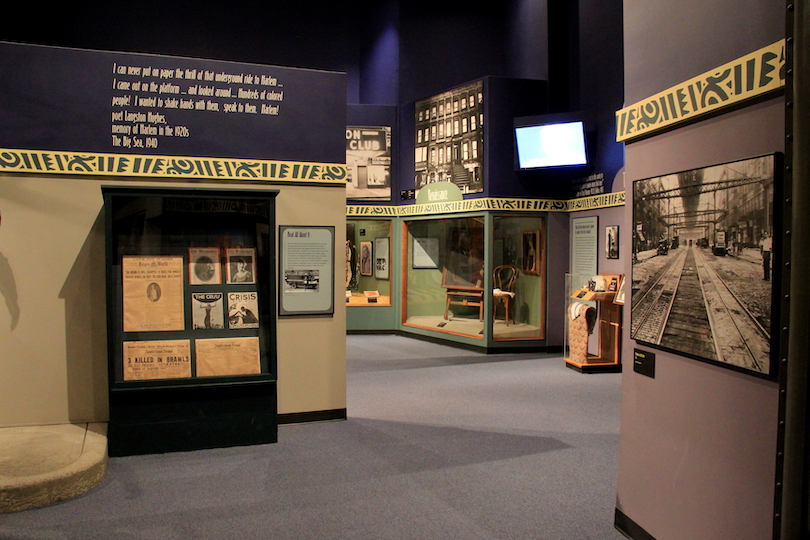 Boasting an astounding array of artifacts and exhibits is the outstanding New York State Museum at Empire State Plaza. Its comprehensive collection covers both the history and natural environment of the state with incredibly old objects on show.
The oldest museum in the state, it was founded in 1836 with millions of specimens, artworks and archaeological findings now occupying a gigantic Brutalist building. Its exhibits look at everything from local Native American peoples and ancient fossils found in the state to Harlem in the twenties and the story of the September 11 attacks.
Alongside well-done displays about the history of New York City, visitors can also see an amazing old skeleton of a mastodon and an exquisitely carved carousel dating to 1912. The museum also has a great gift shop and cafe to stop by before continuing with your sightseeing.
Map of Things to Do in Albany, NY