Located at the eastern end of Lake Erie, Buffalo is a fantastic place to live or vacation with lots of tourist attractions for visitors to check out. New York's second-largest city Buffalo boasts a wealth of wonderful museums and pretty outdoor spaces with the world renowned Niagara Falls also not far away.
The city suffered greatly from deindustrialization, but in recent years its downtown and waterfront areas have been revitalized. As such, visitors can now find brilliant performing arts centers and art galleries alongside amazing architectural marvels and interesting historic sites.
Aside from delving into the city's rich heritage and enjoying its thriving cultural scene, other things to do in Buffalo include watching one of its professional sports teams play or explore its pulsating nightlife. Much more than just Buffalo wings and cold winter weather, rejuvenated Buffalo is definitely well worth visiting if you have the chance.
12. Buffalo & Erie County Botanical Gardens
gardener41 / Flickr
Set just fifteen minutes drive south of the center are the beautiful Buffalo & Erie County Botanical Gardens. Located within South Park, its lovely landscaped grounds and gardens are a treat to stroll around.
Established in the late 1800s, its huge collection of exotic plants occupies a striking Victorian-style glass and steel tri-domed conservatory. Based on both Crystal Palace and Kew Gardens Palm House in the UK, it houses everything from orchids and bromeliads to water features, a rainforest section, and collections of cacti and carnivorous plants.
Its outdoor gardens are just as delightful to explore as picturesque paths take you past an arboretum, butterfly garden, and children's area with temporary exhibits and events also regularly taking place.
11. Theodore Roosevelt Inaugural Site
A fascinating place to visit, the Theodore Roosevelt Inaugural Site can be found just five minutes drive north of the city center. Now a museum, it protects the elegant Ansley Wilcox House, which is where the renowned statesman was unexpectedly sworn in as 26th President of the United States on September 14, 1901.
Inside the gorgeous Greek Revival-style building, guests can find interesting exhibits on the life and legacy of the former President. There are also informative displays about the shocking events that led to his inauguration. These tell the story of his predecessor William McKinley's assassination at the Pan-American Exposition and how Roosevelt rushed to Buffalo to hurriedly be named President.
While on tours of the infamous inauguration site, you can not only visit the library where he took the oath but see artifacts from the Exposition and some of the President's personal possessions.
10. KeyBank Center
If you're after exciting sports events and entertainment, then make sure to visit the KeyBank Center in downtown. Located alongside the Buffalo River, it is the home of the Buffalo Sabres who play in the National Hockey League with countless other sports, concerts, and events taking place each year.
Built in 1996, it is the largest indoor arena in the area with its multi-purpose design meaning it can just as easily put on fast and frenetic ice hockey matches as adrenaline-packed American football, basketball, and lacrosse games. Thanks to its layout, every seat is guaranteed a fantastic view while its steep stands make for an awesome atmosphere.
In addition to sporting events and wrestling competitions, the state-of-the-art center also regularly hosts concerts by big name artists such as Kanye West, Rihanna, and Justin Bieber.
9. Forest Lawn
The colossal cemetery of Forest Lawn lies just a ten minute drive north of the center. Although it is home to thousands of mausoleums, monuments, and sculptures, it looks more like a park than a graveyard as paths and ponds are dotted about its scenic confines.
Founded in 1849, it now covers a huge area with the rural cemetery's delightful design and layout being modeled on the famous Pere Lachaise Cemetery in Paris. As such, its rows of weathered graves and majestic monuments can be found amid lush lawns and beneath leafy trees, with the cemetery's rolling hills and valleys only adding to its appealing aesthetic.
Now the final resting place of numerous influential figures from both the city and the States' past, Forest Lawn perfectly mixes art with nature with stunning scenery and striking sculptures wherever you look.
8. Shea's Performing Arts Center
Another popular thing to do when in Buffalo is to catch a scintillating show at Shea's Performing Arts Center. Located right in the heart of town, its campus now has three fabulous theaters for you to check out that put on brilliant Broadway productions, plays, and more by a whole host of local and internationally renowned theater companies.
The crown jewel of both the campus and the city's Theater District is undoubtedly Shea's Buffalo Theater which first opened in 1926 and showed silent movies. Wonderfully well-preserved, it boasts a grand marble-clad lobby with an enormous and elegant balcony, ornate chandeliers, and a richly decorated ceiling overlooking its lavish stage and seating areas.
While watching a show here makes for a memorable experience, both Shea's Smith and the 710 Theatre put on awesome spectacles with unforgettable stand-up comedy nights, dance shows, and theater performances.
7. Pierce-Arrow Museum
Gary Brownell / Flickr
Just a short stroll southeast of the center you can find the splendid Pierce-Arrow Museum. Home to classic cars, artifacts and exhibits, it offers a fascinating look at the important role Buffalo played in the early days of the automotive industry.
Founded in 1997, the museum now occupies several buildings downtown with countless shiny cars, vintage bicycles, and amazing old motorcycles scattered about its showroom. While most are from the Pierce-Arrow Motor Car Company, many other makes and models are displayed alongside interesting exhibits on the history and evolution of the automobile industry.
The highlight is certainly its full scale replica of a 1927 filling station designed by renowned architect Frank Lloyd Wright himself.
6. Albright-Knox Art Gallery
Home to an astounding array of impressive artworks, the excellent Albright-Knox Art Gallery can be found just ten minutes drive north of the center. Popular with locals and tourists alike, its endless art-filled galleries lie at the western end of Delaware Park amid lush grounds and gardens.
One of the oldest public arts institutions in the country, it was established in 1862 with its huge collection now occupying a massive and majestic Greek Revival-style building. In total, it displays over 6,500 works with everything from abstract expressionism and pop art to cubist, surrealist, and post-impressionist styles on show.
Aside from seeing masterpieces by big names such as Picasso, Monet and van Gogh among others, visitors can also stroll about the dozens of stupendous sculptures that dot its lawns outside.
5. Buffalo Zoo
At the other end of Delaware Park you can find the magnificent Buffalo Zoo, which has long been one of the city's most popular tourist attractions. Opened in 1875, it contains all kinds of incredible animals with everything from rhinos and tigers to sloths, sea lions, and spectacled bears on show.
A firm favorite with families, its spacious enclosures and educational exhibits contain over a thousand mammals and birds, reptiles, and amphibians. You'll learn all about the animals' natural habitats and behavior in the wild through informative displays and zookeeper demonstrations.
Besides scenic sections, such as Rainforest Falls and Otter Creek, the nation's third-oldest zoo also offers amazing animal encounters where you can meet, feed and photograph your favorite furry friend.
4. Buffalo City Hall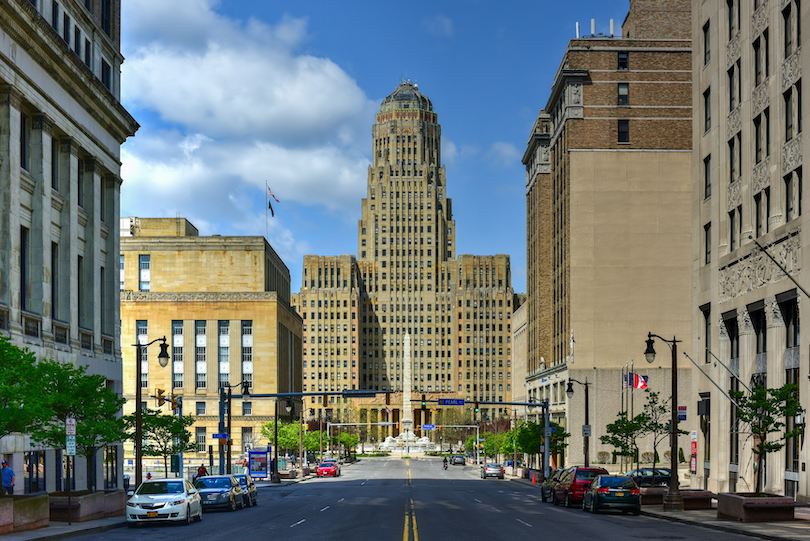 Exhibiting exquisite Art Deco-style architecture, the breathtaking Buffalo City Hall rises dramatically above downtown far below. The city's standout symbol and sight, it is a treat to tour around with beautiful features to be found both inside and out.
One of the largest and tallest municipal buildings in the States, it was erected in 1931 and towers to a staggering 396 feet in height. Its enormous exterior's geometric design and decorative statues and friezes make for a striking sight, while its interior also boasts refined council chambers and a gorgeous stained-glass window ceiling.
In addition to visiting the mayor's office and seeing some of the fine features that coat its thirty-two floors, guests can venture out onto its observation deck that offers divine views of the city with Niagara Falls to be spotted far off in the distance.
3. Buffalo & Erie County Naval and Military Park
Lying on the shores of Lake Erie, the brilliant Buffalo & Erie County Naval and Military Park can be found just a short stroll from the center. Besides decommissioned US Naval vessels, the museum has interesting artifacts and exhibits for you to explore on the history of the American Navy.
First opened to the public in 1979, it now contains a captivating collection of vessels, vehicles, and aircraft with uniforms and equipment, medals, and military memorabilia on show. While its displays are very well done, the highlight is of course exploring its former Naval vessels that include the USS Little Rock, the USS The Sullivans and the USS Croaker.
On top of wandering about the inside of the cruiser, destroyer and submarine, guests can visit its moving Monuments Garden with an awesome Maritime Simulator experience also on offer.
2. Frank Lloyd Wright's Martin House
To the east of Delaware Park is yet another of Buffalo's must-see tourist attractions: the marvelous Martin House. Designed by the world-famous Frank Lloyd Wright, the complex showcases some stunning Prairie School architecture and is regularly ranked among his most important and impressive works.
Built between 1902 and 1905, Martin House is undoubtedly the complex's standout sight due to its unusually large size, open plan layout and its intricate details and design. Named after businessman Darwin Martin who commissioned the whole project, it is connected to various other buildings on the property, such as a conservatory, carriage house, and gardener's cottage.
Now a National Historic Landmark, the complex is lovely to tour around with arresting architecture, fabulous furnishing, and gorgeous gardens wherever you go.
1. Niagara Falls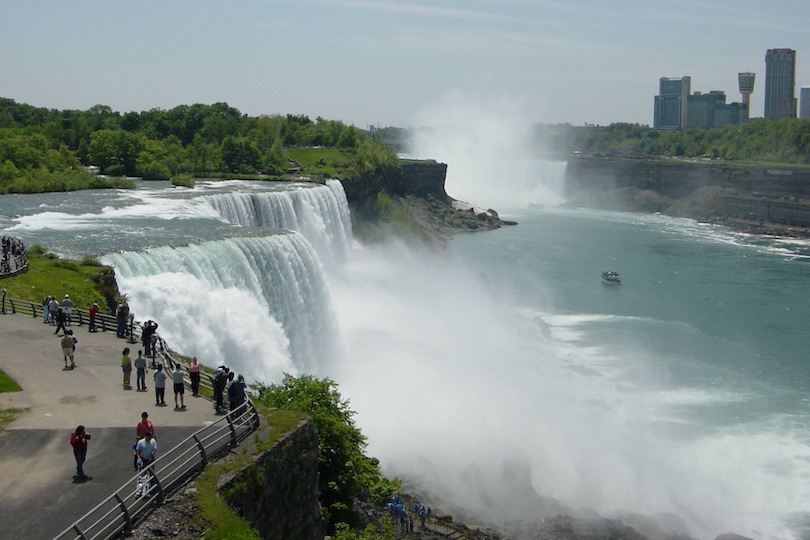 One of the Earth's most awe-inspiring natural wonders, Niagara Falls lies just half an hour's drive to the north of Buffalo. Straddling the border between Canada and the US, it makes for one of the most spectacular sights imaginable. Phenomenal views, photos and boat trips can all be enjoyed at the wonderful waterfall.
Impressively stretching over 3,200 feet in length, the famous fall is actually made up of three different ones, the largest of which is Horseshoe Falls. Next to it you can see both American Falls and Bridal Veil Falls with the humongous waterfall reaching up to 165 feet in height at its highest point.
Due to its staggering size and scale, Niagara Falls is not to be missed when in town. Its endless wall of water makes for some fantastic photos with unforgettable boat trips to be had at the foot of the falls.
Map of Things to Do in Buffalo, NY