The third-largest city in the State of New York, Rochester is a fabulous place to visit with plenty for visitors to see and do. While it boasts a number of excellent museums and art galleries, it also has a rich industrial history and thriving cultural scene to delve into.
Set along the southern shore of Lake Ontario, it is bisected by the gushing Genesee River with High Falls in the center being one of its standout sights. Aside from seeing the wonderful waterfall and all the well-preserved historic buildings nearby, other things to do in Rochester include enjoying the many family-friendly attractions, fine dining options and food markets.
Lots of lovely parks and pretty waterways are dotted about its diverse neighborhoods with the city also being known for its exciting outdoor activities and successful minor-league sports teams. Only adding to its appeal are the innumerable music concerts, dance shows and festivals that take place in town each year.
14. Memorial Art Gallery
One of the city's key cultural institutes, the Memorial Art Gallery houses an incredible collection of artifacts and artworks from all around the world. As such, perusing its light and airy galleries really is a treat as ancient drums, Egyptian mummies and other unique and interesting objects are on show wherever you go.
Since being founded in 1913, its phenomenal paintings, photos and sculptures have wowed visitors with its two floors now displaying over 12,000 artworks. These include not just extraordinarily old African artifacts and thought-provoking modern installations but masterpieces by Monet, Cezanne and Matisse among many others.
Part of the University of Rochester campus, it occupies a fine old building with lush grounds and a sculpture park lying all around it. In addition to seeing its diverse range of works that span many millennia, you can also attend talks, workshops and festivals at its sprawling complex.
13. Susan B. Anthony Museum
daveynin / Flickr
Once the home of the legendary civil rights leader, the Susan B. Anthony Museum now offers up a fascinating insight into her life and legacy. Very well-preserved, it is packed with authentic artifacts, papers and memorabilia with tours taking you all around its cozy interior.
Undoubtedly one of Rochester's most famous former residents, she toiled tirelessly and selflessly away for decades in a bid to ban slavery and promote women's rights. At her historical house in the west of the city, guests can explore exhibits on her countless campaigns, speeches and achievements and see personal items and the original furniture from her era.
You'll also learn about her arrest in the front parlor after voting in the 1872 election and see her old bedroom where she sadly passed away in 1906 after forty years spent in the house.
12. Artisan Works
jlyon1515 / Flickr
If you're interested in art and are looking to invest in some cool if potentially expensive souvenirs, then the atmospheric Artisan Works is certainly the place to go. Located ten minutes' drive directly east of downtown, every inch of its humongous warehouse is coated in awesome artworks with the artists also producing new ones before your very eyes.
While the vast factory once produced weapons in WWII, it is now instead dedicated to inspiring people with art. As you explore its labyrinth of different levels and hallways, you'll come across all kinds of colorful creations and eclectic themed rooms with vintage automobiles and old antiques lying dotted about.
Besides marveling at all the impressive pieces on display and enquiring about their prices, you can also watch master artisans in action. Normally they are only too happy to explain the techniques and thought process behind each of their art forms.
11. Ontario Beach Park
A very peaceful and picturesque spot to spend some time, the popular Ontario Beach Park lies at the entrance to the Genesee River, some twenty minutes' drive north of town. Asides from swimming and splashing about in the massive lake of the same name, visitors can also sunbathe, hike and play volleyball on its pristine sands.
Due to its close proximity to the center of Rochester, locals and tourists alike flock here during the sunny summer months. As well as lounging lazily on its broad beach and wandering about its pretty green spaces, more active beachgoers can play basketball and pickleball out on its courts or softball on its verdant fields.
What's more, there is also a prominent pier to amble out and fish upon with playgrounds, pavilions and picnic areas scattered about here and there. An amazing 1905 carousel and a sleek, shiny marina are also on offer.
10. Seneca Park Zoo
Home to over 300 animals, birds and reptiles of some ninety or so species, the splendid Seneca Park Zoo is set in a scenic spot along the east bank of the Genesee River. A firm favorite with families, it makes for a great day out with feeding sessions, keeper chats and animal encounters all happening almost daily.
One of the oldest zoos in the States, it first opened its doors in 1893 with large enclosures, aviaries and animal exhibits now covering much of the park. While some sections whisk you to rocky coasts where sea lions, snowy owls and the elusive Canada lynx reside, others focus on the huge elephants of Africa or the hairy orangutans of Asia.
On top of all this, the zoo is highly regarded for its awareness-raising and outreach work with loads of fun festivals and interactive events being held over the course of the year.
9. Frontier Field
Ryan Hyde / Flickr
Conveniently located in downtown, Frontier Field is the intimate home pitch of the city's Rochester Red Wings. Watching an action-packed game at the beautiful ballpark is a fantastic experience with firework shows, community events and concerts also sometimes taking place here.
Built in 1996, it replaced the team's old Silver Stadium which had remarkably been their home since 1929. From all its spacious seats and suites, fervent fans can now enjoy perfect views over the pitch and the city's sparkling skyline off in the distance.
Aside from cheering on the Triple-A affiliate of the Washington Nationals, you can also attend other sporting events and shows at the arena. Lots of tasty food stands are dotted about selling everything from standard hotdogs and hamburgers to fried calamari and roast beef sandwiches.
8. Erie Canal Trail
A wonderful way to see more of the city and its surroundings is to walk, jog, run or cycle along the attractive Erie Canal Trail. Running along Rochester's southern boundary, it takes you past sublime scenery and centuries-old historic sites with countless attractions, amenities and communities also lining the route.
Stretching 365 miles in length, it connects Albany to Buffalo with the paved path mostly following what was once the historic canal's old towpath. Along the way you can stop off at picturesque parks and idyllic nature spots or explore some of the charming towns and quiet villages it passes through.
As you slowly stroll along the multi-purpose path, you can bask in outstanding views over the canal with historic buildings, restaurants and waterfront cafes appearing every now and again. In winter, hardy individuals can even cross-country ski and snowshoe along snow-coated parts of it.
7. Rochester Public Market
USDAgov / Flickr
A colorful and chaotic affair, the Rochester Public Market has over 300 stands and stalls for you to peruse. Very popular with locals and tourists alike, it is held every Tuesday, Thursday and Saturday in the Marketville Heights part of town.
Since starting up in 1905, the market has grown and grown with its vendors now selling everything under the sun. While some stalls are laden with fresh fruit and veg, others display artisanal cheeses, meats and seafood with handmade crafts and clothing also featuring.
As well as picking up some groceries, you can stop off and sample some baked goods and savory snacks or simply sit and sip on a hot coffee. Over the year, it also hosts flower markets, flea markets and food truck festivals with regular music performances only adding to the appealing ambience.
6. Seabreeze Amusement Park
Michelle Bradley / Flickr
If you're after an exhilarating and unforgettable time, you'll certainly not want to skip out on the Seabreeze Amusement Park. Since 1879, it has been a favorite summertime destination of Western New Yorkers thanks to its cool lake breezes, exciting rides and numerous waterslides.
Actually the fourth-oldest amusement park in all the country, it lies at the spot where the enormous Irondequoit Bay meets Lake Ontario. Covering its scenic bluffs are more than 25 thrilling rides and rollercoasters to try out with arcades, acrobats and an ornately carved 1926 carousel also on offer.
If you get too hot, you can always swim and splash about in its pools or shoot down one of its slides which are surrounded by sunbathing areas, shops and snack stands. One of the park's most popular and endearing attractions though is the wooden Jack Rabbit which dates to 1920 and is the oldest continuously operating rollercoaster in the States.
5. High Falls
Unusually enough, one of the region's most stunning natural sights can be found right in the heart of downtown. Once key to both the city's settlement and early industrial development, High Falls now instead makes for some fantastic photos and viewing.
Set along the Genesee River, the waterfall reaches almost a hundred feet in height with a ginormous gorge lying at its foot. While its gushing waters formerly used to feed flour mills and factories, they now instead generate hydroelectric power for the city and its suburbs.
From the prominent Pont De Rennes bridge and Terrace Platform, visitors can enjoy divine views of the falls and snap photos of their brilliant white waters. You can also learn more about their history and importance to Rochester at its adjoining museum and visitor center.
4. Rochester Museum & Science Center
Another of Rochester's top attractions is the magnificent Rochester Museum & Science Center. Packed with fun hands-on activities and interactive exhibits, its colossal complex is situated just a short drive from the center, along East Avenue.
Established in 1912, it now occupies a massive modern building with its three vast floors focusing on not just local history and nature but science and technology too. Beside building a cool robot and taking a virtual trip in a simulator, there are over 1.2 million artifacts and specimens to check out on almost every field of study imaginable.
In addition to exploring all of its interesting exhibits, guests can catch scintillating science shows or scan the skies and stars above in its state-of-the-art planetarium.
3. Highland Park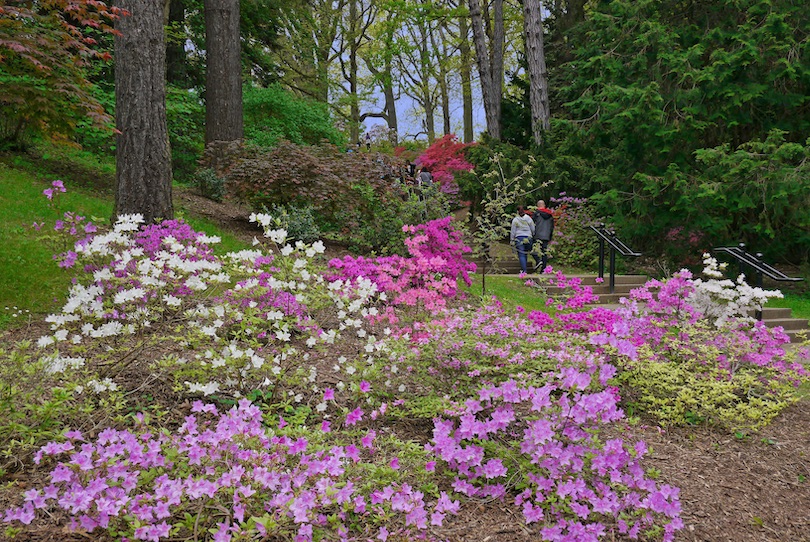 Sprawling across a huge part of the south of the city are the gorgeous green grounds and gardens of Highland Park. Particularly known for its attractive arboretum and lovely landscaping, it is a treat to amble around with pretty plants, flowers, trees and shrubs on show wherever you go.
Spread across rolling hills and sweeping valleys, its winding paths take you past groves of old oaks, pines and magnolias with cheery azaleas and pansies often planted amongst them. Despite including numerous themed gardens, the park still retains its natural appearance with the renowned landscape architect Frederick Law Olmsted having designed it back in the 1880s.
Within its picture-perfect confines, you can find important historic sites and cultural landmarks like the Lamberton Conservatory and Gothic-style Warner Castle. Its large outdoor amphitheater puts on music concerts and free films in summer alongside the Lilac Festival and Shakespeare in the Park.
2. Strong National Museum of Play
Perfect for families with young children, the superb Strong National Museum of Play has hundreds of exciting hands-on activities and experiments to try out. Set right in the center of Rochester, it lies just a stone's throw from many of the city's other main sights.
As educational as it is engaging, its innumerable exhibits look at the past, present and future of play with all kinds of tantalizing toys and games being on display. While some parts focus on storybooks and TV shows, others instead cover carousels and comic books or video games and virtual reality.
Its large modern building also has some Sesame Street sets for you to explore with the wonderful world of the Berenstain Bears attracting lots of attention alongside them.
1. George Eastman Museum
An absolutely fascinating place to explore, the George Eastman Museum documents the history and development of photos and cameras. Named after the founder of the Kodak Company who brought modern photography to the masses, it boasts a unique and impressive collection of photos, films and other cinematic objects.
First opened to the public in 1949, its extensive artifacts and exhibits are housed within Eastman's charming old 1905 Colonial Revival-style mansion. On top of seeing how the entrepreneur lived, its displays showcase how photography and film techniques and technology progressed over the years.
Aside from seeing amazing old photographs and ogling at the estate's exquisite architecture, visitors can enter into a camera obscura and watch film screenings in the museum's movie theater.
Map of Things to do in Rochester, NY