Just off US-1, Kennebunkport is that quintessential Maine town you've always promised yourself you'd visit. Don't hold off any longer. Come see what all the fuss is about. Enjoy expansive coastlines, delicious Maine lobster and jump between adorable boutique shops as you meander through this historic town.
Only 90 minutes north of Boston, it is a popular day trip from the big city with plenty of things do in Kennenbunkport. Visitors can experience an idyllic escape with exquisite natural scenery, and a mouthwatering food scene. But nothing beats sticking around to get to know the Kennebunks in greater detail.
12. Brick Store Museum
The Kennebunks have a storied past, which you'll be able to dive into on your travels. One of the more interesting cultural adventures to be had in Kennebunkport can be found at the Brick Store Museum.
Since opening in 1936, the museum has had a steady rotation of exhibits that explore the art and culture of the town. Now, the Brick Store Museum is home to over 70,000 different artifacts, each with a unique story to tell about Kennebunks and the surrounding region of Maine.
Some popular permanent exhibits include the amazing work of Edith Barry, an expansive collection of posters from both World Wars and a historic wooden chest from 1685!
11. Gooch's Beach
Burdulis / Flickr
The most popular of Kennebunkport's many beaches, Gooch's Beach offers golden sand and access to the action off the beach. Visitors will find some solid surf for much of the year. Calm enough for beginners and intermediate riders, there's still enough snap to make it fun for experienced surfers.
As for everyone else, the wide beach offers enough room to avoid the crowds that flock here on summer days. Gather as a family and build enormous sandcastles, skimboard over the whitewash, or go for a swim. There are lifeguards on watch, making it even safer for everyone to enjoy the experience.
Before 9am and after 5pm, you'll also be allowed to bring along your four-legged friend.
10. First Families Kennebunkport Museum
Along Main Street, First Families Kennebunkport Museum celebrates and preserves over two centuries of the town's rich history. Housed within a stunning Greek Revival home built in the 1850s, the museum dives into the town's beginnings, its shipbuilding past and connections to famous figures such as George H. W. Bush.
Join a guided tour of the First Families Museum, which runs on the hour a few times each morning. Discover a fascinating collection of maritime artifacts, town treasures and even memorabilia from Kennebunkport's actual first family. The museum is open for only several months a year from Memorial Day to Columbus Day.
9. Rachel Carson National Wildlife Refuge
Danielle Brigida / Flickr
An exciting way to get out of town and explore some of the patented Maine scenery is to make your way to Rachel Carson National Wildlife Refuge. Just six minutes away from town, you'll be surrounded by amazing nature in no time at all.
The refuge opened to protect the fragile estuaries and salt marshes found along the local coast. Come and see why the wildlife refuge is an important home for a great number of migratory birds and experience some excellent bird-watching along with the scenic views.
The primary way to see the Rachel Carson National Wildlife Refuge is to venture down the one-mile trail through the forests towards the wetlands. With ample spots to sit and rest, take your time to bask in the wonderful views.
8. Cape Porpoise
A few miles out of town is an even smaller and cuter fishing village. A seaside haven, it's the perfect side-trip from your main adventures through Kennebunkport. Old-fashioned in all the best ways, Cape Porpoise is the essence of tranquility.
Walk down to the end of the local pier for breathtaking views of the town along with the Goat Island Lighthouse, which can't be reached on foot. As you wander around town, you'll spot anglers going in and out of the harbor. It checks out then that Cape Porpoise would have a selection of amazing seafood restaurants.
7. Seashore Trolley Museum
Said to be the largest electric railway museum on earth, the Seashore Trolley Museum uncovers the history of transportation in Kennebunkport, Maine and around the USA. The museum houses over 250 historic streetcars that were once in service along with vintage buses and retired rapid-transit cars. Almost all major US cities are represented.
Through three separate buildings, you'll be able to take your time to enjoy the wide range of exhibits, with one of the best experiences being a ride on a vintage trolley. Occurring every 45 minutes, jump on the trolley from the early 20th century for a fun ride around the museum's outside area.
6. St. Anthony's Monastery
Burdulis / Flickr
Kennebunkport presents travelers with a range of charming historical buildings and attractions. A great example of this is St. Anthony's Monastery. Surrounding the building is a lush estate with gorgeous lawns and meandering paths that guide you through the property and along the Kennebunk River.
As for the monastery itself, it remains active to this day, featuring splendid designs, several ornate sculptures, lovely stained glass and a collection of historic artwork.
Across from the monastery is the popular Franciscan Guest House, where guests are welcome to stay overnight. It's the perfect place to go to find some peace and reflection, while there is also a saltwater pool for a refreshing dip on a warm summer's day.
5. Goose Rocks Beach
By now you may have got an inkling that Kennebunkport has a great selection of beaches. Bordered by Cape Porpoise on one end and Granite Point on the other, Goose Rocks Beach stretches for three miles of pristine white sand coast.
Although the water may be a little chilly, what makes this beach so great is that it remains relatively uncrowded. A little further out of downtown, Goose Rocks Beach is mostly populated with those in the nearby summer homes. Providing you with lots of space to spread out and enjoy the calm beach.
From the beach, you'll enjoy views of Timber Island and the far-off Timber Point. While behind you are a number of quaint ice cream parlors, old-time hotels, and delectable seafood restaurants.
4. Walker's Point
Along the serene peninsula just south of Kennebunkport is a row of spectacular mansions owned by locals and out-of-towners. The highlight of this part of the peninsula is Walker's Point, which is home to the most famous mansion of them all, the summer house of former President George Bush.
The point received its name in the late 19th century and began the Bush connection. George H. W. Bush's grandfather Prescott married Dorothy Walker, whose father built the first home on this magnificent property.
You can reach the point by making the scenic trip along Ocean Avenue, with ocean views on one side and amazing homes on the other. You'll soon see the Walker's Point appear in the distance, with the stunning home standing illustriously above the rugged coast. Make your way to the coast for a great vantage point of the ocean, the famous compound for the Bush family.
3. Saint Ann's Church
Built in 1887, the ornate seaside church is a prominent landmark in Kennebunkport. The Episcopal church comes with wonderful views of the Atlantic Ocean and was designed with Gothic influences.
Saint Ann's Church is open from 9am until sunset from Monday to Saturday and is well-worth the visit regardless of personal faith. The historic church is situated on spacious green grounds surrounded by towering trees, offering a lovely spot for a picnic or to simply read a book.
Visitors can head inside and seek blessings or just admire that incredible stonework. The intricate interior remains as it was over a century ago, a timeless design.
2. Dock Square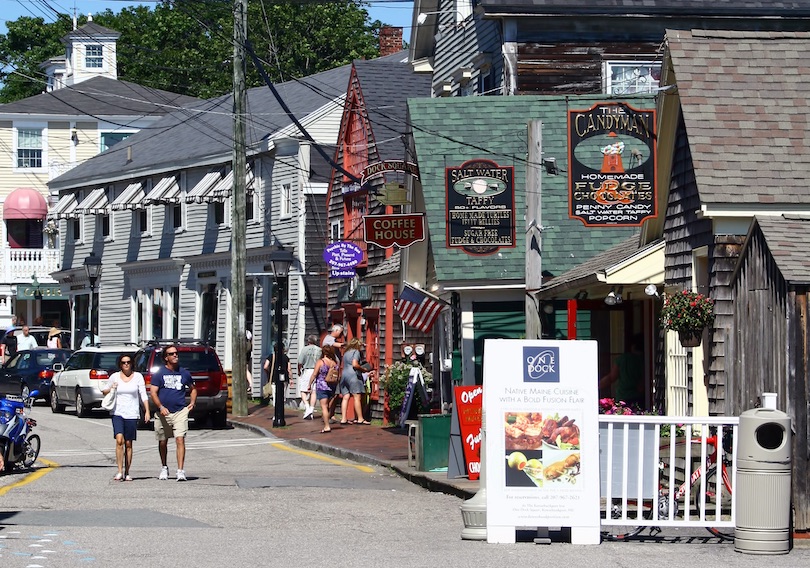 In the heart of town, Dock Square is the quintessential Maine experience. Among the quaint buildings and old-time streets, you'll be surrounded by everything you'd expect from a historic fishing village in northeast USA.
The downtown neighborhood encompasses much of Kennebunkport's personality, with ample boutique stores, independent art galleries and trendy patio cafes serving delightful homegrown treats.
The town really comes alive during the summer months with everyone out and about. A vibrant atmosphere sweeps across Dock Square with packed cafes serving Maine lobster, especially at the Clam Shack.
Other must-try eateries in Dock Square include Allison's, which offers splendid views of downtown and Auntie's House Bakery and Chocolate Shop.
1. Kennebunk Beach
Along Beach Avenue is a string of pristine beaches that are the place to be on a sunny day. Covering 1.5 miles, Kennebunk Beach is home to Gooch, Middle and Mothers Beach with the beautiful shoreline ending at Lords Point.
Each section has something different to offer, with varying degrees of surf and playgrounds on offer. But with a scenic path running the entire length, you can get out on foot to enjoy a gorgeous morning walk while finding the place to put down your beach chair.
Gooch Beach is the most popular of the three thanks to its proximity to downtown. Mothers Beach is great for families as there's smaller surf, an on-site playground, lawns for yard games and a bit more space to spread out.
Map of Things to Do in Kennebunkport