The northeastern-most state in the whole of the US, Maine is located in New England, right on the border with Canada. Blessed with lots of astounding scenery and nature, it boasts a wealth of beautiful landscapes for visitors to explore, as well as lots of interesting historic tourist attractions and cities.
While its rugged Atlantic Ocean coastline is home to lots of craggy cliffs and charming coastal towns, its interior is coated in verdant forests with majestic mountains and glimmering lakes dotted about. One of the best times of year to visit is in fall when foliage covers the whole state in a marvelous mix of different colors. With a lot of things to do in Maine and excellent outdoor activities also on offer, this beautiful state is just begging to be explored.
In this post, we'll cover:
15. Acadian Village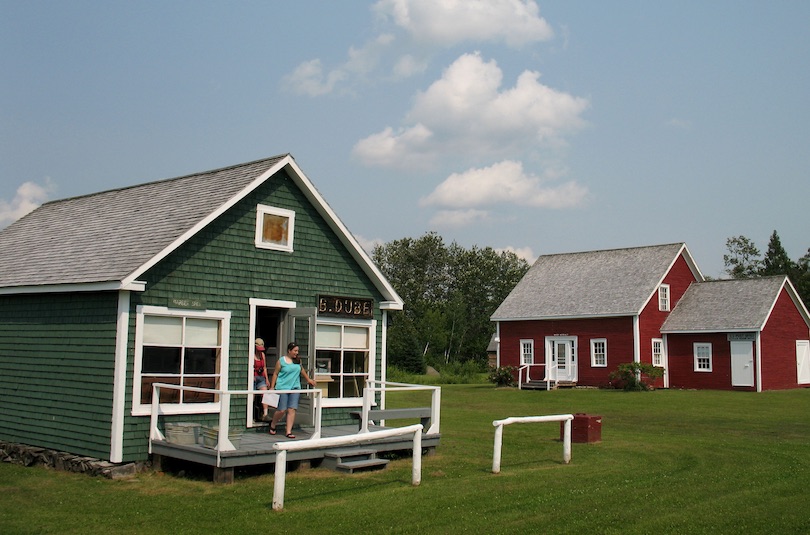 PD-USGov
Located right in the very northeast of the state, Acadian Village lies on the banks of the Saint John River facing into Canada. Founded in 1976, the small museum protects, preserves, and promotes Acadian history and heritage and is well worth visiting if you have the chance.
 
Now a Historic National Landmark, the site's collection of six nineteenth-century structures are fascinating to peruse as they showcase how the French Americans used to live and work. Originally set in other spots, the historic houses, schoolhouse, and blacksmiths were disassembled before being transported and reassembled in their current location.
 
Open between June and September, the small village and its surrounding grounds are very pleasant and picturesque to visit with lots of interesting artifacts and age-old furnishings on show.
 
14. Sail or Paddle the Maine Island Trail
Stretching along the entire coast of the state is the marvelous Maine Island Trail which connects over two hundred islands and mainland sites. Visitors can explore up and down its scenic shores and wondrous waterways, stopping off to camp, hike, and explore as they go.
 
As there is no set route, people can take as long or as little as they like with the recreational water trail reaching all the way from the state line with New Hampshire up to the border with Canada. The best way to visit all of its untouched and unspoiled islands is either to sail between them or paddle and kayak around smaller sections.
 
The first trail of its kind in the US, the Maine Island Trail is ideal for nature lovers and outdoor enthusiasts alike as it is home to lots of stupendous scenery and recreational opportunities.
 
13. Pemaquid Lighthouse
Lying right at the tip of the Pemaquid Neck, the historic lighthouse of the same name is set in a scenic and secluded spot. Perched dramatically atop some rocks overlooking the wild waters of the Atlantic Ocean, it can be found in the fishing and resort area of Bristol.
 
Commissioned by President John Quincy Adams, the lighthouse was built all the way back in 1827 with a more powerful Fresnel Lens being added a couple of decades later. Remarkably enough, the lighthouse is still in use to this day, guiding boats and ships home and warning them of Maine's rugged and indented coastline.
 
Besides taking in the wonderful white lighthouse standing out against its surroundings, visitors can also learn all about its history at the adjoining museum. In addition to this, some great artworks of Pemaquid Lighthouse and the local area can be viewed in the nearby Pemaquid Art Gallery.
 
12. Camden
Widely considered to be one of the most beautiful places in the whole of New England, the pretty town of Camden and its picture-perfect harbor has long been a popular tourist destination. Nestled away along the Mid-Coast region of Maine, it lies around an hour's drive to the north of Portland.
 
Home to lots of brilliant boutiques and exquisite restaurants, the upscale seaside community has long attracted wealthy residents and affluent out-of-towners to its scenic shores. As such, lots of magnificent mansions and extravagant estates dot the hills and forests that tumble their way down to the ocean, while a number of excellent art galleries can be found in the center of town.
 
Bobbing about the bay are lots of boats and yachts for visitors to charter, with sailing up and down the coast being very popular. In addition, hiking up both Mount Battie and Mount Megunticook is another favorite pastime for the lovely views and nature on show. Fall is one of the best times of year to visit Camden due to its fabulous foliage.
 
11. Coastal Maine Botanical Gardens
Daderot / Wikipedia
One of the top tourist attractions in Maine, the charming Coastal Maine Botanical Gardens can be found not far from the small town of Boothbay. Sprawling over a huge area, the gorgeous gardens are home to lots of pretty plants and fantastic flowers as well as some stunning scenery, landscapes, and nature.
 
Opened in 2007, New England's largest botanical garden encompasses everything from marvelous meadows and verdant forests to lovingly landscaped lawns and spectacular shorelines. Wandering around its paths and trails is a very pleasant and peaceful experience as you immerse yourself in the beautiful nature all around.
 
While most people visit when the gardens are open between mid-April and October, the six weeks that it is open around Christmas really are a special time to stop by. This is when Gardens Aglow takes place and much of the site is magically lit up with flickering fairy lights.
 
10. Victoria Mansion in Portland
Built all the way back in 1860, the stately Italianate-style Victoria Mansion is one of the finest and most fetching examples of residential architecture in the whole of the States. Lying in the heart of downtown Portland, the National Historic Landmark is very popular to visit due to its astounding architecture and sumptuously decorated interior.
 
Proudly showcasing an asymmetric design, the brilliant brownstone building boasts a four-story tower as well as overhanging eaves and open verandas. Once the summer home of hotelier Ruggles Sylvester Morse, it was turned into a museum in 1941 to protect and preserve all of its unique features and furnishings.
 
Inside is just as visually stimulating, as fantastic frescoes and furniture lie next to elaborate paintings, artworks, and decorative pieces. Covered in rich carpets, exotic woods, and striking stone, the lavish Victoria Mansion is certainly well worth visiting when in Portland.
 
9. Old Orchard Beach
Set on the shores of Saco Bay, Old Orchard Beach has long been a popular summer destination due to its golden sands and its proximity to Portland. In addition, the sun-kissed seaside town has a lively yet laidback ambience as well as countless fun and family-friendly attractions on offer.
 
Ideal for sunbathing, swimming, and water sports, its wide-open beach stretches over ten kilometers in total with a wonderful old wooden pier jutting out into the waters of the Atlantic. Right next to it is the Palace Playland amusement park which has lots of exciting and exhilarating rides for visitors to go on as well as a fun Ferris Wheel and amusement-filled arcade.
 
On the outskirts of town, there is the wild and wet Funtown Splashtown water park to enjoy while lots of souvenir shops, eateries, and hotels can be found along its chaotic and colorful beachfront.
 
8. Skiing in Sugarloaf
Home to a staggering array of stupendous ski slopes and snow-coated landscapes, Sugarloaf is one of the best places to go skiing in the whole of New England. The second-largest ski resort east of the Mississippi, it is located on Sugarloaf Mountain in the west of Maine.
 
Besides being home to over 150 marked trails and glades, the resort has thirteen chairlifts as well as one continuous vertical drop ski area which remarkably plunges 860 meters down the mountain. While most people go skiing and snowboarding, Sugarloaf also has superb golfing, hiking, and mountain biking in the summer months with phenomenal views to be enjoyed from up high.
 
In addition, the resort also has countless cosy cabins and restaurants for visitors to choose from with lots of excellent amenities and a snow sports school.
 
7. Ogunquit Beach
Located just outside of the lovely little town of the same name, Ogunquit Beach boasts a sublime stretch of spectacular sands and shoreline. Very popular in the summer months, it lies just under an hour's drive from Portland on a barrier peninsula between the Ogunquit Bay, river, and the Atlantic Ocean.
 
Appropriately meaning 'beautiful place by the sea' in the indigenous Abenaki language, Ogunquit Beach certainly does look a treat. Besides lounging lazily on its golden sands and looking out over the ocean, visitors can also wallow in its waters or swim and surf along its shore.
 
Just a stone's throw away from the beach are lots of ice cream joints, romantic restaurants, and art galleries with Ogunquit being particularly popular among the LGBT community. Ideal for a relaxing weekend getaway or sunny summer holiday, Ogunquit Beach is a very peaceful and picturesque place to spend some time.
 
6. Maine Lobster Festival
Renowned around the world for its crustaceans, each and every year the state hosts the Maine Lobster Festival in the seaside city of Rockland. Besides paying homage to the spindly sea creature, parades, music concerts, and an art show take place alongside the fun and festive feast.
 
Over the course of its five days, thousands upon thousands of people visit the festival not only to try some of its delicious lobster dishes but also to enjoy its magnificent music shows and performances. In addition, there is also the 'Great International Lobster Crate Race' to either watch or take part in. Here, contestants bravely race across the top of crates bobbing about the bay, risking falling in the cold Maine waters as they do so.
 
With various contests going on and a packed cooking, art and crafts, and entertainment schedule, the Maine Lobster Festival is a unique, unusual, and unforgettable event to attend.
 
5. Portland Head Lighthouse
The oldest lighthouse in the whole of Maine, Portland Head Lighthouse was remarkably built all the way back in 1791. Since then it has guided sailors safely back home from its prominent clifftop setting just to the south of Portland Harbor.
 
Erected to protect and warn ships of the rough and rugged Cape Elizabeth coastline, its gleaming white tower stands out magnificently against the dramatic scenery that lies around it. Towering twenty-five meters in height, its flashing Fresnel Lens and booming foghorn are now automated and maintained by the United States Coast Guard.
 
Besides taking in its delightfully desolate setting and the wild waters of the Atlantic, visitors to the historic lighthouse can learn all about its fascinating past in its marvelous maritime museum. As well as hosting a collection of artifacts, photos and models of the lighthouse, it also tells the story of its keepers and the ships that were wrecked along its shores.
 
4. Go Whale Watching
As lots of whales can be found in the waters just off the state's shoreline, taking a trip to catch a glimpse of these majestic marine mammals is one of the most memorable things to do in Maine. All along its indented coastline, you'll find towns and villages where you can arrange boat tours out onto the open ocean.
 
Just thirty kilometers or so offshore are the fertile feeding waters where the world's largest living creatures come to feast and nurse their young. Between mid-April and October, visitors stand a good chance of spying humpback, pilot, minke, and finback whales with sperm whales and orcas to be spotted every now and again.
 
While you can occasionally sight them from the shore with binoculars, the best way to see them up close and personal is on a whale-watching cruise. Many companies offer these trips from both Bar and Boothbay Harbors with some sightseeing tours even setting sail from Portland.
 
3. Baxter State Park
Encompassing everything from mountains and forests to lakes, rivers, and waterfalls, Baxter State Park is home to lots of untouched and unspoiled nature and scenery. Named after the politician and philanthropist Percival P. Baxter, who donated the land for the park between 1931 and 1962, it is set in the north-central region of the state.
 
Very mountainous in nature, the state park includes the highest peak in the whole of Maine in the shape of the 1,606 meter high Mount Katahdin, with countless other mountains to be found within its confines. Hidden away among its verdant forests are stunning sights such as Grand Lake Matagamon and Green Falls with moose, coyotes, and black bears to be spotted from time to time.
 
Due to all the wondrous wilderness on show, Baxter State Park lends itself perfectly to all kinds of outdoor activities with hiking, canoeing, and camping all being particularly popular.
 
2. See the Fall Foliage
Thanks to its amazing autumnal colors, Maine is one of the most popular and picturesque places to view fall foliage in the States. Towards the end of the year, thousands upon thousands of people from all around the country and further afield descend upon the state to see its lovely landscapes turn a mesmerizing mix of different colors.
 
Such is its popularity that the state even puts out foliage reports to let visitors know the perfect time to visit and the best locations to go 'leaf peeping'. While many people head to Bethel and Newry due to their proximity to magnificent mountains and lakes, others take scenic drives around the Acadia Park Loop Road or along the Rangeley Lakes National Scenic Byway.
 
With so many sensational shades of yellows, reds, and oranges coating its rolling hills, forests, and mountains, Maine really is one the most magical and memorable places to see fabulous fall foliage.
 
1. Acadia National Park
Boasting lots of breathtaking landscapes and spectacular scenery, Acadia National Park will delight nature lovers and outdoor enthusiasts alike. The only national park in the whole of New England, it was established all the way back in 1916 to protect and preserve its gorgeous ocean coastline and countless natural treasures.
 
Set just southwest of Bar Harbor, it includes part of the Schoodic Peninsula and around half of Mount Desert Island as well as numerous other islands and islets. Encompassed within its confines are majestic mountains and wonderful woodland with lots of lakes, wetlands, and craggy coastal cliffs also on show.
 
Due to its incredible scenery and nature, Acadia National Park is a treat to explore with hiking, rock climbing, and kayaking being particularly popular. In addition, the park is also home to lots of amazing wildlife with moose, white-tailed deer, and black bears residing within its vast wilderness.
Map of Things to do in Maine