Although often overlooked in favor of Santa Fe, the state's largest city Albuquerque is well worth visiting for its many magnificent museums and attractive Old Town full of historic adobe buildings. Showcasing a delightful mix of Spanish and Native American influences, it has a rich history and heritage to delve into with countless art galleries and cultural tourist attractions to be found around town.
Located near the center of New Mexico, the sprawling city occupies the Rio Grande Valley with the soaring Sandia Mountains to be spied in the distance. As it lies near to so much stunning scenery, there are many outdoorsy things to do in it Albuquerque with hiking and mountain biking being particularly popular.
One of the best times to visit is in October when the Albuquerque International Balloon Fiesta takes place, and the city's clear blue skies are dotted with hundreds of hot air balloons.
12. Turquoise Museum
miguel / Flickr
Located just a stone's throw away from downtown is the superb Turquoise Museum which can teach you all there is to know about the glittering gem. As well as delving into the history of mining and crafting turquoise, it has lots of interesting artwork, jewellery and shiny specimens to peruse – all made out of the colorful gemstone.
While the museum was opened in 1993, the Lowry family have been involved with and passionate about the precious blue and green mineral for generations. On tours you'll hear about their history of mining and studying turquoise, how the mineral is manufactured and myths and uses of the gem around the world. It also has a great gift shop where you can buy jewellery and souvenirs.
11. Casa Rondena Winery
Britt Reints / Flickr
Nestled on the northern outskirts of Albuquerque is the Casa Rondena Winery which has exquisite award-winning wines for you to try in its tasting room. The attractive estate also acts as a hub for the arts in the area, as it hosts a number of cultural events and festivals over the course of the year.
Founded in 1995 by John Calvin, the family-run winery exhibits some lovely architecture with a terrific Tricentennial bell tower to be found amidst its gorgeous grounds and fertile vineyards. In its tasting room you can sample some of its wonderful wines paired with tasty cheese boards, crackers and chocolates. In addition to the annual Festival de Musica Rodena, the pretty property regularly hosts weddings, concerts and special events.
10. American International Rattlesnake Museum
A very interesting and educational place to visit, the American International Rattlesnake Museum is dedicated to the preservation of the slippery snakes. As well as snake-related artworks, artifacts and exhibits it also boasts the world's largest collection of different species of live rattlesnakes.
Located in Old Town Albuquerque, the small animal conservation museum houses over thirty kinds of rattlesnake, all of which reside within the appropriate recreated natural habitat. Through displays and demonstrations, visitors can learn about each species and hopefully cure any fears or phobias they may have about the cold-blooded creatures. The museum is also home to a Gila monster – the largest lizard in America – and has a gift shop that sells all kinds of snake-themed souvenirs.
9. Albuquerque Museum
City of Albuquerque / Flickr
Offering up a fascinating look into the history, culture and heritage of both the city and Southwest is the excellent Albuquerque Museum. Also located in Old Town, its ever-growing collection includes everything from art installations and interactive exhibitions to artifacts and archaeological findings with an outdoor sculpture garden also on offer.
Since being founded in 1967, the museum has educated countless generations on the history and art of the region. Alongside early maps and conquistador armour you can also find artworks by Georgia O'Keeffe among others and historic wood carvings and weavings by Native American peoples. On top of this, it regularly hosts temporary exhibitions and cultural events and operates tours around the historic home of Casa San Ysidro which gives guests a glimpse into Spanish colonial life.
8. San Felipe de Neri Church
Just a minute's walk from the museum is the stunning San Felipe de Neri Church which lines the north side of the Old Town Plaza. One of the oldest surviving structures in the city, it was built in 1793 during the Spanish colonial period and has remained in continuous use since then.
Exhibiting a magnificent mix of architectural influences, the centuries-old church sports two twin bell towers that rise up above its thick, earth-colored adobe walls. Inside, its Gothic Revival-style interior decorations such as its wood-carved altar and pulpit, both of which are painted white, give it a more European appearance. The charming church also adjoins an old rectory, convent and school while its small museum displays some gorgeous religious art and artifacts.
7. New Mexico Museum of Natural History and Science
Set on the eastern edge of Old Town is another of the city's main sights – the New Mexico Museum of Natural History and Science. Through interactive exhibits and dramatic dinosaur-filled displays you'll explore over twelve billion years of natural history starting with the birth of the universe.
After learning about these early origins you can then witness the dawn of the dinosaurs, experience the ice age on Earth and see skeletons, fossils and paleontological findings up close. Since opening in 1986, the museum has been a firm favorite with both locals and tourists alike due to its well-presented galleries and hands-on activities. In addition, it is also home to a fantastic Planetarium and a 3D cinema which screens educational yet entertaining films.
6. Albuquerque International Balloon Fiesta
Every October, thousands of people from around the globe flock to the city to watch and take part in the absolutely incredible Albuquerque International Balloon Fiesta. Over the course of its nine days, more than five hundred hot air balloons rise up slowly into the clear blue sky, making it the largest festival of its kind in the world.
What began in 1972 with just a few balloons has since turned into Albuquerque's most famed and photographed event. Seeing the sky full of balloons of different colours, shapes and designs is an amazing experience with the Mass Ascension being its main event. You can also go up in a hot air balloon yourself and bask in beautiful views of the city below and the other balloons around you.
5. Petroglyph National Monument
Just to the west of town you can find the phenomenal Petroglyph National Monument which lies on the other side of the Rio Grande. While it boasts lava-scarred landscapes and volcanic cones for you to explore, the sprawling site is mostly known for its captivating collection of carved images which number more than 24,000 in total.
Remarkably well-preserved for the most part, these fantastic figures, symbols and signs were etched into the volcanic rock by both Ancestral Pueblo peoples and early Spanish settlers. The earliest of them date to around 3,000 years ago with large groupings to be found around Boca Negra Canyon and Piedras Marcadas. In addition, the monument's many trails take you past some splendid scenery and commanding viewpoints.
4. ABQ BioPark
As it is home to not only an aquarium and botanical gardens but a zoo too, it is no wonder that ABQ BioPark is one of the city's top attractions. Impressively enough, the largely outdoor environmental museum also encompasses the recreation area of Tingley Beach which has pretty paths, ponds and picnic areas to enjoy.
After having explored its beautiful botanic garden, which is dotted with desert plants and flowers, you can then head to its excellent aquarium. This again mostly focuses on local species that can be found in the Rio Grande and saltwater marshes of the Gulf of Mexico. The undoubted highlight is the park's zoo which houses everything from elephants and gorillas to lions and polar bears.
3. Sandia Peak Tramway
Rising up dramatically above both Albuquerque and the Rio Grande Valley are the soaring Sandia Mountains which lie on the northeastern edge of the city. To reach the top of the 3,163-metre-high mounts, visitors can take an unforgettable ride on the Sandia Peak Tramway which is remarkably the longest aerial tram in the Americas.
From the desert floor, it only takes fifteen minutes to rise to the summit of Sandia Crest with divine views over the Land of Enchantment on offer from both the cable car and mountain peak. At the top, you'll find souvenir shops, a sky bar and restaurant as well as countless hiking trails. In addition to enjoying some simply spectacular sunsets, superb skiing can be had in the winter months.
2. Indian Pueblo Cultural Center
An absolute must-visit when in town, the Indian Pueblo Cultural Center preserves and promotes the Pueblo peoples' rich history, culture, art and traditions. Owned and operated by the nineteen Pueblos of New Mexico, its innumerable exhibitions and events offer up an interesting insight into their past and present.
Founded in 1976, the cultural center now occupies a state-of-the-art site that lies just a short drive to the north of Old Town. Here you'll find an art gallery, gift shop and museum which houses exquisite artworks, artifacts and informative exhibits on their history and culture. Besides this, the centre also hosts lots of cultural events, lectures and workshops over the course of the year with its traditional dances and performances being particularly popular.
1. Old Town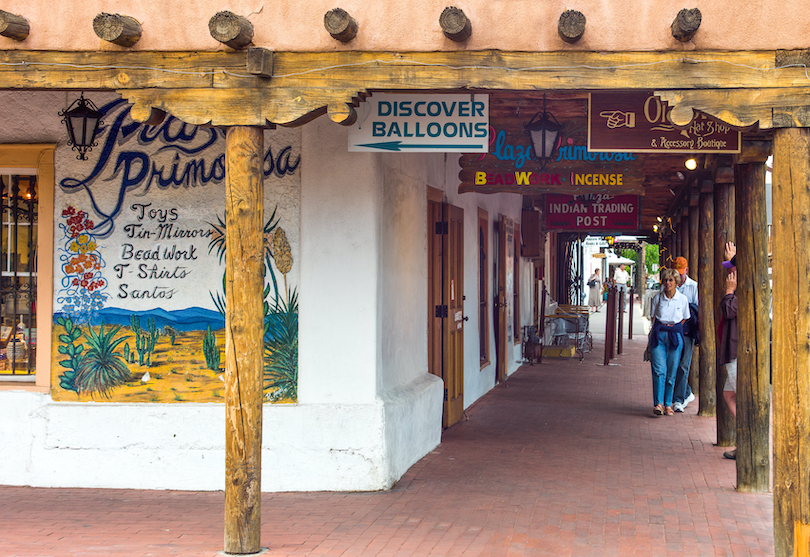 The most popular place to visit in the city is Old Town Albuquerque which is the original site the Spanish settled in the 1700s. Spanning around ten blocks in total, it boasts several attractive adobe buildings and has lots of interesting historic landmarks and museums to check out.
Set around its central plaza are countless art galleries and shops selling Southwestern souvenirs and Native American artworks as well as the centuries-old San Felipe de Neri Church. Its cobblestone streets are also home to some great restaurants and bars while talented street performers lend the area a lively atmosphere. In addition, you can also find many of Albuquerque's main tourist attractions and museums in or around the Old Town.
Map of Things to do in Albuquerque