Set in the Southwest of the States, New Mexico boasts many breathtaking landscapes that are often overlooked by visitors. Besides all its desolate yet dramatic desert scenery, the state is home to the rearing Rocky Mountains, the roaring Rio Grande, and plenty of colorful canyons, cliffs and caves.
Dotted about here and there are awe-inspiring archaeological sites for you to explore that were left behind by the Ancestral Puebloans. Protected as parts of New Mexico's national parks and monuments, they offer up a fascinating insight into the cultures and people that have shaped the state. With so many sides to it and so much sensational scenery on show, New Mexico certainly lives up to its nickname, the 'Land of Enchantment'.
Map of National Parks in New Mexico
© OpenStreetMap © MapTiler © Touropia
12. El Malpais National Monument
© Steven Prorak / Dreamstime
Lying in the west of the state is the El Malpais National Monument, home to a vast volcanic field. Full of cinder cones, lava flows, and rock formations, it can be found just off of Interstate 40 in a very isolated yet awe-inspiring area.
Part of Zuni-Bandera volcanic field, its desolate and destroyed lava-scarred lands seemingly stretch away forever, with the most recent flow dating to around 3000 years ago. Hidden away among the remote and rocky remains are some incredible lava tubes for visitors to explore, some of which are home to glittering ice caves.
The best way to view all the national monument's distinctive features is to hike around its lava fields and flows, snapping photo after photo as you go.
11. City of Rocks State Park
© Martha Marks / Dreamstime
Home to fabulous formations and enormous boulders, City of Rocks State Park can be found in the southwest of the state, just under 50 kilometers from Silver City. Its rugged reaches lend themselves perfectly to all kinds of outdoor activities, with hiking, rock climbing, and camping all popular.
Formed some 35 million years ago during a volcanic eruption, its boulder-filled landscapes are a treat to explore, with spindly spires and jagged pinnacles wherever you look. Reaching up to 12 meters in height, its superb sculptures make for some fantastic photos, with lots of great bouldering to be had amidst its craggy confines.
Besides hiking and rock climbing, the state park has a delightful botanical garden for visitors to check out, with picnic areas and campsites also on offer.
10. Bisti/De-Na-Zin Wilderness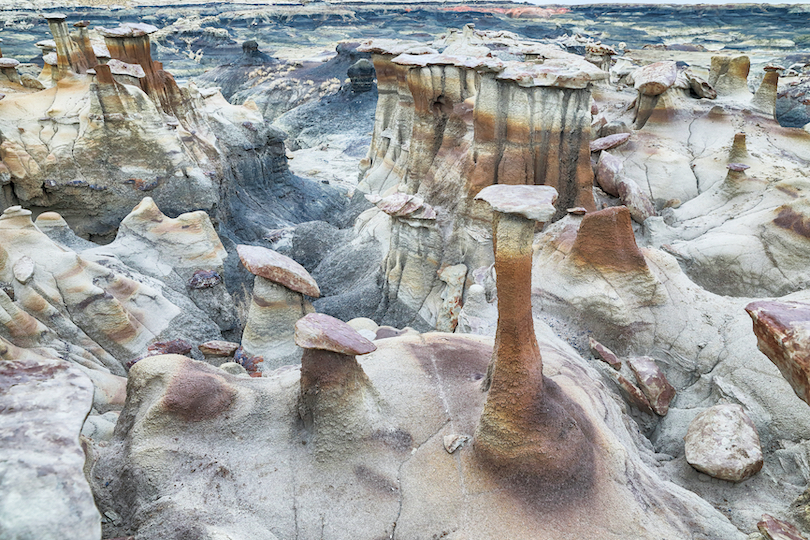 © Frank Fichtmueller / Dreamstime
Nestled in the northwest of New Mexico are the breathtaking, barren badlands of Bisti/De-Na-Zin Wilderness. Located within the Navajo Nation, its otherworldly landscapes are well worth checking out for their surreal scenery.
Home to haunting hoodoos, beautiful balancing rocks, and crumbling, colorful cliffs, its fascinating features were formed over millions of years. Once an ancient sea, its tortured terrain is now fantastic to travel around, with spectacular shapes, sandstone sculptures and scenery on show.
As sunrise and sunset are the most magical times of day to witness its wonders, it's well worth camping overnight in the park. In addition, you can enjoy hiking and horseback riding amidst its lovely landscapes, with stargazing to be had when night falls.
9. Gila Cliff Dwellings National Monument
© Ed Francissen / Dreamstime
Set in a scenic and secluded spot in the southwest of the state is the interesting and impressive Gila Cliff Dwellings National Monument. Located in a wonderful wilderness area and national forest of the same name, the arresting archaeological site lies around an hour and a half's drive to the north of Silver City.
Nestled in the side of a craggy canyon are five caves to explore, home to the remains of ancient rooms and buildings. These captivating yet crumbling cliff dwellings are believed to have been inhabited in the 13th and 14th centuries by the Mogollon Peoples.
Besides visiting the small yet stunning site, the surrounding area has some great hot springs and pictographs to check out, as well as lots of exquisite hiking, camping, and viewpoints.
8. Bosque del Apache National Wildlife Refuge
© Joe Sohm / Dreamstime
Lying on the banks of the Rio Grande is the brilliant Bosque del Apache National Wildlife Refuge, set some 30 kilometers to the south of Socorro. Home to marvelous marshes, farms, and wetlands, the fertile floodplain is renowned around the world by wildlife photographers.
This is because every winter, more than 100,000 migratory birds flock to its fields and foothills to rest in the refuge from October to March. During this season, you can spot everything from snow geese and sandhill cranes to bald eagles and little blue herons wading around its wetlands.
Strung out across the sprawling site are lots of paths and viewing platforms for visitors to hike or cycle around. December and January are the best but coldest time of year to view all the fabulous flocks of beautiful birds.
7. Four Corners Monument
© Tom Dowd / Dreamstime
Set at the spot where the states of Arizona, Utah, Colorado and New Mexico meet is Four Corners Monument, which is now a very popular tourist attraction. Lots of people come to the captivating quadripoint to snap photos of themselves straddling the four states at the same time.
Lying alongside U.S. Route 160 in a deserted part of the Colorado Plateau is a granite disk surrounded by each state's seal and flag. At the monument's center is a small bronze disk that marks the border point, with 'Four states here meet in freedom under God' engraved nearby.
While surveyors have now admitted that it is not quite the exact spot where the four states meet, this hasn't stopped families and friends from stopping off at the monument to take pictures of themselves in Twister-like poses above the important plaque.
6. Kasha-Katuwe Tent Rocks National Monument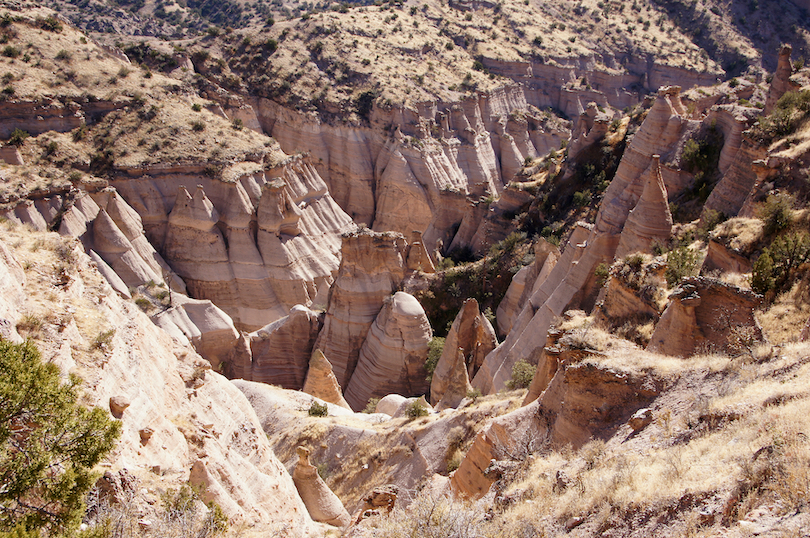 © Uhg1234 / Dreamstime
Although often overlooked, Kasha-Katuwe Tent Rocks National Monument boasts some of the most sensational scenery in the state. Set between Albuquerque and Santa Fe, it lies on the Pajarito Plateau; its lovely landscapes were formed by volcanic eruptions from the nearby Jerez Mountains.
Meaning 'white cliffs' in the local Keresan language, Kasha-Katuwe is awash with astounding tipi-like tent rocks and striking slot canyons. Its distinctive shapes, shades and silhouettes are a delight to explore, with lots of hiking trails and paths weaving their way around the beautiful wilderness.
From atop its charming Canyon Trail, you can enjoy fantastic panoramas over its colorful cliffs, canyons and caprocks, which have been shaped and sculpted by the elements for aeons.
5. Aztec Ruins National Monument
© George Burba / Dreamstime
Nestled in the northwest of the state is the arresting Aztec Ruins National Monument, which lies next to the small city of the same name. Since 1923, it has protected the ruins and remains of a fascinating prehistoric pueblo that is believed to have been built almost a thousand years ago.
Misattributed to the Aztecs by early American settlers, this awe-inspiring archaeological site has over 400 rooms to explore, with its Great Kiva the undoubted highlight. As well as seeing the original ruin and its marvelous masonry, visitors can enter a reconstructed replica to see what it would have looked like in its heyday.
To gain a greater understanding and appreciation for the Ancestral Puebloans' history and culture, it is well worth stopping by the national monument's museum, which has lots of interesting exhibits and artifacts on display.
4. Chaco Culture National Historical Park
© Jaahnlieb / Dreamstime
One of the most important and impressive pre-Columbian cultural sites in the whole of the States, the captivating Chaco Culture National Historical Park can be found in northwest New Mexico. Set within the Navajo Nation, its sprawling site protects lots of well-preserved ancestral pueblos.
Hidden away in the crumbling confines of Chaco Canyon are sublime settlements and structures that were built and occupied from 850 to 1250 AD. Exhibiting lots of exquisite architecture and magnificent masonry, they are a treat to visit, with Pueblo Bonito being the largest and loveliest of the lot.
While the extensive archaeological excavations are enthralling to explore, the scenery on show is just as striking. Massive mesas and beautiful buttes rise from amidst the desolate desert steppe. Before heading off, make sure to visit the site's museum to learn all about the Ancestral Puebloans who inhabited the arid area.
3. Bandelier National Monument
© Sumikophoto / Dreamstime
Set not far from Santa Fe is another of the area's outstanding archaeological sites – the breathtaking Bandelier National Monument. Lying on the slopes of the Jerez Mountains, it is home to lots of incredible wilderness, with numerous Ancestral Puebloan sites dotted about its scenic landscapes.
Founded in 1916, it protects some of the most attractive, accessible and extensive cliff dwellings in the state. Among the stunning peach-colored surrounds of Frijoles Canyon, visitors can find caves, kivas, and ceremonial buildings used by the Ancestral Puebloans for centuries, with rock paintings and petroglyphs etched here and there.
While it is the park's most popular and photogenic place to visit, the national monument has plenty of other stunning sights to check out, with delightful nature, scenery and views wherever you go. It also has an excellent museum with ancient artifacts and archaeological findings on display.
2. White Sands National Park
© Patrick Barron / Dreamstime
Stretching for as far as the eye can see are the sensational sandscapes and dramatic dunes of White Sands National Park. Set in the south center of the state, its shimmering sands are certainly one of the most remarkable and rewarding landscapes to explore in the whole of New Mexico.
The gigantic Tularosa Basin is the largest gypsum dune field on Earth. Its fine crystals and grains glimmer in the sun, with dazzling dunes stretching over the horizon; the tallest of them reaches around 18 meters in height.
The national park's sea of sand lends itself perfectly to all kinds of outdoor activities, with hiking and camping particularly popular alongside sunbathing and dune-sledging.
1. Carlsbad Caverns National Park
© Nathaniel Luckhurst / Dreamstime
Set in the southeast of the state just a stone's throw from Texas is the captivating Carlsbad Caverns National Park. An incredible place, it is home to more than 119 caves, with its show cave Carlsbad Cavern the largest and most impressive.
Once thought to be the largest underground chamber in the world, its 'Big Room' astounds with its staggering scale and splendor. Reaching up to 78 meters, the colossal cave stretches almost 1,220 meters in length, with lots of fabulous formations and spectacular stalactites and stalagmites on show.
The best way to explore its almost fifty kilometers of subterranean trails is to take a tour around its countless chambers with fantastic features and beautiful rooms wherever you go. Above ground, visitors can hike around its desolate desert scenery which is home to some lovely nature and views.