From the Chihuahuan Desert to the jagged Sangre de Cristo Mountains, New Mexico boasts the sort of scenery that epitomizes the Wild West. So much, in fact, that Hollywood movies portraying this period of time, even silent Westerns of the early 20th century, are often filmed in and around the small towns that bejewel this Southwest state.
Only becoming part of the USA in 1912, New Mexico boasts significant Hispanic culture, mining towns planned out by pioneers and prospectors, as well as ancient relics of the native people who once roamed this land freely.
© Anne Power / Dreamstime
The tiny town of Santa Rosa, in Guadalupe County, is the perfect pit-stop for a Route 66 road trip. In fact, the Santa Rosa strip of this iconic highway even features on the silver screen; part of the film adaptation of The Grapes of Wrath was filmed here. There's even a Route 66 Auto Museum for car fans and Americana lovers alike.
Elsewhere in town, there's history in the form of its buildings – there's the 1909 brick-built Guadalupe County courthouse, for instance. There's a unique diving spot in town, the Blue Hole, a sink hole where you can scuba dive to explore the depths or simply swim around.
© Anja Nitsche / Dreamstime
Galisteo, in Santa Fe County, has had its fair share of film fame. It's been the backdrop for many a Western, including Crazy Heart, Young Guns, and Silverado amongst others. Even the fantasy movie Thor was partly filmed here.
But it's more than just a shooting location. There are slices of history to be had in Galisteo too, such as the Casa Grande Trading Post to the northwest. And if you want to get out into the desert scenery yourself, heading to Galisteo Basin Preserve boasts hiking paths and mountain bike trails alike.
The serene and scenic town of Jemez Springs is located within Santa Fe National Forest; the town has a long history and is thought to have been inhabited for the past 4,500 years. This area is home to the Jemez State Monument, as well as the ruins of the San José de los Jemez Church, which was built 1621.
Jemez Springs has long attracted visitors, due to its location close to the Valles Caldera, with many underground geothermal hot springs in the area. Keen hikers and nature enthusiasts will love adventuring through the orange landscape and the interesting rock formations close by.
© Miroslav Liska / Dreamstime
Tucumcari is notable for its Historic District, which consists of buildings in and around its Main Street. These include the impressive Rock Island-Southern Pacific Train Station, dating back to 1926, and the Odeon Theatre, which was built in 1937 and is still in operation. But for even older history, you can head to the Mesalands Dinosaur Museum with its surprising collection of skeletons and fossils from millions of years ago.
Tucumcari also has a strong relationship with pop culture, having been featured in films, mentioned in songs, and name-dropped in episodes of boxsets from NCIS to Supernatural.
© Sandra Dean / Dreamstime
The village of Cloudcroft, situated within the boundaries of the Lincoln National Forest, began life as a resort town in 1899. The Lodge, an upscale hotel, was built in the early 20th century to cater for wealthy guests; celebrities like Judy Garland and Clark Gable have stayed here.
The Sacramento Mountains Museum, set in a historic building itself, is the best place to go to learn all about the history of the town and the area. Though attractive in the summer thanks to its relatively mild climate, the compact Ski Cloudcroft offers up winter skiing, and nearby is the stunning White Sands National Monument, with its rare, brilliant white sand.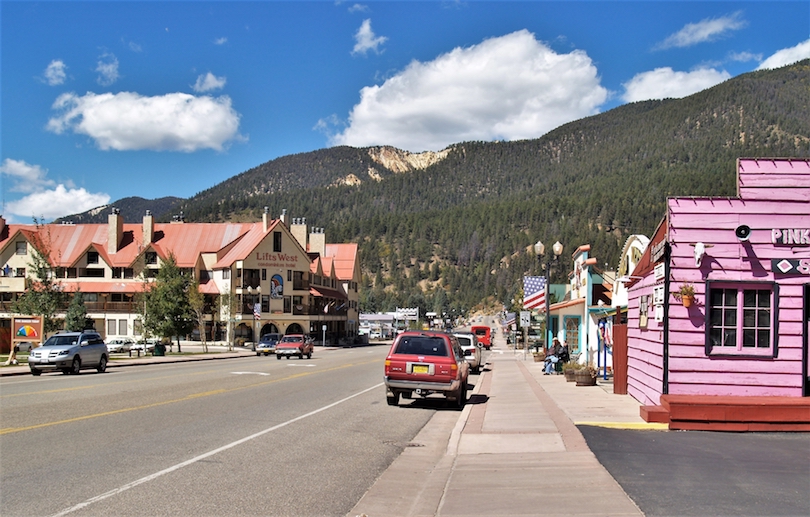 © Cynthia Mccrary / Dreamstime
Nestled in the Sangre de Cristo Mountains, Red River is a small town that has a lot going on for it when it comes to outdoor activities. The Red River Ski Area is a haven for skiers in the winter, giving way to ample hiking and biking trails and paths in the summer months, whilst another facet of the winter fun to be had in Red River is the Enchanted Forest Cross Country Ski Area.
The Historic District of this small town in Taos County reflects its origins as a mining town, looking like something right out of the Wild West.
© Sandra Foyt / Dreamstime
The town of Raton, county seat of Colfax County, gives its name to nearby landmarks like the Raton Range, the Raton Basin, and the Raton Pass. In fact, the Raton Pass had been used for centuries by Spanish traders, and Native Americans before them, to cut through the harsh terrain of the Rocky Mountains.
Today the surrounding area is still all about that rugged landscape; you can go hiking at Climax Canyon Nature Trail and explore Sugarite Canyon State Park, amongst others. Soak up the history of town in its historic Downtown area or check out the Raton Museum for a comprehensive tour.
© Brian Scantlebury / Dreamstime
Set on the edge of a Navajo reservation, Gallup is sometimes known as the "Heart of Indian Country". Accordingly, there's a high population of Native Americans (almost 44%) and in the summer months Native American dances can be witnessed here. But at all times of the year you can learn more about native culture at the Navajo Code Talker Museum.
Formerly on the old Route 66, and being the largest town between Albuquerque and Flagstaff, Gallup has seen many people drop by on roadtrips, including famous faces like Humphrey Bogart, Katharine Hepburn and John Wayne – all of whom stayed at the iconic 1930s El Rancho Hotel & Motel.
© Brenda Kean / Dreamstime
Once practically a ghost town, with its origins in early 20th century coal mining, Madrid is now an interesting community of artists and other creatives. For a start, there are numerous galleries along what's called the Turquoise Trail. Plus, you can see the fruits of recent artistic labors in the form of Origami in the Garden – huge origami-shaped sculptures against a desert backdrop.
Otherwise, this quirky town is in a good location for exploring some of New Mexico's characteristic epic landscapes, like the nearby Oritz Mountains.
© Jonmanjeot / Dreamstime
With as much ancient history as stunning natural landscapes, Aztec is the place to come if you're looking to explore something a little different. There's the Crow Canyon Pueblito Ruin, part of the 17th and 18th century defensive canyon of Native Americans, and the fascinating Aztec Ruins, believed to stretch back between the 11th and 13th centuries.
If you like mountain biking, then you'll love this place. Aztec is home to around 30 miles of prime mountain biking trails, the most popular of which is Alien Run. The scenery around here is stunning, from the Angel Peak Scenic Area to the unreal rock formations of the Bisti Badlands.
There's a lot going on around Ruidoso. To the south you'll find the Lincoln National Forest with all of its hiking trails and picturesque waterfalls. To the north, the Lincoln Historic Site features adobe and stone buildings that date back to the 19th century. There's the Noisy Water Winery for tastings and tours.
Grindstone Lake sparkles with a myriad of outdoor activities to get to grips with. Pillow's Funtrackers offers up family fun with go-karting and mini golf amongst other things. You can have a lot of fun snow tubing at Ruidoso Winter Park. There's all this and a whole lot more.
cmh2315fl / Flickr
Once an Apache campsite, then a site for Spanish copper mining, it was after the American Civil War that someone struck silver here and a big tent city sprang up. Hence the name: Silver City.
Aside from the recent history, which you can learn about at the Silver City Museum, there's a definitively ancient attraction nearby. The Gila Cliff Dwellings National Monument, built by the Mimbres Mogollon culture between 1275 and 1300 AD, is an easy drive from town.
Silver City has a thriving cultural scene, with the renovated 1920s Silco Theater showing films, and a number of festivals throughout the year – such as the Southwest Festival of the Written Word – promoting the arts.
Kent Kanouse / Flickr
Not to be confused with the desert sprawl in Nevada of the same name, Las Vegas, New Mexico, began life when the Mexican government granted land to settlers in 1835. Historic buildings dot this handsome town, like the grand 1880s Plaza Hotel. You can also learn more about the town's history, as well as the Rough Riders of the Spanish-American War (1898), at the Las Vegas Museum.
A whole host of films and TV series have been filmed in and around Las Vegas, from Easy Rider and No Country For Old Men, to episodes of House of Cards. Out of town, head to Storrie Lake State Park for watersports and lakeside relaxation.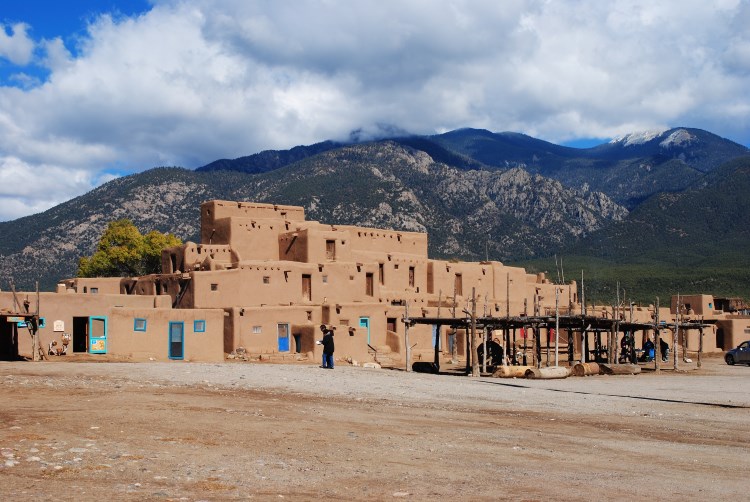 mole555 / Flickr
The town of Taos is known for the Taos Pueblo – one of the oldest continuously inhabited settlements in the United States. Lived in by the Tiwa tribe of Native American people, the site of adobe buildings dates back to between the 11th or mid-15th centuries.
Taos as it is today, however, dates back to its Spanish colonial founding in 1661. Taos Downtown Historic District is evidence of that, with its numerous heritage buildings. But this town is also about modern history: Taos art colony has seen artists come and go, like painter Georgia O'Keeffe and even writer D.H. Lawrence.
© Sally Scott / Dreamstime
This town is probably best known for its outstanding church, El Santuario de Chimayó. This Roman Catholic shrine is a unique mix of adobe and European wooden features, and boasts a history dating back to the early 19th century.
Known for its alleged "healing dirt", it has been claimed that this church is one of the most important centers for Catholic pilgrimage in the United States. In fact, it receives around 30,000 visitors in the week before Easter. Chimayó is also famous for its very own variety of chili, a 300-year-old heirloom, as well as rich, Spanish Colonial style weaving traditions.