Nestled in the north center of New Mexico, Taos is set in a serene yet sun-scorched spot, backed by the breathtaking Sangre de Cristo mountain range. While it lies just a short distance from gaping gorges, prominent peaks and some delightful desert scenery, the list of things to do in Taos itself is just as enticing and enchanting in terms of what it has to offer.
Known as the 'Soul of the Southwest', it boasts an astounding array of art museums, age-old historic tourist attractions and, as such, has a rich cultural heritage for visitors to delve into. Over the centuries, everyone from artists and mountain men to Native Americans and New Age practitioners have left their mark in Taos Pueblo – one of the State's oldest communities – to be found nearby. With so many different sides to it and so much splendid scenery to explore, Taos is certainly one of the most rewarding places to visit in the state.
12. High Road to Taos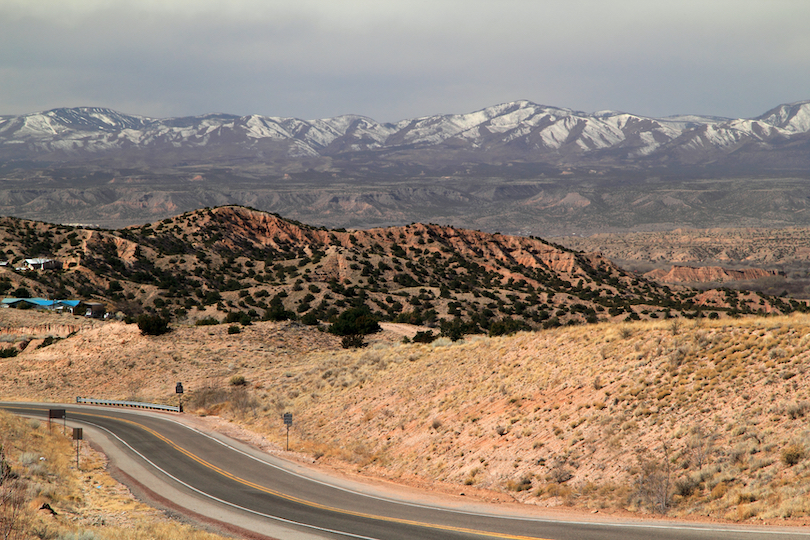 Stretching all the way from Santa Fe, the High Road to Taos is an absolute treat to travel along as it winds its way through the scenic Sangre de Cristo Mountains. Besides taking you through lots of lovely landscapes and stunning scenery, the ravishing route also has lots of interesting historic sites and phenomenal viewpoints for you to stop off at.
Reaching ninety kilometers in length, the scenic byway passes through everything from vast valleys and mighty mountains to verdant forests and high deserts. Dotted alongside it are Spanish colonial towns and Pueblo Indian villages to visit, full of beautiful old buildings and excellent art galleries.
Due to their historical and spiritual importance, many people stop off at the captivating churches of El Santuario de Chimayo, San Jose de Gracia and San Francisco de Asis. While these three National Historic Landmarks boast arresting, adobe architecture, they are just a few of the spectacular sights you can expect to see along the High Road to Taos Scenic Byway.
11. Wheeler Peak
The highest mountain in the whole of New Mexico, Wheeler Peak lies just a forty-five minute drive to the northeast of Taos. Offering commanding views over its surroundings as well as lots of outstanding recreational activities, it is sure to delight nature lovers and outdoor enthusiasts alike.
Part of the Sangre de Cristo Mountains, the peak towers to 4,013 meters in height, dominating and defining the wonderful wilderness area which is named after it. While its upper slopes and summit are quite bleak and barren, its lower reaches are home to rushing rivers and lush forests with attractive alpine lakes dotted here and there.
Besides hiking up to its rugged rim and basking in the breathtaking views, visitors can go camping and wildlife watching among all of its incredible nature. With a scenic loop of the prominent peak for you to drive around and sensational ski resorts lying nearby, Wheeler Peak is well worth visiting for all that it has to offer up.
10. Taos Art Museum
Tucked away just to the north of the town center is the tiny yet terrific Taos Art Museum which exhibits lots of astounding artworks and adobe architecture. Now located in the former home of Nicolai Fechin, a Russian-American artist, the museum is dedicated to preserving and promoting the town's artistic heritage.
Since opening in 1994, its collection has swelled to over 300 artworks with many of its paintings, sketches and woodcarvings having been done by Fechin himself. Alongside his early twentieth century portraits of Native Americans and scenes of New Mexico's desert landscapes, visitors can also find lots of exceptional artworks by local Taos artists.
Just as alluring as the art is the beautiful building itself and the fabulous furnishings and wonderful woodworks within it. Due to its marvelous mix of architectural styles and influences, the historic house was placed on a protected list of American homes in 1979.
9. Kit Carson Home & Museum
Home to lots of age-old artifacts and phenomenal period pieces, the charming Kit Carson Home & Museum lies just a stone's throw away from Taos Plaza. Designated a National Historic Landmark in 1963, it showcases some superb Spanish Colonial architecture and offers up an interesting insight into frontier life in the state.
Built way back in 1825, the simple, single-story structure is now named after the fierce and famous frontiersman Kit Carson. As well as being a guide, trapper and scout, the mighty mountain man also battled against local Native Americans and fought during the American Civil War.
His historic home now exhibits a collection of memorabilia from his life as well as informative displays and a short film on all of his extraordinary exploits.
8. Earthships
Nestled away just to the northwest of town is one of the area's most astonishing attractions – the unique, unusual and otherworldly-looking Earthships. Designed to be eco-friendly, the community's collection of seventy or so sustainable homes are fascinating to visit and offer up an alternative look at how humans can interact and live alongside nature.
As they are made out of recycled materials such as tires, cans and bottles, its buildings make for a startling sight as they all showcase delightfully different designs. Buried on three sides, the homes can not only heat and cool themselves but collect their own water and make their own electricity too. On top of this, residents are completely sustainable as they grow and harvest their own food.
As well as taking a tour around the site, visitors can also opt to stay in one of the imaginatively designed homes themselves. Set in a scenic, secluded and sun-scorched part of the state, Earthships is certainly worth a visit as it is sure to be unlike anywhere you've ever been before.
7. Enchanted Circle Drive
Just as magical as it sounds, Enchanted Circle Drive takes you on a lovely loop around Wheeler Peak, passing stunning scenery, landscapes and nature along the way. Stretching 136 kilometers in length, it is one of the most popular and picturesque routes to take in the whole of New Mexico.
On the way, you'll pass by massive mesas and majestic mountains as well as verdant valleys and vast forests with plenty of scenic spots for you to stop off at. As its wonderful wilderness just begs to be explored, there are lots of exquisite outdoor activities for visitors to enjoy along the route with hiking, camping and wildlife watching among the most popular.
In addition to this, Enchanted Circle Drive has everything from cosy cabins to luxurious lodges for guests to stay at with sensational ski resorts to be found up in the mountains. With countless interesting historic sites and quaint villages also lining its loop, the remarkable route really does have it all.
6. Taos Box Rafting
If you're after an adventurous and adrenaline-filled experience then you can't beat whitewater river rafting on the thrilling yet terrifying Taos Box. Part of the Rio Grande Gorge, this deep and dramatic canyon is renowned for its roaring rapids which are regularly ranked the most challenging in New Mexico.
Over the course of twenty-five kilometers, rafters are swept along the rushing river, navigating cacophonous cascades and dizzying drops as they go. The toughest parts are Rockgarden and Camel Rock as this is where the craggy canyon gets very steep and narrow and the waters get wilder.
While several tour companies can be found in the center of town, Taos Box should only be attempted by experienced rafters due to its difficulty level. Running its rugged rapids, however, certainly makes for an unforgettable experience with lots of spectacular scenery to be enjoyed along the way.
5. Taos Plaza
CaroleHenson / Wikipedia
The historic heart of the town, Taos Plaza, is lined by lots of beautiful old buildings and booming businesses. With a lovely, lively yet laidback feel to it and lots of arresting architecture on show, no visit to Taos would be complete without stopping by the pretty and peaceful plaza.
As it is hemmed in by lots of superb Spanish Colonial-style buildings and Mission Revival houses, the leafy plaza still looks very much like it did when it was founded back in the late eighteenth century. Lying at the center of all of its enticing art galleries, shops and restaurants is a splendid sculpture of Antonio José Martinez – a prominent New Mexican priest and politician.
On top of its attractive aesthetic and appealing ambience, Taos Plaza also hosts a number of cultural events and concerts throughout the year. As many of the town's main tourist attractions lie nearby, it also makes for a great starting point from which to tour around Taos.
4. Millicent Rogers Museum
Marissa Bracke / Flickr
One of the best places to visit if you want to delve into the art, history and cultures of the southwest of the states is the magnificent Millicent Rogers Museum. Located just a ten minute drive from the center of town, it boasts a colossal collection of over 7,000 astounding objects and artworks.
Founded in 1956, the museum is named after the model, art collector and oil heiress Millicent Rogers and has many grand galleries and evocative exhibitions for you to peruse. These are packed full of everything from ceramics and crafts to photos, paintings and jewellery to terrific textiles and fascinating figurines.
As well as showcasing both Native American and Hispanic arts, it also proudly displays some of the finest and most fetching pottery produced by Maria Martinez and her family.
3. Taos Ski Valley
With 110 tantalizing trails for you to shoot down, Taos Ski Valley is not just one of the biggest and best resorts in New Mexico but the whole of the Southwest as well. Set in a scenic and secluded spot of the Sangre de Cristo mountain range, it lies just half an hour's drive to the north of town.
Since first opening in 1955, the resort has continued to grow and grow with countless cosy chalets and condominiums now to be found alongside buzzing bars and restaurants. In addition to this, it also boasts a spa and an ice rink as well as ski shops and a ski school.
The real reason that everyone visits is, of course, for its sublime, snow-coated slopes which snake their way down from Kachina Peak's 3,804 meter summit. Appropriate for beginners, intermediates and advanced skiers alike, its runs are serviced by fourteen lifts with a total vertical drop of 997 meters. With so much sensational scenery and sparkling snow on show, Taos Ski Valley really is one of the best place places to go skiing and snowboardig in the southwest.
2. Rio Grande Gorge Bridge
An absolutely phenomenal feat of engineering, the remarkable Rio Grande Gorge Bridge lies just fifteen minutes' drive to the northwest of Taos. Due to its proximity and the fantastic views on offer, the bridge is a very popular and picturesque place to visit.
Completed in 1965, it rears high above the raging Rio Grande river and gaping gorge of the same name. Made out of solid steel, its three spans stretch 390 meters in total with epic views to be enjoyed out over the yawning chasm and the wild waters far, far below.
Thanks to its stunning setting and dizzying drop, it has appeared in countless films over the years with locals knowing it as both 'Gorge Bridge' and 'High Bridge'. Besides basking in its beauty, visitors can also hike along the gorge's rugged rim to snap fabulous photos of the breathtaking bridge from afar.
1. Taos Pueblo
One of the New Mexico's standout tourist attractions, the tiny Taos Pueblo can be reached in just under ten minutes from the center of town. Remarkably enough, the Native American site has been continuously inhabited for over a thousand years, making it one of the oldest communities in the United States.
At the small settlement visitors will find some astounding adobe architecture with most of its multi-storied buildings believed to have been built over five centuries ago. Such was its splendor that when the Spanish came across it in 1540 they thought they'd finally found one of the fabled Seven Cities of Gold.
While it may only have been a myth, Taos Pueblo certainly is rich when it comes to its incredible history and culture. Impressively enough, 150 or so people still live in its beautiful old buildings, protecting and preserving their age-old traditions for future generations. As well as teaching you about the National Historic Landmark, guided tours also offer up an invaluable insight into Pueblo Indian life.
While it may have been a myth, Taos Pueblo certainly is rich when it comes to its incredible history and culture. Impressively enough, 150 or so people still live in its beautiful old buildings, protecting and preserving their age-old traditions for future generations. As well as teaching you about the National Historic Landmark, guided tours also offer up an invaluable insight into Pueblo Indian life.
Map of Things to do in Taos