Having appeared in countless films and TV shows, America's amazing sights, scenery, and landscapes are renowned and recognized around the world. From the gorgeous and gigantic Grand Canyon to the majestic Monument Valley and Manhattan's skyscraper-studded skyline – the States is home to a huge amount of impressive and iconic images.
One of the largest countries in the world, its 50 states boast dazzling and delightful scenery, with dramatic coastlines, lovely lakes, and desolate desert landscapes. Between the Rockies in the west and the Blue Ridge Mountains in the east are all kinds of natural and human-made wonders, as well as some of the best and most breathtaking national parks on Earth.
One of the best ways to see the most beautiful places in America is to take an unforgettable road trip, stopping off at its most famous and photographed sights as you go.
25. Bonneville Salt Flats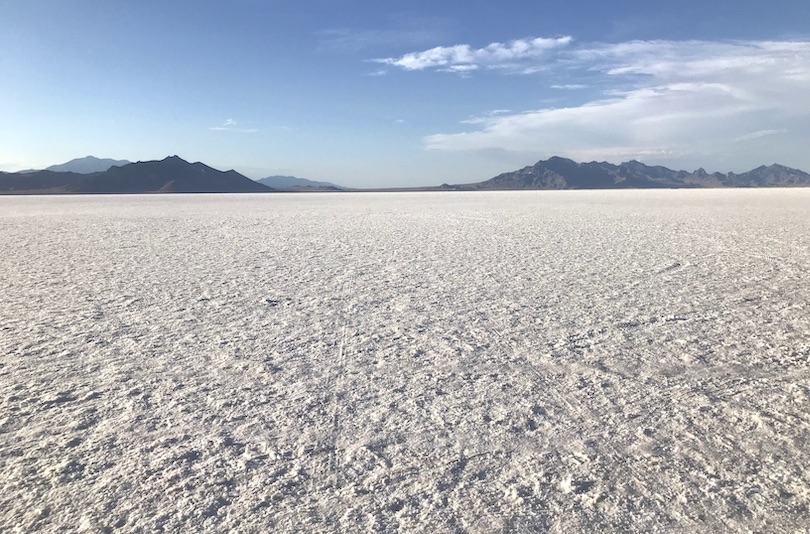 The largest and loveliest of Utah's many salt flats, Bonneville's dazzling desert landscapes are all that remain of what was once a vast prehistoric lake. Set in the northwest of the state, the sparkling salt flats stretch endlessly into the distance, reflecting the bright blue skies above.
As such, there are loads of great photo opportunities here, of mighty mountains rising above the flats' shimmering salt surface. The Bonneville Salt Flats also hosts a number of land speed events during the year, where racers compete to break various records.
24. Badlands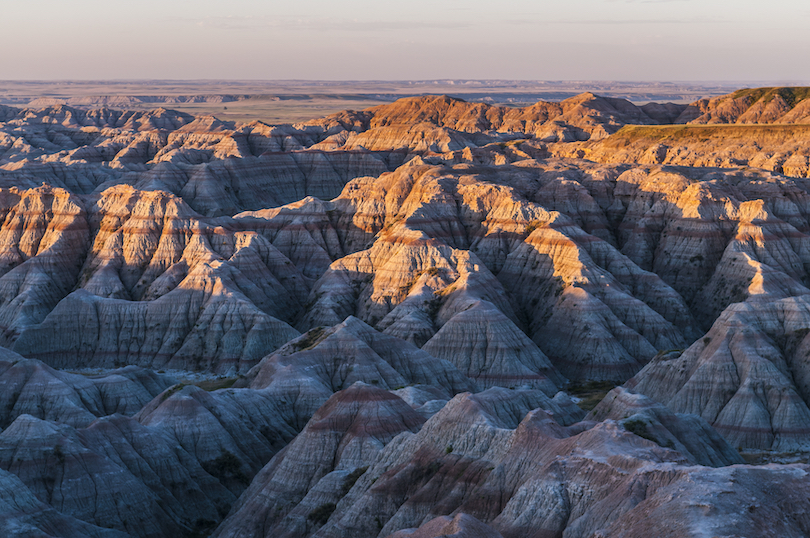 As bewitching as they are beautiful, the Badlands are a breathtaking part of South Dakota full of fantastical formations, colorful canyons and all kinds of otherworldly landscapes. Formed millennia ago by the roaring wind and rain, the rugged terrain is captivating to gaze upon; the remains of petrified plants and sharply eroded buttes, pinnacles and spires rise from the ground.
Only adding to the enchanting scene are the kaleidoscopic colors that paint the land a rainbow of pastel hues. The most majestic of its many incredible sights lie in the Badlands National Park. The region is also home to several Native American reservations, where visitors can learn more about their rich history and culture.
23. Martha's Vineyard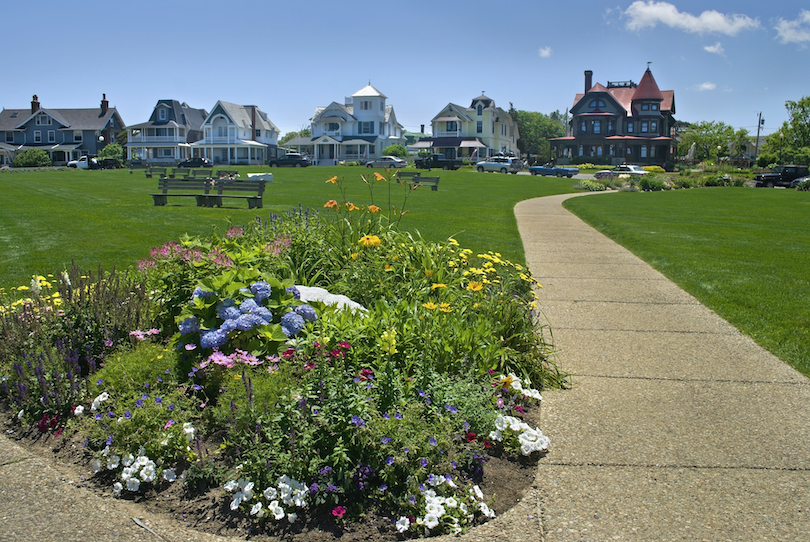 Lying just to the south of Cape Cod, the magnificent Martha's Vineyard has long been popular with the rich and famous; as such, it is often nicknamed 'Hollywood East. Despite the wealth of artists, celebrities, musicians, and presidents who vacation here, New England's largest island has a lovely laidback air, with pretty and picturesque scenery to discover.
Dotted about the quaint countryside are small towns and villages full of cosy inns, boutique hotels, and exquisite restaurants, while scenic beaches line its shores. Besides its fine dining and relaxing retreats and resorts, there are also many excellent outdoor activities to partake in, including hiking, cycling, and golfing.
22. Niagara Falls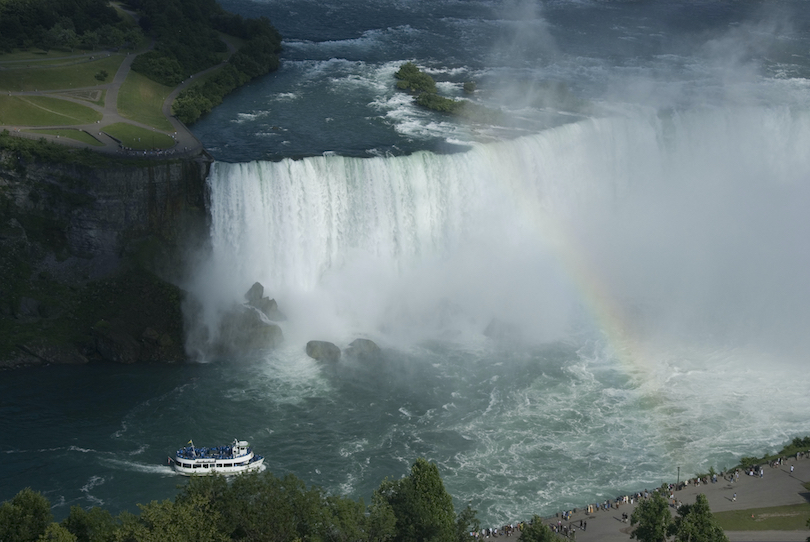 Straddling the border between Canada and the USA is Niagara Falls; one of the most awe-inspiring sights in the world. Comprised of American Falls, Bridal Veil Falls, and the larger Horseshoe Falls, the spectacular waterfall can be found in the west of the state of New York.
In total, the falls stretch over a thousand meters in length, with millions of gallons of water cascading over the edge every minute.
This almost endless white wall of water makes for fantastic viewing. Incredible photos and panoramas can be enjoyed from each side, or from the decks of a spray-drenched boat below. Reaching up to 50 meters in height, the staggering scale and splendor of Niagara Falls needs to be seen to be believed.
21. Bryce Canyon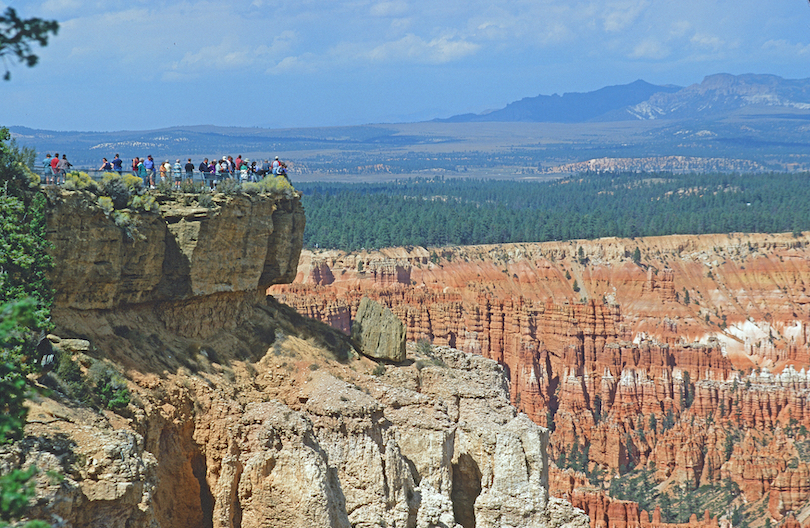 Dominating and defining the national park of the same name, Bryce Canyon is one of the States' – if not the planet's – most extraordinary and exquisite natural wonders. Located in the southwest of Utah, the astounding array of amphitheaters line the edge of the Paunsaugunt Plateau.
Eroded over the millennia by the elements, its limestone landscapes are home to fascinating rock formations, crumbling canyons, and all kinds of startling shapes and spires known as hoodoos. In addition, elk, black bears, and mountain coyotes can be spied from time to time around its magnificent moonscapes, which are painted in soft and sandy sunset tones.
20. Glacier Bay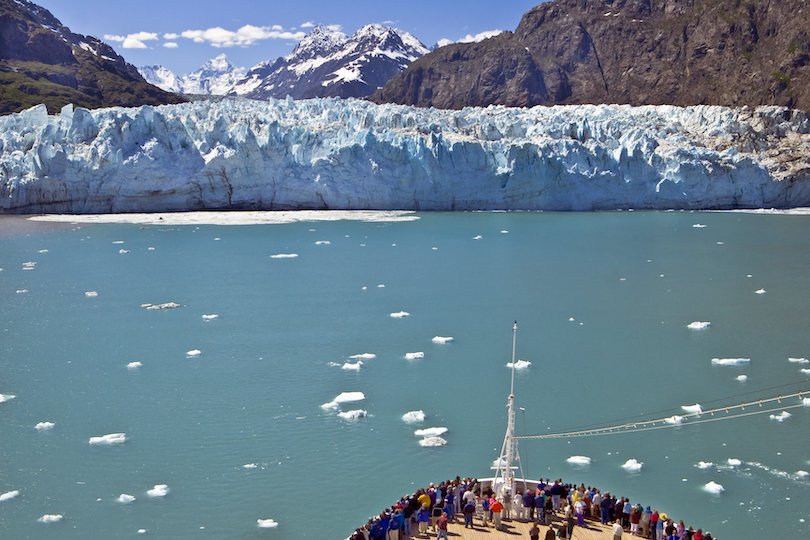 Boasting stunning, snow-capped mountains, fabulous fjords, and iceberg-dotted coves, Glacier Bay is one of the most wild and remote regions of Alaska. Set in the southeast of the sparsely populated state, the beautiful bay and its gigantic, glimmering glaciers are protected as part of a national park and preserve.
Besides its mighty mountains and irresistible icy landscapes, there is plenty of wonderful wildlife on show, such as porpoises and humpback whales. While most people visit the park on a cruise ship, hardy adventurers can camp in its icy confines or try their hand at kayaking, fishing, and mountaineering.
19. Big Sur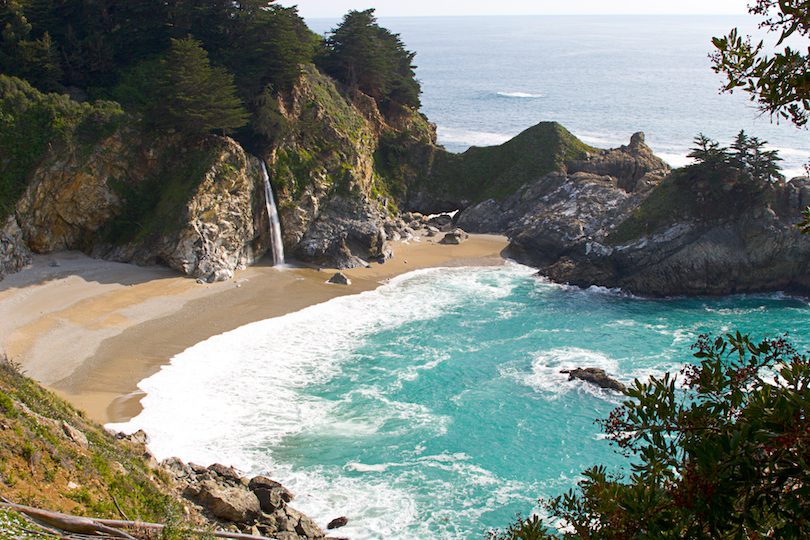 Attracting millions of visitors every year, Big Sur's vast wilderness, sensational scenery, and phenomenal views occupy an almost mythical place in the American psyche. Long associated with unencumbered freedom and never-ending nature, it lies between the Carmel Highlands and San Simeon.
Many consider Big Sur to be one of the most sublime stretches of coastline in the USA Encompassing state parks, wilderness areas and famous tourist attractions such as Bixby Bridge and Pfeiffer Beach, the region is found along California's Central Coast.
The best way to take in its seaside cliffs, ocean views, and scenic little settlements is to road trip along the Pacific Coast Highway, stopping at secluded beaches and nature sites as you go.
18. Antelope Canyon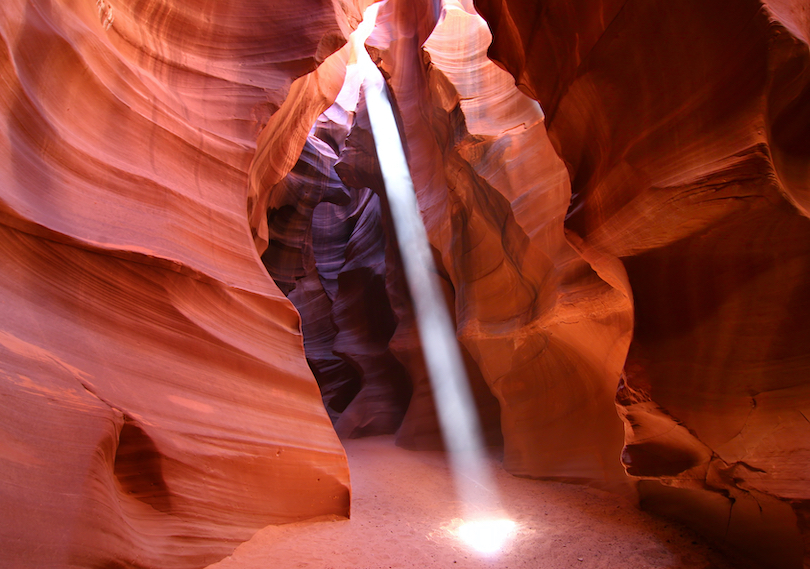 Located just to the east of Page, the attractive and awe-inspiring Antelope Canyon lies in the north of Arizona, not far from Lake Powell. Meandering magically through desolate landscapes, the spectacular slot canyon is a photographer's dream: its sandstone walls appear to flow like water.
Made up of two separate sections known as 'The Crack' and 'The Corkscrew', its captivating corridors and chasms are often beautifully bathed in brilliant beams of light, enhancing its soft tones and shapes. A very popular place, Antelope Canyon can only be visited as part of a guided tour as it lies within a Navajo Tribal Park.
17. Blue Ridge Parkway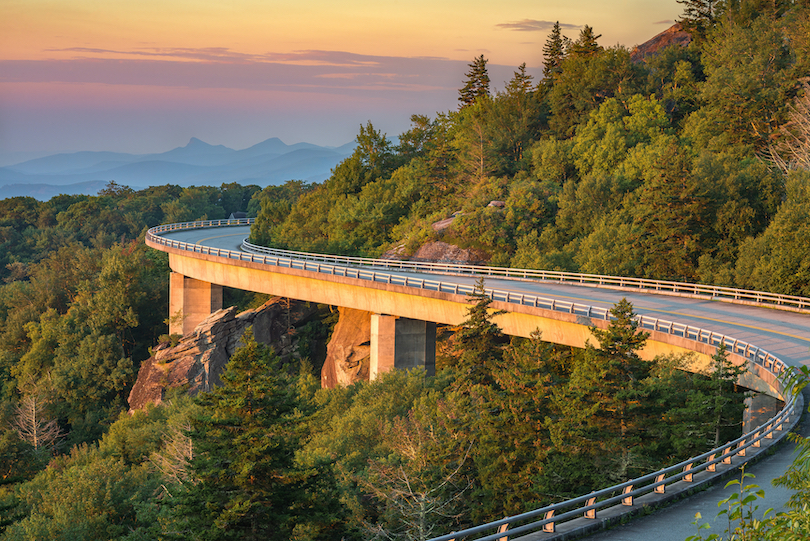 Famed for its incredible scenery and nature, Blue Ridge Parkway snakes for 755 kilometers along the spine of the mountain chain after which it is named. Stretching from Virginia to North Carolina, the scenic route passes through verdant forests that hide twinkling streams and waterfalls.
There are also some quaint towns and villages, such as Boone and Roanoke, for you to stop at, as well as several historic European homesteads and Native American cultural centers. The most popular part of the National Park System, Blue Ridge Parkway is also blessed with magnificent mountain vistas, with divine views wherever you go.
16. Arches National Park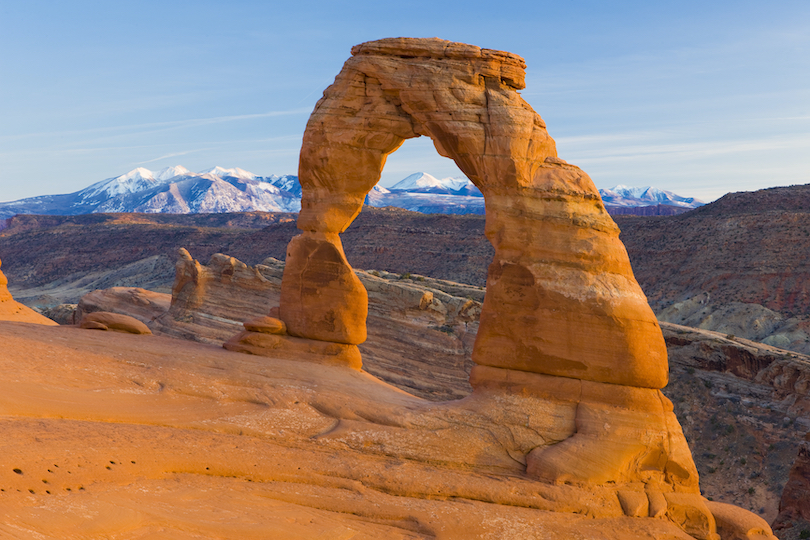 Located within Utah's Canyon Country is the astonishing Arches National Park, home to more than two thousand natural sandstone arches. Formed over the millennia by wind and water, these extraordinary rock formations are found everywhere around the park's desolate confines.
While they all make for some fabulous photos, the most famous are the long and graceful Landscape Arch, the dainty Delicate Arch, and Double Arch's pretty and prominent pair. An unforgettable place to visit, Arches National Park is a treat to explore, whether on foot or by bike.
15. Multnomah Falls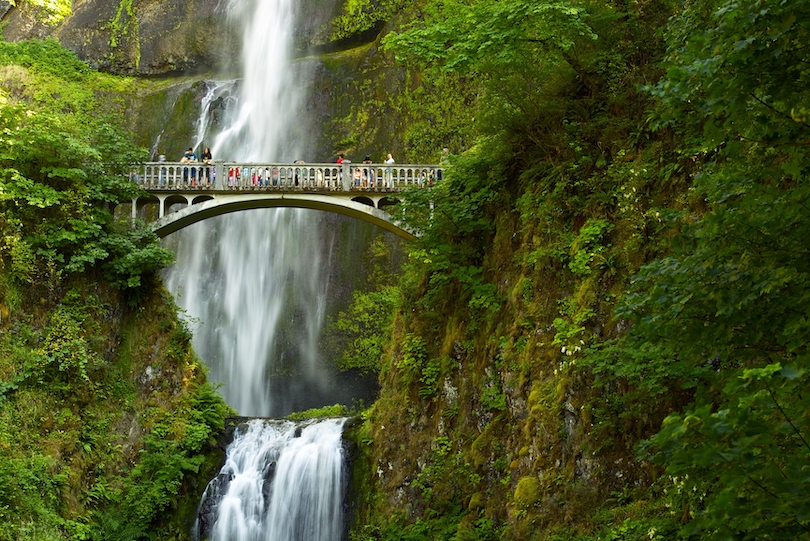 Cascading down two rugged cliffs and surrounded by an abundance of natural beauty, Multnomah Falls makes for an arresting sight. Due to its outstanding beauty, it is one of the most visited natural recreation areas in the Pacific Northwest.
It is located just outside of Portland in the state of Oregon. For the best views and photos of the waterfall, visitors can cross a small footbridge across the lower cascades or hike along a scenic trail to its observation deck, which provides splendid panoramas.
14. Golden Gate Bridge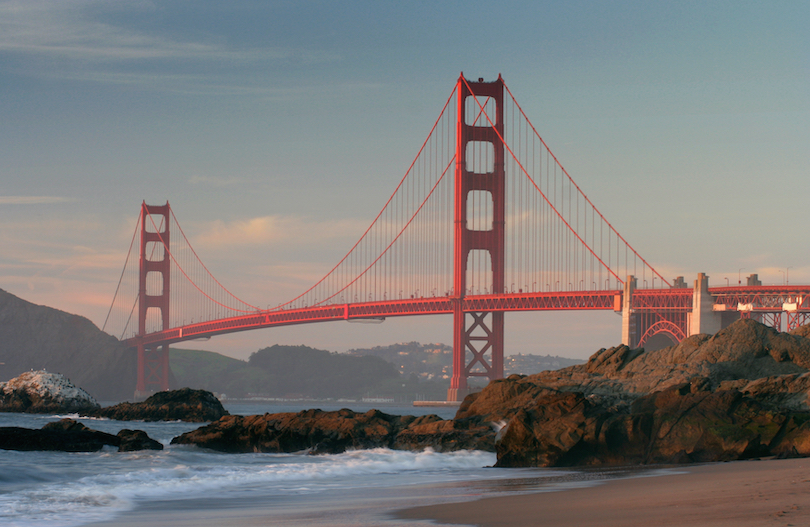 One of San Francisco and California's most famous sights, the Golden Gate Bridge's distinctive design and radiant red color make it renowned and recognized around the world. Built between 1933 and 1937, the bridge extends 2.7 kilometers and spans the strait connecting San Francisco Bay to the Pacific Ocean.
Often shrouded in mist, the astounding art-deco bridge represents a phenomenal feat of engineering and is used by thousands of pedestrians, cyclists, and drivers every day. The Golden Gate Bridge also attracts crowds of sightseers, who come to snap photo after photo of it stretching into the distance.
13. Savannah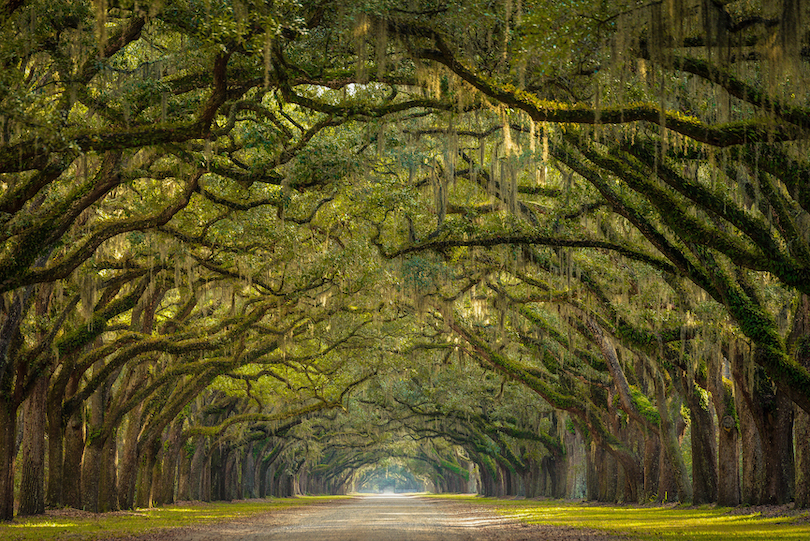 Home to one of the largest historic districts in the States, Savannah lies on the banks of the river of the same name, just 30 kilometers inland from the Atlantic Ocean. Long an important port, it was Georgia's first city and capital, established in 1733.
Thankfully, it still proudly showcases its storied past, with centuries-old buildings, monuments, and landmarks lining its cobbled streets and pretty, parklike squares. Besides its attractive architecture and well-preserved buildings, Savannah is also noted for its excellent dining and nightlife scene, as well as its Southern charm and hospitality.
12. Florida Keys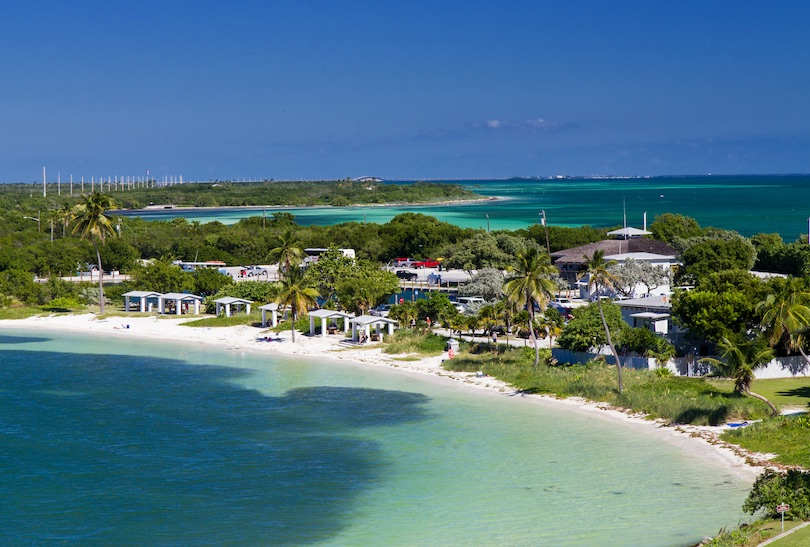 Strung out to the south of the Sunshine State, the Florida Keys are a beautiful archipelago that lie between the Atlantic Ocean and the Gulf of Mexico.
Connected to the mainland by the Overseas Highway, the collection of coral cay islands numbers around 1,700, with many untouched and uninhabited. While some are ideal for rest and relaxation, others are home to raucous party scenes. Key Largo and Islamorada are known for scuba diving and deepsea fishing. Very popular with holidaymakers and retirees, the keys are famed for their sunny climes, tropical beauty, and wealth of recreational and entertainment opportunities.
11. Glacier National Park
Lying on the border with Canada, the gorgeous Glacier National Park sprawls over a huge swathe of Montana and boasts delightful, dramatic scenery. Established in 1910, the park protects diverse ecosystems and countless species of fauna and flora.
Within its confines, you can find picturesque parts of two mountain ranges, with more than 130 glimmering lakes and plunging waterfalls dotted about the glacier scarred landscapes. Due to all the lovely nature and epic wilderness, hiking around Glacier National Park's scenic trails is a treat: grizzly bears and golden eagles can sometimes be spied here and there.
10. Sedona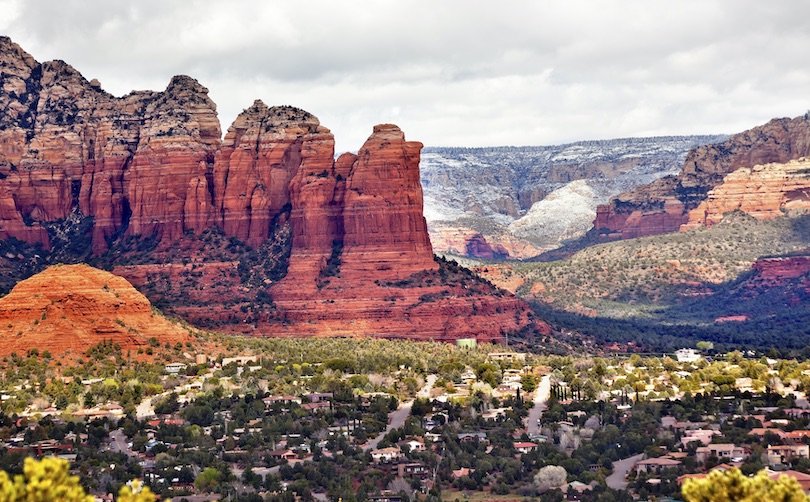 Renowned for the radiant red sandstone formations surrounding it, Sedona is set in a serene spot. Located in the center of Arizona, the small city has long been considered a sacred and spiritual place. Many New Age shops, alternative healing and wellness centers can be found around town.
Sedona has more than a hundred art galleries and Native American arts and crafts boutiques for visitors to delve into, as well as many fine restaurants and annual arts festivals. The main tourist attraction, however, is the spectacular scenery that is so magically illuminated at sunrise and sunset. These formations lend themselves perfectly to all kinds of outdoor activities, with hiking, cycling, and rock climbing all popular.
9. Great Sand Dunes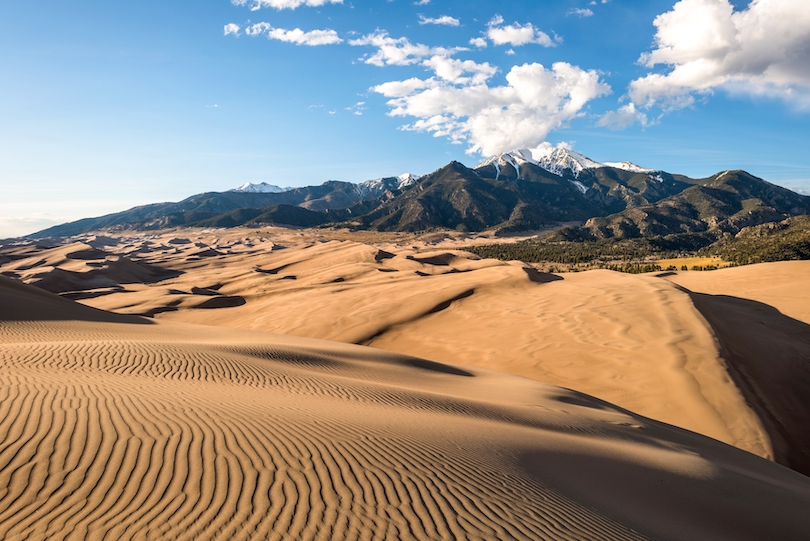 Stretching endlessly into the distance, the sensational sea of sand that makes up Colorado's Great Sand Dunes is one of the state's most incredible natural phenomena. Reaching up to 230 meters in height, the dramatic dunes lie within a national park and preserve of the same name.
Exploring the wind-sculpted sands is a fantastic experience, with hiking and sandboarding both popular. You can discover magnificent views from atop of the massive dunes. From high, you can gaze out over the ceaseless sands around you, with mighty mountains and verdant forests dotting the horizon.
8. Lake Tahoe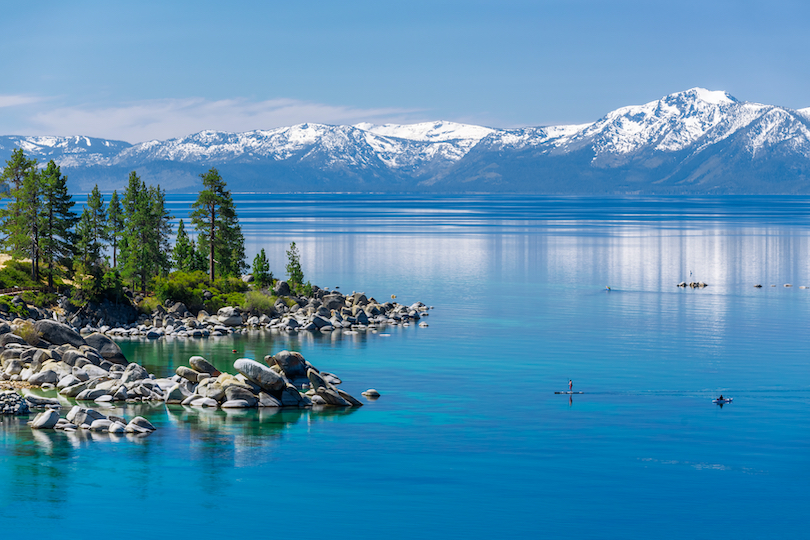 Nestled amid the Sierra Nevada mountains, with lush forests, small cities and towns lining its scenic shores, Lake Tahoe straddles the states of California and Nevada. The largest alpine lake in North America, it has long been a popular tourist destination due to its spectacular scenery and wealth of recreational activities.
Besides hiking, horseback riding, and camping in the surrounding landscapes, visitors can go swimming or sailing on the lake or relax and unwind on one of its beaches. The Nevada side has lots of casinos and resorts, while the more peaceful and picturesque Tahoe City and South Lake Tahoe offer fun, family-friendly activities.
7. Monument Valley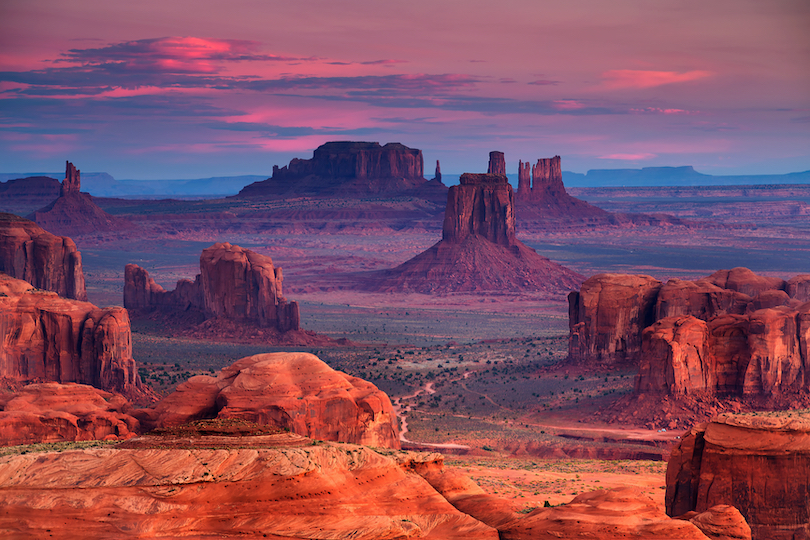 One of the most recognized natural landmarks in the States, Monument Valley has featured in countless commercials, films, and TV shows. Rearing impressively above the desert, its beautiful buttes and their radiant reds and oranges stand out delightfully against the blue sky around them.
Known as the 'Valley Between the Rocks,' its divine vistas and landscapes lie within a Navajo Tribal Park on the Arizona-Utah state line. Driving between its crimson columns and striking silhouettes is unforgettable, conjuring up iconic images of cowboys and Indians and the old American West.
6. Grand Teton National Park

Home to marvelous mountains, sweeping valleys, and sparkling alpine lakes, Grand Teton National Park will delight nature lovers and outdoor enthusiasts. Located in the northwest of Wyoming, the park covers a vast swathe of the Rocky Mountains and is named after Grand Teton, the highest peak in the range at 4,199 meters.
The dramatic landscapes are stunning, and the glinting glaciers, verdant forests, and gushing rivers lend themselves perfectly to all kinds of activities, such as hiking, rock climbing and skiing. The national park is a great place to go wildlife watching, as elk, bears, and moose roam amid the splendid nature.
5. Nā Pali Coast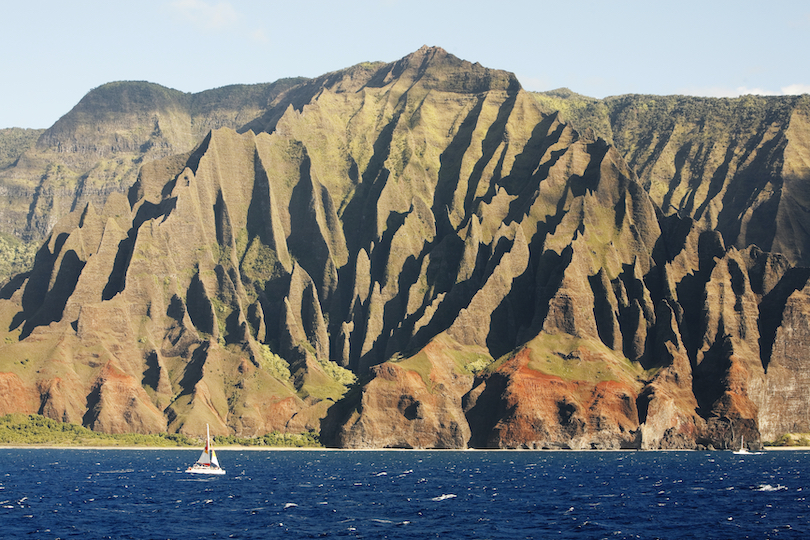 Dominating and defining the northwest of Kaua'i, the Na Pali Coast is one of Hawaii's most famous and photographed sights. Its gigantic and jaw-dropping jagged cliffs rise to 1,200 meters above the sparkling waters of the Pacific Ocean, with scenic beaches and coves hidden below. As the rugged terrain is so inaccessible, the only way to visit is by hiking, kayaking, or helicopter, with phenomenal panoramas wherever you look.
While it is famed for having featured in Jurassic Park, the grand and gorgeous stretch of coastline has appeared in numerous films and TV shows over the years. Breathtaking to gaze upon, the Na Pali Coast is certainly one of the most beautiful destinations in the whole of America.
4. Yosemite Valley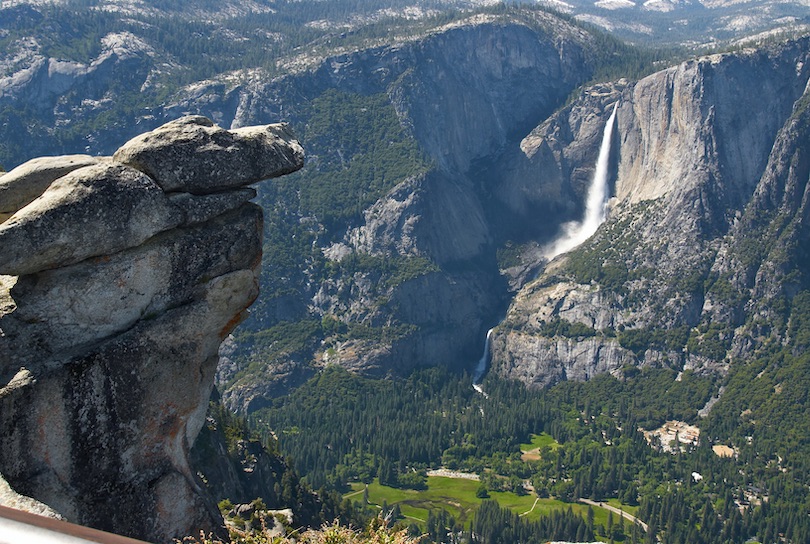 The most popular and photographed part of Yosemite National Park, this vast valley lies at its heart, nestled among the Sierra Nevada mountain range. Covered in pristine pine forests, the glorious glacial valley stretches around 12 kilometers in length and is lined by gigantic granite summits, such as the famed El Capitan and Half Dome.
A multitude of sparkling streams and waterfalls flow into it: Yosemite Falls – the highest in North America – is its standout sight. Breathtakingly beautiful, Yosemite Valley has loads of lovely hiking trails for visitors to wander along, with striking views wherever you look.
3. Manhattan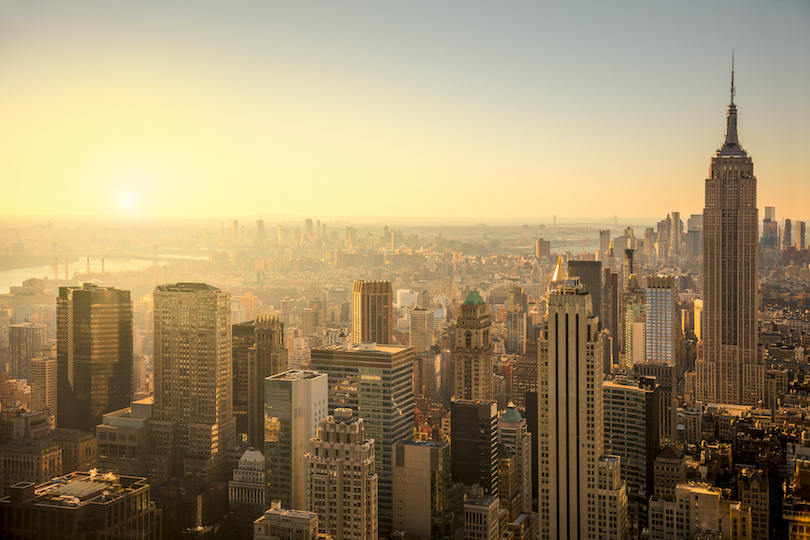 Represented in countless films and TV shows, Manhattan's sprawling array of skyscrapers are the iconic image of both New York and the States. Home to a staggering assortment of show-stopping sights, it boasts Central Park, the Empire State Building, Wall Street, and Times Square.
Often described as the cultural, financial, and entertainment capital of the world, the city is amazing to explore, with something for everyone to enjoy. Whether it's fine dining and nightlife that you're interested in or monuments, museums and musicals, Manhattan's landmarks and districts are like no other place on Earth.
2. Horseshoe Bend

Located just outside of Page, the awe-inspiring Horseshoe Bend lies within Glen Canyon National Recreation Area in the north of Arizona. Formed over the millennia by the Colorado River, it is named for its distinctive horseshoe-shape, which sees craggy cliffs curve around the roaring river below.
As it makes for such an arresting sight, Horseshoe Bend is very popular among tourists; many people hike the short distance to its prominent viewpoint. Towering more than 300 meters above the river, this offers stunning views of the natural marvel, with sunset being the best time of day to view Horseshoe Bend in all its glory.
1. Grand Prismatic Spring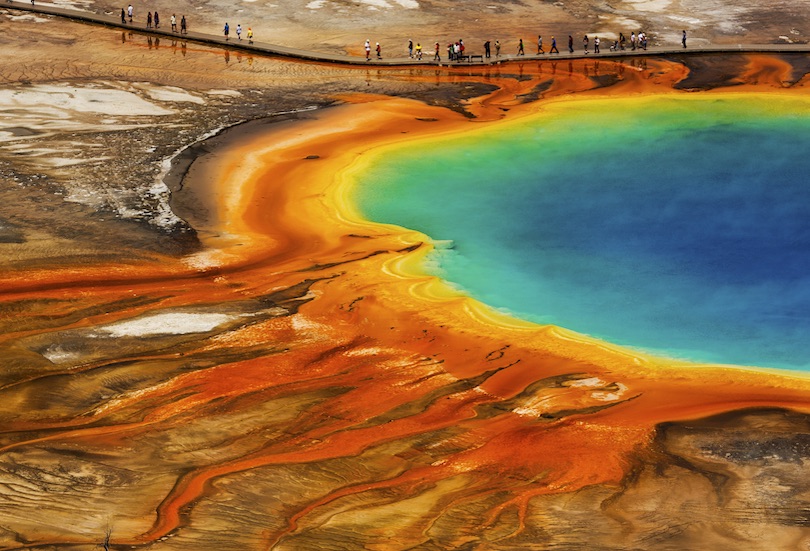 Famed and named for its kaleidoscopic colors, Grand Prismatic Spring lies in Yellowstone National Park, not far from other pretty pools and gushing geysers. Remarkably, it is the third-largest hot spring in the world, reaching 110 meters in diameter and 50 meters in depth.
While its size and scale are impressive, it is most noted for its captivating colors, with reds, oranges, yellows, greens, and blues all on show. These vivid hues make for a dazzling sight, particularly when contrasted with the desolate landscapes surrounding the steaming spring.