Home to some of the last and largest unspoiled expanses of wilderness on the planet, Alaska's untold natural riches really are amazing to explore. Appropriately nicknamed 'The Last Frontier', America's northwesternmost state has a startling array of landscapes, views, and wildlife for you to check out.
Separated from the contiguous US by Canada, its vast forests, mountain ranges and glaciers mainly lie within the icy Arctic Circle. While its numerous national parks and pristine nature spots are often quite tricky, time-consuming, and costly to reach, those who do make it are more than rewarded with divine views and nature.
Asides from hiking and kayaking about its confines, one of the most popular things to do in Alaska is taking a memorable sightseeing cruise up and down its dramatic coastline. While most come to see its marvelous mountains and glittering glaciers, the state also has some interesting historic sites and museums to stop by. With bears, orcas, caribou and wolves all often sighted, isolated Alaska really is the destination that keeps on giving.
27. Gates of the Arctic National Park
Located in the far north of Alaska is the enormous, icy and inhospitable Gates of the Arctic National Park. Besides protecting large parts of the rugged Brooks Range, it encompasses sweeping valleys, rushing rivers, and glinting glaciers.
Wonderfully wild and untouched, it is the least visited national park in the US with only the hardiest adventurers exploring its picturesque reaches. Only accessible by air taxi, it lies entirely north of the Arctic Circle with no established roads, trails, campsites or supply points being available.
Those who do visit, however, are in for a treat as stunning landscapes, scenery, and nature greet your eye wherever you go. Only adding to the unique and unforgettable experience are the awe-inspiring caribou, wolves, and grizzlies you can sometimes spy roaming about.
26. Homer Spit
Much, much easier to explore is the scenic Homer Spit that juts out into Kachemak Bay. Perched at the southern tip of the Kenai Peninsula, it can be found just outside the tiny city of the same name.
Impressively enough, the narrow stretch of land features the world's longest road into ocean waters with the route reaching 4.5 miles in total. With shimmering waters lying on either side and majestic snow-capped mountains rising up in the distance, it really is a delight to drive along.
Aside from taking in the phenomenal views, visitors can also stop by its shops, seafood restaurants, and salty saloons. From the Homer Boat Harbor, you can organize fantastic fishing trips with seals, sea lions, and bald eagles regularly sighted in the bay alongside the occasional whale.
25. Alaska Wildlife Conservation Center
Other than actually heading out into the wilderness yourself, the best place to see some of the state's incredible creatures is at a sanctuary. Only an hour from Anchorage is the excellent Alaska Wildlife Conservation Center and all its spacious enclosures, animals, and exhibits.
Since 1993, the center has cared for orphaned and injured Alaskan critters and returned them to the wild when possible. At its sprawling site at the entrance to Portage Valley, guests can see everything from caribou and Canadian lynxes, to black bears, wood bison, and bald eagles.
As well as seeing them up close and personal, you can also learn all about their behaviors, natural habitats, and various threats facing them. On tours with knowledgeable guides, you can feed some of its friendly residents and hear more about the sanctuary's conservation efforts.
24. Chena Hot Springs
After having explored Alaska and enjoyed so many exciting outdoor activities, you'll certainly want to relax and unwind at the Chena Hot Springs. At the small resort amidst the mountains, you'll find indoor pools, hot tubs, and outdoor bathing areas with fine views and nature surrounding the springs.
For over a hundred years, people have been heading to the hot springs which lie about an hour and a half east of Fairbanks. Since those early days, numerous cabins and campgrounds have sprung up, as well as a hotel and the Aurora Ice Museum full of astonishing ice sculptures.
During the summer, the springs enjoy almost 24-hour daylight with the magical aurora borealis also often spied overhead in winter. On top of bathing in the area's warm waters, you can hike, bike, and dogsled about its valleys, hills, and forests.
23. Hubbard Glacier
While some thermal springs can be found here and there, many parts of Alaska like the humongous Hubbard Glacier are incredibly cold and icy. From Yakutat in the southeast of the state, visitors can take superb sightseeing cruises and boat trips to see its endless ice sheets.
The largest tidewater glacier in North America, it occupies the entrance to the Russell Fjord within Wrangell-St. Elias National Park. First mapped in 1895, it remarkably stretches around 76 miles in length. Massive chunks of ice the size of ten-storey buildings routinely calve off it into the ocean.
Witnessing this is an unbelievable experience as the sight is accompanied by a thunder-like cracking echo that reverberates over the waters. The gigantic white and blue glacier makes for some fabulous viewing and photos at any time though as mini-icebergs and mighty mountains surround the scene.
22. Alaska SeaLife Center
Dawn Endico / Flickr
If you want to shelter inside and escape the biting cold for a bit then the Alaska SeaLife Center is an excellent option. Lying alongside Resurrection Bay in Seward, it has thousands of amazing Alaskan marine mammals, fish, and birds for you to see.
Founded in 1998, it is dedicated to the research, rehabilitation, and conservation of the state's marine ecosystems. At the state-of-the-art site, guests can tour tanks packed with playful otters, seals, and puffins. Interactive exhibitions and interpretive installations teach you all about the underwater environment of Alaska's freezing Arctic waters.
The highlight though is stroking cute starfish, sea anemones, and small hermit crabs in its touch tank that is designed to look like a rocky coast.
21. Creek Street, Ketchikan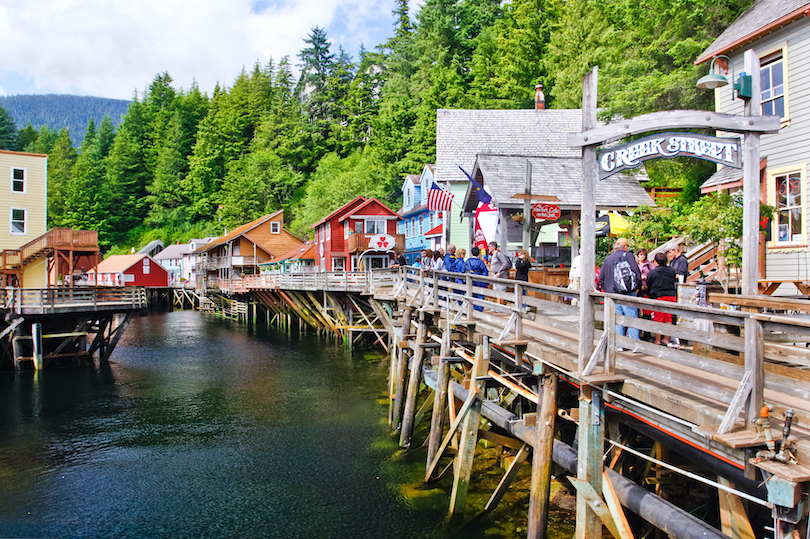 The most popular section of the state's southernmost city of Ketchikan to explore is undoubtedly the charming and colorful Creek Street. Once a rowdy red-light district, its waterfront walkways are now instead lined by little arts and crafts shops, local cafes, and a couple of small restaurants.
Formerly home to dozens of bawdy houses and speakeasies, its historic boardwalk and buildings are actually built above the water on wooden stilts. Wonderfully well-preserved, its colourful collection of houses and the dazzling water and mountains around them now make for some splendid photos.
Set just a stone's throw from the center and its cruise ship terminals, it is the most atmospheric place to shop and eat out in Ketchikan. Informative plaques also teach you a bit about Creek Street's past, while salmon can be spied leaping up its falls.
20. Fountainhead Antique Auto Museum
arctic_council / Flickr
One of Fairbanks' top attractions, the Fountainhead Antique Auto Museum is home to a world-class collection of vintage cars. Almost a hundred pre-World War II vehicles dot its showroom floor with facts, photos, and period fashion pieces accompanying them.
First opened to the public in 2009, it transports visitors on a very visual journey as you explore the origins and evolution of automobiling. Particularly fascinating are its very well-done displays on the considerable challenges involved with navigating Alaska's harsh confines and unforgiving climate.
The main reason people visit though is of course for its early race cars, elegant classics, and restored horseless carriages. Many of these are still driven outside each year with period clothes highlighting what the fashion trends were when they were originally produced.
19. Totem Bight State Historical Park
Just north of Ketchikan you can find the absolutely terrific Totem Bight State Historical Park. Home to loads of towering totem poles, it offers up an invaluable insight into the history, culture, and art of Alaska's Native Americans.
Now surrounded by temperate rainforest, the sheltered cove was previously a seasonal fishing camp for local tribes. Tucked away amidst all the lush undergrowth are fourteen Tlingit and Haida totem poles to stumble across. Intricately carved with impressive figures of animals, humans, and spirits, they record and impart age-old indigenous lessons and stories.
A reconstruction of a traditional clan house is also situated at the park, as are plenty of informative panels and a gift store. From its beach, you can enjoy commanding views over the nearby coastline.
18. Iditarod Trail Sled Dog Race
An incredible endurance event like no other, the Iditarod Trail Sled Dog Race has taken place every year since 1973. Held entirely within Alaska, it sees mushers and their teams of between 12 and 14 huskies compete to cross the finish line first. In total, it takes around a week or two to complete the challenging route with the winners becoming local celebrities.
While the start of the annual Iditarod is in Anchorage, the endpoint lies some 938 miles away in the northwest city of Nome. Along the way the fifty or more yapping teams pass through endless forests and mountains, over high up ridges, and across rivers, and even sea ice.
Although portions of the trail have been used for hundreds of years by Native Alaskans, the current race is credited with the resurgence of recreational mushing. As such, it is one of the Last Frontier's most iconic and important winter events. Visitors can either watch the ceremonial start or stop by its small museum in nearby Wasilla.
17. Wrangell-St. Elias National Park
Sprawling across a huge part of the south-center of the state is the Wrangell-St. Elias National Park. Sure to delight nature lovers and outdoor aficionados, its scenic wilderness encompasses countless mountains and forests, marshes, canyons, and glaciers.
The largest national park in Alaska and even the US, it is centered around the hulking great Wrangell Range with parts of the St. Elias and Chugach Mountains also featuring. Nine of the country's loftiest peaks dominate its confines with the 18,008 feet high Mount Saint Elias being the mightiest of the lot. The park also stretches down to the glimmering Gulf of Alaska with glaciers, ice sheets, and snow fields covering its rocky coastline.
Accessible from Anchorage and Yakutat, it has epic hiking, rock climbing, whitewater rafting, and camping for you to enjoy. Hunting and wildlife watching are also popular as bears, wolves, caribou, and moose amble about the park.
16. Alaska Native Heritage Center
A very interesting and educational place to visit, the Alaska Native Heritage Center can be found on the northeastern outskirts of Anchorage. Through artifacts, exhibits, and traditional edifices, it looks at the history and culture of the state's indigenous peoples.
Set amidst lots of lush woodland, it was opened in 1999 to protect and preserve the rich heritage of eleven of Alaska's major cultural groups. At the site, visitors can amble around six life-sized Native dwellings, all clustered along the shores of Lake Tiulana.
Inside the center are galleries dedicated to various aspects of daily life and special ceremonies with kayaks, weapons, and artworks all displayed. To top it all off, it regularly hosts scintillating concerts, dance shows, and storytelling events in its theater.
15. Chugach State Park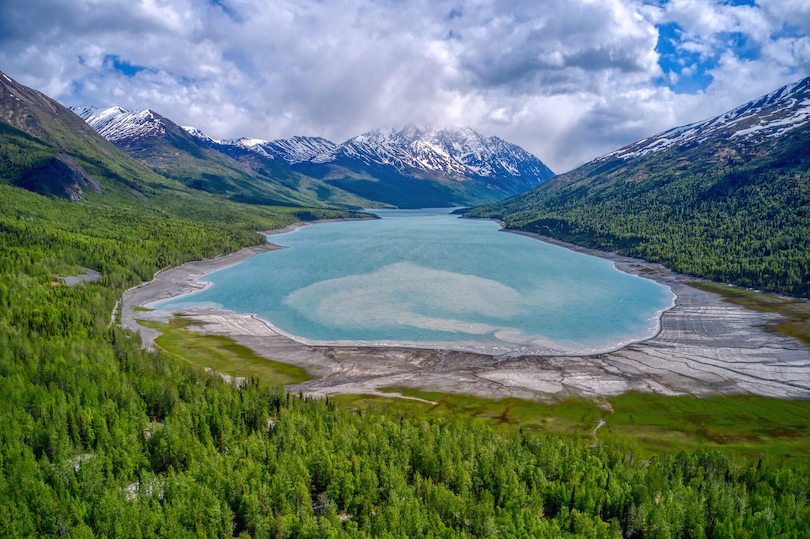 Another pristine nature spot that is easily accessed from Anchorage is the captivating Chugach State Park. After just twenty minutes' drive, you can find yourself hiking, mountain biking, or horseback riding amidst all its breathtaking scenery.
Named after the massive and majestic mountain range that runs through it, the park was established in 1970. Roaring rivers, glinting glaciers, and sweeping valleys punctuate the rugged range with vast forests and alpine meadows also on show. Bears, moose, and wolves can sometimes be spotted in its remote reaches.
As it is so conveniently located right next to the city, locals and tourists alike come to camp, climb, and ski in the mountains. Besides some lovely lakes and coastline, it also contains the most climbed peak in the state – the 3,510 feet high Flattop Mountain.
14. Alaska Raptor Center
Not far from the center of Sitka is one of the small city's standout sights: the brilliant Alaska Raptor Center. In its spacious enclosures and aviaries, you can see amazing eagles and owls, fierce falcons and hawks up close and learn all about the remarkable raptors.
Since opening in 1980, the site's animal hospital and rehabilitation center have treated around one to two hundred injured birds each year. When they are well enough and can fly again, the magnificent creatures are released back into the wild. Those who sadly sustain serious injuries are permanently housed at the center with roughly two dozen now inhabiting its aviaries.
While touring the facility, you can meet its residents with flying demonstrations and expert lectures and talks taking place all the time.
13. Seward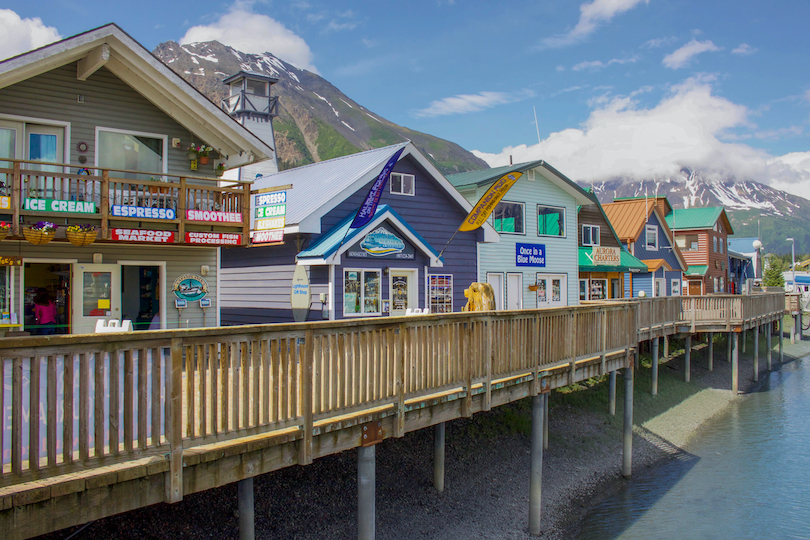 Set in an absolutely stunning spot is the small port city of Seward. Surrounded by sparkling waters and striking snow-capped mountains, it lies at the head of Resurrection Bay on the Kenai Peninsula.
Now known as the 'Gateway to Kenai Fjords National Park', the town was initially founded in 1903 as the ocean terminus of the Alaska Railroad. The state's only deep-water, ice-free port, it has great transport links with sport fishing trips and sightseeing cruises both being available from its harbor.
Aside from basking in its beauty and exploring the neighboring national park, you can also kayak and sail about its sheltered waters. Seward also has some super little local shops and restaurants for you to try out after having explored its mountains, fjords, and glaciers.
12. Inside Passage
As it is protected from the open waters of the Pacific by innumerable islands, countless cruise ships, ferries, and freighters ply the Inside Passage. A very scenic route, it boasts extraordinary panoramas of Southeastern Alaska's coastline with untold wildlife watching opportunities and outdoor activities being on offer.
While the Last Frontier's portion of the passage already extends more than 500 miles, the protected route reaches as far south as Puget Sound in Washington state. As you cruise along peacefully, you can gaze out over the marvelous mountains, islands, fjords and glaciers on either side.
In addition to navigating the network of calmer and quieter waterways, you can stop off at various towns and national parks. This allows you to hike, kayak and explore the Inside Passage further.
11. Katmai National Park
Famed for its abundance of big brown bears and the leaping salmon they feast on, Katmai National Park really is an unforgettable place to visit. Lying at the base of the Alaskan Peninsula, its isolated landscapes can only be reached by air taxi from Anchorage, Homer, and King Salmon.
Once you arrive, and even on the way, you'll be greeted with spellbinding scenery as a chain of huge volcanos line its dramatic coastline. The most impressive spot to see them is the lava-scarred Valley of Ten Thousand Smokes which is full of fumaroles, craters, and gaping chasms.
Its other main attraction is of course the thousands of brown bears that inhabit the area. In summer, large groups can be spied fishing for salmon near the Brooks Falls viewing platform. A sight like no other, they make for fabulous photos with moose, coyotes, and bald eagles also often spotted around the park
10. Museum of the North, Fairbanks
If you want to learn everything there is to know about the state's history, culture, and nature, then the Museum of the North is a must. Occupying a distinctive modern facility on the University of Alaska Fairbanks campus, its collection contains roughly 2.5 million artifacts and specimens.
Packed with interesting items and exhibits, its light and airy galleries display not just millennia-old Alaskan art but mummified bison, mammoths, and dinosaurs too. While some sections cover natural wonders and Native culture, others look at the state's founding, Russian fur traders, and the Klondike Gold Rush.
After having taken in its ancient artifacts and artworks and read the informative texts accompanying them, you can always stop for a coffee or explore its gift shop.
9. Alaska Railroad
A wonderful way to see more of the state's stupendous scenery is to take a memorable trip along the Alaska Railroad. Stretching 470 miles in length, it takes passengers from Fairbanks, near the center of the state and Arctic Circle, all the way to Seward on the south coast.
Slowly completed over the course of twenty years, the remarkable route represented an astonishing engineering achievement when it opened in 1923. This is because it winds its way between soaring mountains, sweeping valleys, and alongside glittering shorelines. Magical waterfalls and ginormous glaciers can also be spied along the railway line.
While some people travel along the whole route, most only complete shorter sections in and around Anchorage. Its staggering scenery, nature, and views, however, make the Alaska Railroad one of the world's greatest rail journeys.
8. Watch the Northern Lights
As Alaska lies so far to the north, it is one of the best places on Earth to watch the incredible natural phenomenon that is the Northern Lights. Also known as the aurora borealis, the spectacular swirling lights show can be enjoyed across much of the state, at almost any time of year.
Due to its location under the 'Aurora Oval' and numerous hours of darkness in winter, many people head to Fairbanks to see their bewitching colors, shapes, and swirls. Dedicated tours, activities, and specially designed accommodations all give you the best chance of seeing the polar lights illuminate the night's sky.
On the outskirts of Anchorage and other cities across the state, visitors can also view the shimmering lights. To increase the odds, head to secluded, light-free spots with August through to March being the peak season to see them.
7. Mendenhall Glacier
Just north of the capital Juneau you can find the extensive ice of the enormous Mendenhall Glacier. Tucked away within Tongass National Forest, it occupies a humongous valley with bare yet beautiful mountains rising up around it, and verdant woods lying nearby.
Stretching over thirteen miles in total, it extends from the gigantic Juneau Icefield to the mirror-like Mendenhall Lake. Due to climate change and the increasing warm weather, it is currently retreating with large chunks of it often carving off into the waters below.
At its visitor center, guests can learn more about the glacier and take photos of it from the numerous viewing platforms along the lake. There are also several great hikes to do nearby with Nugget Falls being the area's other main sight.
6. Anchorage Museum at Rasmuson Center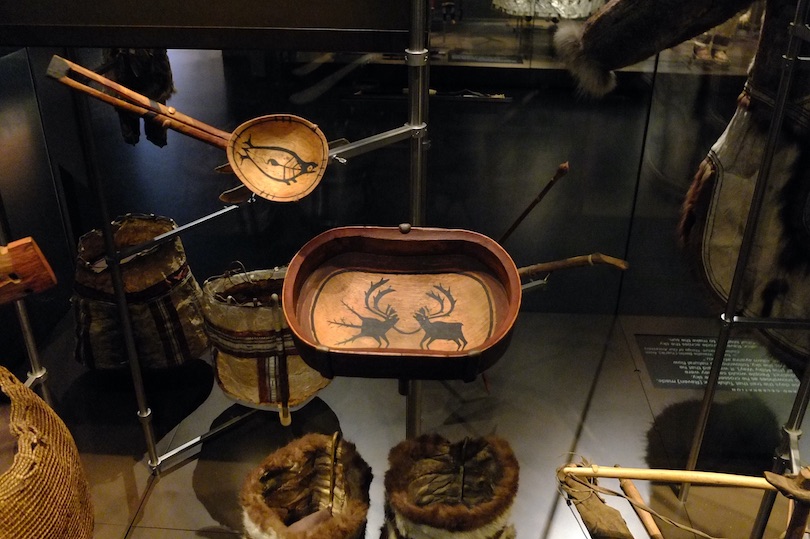 Somewhat similar in scope to the Museum of the North, Anchorage's excellent institute also offers a fascinating insight into Alaska's art, history, lands, and peoples. Set right in the center of the city, its innumerable artifacts and exhibits can be found within the state-of-the-art Rasmuson Center.
Since first opening to the public back in 1968, it has steadily grown into the state's largest and most prestigious museum. Its delightfully designed galleries now display thousands of objects, art pieces and specimens with countless historic photos adorning its walls. While some parts focus on the gold rush era and WWII, others look at Native Alaskans, statehood, and exploration by Russians.
What's more, the magnificent Anchorage Museum also has an enthralling planetarium and fun-filled Imaginarium Discovery Center for guests to explore.
5. Sitka National Historical Park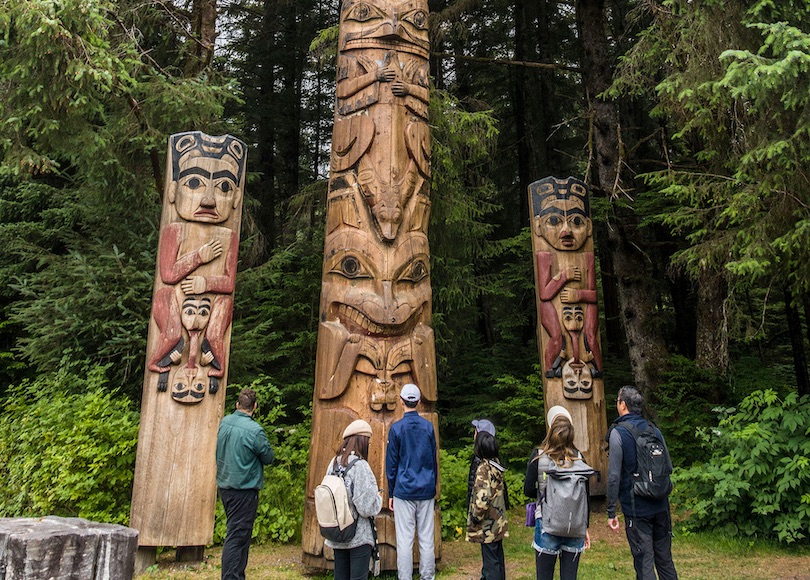 Combining art, history, and nature in one unmissable package is the superb Sitka National Historical Park. Situated just south of the city of the same name, its lush woodland trails, towering totem poles and restored Russian Bishop's House lie alongside Crescent Bay.
Uniquely enough, the pretty park preserves the site of a battle between Russian fur traders and local Tlingit Indians. As well as wandering along its quiet trails and seeing its terrific totem poles, visitors can learn more about Russia's involvement in Alaska in the 1842 Bishop's House.
One of the few surviving examples of the nation's colonial architecture in North America, it houses exhibits on the orthodox church and Russian America. In contrast, the park's cultural center shines a light on Sitka and Southeastern Alaska's indigenous peoples.
4. Kenai Fjords National Park
Just southwest of Seward is one of Alaska's most picturesque national park: the Kenai Fjords National Park. Mostly made up of the almost endless Harding Icefield, its dramatic coastline, fjords and mountains offer up all kinds of unforgettable adventures.
A geological wonderland, its ginormous glaciers, valleys, and rock formations cover a massive part of the Kenai Peninsula. The aforementioned icefield, one of the largest in the US, dominates much of its territory with narrow strips of forests and vegetation lying around it.
Out on the ice, in its waters and on the park's mountainsides, visitors can spot a myriad of amazing animals. These include not just bears and wolves but otters, sea lions, and whales too. In addition to exciting sightseeing cruises and helicopter rides, you can also hike, kayak, and camp in the park.
3. Klondike Gold Rush National Historic Park
Examining an important part of Alaska's past is the brilliant Klondike Gold Rush National Historic Park in Skagway. As well as including almost all the small city's historic downtown, it encompasses trails and mountain passes with another unit also being located in Seattle, Washington.
When gold was discovered in Canada's Yukon Territory in the late 1890s, thousands of prospectors set off to make their fortunes. As it was the closest port, the town's population swelled considerably with stores, saloons, and offices springing up overnight. Some of these are remarkably still standing today such as Jeff Smith's Parlor and the Mascot Saloon.
Aside from ambling around its atmospheric old buildings and railway depot, you can also head into the mountains where the prospectors passed. All these interesting historic sites provide a picture of what life was like back during the Klondike Gold Rush era.
2. Glacier Bay National Park
Not too far southwest of Skagway is another of the state's many must-see nature spots: the gorgeous Glacier Bay National Park. Only accessible by boat, plane or kayak, its inhospitable icy reaches are ideal for those looking to immerse themselves in nature with nary another soul in sight.
Best known for its whopping great glaciers, the remote region was first surveyed in 1794 by George Vancouver of the HMS Discovery. Just under two hundred years later, a national park was founded to protect its deep fjords, scoured valleys, and soaring mountain peaks.
Those lucky enough to visit will find pristine landscapes and untouched wilderness with seals, orcas and whales often spotted in the surrounding waters. Grizzlies, caribou, and Dall sheep roam the park where some phenomenal hiking, kayaking, and camping can be had.
1. Denali National Park
The crown jewel of what Alaska has to offer however has to be Denali National Park. Besides being home to the nation's highest peak, it boasts some unbelievable scenery and nature with divine views and wildlife on show wherever you go.
Unlike many of the vast state's national parks, its forests and valleys, rivers, and mountain ranges are easily reached by road from Anchorage. Presiding over everything is, of course, the majestic Denali which towers 20,310 feet tall and is almost completely covered in sparkling snow.
While a handful of hardy adventurers sometimes manage to summit the mighty mount, most people content themselves with hiking about the park's scenic confines. As you amble along its trails, you'll often see traces of bears and wolves, or spot caribou and moose far off in the distance.
Map of Things to do in Alaska