If it's true wilderness you want, then Alaska's national preservers and parks won't disappoint. Full of indescribable landscapes and an openness that simply doesn't exist in our modern world, Alaska is a haven for adventurers. But for the most part, you'll have to earn it.
Covering vast amounts of land, if you were to combine all the national parks in Alaska, it would be the 14th largest state in the country. Few have roads to them, let alone through them, so they require a level of planning that doesn't exist for other parks like Yellowstone and Yosemite.
But upon arrival, whether that's by boat, plane or car, you'll glimpse an untouched wilderness where humanity is purely a quiet visitor. Explore glaciers and volcanoes on the same day or discover lands where the sun doesn't fall and rivers carve through the wild plains.
10. Noatak National Preserve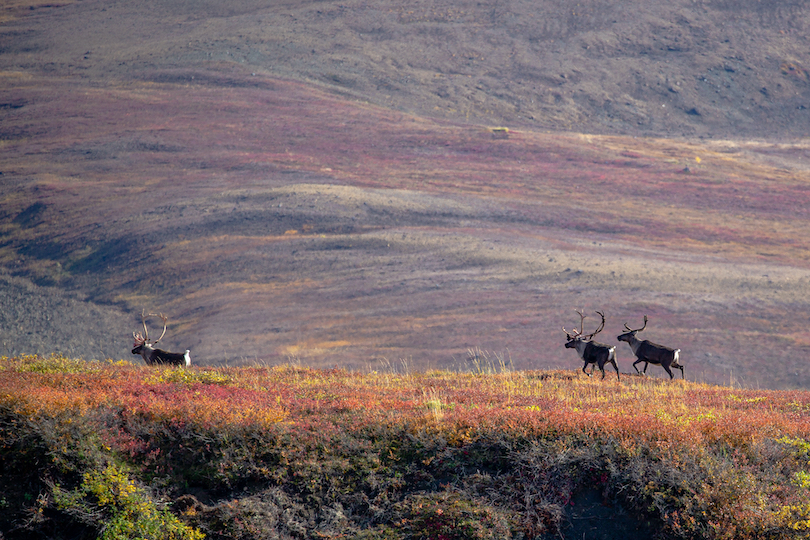 Surrounded by the Baird and De Long mountains, the Noatak National Preserve protects one of the biggest mountain-ringed river basins in North America. Connecting to the Gates of the Arctic National park, the preserve is where the Noatak River transitions from forest to tundra.
The remote jewel isn't easy to reach. You can arrive via boat or plane. But visitors are rewarded with an unforgettable wilderness, home to one of the best paddling experiences in the country. Float along the river with breathtaking views of the Brooks Range.
Away from the class II rapids, go for a hike into the backcountry where a herd of almost half a million caribou wander the tundra.
9. Bering Land Bridge National Preserve
Covering large amounts of polar tundra in Alaska's remote Seward Peninsula, Bering Land Bridge National Park is a park of contrasts. Here, the impressive nature is matched by the rich history and culture of the region.
This part of Alaska represents the continental crossroads that led to the expansion of humans in the Western Hemisphere. Visitors can discover ancient artifacts as they explore the preserve's spectacularly diverse landscapes. Among the tundra is a combination of volcanoes, barrier islands and lagoons. All of which play a role in bird migration and are a vital habitat for mammals, fish and birds during storms.
8. Lake Clark National Park
With excellent boating, hiking and photography, Lake Clark National Park combines all the best aspects of national parks in Alaska. The park is home to the state's sixth largest lake alongside one active and one dormant volcano. Between all three, you'll have a full itinerary of water and land adventures.
Anglers can venture onto the lake and try to land a prize catch. Stay on land to join a wildlife viewing experience or embark on the many trails from Port Alsworth.
Although there are no roads into the park and it does have plenty of remote wilderness, you'll be happy to know there are several types of accommodation within the park.
7. Kobuk Valley National Park
Surrounded by the mountain ranges of Waring and Bard, the Kobuk Valley National Park features perhaps the most unique landscape in Alaska. The park is within the Arctic Circle and the grinding of the local glaciers has created the soaring Great Kobuk Sand Dunes.
In typical Alaskan fashion, you'll have to earn the sight of this unique ecosystem. In a park with no trails or amenities, you'll venture into the wilderness for an hour to reach this Arctic-style desert.
On the way, you'll meander through beautiful forests and alongside surging rivers without another soul in sight. For a different experience, boat down the Kobuk River through this remote park from Ambler to Kiana.
6. Gates of the Arctic National Park
As the name suggests, it's not easy to arrive at the Gates of the Arctic National Park. Those that do will have an unkempt wilderness gift wrapped and handed to them on a silver platter. But only after multiple flights and the hiring of a guide.
You'll find this national park towards the northern end of Alaska within the Arctic Circle. It's akin to a final frontier experience and you'll be happy to have your guide next to you. Arrive in the summer to experience a sun that does not set, providing ample light to a magical landscape.
With no maps, explore an untouched environment where muskox, caribou and grizzlies roam.
5. Kenai Fjords National Park
Within the Harding Icefield, Kenai Fjords National Park is where the ocean meets Alaska's mass of glaciers. Visitors will be blessed with an awe-inspiring coastline and epic fjords, best discovered on the strenuous but rewarding Harding Icefield Trail. Aside from spectacular views, you may spot otters, mountain goats, puffins and sea lions.
One hundred and twenty five miles south of Anchorage (down the road by Alaskan standards), the national park isn't hard to access by car. There is also a road that ventures into the park, making it even easier to make your way to the numerous trailheads. Another way to explore the park is on a cruise that makes its way into the fjords.
4. Wrangell-St. Elias National Park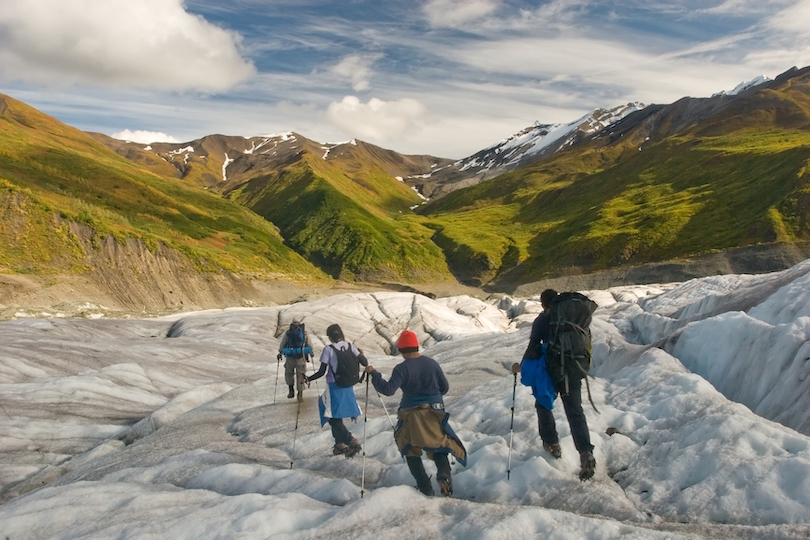 Combining greater access with the same patented Alaskan landscapes, Wrangell-St. Elias National Park is full of otherworldly experiences. It features a stunning concentration of the United States' tallest peaks spread throughout a national park larger than the state of Connecticut.
The national park links up with Glacier Bay to create a larger UNESCO World Heritage Site. Unlike Glacier Bay, you'll have an easier time exploring the park's immense glaciers with easy access to various adventures that also include ice-climbing.
But despite its proximity to the most popular park in the state, Wrangell-St. Elias receives relatively few visitors each year. With two access roads and plenty of hiking trails, there is an abundance of wilderness to explore.
3. Glacier Bay National Park
Shelve the hiking boots at Glacier Bay National Park. With all the best views seen from on the water, you won't have to work up a sweat to appreciate the ornate beauty of your surroundings. Like a number of national parks in Alaska, Glacier Bay isn't easy to get to. With no roads, your best bet is to join a cruise or be prepared to fork out for multiple flights.
Thanks to the many cruises, you'll have plenty of opportunities to explore the most popular park in the state. From your spot on the boat, keep an eye out for orcas and whales, not to mention the towering glaciers that frame every image. If you're lucky, you can kayak for a closer look.
2. Katmai National Park
If you've seen images of bears hunched over the surging river waiting for salmon to jump upstream, you may have already caught a glimpse of Katmai National Park. The spectacular sight and the unforgettable scenery help make this national park a must-visit. The catch? Well, it's just difficult to do so.
With no roads to this secluded wilderness, adventurers will have to take a 60-minute flight from Anchorage. If you're still within budget, you'll be able to explore an ecosystem seen by few others.
This includes the stunning Brooks Falls and the breathtaking Valley of 10,000 Smokes. The latter features dramatic volcanic landscapes. With limited camping, you'll want to reserve your spent well in advance.
1. Denali National Park
With easy access from Anchorage, Denali National Park is one of the best in the state. It's no surprise either, as the incredible park is the home of the tallest peak in North America. Denali stands at over 20,000 feet and harbors a jaw-dropping presence wherever you go. But consider yourself lucky if its summit appears from beyond the clouds.
In keeping with Alaska's aim to preserve its amazing wilderness, there are only a few marked trails within the park. This leaves vast swaths of land trail-free and untouched.
You can venture off-trail, but it's best to check in with a park ranger to assess your options. The beautiful backcountry is the home of caribou, dall sheep, wolves, bears and moose. Otherwise known as the Big Five.
Map of National Parks in Alaska