Set in a spectacular spot in the south center of the state, Anchorage is surrounded by majestic mountains and incredible wilderness. Sheltered from the glittering Gulf of Alaska by the Kenai Peninsula, it lies at the end of an idyllic inlet, just a stone's throw away from lots of gorgeous lakes, glistening glaciers, and breathtaking scenery.
While most people use it as a gateway from which to explore the state's rugged and remote reaches, there are a lot of things to do in Anchorage itself: magnificent museums are found next to captivating cultural centers. As it is home to over a third of Alaska's population, it is not only an important transport hub but a thriving cultural and economic center, too. With so many amenities and tourist attractions, Anchorage is the perfect base for exploring all the incredible nature and wildlife nearby.
12. Lake Eklutna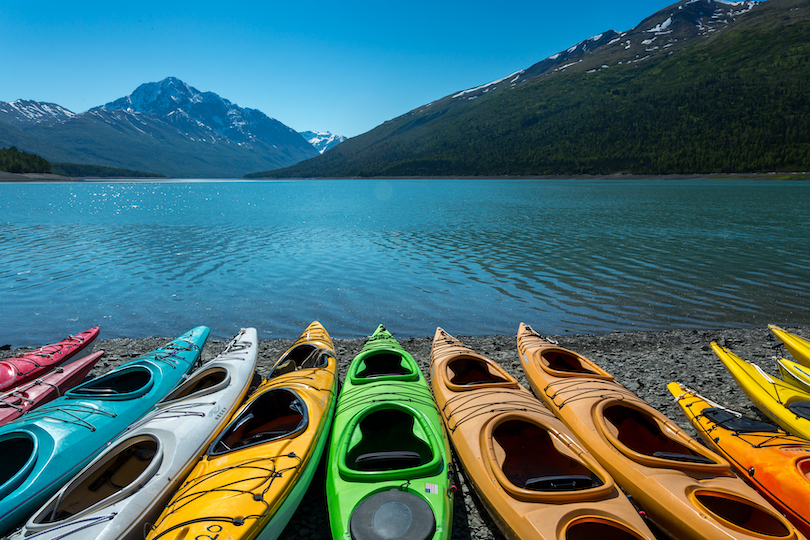 Nestled away just to the northeast of Anchorage is the enchanting Lake Eklutna, which lies around an hour's drive from the city center. Set in a very scenic, serene and secluded spot amidst lots of marvelous mountains, the lovely lake has lots of outstanding outdoor activities for visitors to enjoy.
Located entirely within Chugach State Park, its stunning shoreline stretches 11 kilometers in length and spans around one and a half kilometers at its widest point. The artificial lake was formed decades ago when the river of the same name was dammed; the resulting reservoir is now the primary source of Anchorage's drinking water.
Besides paddling on its reflective waters in a kayak, visitors can go fishing and hiking, with various picnic areas and a cosy campsite also on offer.
11. Potter Marsh Bird Sanctuary
Set just to the south of the city is the picturesque Potter Marsh Bird Sanctuary, sure to delight nature lovers and outdoor enthusiasts alike. Part of the Anchorage Coastal Wildlife Refuge, it lies perched between the prominent peaks of the Chugach Mountains and the wild waters of Turnagain Arm.
Made up of beautiful marshes and wetlands, the sanctuary protects the natural habitats of at least 130 bird species. In addition to the countless Canadian geese and canvasback ducks you can expect to see, you can also spot salmon spawning in the creek and spy the occasional moose meandering about.
While its bountiful birds make the Potter Marsh Bird Sanctuary a must for avid birdwatchers, its scenic setting is sure to appeal to anyone thanks to the beautiful boardwalk and phenomenal views.
10. Chugach State Park
As it boasts spectacular scenery and stunning landscapes, the captivating Chugach State Park really is a treat to explore. Despite being home to untouched wilderness, the park is very easy to access: it lies just 20 minutes' drive from downtown Anchorage.
Founded in 1970 to preserve the local environment and provide recreational opportunities to Anchoragites, the state park now sprawls over a vast area. Encompassed within its confines are everything from vast valleys and verdant forests to roaring rivers and glittering glaciers.
Named after the majestic mountain range that runs through it, the popular park has lots of terrific trails for visitors to hike, mountain bike or horseback ride along, with camping and rock climbing also on offer. In addition, people can enjoy skiing in the winter months, with bears, moose and wolves to be spotted year-round.
9. Alaska Zoo
Despite its relatively small size, Alaska Zoo is well worth visiting for its astounding array of animals. Set just to the southeast of the city in the shadow of the Chugach Mountains, it's the only zoo in Alaska, and the only one in North America to specialize in Arctic animals.
The zoo was founded in 1969 when local grocer Jack Snyder won a baby elephant in a contest. As Annabelle proved so popular with children and families, other exotic animals were added. Amur tigers and alpacas are now found alongside Tibetan yaks, snow leopards and polar bears.
While its birds and mammals hail from all around the globe, Alaskan animals also abound, with caribou, moose and wolverines all on show. Interesting, engaging and educational, the Alaska Zoo makes for a great day out for all of the family.
8. Alaska Native Heritage Center
Located on the eastern outskirts of Anchorage is the excellent Alaska Native Heritage Center, which offers a fascinating look at the history, culture, and heritage of the state's indigenous peoples. As well as displaying artifacts and exhibits, it regularly hosts dances, shows and cultural performances.
Opened in 1999 amidst some wonderful woodland, it has six traditional Native dwellings to explore, as well as a state-of-the-art heritage center. Besides being home to galleries full of artworks, kayaks, weapons, and more, it also has a theater and gathering place for workshops and performances.
In addition to protecting and preserving the heritage of 11 of Alaska's major cultural groups, the center promotes them through its packed schedule of stories, songs and shows.
7. Anchorage Museum
An incredible place to visit, the Anchorage Museum looks at everything there is to do with the art, history, land, and people of Alaska. The biggest and best museum in the state, it lies in the heart of the city and is one of Anchorage's main attractions, being very popular with locals and tourists alike.
Since opening in 1968, its colossal collection has continued to grow; the museum now boasts over 25,000 objects and more than half a million historic photos. While some exhibits offer an insight into the art, history, and language of Alaska Natives, others focus on the geology and nature of the scenic state.
On top of this, the world-class institute also has a fantastic planetarium and a hands-on Imaginarium Discovery Center that encourage visitors to interact with and explore the world around them.
6. Flattop Mountain Trail
As it lies just a short distance away and offers commanding views over Anchorage and its surroundings, the phenomenal Flattop Mountain Trail is the most popular hike in Alaska. Set just to the southeast of the center, the trail takes you through lots of pretty landscapes and lush woodlands before you arrive at its panoramic viewpoint.
Located entirely within Chugach State Park, Flattop Mountain reaches a height of 989 meters, rising dramatically above Anchorage. In total, the picturesque path to its prominent peak stretches 2.4 kilometers; it weaves its way through vast valleys and below massive mountains, with stunning scenery and nature wherever you go.
While most of it is quite easy and accessible if uphill, the final stretch sees you scramble over some stones before summiting the mighty mount. Besides basking in the breathtaking views, visitors can explore the nearby hiking trails. Running and rock climbing in the park are also popular.
5. Alyeska Ski Area
Set just under an hour's drive to the southeast of the city is the exceptional Alyeska Ski Area, which has the most snow-coated slopes and skiable terrain in the state. A very popular place, it has excellent facilities, sensational scenery, and of course, sparkling snow for visitors to enjoy.
Opened in 1959 among the wilderness of the Chugach Mountains, it has since grown. There are now 76 runs to ski or snowboard down. With a total vertical drop of 975 meters, its slopes are served by numerous chairlifts, with an aerial tram to take you up part of the way.
Dotted about its many mountainsides are various lodges and cosy cabins for guests to stay at. The resort also boasts restaurants, shops, and even a spa or two. While most people come for its superb snow sports, the sunny summer months lend themselves perfectly to hiking and mountain biking, with divine views to be enjoyed at any time of year.
4. Tony Knowles Coastal Trail
Stretching 18 kilometers in length, this captivating coastal trail is a delight to walk, run, or cycle along, with fabulous views and wildlife to be enjoyed as you go. Starting in the center of town, it winds all the way to Kincaid Park – its scenic and serene endpoint.
Named after Tony Knowles, the former governor of Alaska, the trail follows the city's coastline south, taking you through wetlands, woods and wild areas on the way. While sightings of moose and eagles are not uncommon, its jaw-dropping views over Anchorage, the Chugach Mountains, Denali, and Fire Island are certainly its standout sight.
As it is flat and paved the entire way, the Tony Knowles Coastal Trail is accessible to all, with lots of pretty areas for people to stop off at. At Kincaid Park, visitors will find great recreational amenities, with a disc golf course, fishing lake, and hiking trails to be found alongside many others.
3. Alaska Railroad Seward Day Trip
When in Anchorage, an unforgettable thing to do is to take a scenic ride along the Alaska Railroad to the small city of Seward. While it lies in a secluded spot some 200 kilometers to the south, its stunning setting and the jawdropping scenery you pass on the way certainly makes it well worth a day trip.
Undoubtedly one of the most remarkable railway routes in the whole of the States, it takes you through some wonderful wilderness, passing majestic mountains, twinkling waterfalls, and glittering glaciers as you go. After around four hours with your eyes fixed firmly out of the window, you'll arrive at Seward, which is set in a charming spot on the Gulf of Alaska.
From here, you can take a memorable glacier and wildlife watching cruise around the gorgeous Kenai Fjords National Park before heading back to Anchorage in the evening. While Seward certainly warrants a more extended stay, for time-pressed travellers, an Alaska Railroad Seward Day Trip is the best way to see as much beautiful nature and scenery as possible.
2. Portage Glacier
Set around an hour and a half's drive to the southeast of the city is the sparkling snow and ice of the enormous Portage Glacier. One of the most accessible of Alaska's many glaciers, it lies at the end of the lovely lake of the same name, in a scarred alpine valley.
While it was once possible to the view the glistening glacier from the Begich Boggs Visitor Center, visitors now have to take a boat trip to see the sight. This is because the massive glacier has sadly been in retreat for several decades, with more of it melting each year.
After having ogled at its staggering scale and splendor, visitors can go hiking among the area's valleys and mountains, home to many other vast glaciers. A very popular place due to its proximity to Anchorage, the Portage Glacier can be visited, alongside the astounding Alaska Wildlife Conservation Center, which lies not far away.
1. Alaska Wildlife Conservation Center
The best way to view some of the state's unique wildlife up close is to take a trip to the Alaska Wildlife Conservation Center. Set at the entrance to Portage Valley, its remarkable residents and gorgeous grounds lie around an hour's drive from Anchorage.
Founded in 1993, the sanctuary has since rescued, rehabilitated and released countless kinds of Alaskan animals into the wilderness. In spacious enclosures that are as close to their natural habitat as possible, guests can see everything from caribou and coyotes to bears, bison, and bald eagles with many moose also on display.
Dedicated to protecting and preserving Alaska's animals and wildlife and educating visitors on their importance, the Alaska Wildlife Conservation Center is certainly one of the highlights of what both Anchorage and Alaska have to offer.
Map of Things to do in Anchorage