Renowned for its wild and rugged landscapes, Alaska is home to lots of spectacular scenery, with endless forests found alongside towering mountain ranges. As the state lies on the Pacific Ring of Fire (a very seismically active region) it also boasts more than 40 active volcanoes, with many more lying dormant. The majority of these are located along the awe-inspiring Alaska Peninsula and dotted about the volcanic Aleutian Islands, which number around 300 in total.
The largest state in the US, Alaska is truly blessed when it comes to its natural riches. It is a paradise for nature lovers and outdoor adventurers alike. Its numerous national parks are fantastic to explore, and lots of incredible wildlife species can be spied among its mighty mountains, shimmering lakes, and breathtaking volcanic peaks.
Sprawling over a vast area, the snow-covered Mount Wrangell and its 4,317-metre-high summit certainly make for a spell-binding sight. Coated in icefields throughout the year, the majestic shield volcano towers imperiously over its surroundings, gleaming in the sun.
Atop its broad summit is an ice-filled caldera, as well as three craters that often emit steam and gas, while solidified lava flows scar its snowy slopes. The magnificent Mount Wrangell can be found in Wrangell-St. Elias National Park and Reserve, which is the largest protected area in the whole of the United States.
Lying almost in the middle of the Aleutian Arc, a long volcanic chain of islands, Mount Cleveland rises dramatically above the glimmering waters that surround it. Set at the western end of Chuginadak Island, the active and volatile volcano sports an almost perfectly symmetrical cone, which stretches 1,730 meters into the sky.
This looks even more magical when viewed beside the other volcanic peaks that dot the Islands of Four Mountains, which lie nearby. Due to the frequent and ferocious eruptions throughout its history, Mount Cleveland was initially named after a fire goddess by the local Aleut people, before being renamed after President Cleveland in 1894.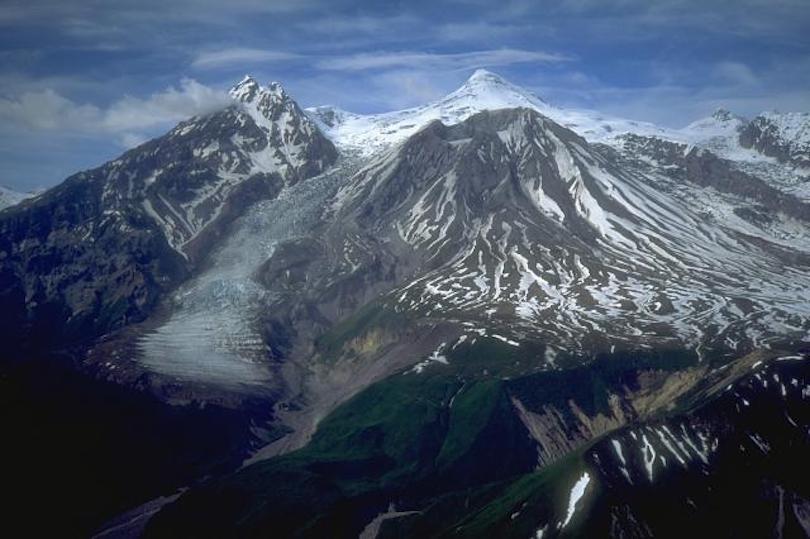 The Aleutian Arc's tallest volcano, Mount Spurr reaches a colossal 3,374 meters in height and can be found in the southwest of the state, not far from Anchorage. In both 1953 and 1992, it explosively erupted, coating the nearby city in ash and debris.
Most of the time, however, the mighty mount is safe to hike and climb, although its higher realms are usually coated in ice and snow. Up here you'll find an impressive-looking caldera as well as some craters and lava domes.
Formed atop an older volcano, Mount Spurr is named after a hardy geologist who explored the area in 1898. Its aboriginal name, K'idazq'eni, means 'that which is burning inside'.
Overlooking the shimmering waters of Cook Inlet, Mount Iliamna is a gorgeous glacier-covered stratovolcano that lies in Alaska's Aleutian Range of mountains. Its scarred slopes are home to steep cliffs and snow-covered gullies, which lead up to a long, narrow ridge.
Its highest point is at 3,053 meters, and nearby fumaroles mean that gas and steam are almost constantly pumped above its peak. Just one of the many highlights on show in Lake Clark National Park and Preserve, Mount Iliamna was designated a National Natural Landmark in 1976 due to its fabulous features.
Meaning 'newly erupted' in Latin, Novarupta was only formed in 1912 when it violently propelled magma and ash into the air. Astonishingly enough, its 60-hour eruption was the largest in the whole of the 20th century.
Such was its power that it collapsed the summit of the nearby Mount Katmai and created the desolate yet delightful Valley of Ten Thousand Smokes. Once the eruption subsided, a lava dome formed over its vent; this now lies at an altitude of 841 meters, with marvelous mountains all around it.
A testament to volcanoes' awesome and destructive power, Novarupta is located in Katmai National Park and Preserve in the southwest of Alaska.
5. Mount Veniaminof
[SEE MAP]
usfws alaska / Flickr
Named after a prominent Russian Orthodox missionary priest who was later canonized, Mount Veniaminof is one of the tallest volcanoes in the whole of Alaska. Lying on the Alaska Peninsula, it towers to 2,507 meters, with sparkling waters on either side of it.
Its huge caldera stretches almost ten kilometers across, with a lovely cinder cone poking up from its ice and snow. A National Natural Landmark, Mount Veniaminof's steep slopes certainly make for a splendid sight, particularly when coated in snow and shining in the sun.
One of the most active volcanoes in the States, Mount Pavlof has erupted numerous times over the last four decades, with its latest occurring at the end of 2019. Set near the end of the Alaska Peninsula, its snow-covered cone overlooks Pavlof Bay, with its sister mount rising alongside it.
The two almost symmetrical cones are awe-inspiring to gaze upon, with Pavlof being the higher of the two at 2,515 meters. Due to its rough, remote, and rugged setting, Mount Pavlof is seldom climbed and is best viewed by boat from the nearby town of Cold Bay.
nps
Reaching a massive 3,108 meters in height, Mount Redoubt impressively boasts the highest peak in the whole of the Aleutian Range. The enormous stratovolcano's slopes are scarred by ancient lava flows and rugged ravines, while steep cliffs can be found approaching its summit.
Due to its high altitude, a number of glaciers reside in its upper realms, with its summit crater full of ice and snow. Located within Lake Clark National Park and Preserve, Mount Redoubt's sheer size and scale make it one of the most mesmerizing of Alaska's many volcanoes.
In 1992, the previously undiscovered Novarupta volcano explosively erupted, which lead to Mount Katmai's lofty summit collapsing into itself. This formed the arresting caldera we see today, which is magically filled by a glimmering crater lake.
The stratovolcano's rugged rim reaches a maximum height of 2,047 meters, with lots of wonderful lava flows, volcanic rock formations, and dramatic gorges covering its slopes. These are often submerged in snow and ice, with some glaciers dotted here and there. Mount Katmai lies at the end of the Alaska Peninsula nearest to the mainland in Katmai National Park and Preserve.
1. Mount Shishaldin
[SEE MAP]
Sporting the most symmetrical cone of any volcano anywhere on Earth, Mount Shishaldin's shining snow-clad slopes make for an incredible sight. Towering to 2,857 meters, the spectacular stratovolcano is coated in a gorgeous glacial shield, which glints alluringly in the sun.
Set in a scenic spot with snow, ice and water all around it, the amazing mount lies on Unimak Island, which can be found just off the Alaska Peninsula. It is Mount Shishaldin's outstanding beauty and stunning symmetrical cone that make it one of Alaska's most majestic and memorable mounts.