Alaska is one of America's newest states. Purchased from the Russian Empire at the rate of two cents per acre in 1867, Alaska was only admitted into the Union in 1959. It's also America's biggest state; in fact, Alaska is all about big: wide open expanses of nature, huge glaciers, and even the USA's tallest mountain.
There's enough for any nature enthusiast to go wild about in this northernmost state. Couple that with relics of Russian history, echoes of the Gold Rush, and an avalanche of native culture from Tlingit to Alutiiq, and there's a whole lot of reasons to be visiting this frontier of wilderness.
Named by Russian explorer Stephan Glotov in 1763, Kodiak is the main town on the eponymous Kodiak Island. Staying in this outpost settlement means soaking up the charming coastal setting and maybe even catching sight of a Kodiak Bear or two along the way.
Innumerable hiking trails are a nature lover's dream. You can visit the Mill Bay Beach Park or hike along the rugged Saltery Cove Road – or you could opt for a trail bike or ATV for extra thrills. There are opportunities to get to grips with the indigenous Alutiiq people as well, especially at the Alutiiq Museum & Archaeological Repository, where you can learn about their history and culture.
Stunning Seward, set in Resurrection Bay, is flanked by the jagged Kenai Mountains and makes for a decidedly picturesque place to visit in Alaska. A visit to nearby Exit Glacier is perfect for adventurous types who want to hike on an actual glacier. For a less strenuous time, you could simply stroll along the paths of Obihiro Park, which boasts views of the dramatic mountain scenery on the other side of the bay.
Little Seward began life in 1793 when Russian trader Alexander Baranov established a fur trading post on the site that would become Seward after the Alaska Purchase. Thankfully this small community – unlike others in Alaska – enjoys good road links with access to Anchorage.
Before European colonists arrived in the area, Wrangell Island – on which Wrangell is situated – was for thousands of years home of the native Tlingit people. The town of Wrangell itself is actually the oldest non-native settlement in Alaska, having been founded by Russians in 1811, who began trading furs with the local Tlingit community.
Today, you can learn about Wrangell's native heritage at the Petroglyph Beach State Historic Site. While you're here, it would be a shame to miss a spot of whale watching, which you can embark on via a kayak tour! Alternatively, head up the Stitkine River to witness a stunning slice of wilderness from the safety of a jet boat.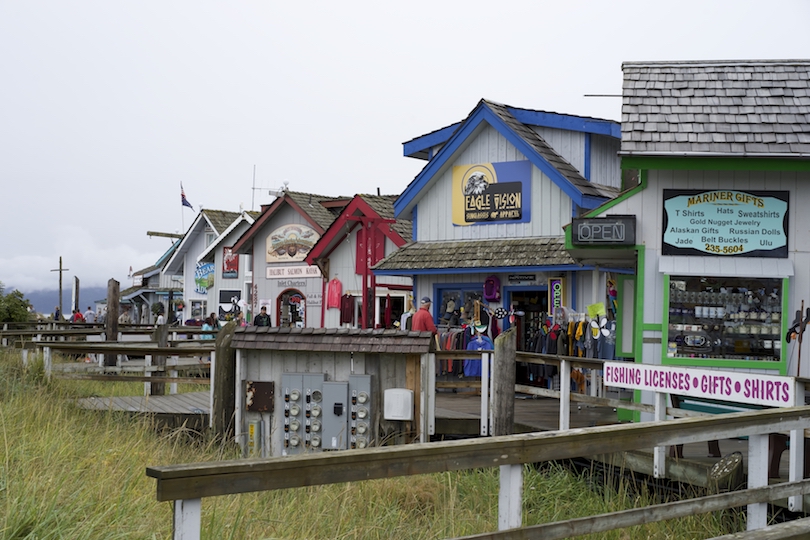 © Flying2lowak / Dreamstime
Homer is nicknamed "the end of the road" – and for good reason. The Sterling Highway is the only way in or out of this tiny town. The remote location has lent itself to the imaginations of local artists and other creatives, making for an interesting collection of galleries and craft shops in town, especially around Pioneer Avenue.
Head to the Pratt Museum for a showcase of local artifacts and art; there's even an old-time pioneer cabin to explore here. The Alaska Islands and Oceans Visitor Center is a good place to learn about the nature of the area, or you could just head to Homer Spit to spot eagles and go fishing.
A Norwegian named Peter Buschmann settled here in the late 19th century, thereafter attracting other Norwegian settlers, amongst other immigrants of Scandinavian origin. This has earned Petersburg the nickname "Little Norway", which makes sense of all the Norwegian flags and even the mini replica Viking ship in town.
The Clausen Memorial Museum celebrates the lives, culture, and art of Petersburg residents, and offers up a great chance to learn more about the town. For sports fishing enthusiasts, Petersburg is a little-known gem of a place to visit, and at Eagles Roost Park, keen-eyed bird-spotters can catch a glimpse of elusive bald eagles.
Originally established by Russians as Novo-Arkhangelsk, Sitka dates back to 1799 and therefore comes with a few remnants of Russian rule to discover in town. There's the Russian Bishop's House, built in the 1840s – one of the oldest surviving wood buildings of Russian America, as well as the picturesque 19th century St. Michael's Cathedral, amongst other historic sites.
Previously serving as Alaska's capital when power was transferred to the US, Sitka holds the Alaska Day Festival each year on 18th October to celebrate the Alaska Purchase. Hiking among the trails and Tlingit totem poles of Sitka National Historic Park is a great way to spend a day in this storied town.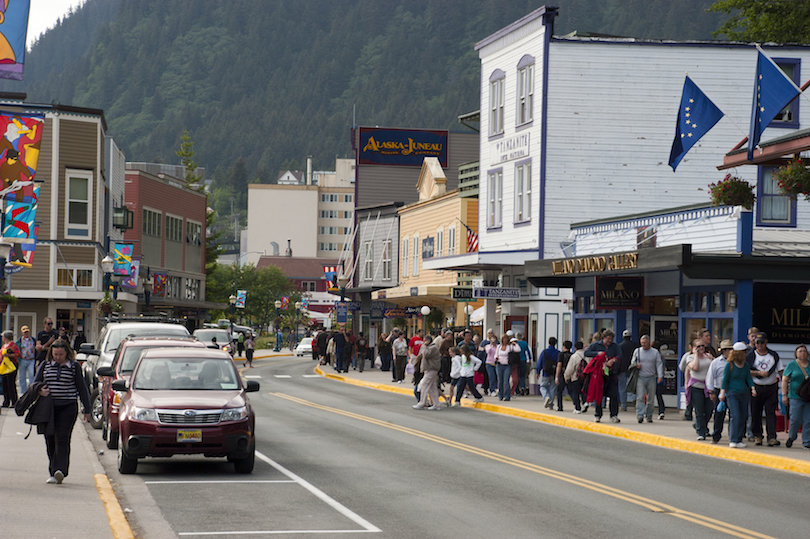 © Wisconsinart / Dreamstime
Since 1906, Juneau has been the Alaskan capital city. It is, in fact, the second largest city in the US – by land area, that is. Surprisingly for a capital, there is no road access. That's due to the extremely rugged terrain surrounding the town, which is bad news for road-trippers but great news for outdoor enthusiasts.
The serene Auk Nu Trail heads up through the temperate rainforest encompassed by Tongass National Forest. Or for something less forested, there's the East Glacier Loop, which takes hikers onto the Mendenhall Glacier itself. Elsewhere, there are historic sites like the tiny St. Nicholas Russian Orthodox Church, built in 1894 by Serbians and Tlingit people fearing European encroachment.
Valdez is just about as remote as it gets without being uncomfortable. Here, it's all about appreciating the nature that is practically all around you. From ample fishing opportunities in Port Valdez – complete with unreal mountain views – to catching a glimpse of the scenic Bridal Veil Falls, and even heli-skiing, there won't be much disappointment if you've come to Valdez for the surroundings.
To get even more off the beaten path, head to the dramatic Shoup Bay for campgrounds and hiking trails galore. For a spot of culture, the Valdez Museum is a good place to learn about the history of the area, or you could make sure you're in town for the annual Last Frontier Theatre Conference.
© L. Weslowski Jr / Dreamstime
Ketchikan is famous for its Tlingit totem poles. In fact, it's renowned for boasting the most totem poles in the world. You can catch a glimpse of these at Potlatch Park, Saxman Totem Park, or Totem Bight State Park; most are re-carvings of older totem poles, however. For the real deal, head to the Totem Heritage Center, which displays a collection of 19th-century totem poles salvaged from abandoned villages in the area.
The picturesque Newton district of Ketchikan features pretty buildings spreading uphill from the glassy water, including the historic 1930 First Lutheran Church. But for even more charm, you can stroll the boardwalk along the Creek Street Historic District.
Girdwood was originally called Glacier City, and there's a good reason for that; this town is surrounded by no less than seven glaciers. For a breathtaking view of what that actually looks like, you can take a ride on the Mt. Alyeska Tram (a ropeway more than a tram) to the top of Mt. Alyeska itself, 2,300 feet above sea level. For those who just can't get enough of winter sports, Mt. Aleyska area offers up some prime skiing.
Back at a lower altitude, the Alaska Wildlife Conservation Center takes in wounded, sick and orphaned animals, allowing visitors to get up close to some cuddly critters.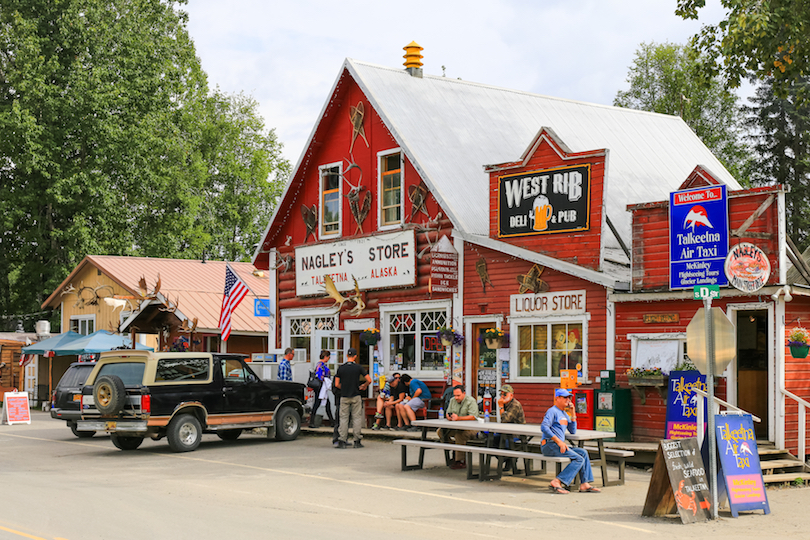 First and foremost, Talkeetna is the jumping off point for anybody interested in going at least part way up Denali. Formerly known as Mt. McKinley, at over 20,000 feet above sea level, this is America's highest mountain peak.
For the less adventurous, the Denali National Park itself is a wonderful place to soak up epic views of the mountain itself. For the even less adventurous, the quirky Talkeetna Riverfront Park is a great place to stroll and find a spot for a picnic, and you can learn more about the town at the Talkeetna Historical Society. Beer fans can sample a few beverages at the Denali Brewing Company.
Skagway was a tiny settlement when it was founded in 1887. But the Klondike Gold Rush in 1896 changed the town forever. Prospectors flocked into Skagway and, well, the rest is history – which you can learn all about at the Klondike Gold Rush National Historical Park Visitor Center.
The former glory of Skagway is visible not only in the Wild West-style wooden buildings in the town's Historic Centre but also when embarking on the incredibly scenic train journey to be had on the White Pass and Yukon Route. A trip on this narrow gauge railway, dating back to 1898, will have you in awe of the amazing views.