The shimmering waters that surround the island of Key Largo and its wealth of underwater riches make it an amazing place to visit. Located in the upper Florida Keys archipelago, the elongated isle and town of the same name can easily be reached by the Overseas Highway from both Miami and Fort Lauderdale.
Billing itself as the 'Diving Capital of the World', Key Largo lies not far from incredible dive sites with coral reefs, shipwrecks, underwater statues, and hotels found nearby. Aside from its superb snorkeling and scuba diving, other things to do in Key Largo include taking scenic cruises and glass-bottom boat tours.
Due to its abundance of marine life, tropical weather, and beautiful beaches and mangroves, it is no wonder at all that Key Largo has long been a popular tourist destination.
In this post, we'll cover:
11. Cruise the Seven-Mile Bridge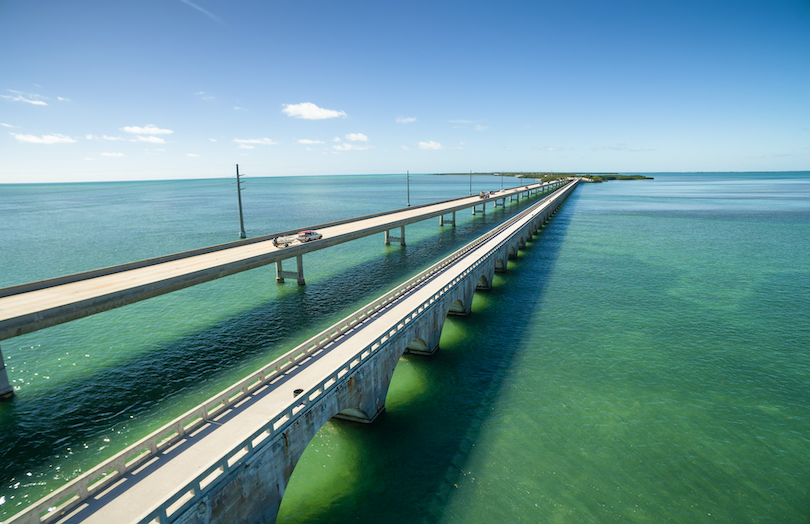 One of the most scenic sections of the Overseas Highway, the stunning Seven-Mile Bridge connects Knight's Key in the Middle Keys to Little Duck Key in the Lower Keys. Located around an hour's drive from Key Largo, it is certainly well worth walking, cycling or driving along with wonderful emerald-hued waters lying all around.
A phenomenal engineering achievement, Seven-Mile was one of the longest bridges ever built when it opened in 1912 and was once billed as the 'Eighth Wonder of the World'. Originally a railroad, it was later replaced by a modern bridge in the 1980s which runs alongside it.
Besides cruising along the bridge and taking in the views, visitors can park at either end and wander or cycle along the original one.
10. Harry Harris Park and Beach
Set towards the southern end of the island is one of the best places to swim and sunbathe in the area: the idyllic Harry Harris Park. Lining its beautiful beach's soft white sands are gently swaying palm trees and inviting warm waters with plenty of amenities also on offer.
Named for the popular Monroe County Commissioner, the picturesque man-made beach lies on the Atlantic side of the isle. Protected by a coral rock barrier, its turquoise waters make for some great swimming and snorkeling. There is also a small tidal pool for children to wade in and explore.
In addition, the park has picnic areas, playgrounds, and barbecue grills for guests, as well as ball fields and basketball courts.
9. Spend the night at the Jules Undersea Lodge
Matthew Paulson / Flickr
An utterly unforgettable thing to do in Key Largo is to spend a night at the awe-inspiring Jules Undersea Lodge. The only underwater hotel in the States, it lies at the bottom of Emerald Lagoon and can only be accessed by scuba diving down to its entrance, six meters below the surface.
Once an underwater habitat and research facility, it was turned into a hotel in 1986 and is named for the renowned French novelist Jules Verne who wrote 20,000 Leagues Under the Sea. While many people opt to stay overnight, others instead stop by on scuba diving excursions.
Besides gazing out its windows at the underwater world, the Jules Undersea Lodge also makes for a great base from which to explore the lagoon and see its shimmering shoals of fish.
8. Dagny Johnson Key Largo Hammock Botanical State Park
A popular place to visit, Dagny Johnson Key Largo Hammock Botanical State Park can be found in the center of the island. It has a wealth of excellent outdoor activities for visitors to enjoy.
Established in 1982, the park protects the natural habitats of a number of vulnerable species, such as the Key Largo Woodrat and Key Largo Cotton Mouse. In addition, it also contains tropical hardwood hammock trees with mahogany mistletoe and wild cotton.
Aside from wandering or cycling along its plethora of paths, guests can also go camping and kayaking, swimming; even scuba diving and surfing are on offer here, too.
7. Spiegel Grove
One of Key Largo's many amazing dive sites is the wreck of the USS Spiegel Grove which lies six miles off the Atlantic side of the island. Intentionally sunk in 2002 to create an enormous artificial reef, it's incredible to explore with an abundance of colorful corals and fish.
Named after the estate of Rutherford B. Hayes, the nineteenth President of the US, the ship served for over 30 years before being decommissioned in 1989. Since being scuppered, fabulous coral formations have coated the vessel that lies 65 feet below the surface.
As the wreck is so huge, at least four dives are needed to see all its sights, which includes everything from rusting rooms and an underwater American flag to snappers, groupers, and barracuda.
6. Molasses Reef
Not far from the USS Spiegel Grove is another of the area's most popular underwater attractions: the marvelous Molasses Reef. Located within Florida Keys National Marine Sanctuary, it has delightful dive sites for you to try out with shallower sections being perfectly suited for snorkelers.
Due to its vibrant marine life, fantastic visibility and easy access, Molasses Reef is one of the most popular places to go diving in Key Largo. Besides countless kinds of corals, you can also see hundreds of species of fish with eels, sharks, and stingrays.
In addition to natural wonders, you can also see old artifacts such as an anchor and winch that were left behind by the Slobodana; a large wooden schooner that sank in 1887.
5. Christ of the Deep
Also located within the marine sanctuary you can find the stunning Christ of the Deep statue which makes for a striking sight submerged beneath the waves. Actually one of three in the world, it was placed in its current scenic spot in 1965 and has since attracted thousands of divers.
Designed by Guido Galletti, the original cast is located in the Mediterranean Sea, just off the Italian Riviera, with the other statue in Grenada's capital of St. George's. All three are identical with Christ's arms raised aloft.
Also known as Christ of the Abyss, Key Largo's statue lies 25 feet below the waves and can be seen on glass-bottom boat tours or by snorkeling and scuba diving down to see it.
4. African Queen Canal Cruise
A lovely way to see some of Key Largo's above water scenery is to take a picturesque cruise aboard the iconic African Queen. Over an hour and a half you slowly travel through the Port Largo Canals, taking in the sights and learning about its history as you go.
Built in 1912, the sturdy steamboat shot to fame after it featured prominently in the 1951 film The African Queen which starred Humphrey Bogart and Katharine Hepburn. The historic boat certainly boasts a fascinating past having also carried mercenaries, missionaries, and cargo up and down the Congo River in colonial times.
Now restored and based in Key Largo, it takes guests on unforgettable sightseeing cruises from the Marina Del Mar to the Atlantic Ocean and back.
3. Florida Keys Wild Bird Rehabilitation Center
Set towards the southern end of the island is another of its top onshore attractions: the Florida Keys Wild Bird Rehabilitation Center. This interesting, educational place houses all kinds of beautiful birds, from herons and hawks to owls, pelicans, and vultures.
While one part of the facility acts as an animal hospital and rehabilitates wounded birds, the other is a sanctuary for those who sadly can't be released back into the wild due to their injuries. Here you'll find spacious enclosures that replicate their natural habitats with almost a hundred feathered friends now residing within the center.
Aside from seeing the birds and exploring the mangroves and wetlands, you also learn about their behavior, how they were injured and how they live in the wild.
2. Everglades National Park
Sprawled across a huge swathe of South Florida is the Everglades National Park, is one of the most unique and incredible ecosystems in the States. Its vast wetlands, mangroves and forests are home to a host of amazing animals with countless outdoor activities also on offer.
The largest stretch of tropical wilderness in the country, its endless waterways protect endangered species, such as the American crocodile, Florida panther, and West Indian manatee. In addition, it is home to hundreds of fish and bird species with its diverse plant life also harboring reptiles, too.
The best way to see the park is to hike along its trails, kayak or motorboat around its waterways with the closest entrance to the Everglades lying just under an hour's drive from Key Largo.
1. John Pennekamp Coral Reef State Park
The first underwater park to be established in the States, the gigantic John Pennekamp Coral Reef State Park is one of the main reasons that Key Largo is so often described as a diving Mecca. Aside from scuba diving and snorkeling trips, guests can also enjoy kayaking and glass-bottom boat tours.
Founded in 1963 to protect the country's only living coral, the park's extensive tract of Atlantic Ocean is home to hundreds of species of fish with sharks, stingrays, and sea turtles.
While most of its main sights lie offshore and underwater, it also has a fantastic visitor center which contains a huge aquarium and shows educational nature films. In addition, you can stroll along the picturesque Mangrove Trail before setting off to see shipwrecks, reefs, and more, at sea.
Map of Things to Do in Key Largo