Known as 'the Sunshine State,' Florida is a popular place to visit; as it borders both the Atlantic and the Gulf of Mexico, it comes as no surprise to learn that the most south-eastern state in the US is blessed with a plethora of stunning beaches.
Its large cities, such as Miami, Fort Lauderdale, and Pensacola, are all home to a myriad of fantastic restaurants, hotels, and nightlife, and their idyllic setting right next to sparkling turquoise waters only adds to their attraction. In addition to this, Florida is also renowned for its wealth of amusement parks, with Disney World, Universal Studios and Sea World being among the most popular.
As well as its lively cities, the state's incredible natural parks and beautiful beaches offer an astounding array of outdoor activities and watersports for visitors to try out.
With world-class attractions lying right next to a glut of world-class beaches, Florida provides the best of both worlds; this is what makes it such an attractive holiday destination.
10. Bill Baggs Cape Florida State Park
[SEE MAP]
Located right on the southern tip of Key Biscayne, Bill Baggs is surrounded by the beautiful and wild Cape Florida State Park. As such, the beach is in pristine condition as it is so untouched.
Other than just lounging on its glorious sands, there are loads of lovely little trails crisscrossing the island for you to explore. When cycling or hiking, you'll come across some awe-inspiring views and panoramas, with some paths leading to a jaw-dropping view of Miami itself, far in the distance.
At one end of Bill Baggs, you'll hardly fail to notice the towering Cape Florida Lighthouse, which really stands out amongst its surroundings. It makes for some great photos as it peers out over the waters that surround it.
Lying on a thin barrier island located just off the coast of mainland Florida, the city of Pensacola Beach makes for a great holiday destination; there is something for everyone in the family to enjoy. You can party at one, try your hand at some watersports at another, and enjoy a fantastic seafood dinner at yet another place.
Of its beaches, Casino Beach is undoubtedly the most popular as it has the most amenities as well as a lovely pier which you can stroll along while watching the sun go down over the Gulf of Mexico.
If you ever have enough of lounging on the sand and taking in the sun then Fort Pickens is well worth visiting and is the city's most popular attraction after its beaches. Built all the way back in the 1800s to protect Pensacola from attack, the now crumbling fort looks very impressive and is an import historic landmark.
While the small and sleepy village of Grayton Beach may not have much going on in the way of entertainment or nightlife, it is blessed with some of the most incredible beaches in Florida.
Grayton Beach State Park covers a vast area and contains some of the most beautiful beaches you'll ever see. Exploring the little paths and trails that snake their way amidst the dunes is a delightful experience, and there are lots of outdoor activities for visitors to partake in.
Consequently, it is well worth visiting Grayton Beach for the breathtaking scenery. As well as the brilliant scuba diving and snorkeling that can be had in its welcoming waters, it is also home to the unique Underwater Museum of Art, which visitors can dive down to explore.
7. St. Andrews Beach
[SEE MAP]
Royalbroil / Wikipedia
A popular tourist destination, Panama City Beach is home to a wealth of beaches that remarkably stretch for over 30 kilometers; St. Andrews Beach is undoubtedly the most impressive one.
As it is located in a state park, the beach is as pristine as they come. The thin strip of land upon which it rests is bordered by the tranquil waters of scenic Saint Andrews Bay on one side and the glittering waters of the Gulf of Mexico on the other.
There are loads of fun watersports to try out and some fantastic dive spots to be found amongst the artificial reefs that lie just offshore. In addition to this, the city has lots of attractions for the whole family to enjoy, such as a marine park, amusement park and sightseeing cruises up and down the coast.
With some of the finest white powder sand in the world, Siesta Beach looks as if it has been torn out of a travel catalog. It comes as no surprise to learn that it has won a number of international prizes for being one of the most beautiful beaches in the world.
The dazzling bright quartz beach is very wide and expansive and is bordered by the delightful emerald waters of the Gulf of Mexico. Loads of fine restaurants, bars, and hotels can be found all up and down Siesta Key.
The barrier island is located just off Florida's Treasure Coast and has a plethora of watersports, leisure activities and entertainment options for visitors to choose from, as well as some lively nightlife once the sun sets over this beautiful beach paradise.
Freebird / Flickr
Stretching along the west coast of Sanibel Island, Bowman's Beach is delightfully undeveloped in comparison with most of the other beaches in Florida, making it ideal for people looking for a quiet getaway.
There is a very untouched feel about the place; consequently, you won't find a hotel in sight. The main thing to do here is to enjoy the incredible scenery and visit some of the pristine nature parks that lie nearby.
Mainly popular amongst families, birdwatchers and shell collectors, Sanibel Island and its stupendous natural sights is located not too far from Fort Meyers if you ever feel the need to enjoy the perks of city life for a bit.
4. Clearwater Beach
[SEE MAP]
WalterPro4755 / Flickr
A gem of a beach to visit, Clearwater Beach lies on the Gulf of Mexico and is just a short distance away from Tampa if you want to combine your trip to the beach with a visit to the city.
One of the most spectacular beaches in Florida, if not the nation, Clearwater Beach has lovely white sands for you to lounge on. Each evening, the glittering waters that border it are bathed in a glorious sunset. Head to Pier 60 for the best view of the sun going down.
As it is a very popular beach resort, there is loads to see and do, with the Clearwater Marine Aquarium being one of its main attractions. A very family-friendly place, there are a wide range of delicious restaurants, shops, and resorts for visitors to choose from, as well as lots of watersports on offer.
3. Fort Lauderdale Beach
[SEE MAP]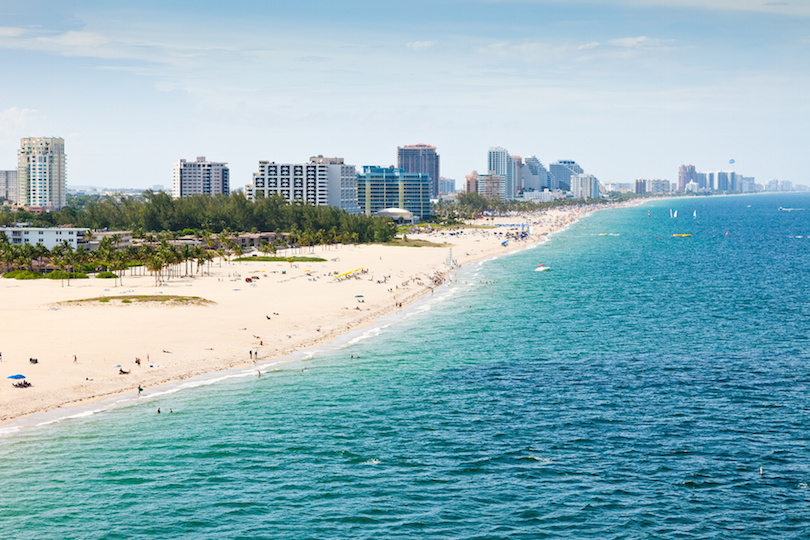 Despite often being called 'the Venice of America' because of all the canals that can be found in the city, Fort Lauderdale's main draw is its glorious beach that stretches endlessly up the coast.
In many ways, its fine white sands look quite a lot like that of its famous neighbor, Miami South Beach. A host of hotels, restaurants, and bars border the beautiful beach. There is a very laidback vibe about the area, and its 'Strip' has lots of nightlife and entertainment for locals and tourists alike to enjoy.
Apart from just lounging on the warm sands of Fort Lauderdale Beach, there are also loads of great watersports to try out, such as scuba diving, jet skiing, and snorkeling, among others.
2. Bahia Honda Beach
[SEE MAP]
Lying right at the heart of the Florida Keys, Bahia Honda State Park is a great place to head if you want to immerse yourself in nature, and the scenery is simply astounding.
Its three wonderful beaches are all blessed with brilliantly bright white sands and crystal clear waters which are ideal for swimming or snorkeling.
Home to a diverse range of wildlife, it is a birdwatcher's paradise, and dolphins, sea turtles, and rays can all be spotted offshore from time to time. One of its most impressive sights – other than its wealth of natural delights – is the old disused railroad bridge that juts out from one end of the island.
With some of the best beaches in the Florida Keys, Bahia Honda is well worth visiting. You can even camp inside the national park if you want to wake up to a spectacular sunrise over either the Atlantic or the Gulf of Mexico.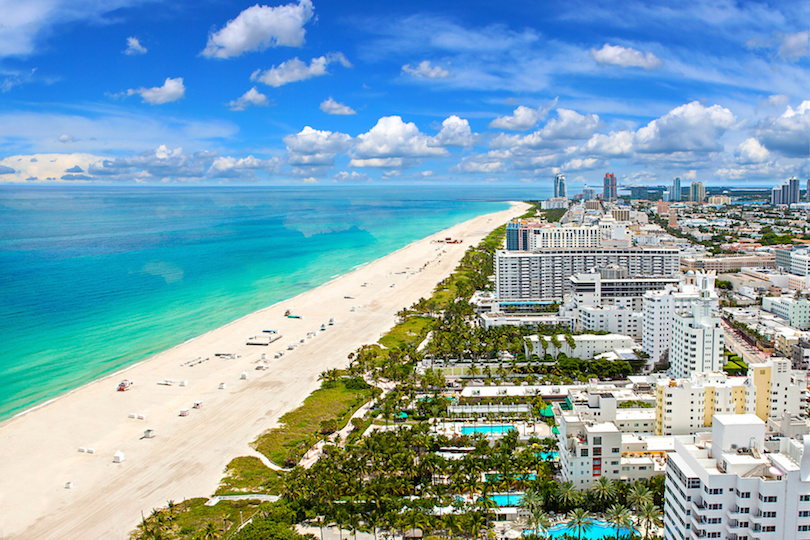 One of the most popular cities to visit in the whole of the United States, Miami Beach is home to loads of fabulous Art Deco buildings, a pounding nightlife scene, and of course, the dazzling white sands of South Beach.
While many people think it is part of Miami proper, Miami Beach is located on a barrier island just a short distance away from it, with the glittering Bay of Biscayne lying between the two. As such, there are loads of fantastic watersports for visitors to try, as well as a plethora of incredible hotels and restaurants with views out over the water.
Alongside the impressive architecture and glitzy nightclubs, South Beach also has a thriving cultural scene; after a day spent lounging on the beach, visitors can always head to one of its world-class museums or amazing theatres.
A very trendy and lively place, South Beach looks spectacular with the waving palm trees and high rises that border it. Its inviting sands are justifiably considered to make it one of the best beaches in the country.