The westernmost city in the Sunshine State, Pensacola lies right at the tip of the Florida Panhandle, just inland from the twinkling Gulf of Mexico and its beautiful beaches. Thanks to its scenic nature and epic outdoor activities, it has long been a popular tourist destination. P-Cola also has a rich history, culture and heritage to delve into.
Due to its strategic setting at the entrance to Pensacola Bay, the important seaport is known as 'The City of the Five Flags' as numerous nations ruled over it at one time or another. The Seville Historic District has lovely old buildings to wander around while several great museums and forts can also be found in the area.
One of the best things to do in Pensacola though is visiting the startlingly bright white beaches that lie along the Gulf Islands National Seashore. Next to state parks and historic sites you can find the nearby resort town of Pensacola Beach which has a wealth of amenities and entertainment options to enjoy.
In this post, we'll cover:
12. Fort Pickens
Perched right at the entrance to Pensacola Bay is one of the city's most interesting historic sites: the fantastic Fort Pickens. Built back in 1834 to protect the strategic harbor, its sturdy fortifications are now fascinating to explore with tours taking you all around its old batteries and barracks.
Protected as part of the Gulf Islands National Seashore, the distinctive pentagonal-shaped fort occupies the western end of Santa Rosa Island. As well as seeing action in the Civil War, it also held Geronimo – the infamous Apache war chieftain – for several months during the Indian Wars. Later on, its defenses were further strengthened though never saw use during WWII.
Nowadays, Fort Pickens is a popular tourist attraction with many people coming to walk around its thick walls and see its huge gun turrets. Dotted about are informative plaques that teach guests more about its history.
11. Perdido Key State Park
A picturesque place to spend time, Perdido Key State Park lies half an hour's drive southwest of the center. Located on the long, narrow barrier island of the same name, it has all kinds of fun outdoor activities to enjoy.
Bordered by the glittering Gulf of Mexico, its wonderful white sand beaches are a treat to lounge on as you bask in phenomenal views over the sea. Backing its scenic shoreline are rolling dunes covered in sea oats and some other sparse beach vegetation.
Aside from hiking around the park's fragile ecosystems and soaking up the sun, you can also swim and splash about in its warm waters. Some great surf fishing is also on offer while cute little beach mice, nesting shorebirds and sea turtles can all be spied from time to time.
10. Saenger Theatre
Ebyabe / Wikipedia
Right in the heart of downtown, you can find the stunning Saenger Theatre which is one of the best places to catch a show, concert or film in Pensacola. Instantly recognizable from its striking Spanish Baroque-style exterior, it has a packed schedule of exciting events for you to check out.
Often called the 'Grand Dame of Palafox', the opulent theatre and resplendent Rococo auditorium first opened their doors in 1925. Besides Vaudeville-type roadshows and Broadway plays, it put on silent screen classics before the aging edifice eventually closed down in 1975.
Thankfully, the prestigious venue was renovated and reopened a few years later with locals and tourists alike enjoying shows on its stage. In addition to concerts and comedy nights, it hosts fabulous plays, dance shows and orchestra ensembles.
9. Macaw Bird Park
On the northern outskirts of the city is another fun and family-friendly place to hit up: the amazing Macaw Bird Park. Home to more than a hundred exotic birds of all sizes and species, the tranquil sanctuary's spacious enclosures and aviaries lie just fifteen minutes drive from downtown.
Although officially founded in 2013, it was started years before by Uncle Sandy who began taking in injured and abandoned birds when he retired. Since then, its leafy green grounds have housed and rehabilitated untold numbers of colorful cockatoos and parrots, peacocks and macaws.
While wandering along its shady paths, you'll learn about each bird's unique personality and habits and even get to see some of them dance and sing. You can also feed and stroke some of its friendlier residents and take photos of their pretty plumage.
8. Seville Historic District
If you want to delve deeper into Pensacola's past, then make sure to take a stroll around the Seville Historic District. On top of all the beautiful buildings and their attractive architecture, the expansive area also includes several museums and important landmarks.
Also known as the Historic Pensacola Village, it covers numerous blocks between Plaza Ferdinand VII and Seville Square. It is at the latter that many of the city's main cultural and community events take place, such as the JazzFest, Seafood Festival and Great Gulfcoast Arts Festival.
In total, there are just under thirty historic buildings to explore with its handful of museums looking at everything from art and history to industry and commerce. Artifacts, exhibits and re-enactors help highlight what life used to be like in Pensacola in centuries gone by.
7. Blue Wahoos Ballpark
Just a short distance from the district is yet another of the city's major attractions: the Blue Wahoos Ballpark. Jutting out into the bay, the intimate, open-air arena is set in a spectacular spot with minor league baseball games, concerts and other events all taking place here.
The defining feature of the Vince J. Whibbs Sr. Community Maritime Park, the multi-use stadium was built in 2012. From its seats, you can drink in perfect views over the pitch and bay, and see the Blue Wahoos' players and their opponents up close and personal.
Despite its smallish size, the atmosphere at the ballpark is electrifying as fans cheer on the Double-A affiliate of the Miami Marlins. In the warmer winter months, loads of other major league baseball teams also venture down to the Sunshine State to play and practice in the run-up to the new season.
6. Fort Barrancas
Facing both Fort Pickens and Fort McRee is another big battery that was built to protect Pensacola Bay. Located atop a lofty hill overlooking the shimmering waters below, Fort Barrancas is hugely interesting to explore with stupendous views on offer from its walls.
Due to its strategic setting, everyone from the British and Spanish to the US erected a fort of some kind or other in the exact same spot. While the earliest was constructed in 1698, the current one and its staggeringly thick walls date to 1844, which was when the States was fortifying its major ports.
At its sprawling hillside site, visitors can amble about its huge interior and along the top of its well-preserved fortifications. Its visitor center also provides more information on the role the fort played in various conflicts with models, maps and memorabilia all featuring.
5. Big Lagoon State Park
Home to lovely landscapes, scenery and nature is the brilliant Big Lagoon State Park. Aside from hiking and biking, its scenic confines have some fantastic fishing, canoeing and boating to enjoy with wildlife watching also on offer.
Set alongside the large lagoon of the same name, it encompasses everything from tidal marshes and wetlands to beaches, coastal scrubs and flatwoods. Thanks to its diverse array of ecosystems, plenty of animals inhabit its rugged reaches with flocks of migratory shorebirds and slow gopher tortoises sometimes spotted amidst its undergrowth.
Besides hiking along the boardwalk and kayaking the waterways, you can swim in the lagoon and top up your tan at the beach. You can also picnic and camp at the pristine park which is situated just a bit closer to town than the nearby Perdido Key State Park.
4. Gulf Islands National Seashore
If it is breathtaking beaches and untouched wild spaces you're after, you just can't beat the gorgeous Gulf Islands National Seashore. Stretching over 150 miles in length, the series of serene and secluded barrier islands boast wonderful white sands, sparkling waters and sublime sea views.
Delightfully undeveloped and unspoiled, the national seashore impressively extends from Cat Island in Mississippi to Santa Rosa Island, just to the southeast of Pensacola. While some parts are preserved as wildlife sanctuaries and historic sites, others act as recreational areas or state parks.
All along the glimmering Gulf of Mexico you can enjoy swimming and snorkeling with a wealth of fun watersports also on offer. What's more, you can hike, cycle and camp amidst the idyllic coastal dunes, forests and wetlands.
3. Pensacola Lighthouse & Maritime Museum
Just a stone's throw from Fort Barrancas is another of the area's interesting historic sights: the black and white Pensacola Lighthouse. Visible for miles around, it now hosts the Maritime Museum with the views from atop its tall tower simply out of this world.
Since being completed in 1859, it has guided sailors and ships in the Gulf of Mexico to the entrance of Pensacola Bay. Towering 150 feet in height, the distinctive landmark rises dramatically above the trees all around it with its Fresnel lens still shining out over the sea's shimmering surface.
In the museum, you can learn more about the historic lighthouse and illumination itself as you stroll around the Keeper's Quarters. The highlight though is clambering up the 177 steps to its observation deck which offers spellbinding panoramas of the bay, sea and barrier islands.
2. National Naval Aviation Museum
Right next door you can find the excellent National Naval Aviation Museum which contains a huge collection of military aircraft. On top of perusing all its shiny jets and vintage planes, there are loads of interesting artifacts and exhibits for visitors to stroll around.
Its humongous hangars and exhibition halls can be found at the Naval Air Station – the oldest and most important base of its kind in the country. It is here that officers of the US Navy, Marine Corps and Coast Guard train. The Blue Angels, a flight demonstration squadron, also practice here.
As such, most of its exhibits document the history and evolution of naval aviation with roughly 150 well-preserved planes displayed about its confines. Accompanying them are amazing old artifacts, uniforms and other memorabilia. As well as trying its fun flight simulators and entering the cockpits of planes, you may even catch a glimpse of the Blue Angels roaring overhead.
1. Pensacola Beach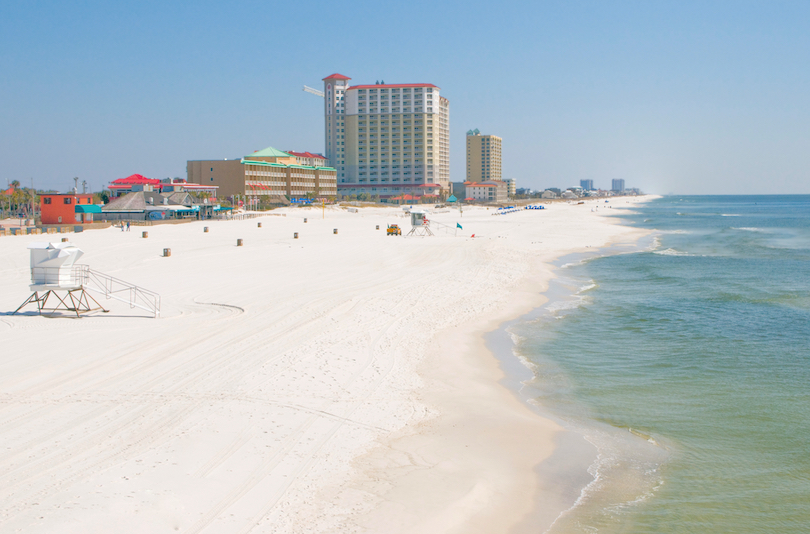 Renowned for its bright white sands, Pensacola Beach lies just south of its sister city on Santa Rosa Island. As 'The City of Five Flags' doesn't have its own beach, most visitors drive across the bay to relax and unwind along the small resort community's scenic shoreline.
As each of its beaches has its own unique identity and amenities, there truly is a stretch of sand that will appeal to everyone. While the isolated yet idyllic Fort Pickens Gate Park is very calm and quiet, the lively Casino Beach is lined by shops and restaurants with a pier jutting out into the Gulf.
With so many beaches to choose from and top-class seafood restaurants, beachfront bars and even nightlife on offer, Pensacola Beach is one of the best places to visit and vacation in the state.
Map of Things to Do in Pensacola, Florida