Founded in 1565 by the Spanish, the city of St. Augustine is the oldest continuously inhabited European settlement in the States. As it boasts a huge historic district, it is a very popular place to visit with centuries-old historic tourist attractions, incredible architecture, and charming cobbled lanes wherever you look.
In addition to all its old forts, monuments and buildings, the small city has brilliant museums for visitors, with more modern attractions and entertainment also on offer. Besides delving into its rich history and heritage, one of the best things to do in St. Augustine is visiting its nearby beaches, nature spots, and state parks or enjoying its countless outdoor activities.
Located along northeast Florida's Atlantic coastline, St. Augustine makes for a fantastic holiday with lots to see and do.
In this post, we'll cover:
14. Oldest House Museum
A fascinating place to visit, this amazing museum preserves what is believed to be the Oldest House in the state of Florida. While the site has been occupied since the 1600s, the building itself dates to 1723 with tours around the historic property and its grounds.
Aside from taking in the attractive architecture, visitors can explore its centuries-old rooms full of artifacts and exhibits.
Now a National Historic Landmark, the Oldest House Museum offers an interesting look at the lives of the early settlers and the Spanish, British, and American powers that occupied St. Augustine at one time or another.
13. Anastasia State Park
Lying just ten minutes drive east of the Oldest House Museum and the Colonial Quarter of St. Augustine is Anastasia State Park. Boasting beautiful beaches, dunes, and tidal marshes, it occupies the prominent peninsula that lies at the northern end of Anastasia Island.
Sure to delight nature lovers and outdoor enthusiasts, the sprawling state park offers activities such as hiking, cycling, and camping.
In addition, you can also rent kayaks and canoes or simply sunbathe on its beaches and swim in the sea. With sublime scenery and nature, Anastasia State Park is certainly well worth visiting.
12. Villa Zorayda
Back in the center of town you can find another of St. Augustine's main attractions: the fabulous Villa Zorayda. Built in 1883 by an eccentric Boston millionaire, its distinctive design and castle-like features were inspired by the twelfth century Alhambra palace and fortress in Granada, Spain.
Besides being a private residence, the magnificent Moorish Revival-style building also served as a hotel, nightclub and casino over the years.
Now protected as part of a museum, its delightfully decorated interior is a treat to explore. Exquisite arabesques, artifacts, and artworks are on show alongside fine furnishings and period pieces.
11. Flagler College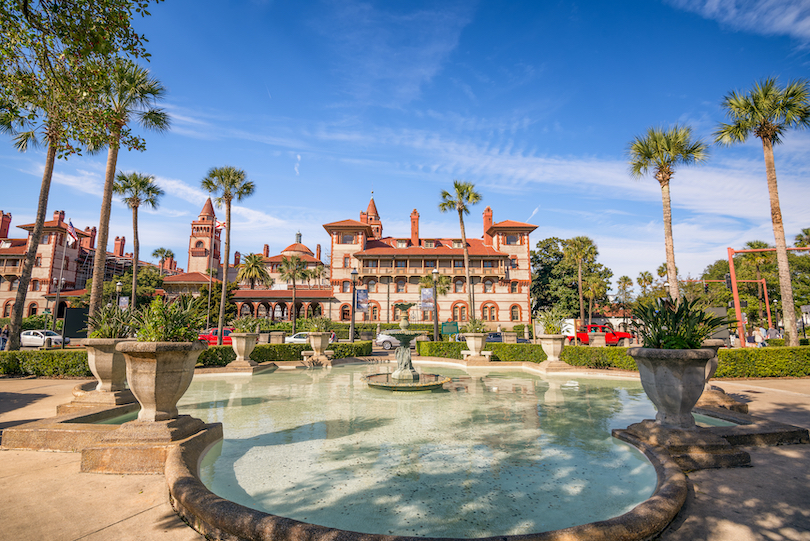 Situated across from Villa Zorayda is the campus of Flagler College: a private liberal arts college that boasts gorgeous grounds and beautiful buildings. Established in 1968, it is named after the wealthy industrialist and oil magnate, Henry Morrison Flagler, who funded the college's construction and various programs.
The centerpiece of the small but scenic campus is undoubtedly the spectacular Spanish Renaissance-style Ponce de Leon Hotel. Once a luxury hotel, it now houses classrooms, dormitories, and dining halls with students living and studying amidst all its opulent interiors.
Besides taking a tour, guests can stop by the historic Proctor Library or excellent Lightner Museum, which is also located on the campus.
10. Fort Matanzas National Monument
Around a half-hour drive to the south of the center is the fascinating Fort Matanzas National Monument, which lies at the north end of Rattlesnake Island. Built in 1742 by the Spanish, the small fort helped guard the Matanzas Inlet which could be used as a rear entrance in an attack on the city.
While it only ever fired once on an enemy before slowly falling into ruin, the tiny fort and tower are now wonderfully restored.
After taking a short, free ferry ride across the inlet to the isle, visitors can explore the fort's ramparts and rooms before strolling around the nearby dunes and mangroves.
9. Fountain of Youth Archaeological Park
Located alongside Hospital Creek is another of the city's somewhat unusual tourist attractions: the Fountain of Youth Archaeological Park. Here you can explore archaeological digs, a recreation of a Native American village, and a small planetarium—as well as sip water from the 'Fountain of Youth' spring.
Although claims that it was the first landing site of the explorer Ponce de Leon in 1513 have yet to be substantiated, excavations have revealed that it was the site of the first Spanish settlement in St. Augustine.
A popular place to visit, the park has lovely leafy grounds to wander around with colorful peacocks strutting about.
8. Old Jail
Just a couple of minutes' walk from the Fountain of Youth Archaeological Park is the Old Jail, which offers an interesting look at the lives of prisoners, and the history of crime and punishment in the city. Although only built in 1891, the jail exhibits some fine Romanesque Revival features, as it was designed to blend in perfectly with St. Augustine's other old buildings.
Now a National Historic Landmark and museum, it has artifacts, exhibits, and cellblocks for you to peruse with costumed 'deputies' explaining the history of the jail and its prisoners. Well worth visiting, the Old Jail lies in St. Augustine's extensive Historic District.
7. St. Augustine Beach
While the city is mostly known for its rich history and heritage, some wonderful white-sand beaches can be found just a short drive from the center. One of the best places to head to is the small seaside community of St. Augustine Beach, which has great sunbathing, swimming, and watersports to enjoy.
Located just fifteen minutes drive to the southeast of the city are over three kilometers of pristine beaches, with countless restaurants, bars, and hotels.
Aside from lounging on the beach, guests can go swimming and bodyboarding, and there's excellent fishing to be had along St. Johns County Ocean and Fishing Pier.
6. Pirate & Treasure Museum
Home to an astounding array of artifacts, exhibits and glittering gold and jewels is the fantastic Pirate & Treasure Museum. A fun, family-friendly place to visit, the world's largest, and arguably most authentic, collection of pirate artifacts can be found in St. Augustine's Colonial Quarter.
Since relocating to the city from Key West in 2010, it has been a firm favorite with visitors due to its interactive exhibits, treasures, and weapons that highlight how pirates lived and plundered on the high seas.
Besides seeing the world's only genuine treasure chest and an authentic Jolly Roger flag, you can also climb aboard a replica of a pirate ship equipped with cannons and rigging.
5. Lightner Museum
Also located in downtown St. Augustine is the Lightner Museum, which lies on the Flagler College campus. Aside from its incredible architecture, the museum boasts a captivating collection that includes everything, from art and artifacts to fine furniture, musical instruments, and even a shrunken human head.
Built in 1887, the historic Hotel Alcazar exhibits some superb Spanish Renaissance Revival architecture with its upper three floors housing the museum's eclectic assembly of objects and artworks.
Strolling around its opulent interior is a treat with interesting and unusual items to be spied next to glassworks, paintings, and sculptures.
4. St. Augustine Distillery
Just ten minutes' walk west of the museum is the award-winning St. Augustine Distillery, a great place to relax and unwind after a day spent exploring the city. As well as sampling some of their delicious cocktails, you can also take a tour around the facility to see how they produce their vodkas and gins, rums, and whiskies.
Founded in 2013 by a group of local families, the distillery occupies what was once an old ice plant with tours taking you to see its malting, mashing and maturing processes. Besides being informative and interesting, the tour also culminates in a tasting where you can try some of their stiff drinks.
3. St. Augustine Lighthouse & Maritime Museum
Nestled near the northern end of the nearby Anastasia Island is the slender, striped tower of the St. Augustine Lighthouse station. Erected in 1874, it makes for a striking sight with its Maritime Museum offering a fascinating look at the history of the lighthouse, its keepers, and the numerous shipwrecks that occurred along the coast.
Rising 165 feet into the air, the black and white striped lighthouse stands out delightfully against its surroundings with epic views on offer from atop its tall tower.
Besides its Fresnel lens, visitors can see artifacts, exhibitions, and photo displays in the museum, as well as take archaeology or ghost tours around its grounds.
2. Castillo de San Marcos National Monument
Another of St. Augustine's must-see tourist attractions is the Castillo de San Marcos National Monument, which lies on the western shore of Matanzas Bay, right next to the Colonial Quarter. Built between 1672 and 1695 by the Spanish, the large limestone fort protected St. Augustine for centuries with its sturdy defenses now a very popular tourist attraction.
While it was attacked several times and besieged twice, the fort never fell to force, instead, it changed hands peacefully between Spain, the States, the British, and Confederacy six times in total.
As well as wandering along its ramparts and seeing its chapel and guard quarters, visitors can enjoy lovely views out over the bay and the Atlantic Ocean in the distance.
1. St. George Street
Running through the heart of the Colonial Quarter is the charming St. George Street, the city's central pedestrian thoroughfare. Lined by beautiful old buildings and interesting historic sites, it is a delight to explore with countless unique boutiques and excellent eateries also on offer.
Popular with locals and tourists alike, the bustling street is a great place to shop for souvenirs or stop for a coffee or meal with its small side streets leading to yet more hidden treasures.
Due to its stunning streetscape and lively yet relaxed ambience, St. George Street is often the highlight of people's visit to St. Augustine.
Map of Things to Do in St. Augustine