Just south of both Tampa and its big bay is the oft-overlooked city of Bradenton. Well worth visiting in its own right, it has lots of scenic nature spots, interesting cultural attractions and superb outdoor activities for you to check out.
Known as 'The Friendly City', it lies alongside both the glimmering Gulf of Mexico and slow-moving Manatee River. While most of its main attractions, museums and theaters can be found not far from the waterfront Riverwalk, its Village of the Arts district is packed with trendy art galleries and cool colorful houses.
Other things to do in Bradenton can be found at the nearby Gulf Coast which has a number of nice nature preserves and pristine beaches, state parks and striking national memorials to explore.
In this post, we'll cover:
12. Hunsader Farms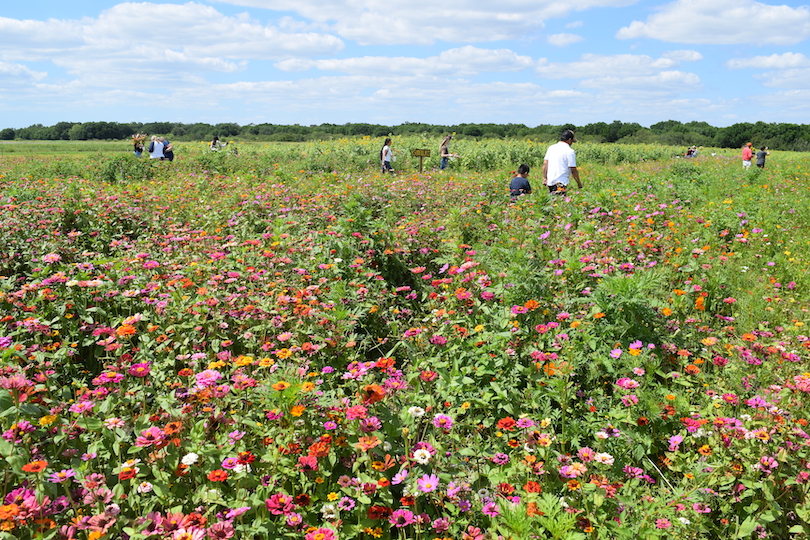 Lying about half an hour's drive directly east of downtown is the fun and family-friendly Hunsader Farms. Besides a fantastic playground and petting zoo, it has a fresh produce market, antiques store and ice cream shack with special seasonal events often taking place.
What started out in 1967 as a small family-run farm has since grown into a sprawling site with new events, activities and attractions being added all the time. While some come to buy locally produced vegetables or pick juicy strawberries, others enjoy the numerous rides, vendors and concerts at their Pumpkin Festival and County Christmas events.
If you want to get more of a feel for the slow-paced, simple farm life, you can always either camp overnight or stay in one of their cosy cabins.
11. Village of the Arts
Calmuziclover / Flickr
An absolutely amazing area to explore, the vibrant Village of the Arts covers a huge part of the city center. Within its hundreds of colorful old cottages, you can find countless unique art galleries and studios, restaurants and coffee shops.
What make the distinctive district so delightful to amble around are all the eclectic and imaginative art installations that decorate the brightly painted bungalows. Mainly dating to both the '20s and '30s, these exhibit loads of exquisite architecture which is only further accentuated by all the pretty hues and pastels they are painted in.
As many of the historical buildings house art galleries, studios and specialty shops, you can actually enter them and browse their cool collections. As well as shopping for paintings and photos, clothes and jewellery, you can also stop off at the lovely little cafes and eateries that line its quirky streets.
10. Lake Manatee State Park
Ebyabe / Wikipedia
A very peaceful and picturesque place to visit, Lake Manatee State Park offers all kinds of exciting outdoor activities and wildlife viewing opportunities. Set along the southern shore of the large lake, it lies along the same road you'd take to the Hunsader Farms.
Lining the waterfront park's scenic shoreline are both beaches and marshes with pine flatwoods and hardwood forests lying further inland. Although there aren't actually any cute manatees to see, you can sometimes spy the old alligator, osprey or armadillo amidst the undergrowth.
While you do have to keep an eye out for hidden gators, you can swim and splash about in the lake or kayak and boat about its waters. Some great hiking, sunbathing and camping can also be enjoyed with both locals and tourists alike flocking here throughout the year.
9. LECOM Park
jcsullivan24 / Flickr
If you're looking to attend an unforgettable sporting spectacle when in town, then the charming old LECOM Park is certainly the place to go. The home of the city's Bradenton Marauders and spring training pitch of the Pittsburgh Pirates, it is situated just a short drive south of downtown.
Considered by some to be Florida's version of Fenway Park, the Spanish Mission-style ballpark was remarkably built back in 1923. One of the oldest stadia still in use in the States, it is a favorite with baseball fans for its quaint old-style look and feel and intimate yet electrifying atmosphere.
As spectators are sat so close to the immaculately groomed pitch, you can often hear the players and coaches chatting and even interact with them sometimes. This makes catching an action-packed ball game a memorable experience with the historic grandstands, gently waving palm trees and outdoor barbecue area only adding to the ambience.
8. Manatee Village Historical Park
For those interested in learning more about the rich history of the state, Manatee Village Historical Park is simply a must. At its expansive site, guests can stroll around over a dozen replicas and well-restored structures from the late nineteenth and early twentieth centuries.
Now recognized as a National Historic Site, it was established back in 1976 to protect and preserve the city and county's pioneering past. On top of an old 1860 courthouse and 1887 Methodist church, it also encompasses a schoolhouse and smokehouse, blacksmith's and boat yard.
In addition to taking in all their fine features and reading about their history, you can enter some and see era-appropriate artifacts and furniture. Historical photos and informative plaques are also dotted about its grounds which lie just east of the center.
7. Palma Sola Botanical Park
Packed with a plethora of colorful plants, flowers, trees and shrubs, Palma Sola Botanical Park can be found in the northwest of town, next to the Robinson Nature Preserve. Very lovingly landscaped, it features ponds, picnic areas and a playground with beautiful birds and butterflies fluttering about here and there.
An oasis of calm, the botanical garden protects what was once a palm nursery with countless other kinds of tropical trees and exotic plants now lining its paths. As well as inspecting all the blooming flowers and snapping photos of their bewitching colors, you can also sit and watch turtles and fish lazily flitting about the lakes.
Often described as a hidden gem, the park is a very pleasant place to spend some time before hitting up the beaches and nature preserve nearby.
6. Red Barn Flea Market
Undoubtedly one of the best places to shop and eat out in Bradenton is the bustling Red Barn Flea Market just off of the S Tamiami Trail. Open every day of the week except for Mondays, its 600 or so stands, stalls and shops seem to sell almost everything under the sun.
Owned and operated by the same family since 1981, the vast flea market now also includes farmers markets, food courts and plaza shops. While some sections therefore sell fresh fruit and vegetables, others are instead home to everything from tools and toys to t-shirts and tupperware. Yet others still sell soap and shoes or watches, video games and women's clothing.
Asides from perusing its almost exhausting array of items, you can also stop off at the food court to grab a bite to eat or drink before continuing with your shopping spree.
5. Robinson Nature Preserve
Sure to delight nature lovers and outdoor enthusiasts alike, the Robinson Nature Preserve covers a massive part of northwestern Bradenton. Here you can hike and bike about shady trails, clamber up observation towers and kayak and canoe along the park's pristine waterways.
While much of the picturesque preserve lies alongside Tampa Bay, its mangroves and marshes reach quite a way inland. Paddling about its reflective waters is a relaxing way to explore the entire area with dolphins, manatees and other marine mammals often spied playing about.
Besides renting paddleboards and kayaks, visitors can walk, run or cycle along its meandering paths or bird watch from atop of its 53-foot-tall tower. Some fabulous fishing and picnicking can also be had amidst its ever-changing coastal ecosystems.
4. Cortez Beach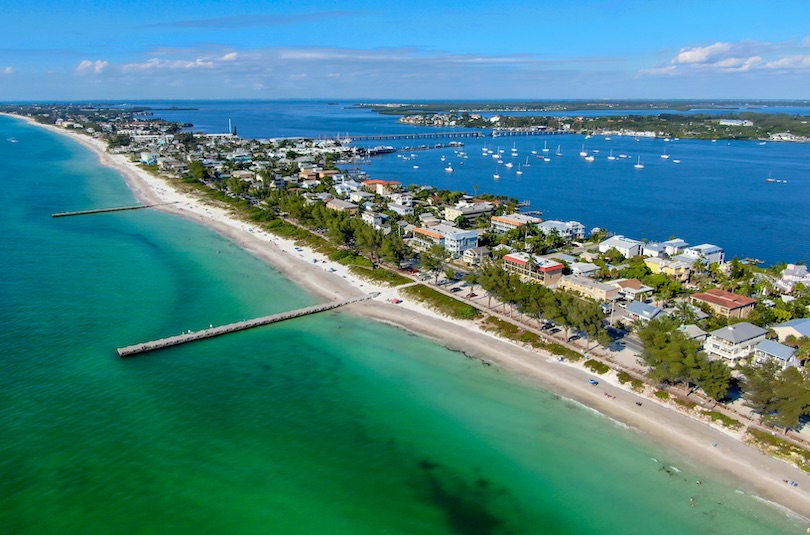 Not very far away is another picture-perfect spot to head if you want to relax, unwind and immerse yourself in nature. At the idyllic Cortez Beach on Anna Maria Island, you can top up your tan, stroll along its sands or swim in the glittering Gulf of Mexico.
Untouched and undeveloped, its soft white sands are backed by rolling dunes coated in some sparse vegetation with shady trees also overlooking the expansive beach. Jutting out into the sparkling sea are three piers for you to amble along and fish from with hiking trails and biking paths also taking you towards the southern end of the island.
Aside from enjoying the sun, sea and sand and surfing its small waves, you can bask in breath-taking sunsets and search for shells and small fish in the shallows.
3. De Soto National Memorial
Offering up the perfect mix of history and nature is the delightful De Soto National Memorial just west of Bradenton. Set at the spot where the Manatee River meets Tampa Bay, it commemorates the 1539 landing of the famous explorer and the first extensive expeditions of Europeans into the south of the States.
Almost 500 years ago, Hernando de Soto – a conquistador compatriot of Francisco Pizzaro – landed at Tampa Bay with his large army in search of land, gold and the secret to eternal life. At its brilliant visitor centre, guests can now learn about their voyage and brutal interactions with the area's Native Americans and see amazing old armour, weapons and maps.
After watching a short video on the battled-hardened figure, you can head outside and explore its pretty waterfront. Here you can hike about, fish and picnic with thrilling historic reenactments often taking place during the cooler months of the year when a living-history camp is set up in the park.
2. Bishop Museum Of Science And Nature
Jim Mullhaupt / Flickr
Back in the center of town is another of the area's top tourist attractions and most important cultural institutions: the Bishop Museum Of Science And Nature. Mainly focusing on Florida's Gulf Coast, its innumerable artifacts, exhibits and archaeological findings really are fascinating to peruse.
Located right next to the city's pier and bridge to Palmetto, it was founded in 1946 with its massive collection now occupying a striking modern building. Its displays and dioramas cover the history of the state from prehistoric times up until the present with ancient fossils, centuries-old pots and more modern artworks all featuring.
Its complex also contains a fantastic planetarium where you can watch science shows and a manatee rehabilitation center where you can see the cute creatures before they are released into the wild.
1. Riverwalk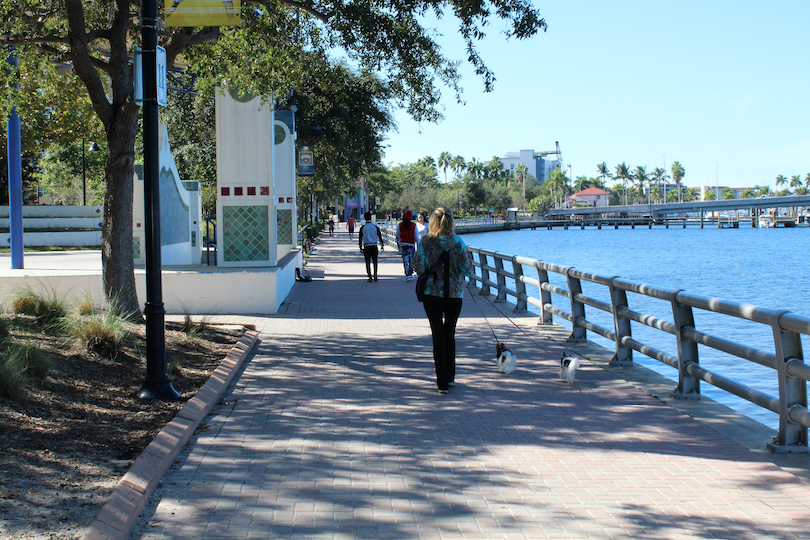 Just a stone's throw from the museum is the Bradenton Riverwalk; one of the most popular places to spend time in the city. As well as boasting fine views over the water, piers and bridges, it has plenty of gorgeous green spaces and fun play areas for young and old alike to enjoy.
Lying alongside the scenic Manatee River, it encompasses everything from an outdoor amphitheater and tide pool area to a sandy little beach, splash pad and skateboard park. Besides making use of all its excellent amenities, you can walk, run, jog or cycle along its boardwalk which stretches about a mile and a half in length.
Visitors can also picnic on its lawns, fish along the pier or play volleyball out on its sandy courts. In addition to all this, live music and community events are often held here over the course of the year.
Map of Things to do in Bradenton, Florida