The 3rd largest national park in the lower 48 states, Everglades is an expansive area of wetland in Florida. The park is full of mangroves and sawgrass marshes. It is also famous for its local wildlife, that includes alligators, unique bird species, and the Florida panther.
There are a lot of outdoor adventures and active things to do in the Everglades, like hiking, kayaking, wildlife watching and so much more! Close to Miami, you have the option of camping in the park or staying in a nearby town and coming on a day trip. This destination is perfect for nature lovers, families who want to get into the wilderness together, and anyone with a sense of adventure!
14. Big Cypress National Preserve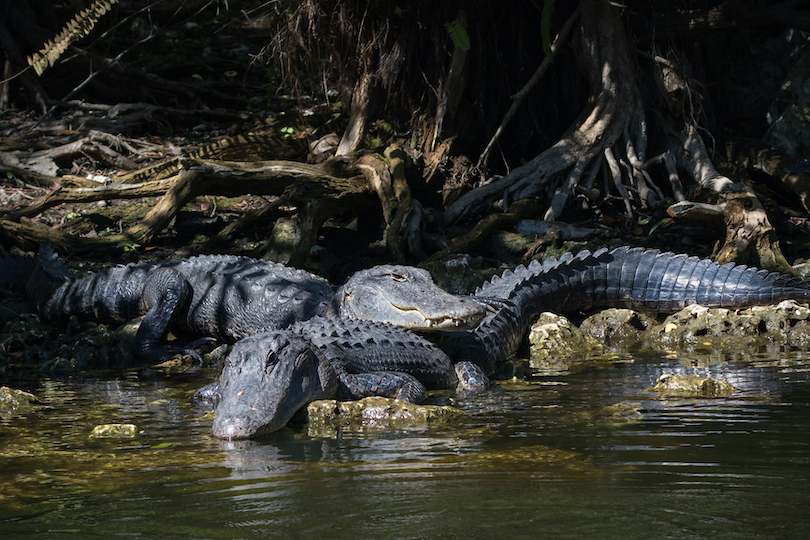 This vast freshwater swampland is home to a diverse set of tropical and temperate plants, and some surprising wildlife. There are plenty of trails you can explore throughout the Big Cypress National Preserve, but bring your wellies, it's sure to be wet!
Whether you're a wildlife enthusiast, botanist, or just a nature lover the preserve has a lot to offer. The preserve is home to lots of snake species, birds, and the endangered Florida panther. If you're quiet and observant you might even spot one on your walk.
There are lots of camping options around the preserve and you can join ranger-led activities, kayaking tours and many more outdoor adventures during your time at the preserve.
13. Manatee Viewing
Manatees are one of Florida's most peculiar native animals. These aquatic mammals are known as "sea cows" and live in very few spots around the world. Spotting a manatee is a truly unique and special experience, and you can do it right here in Florida!
These freshwater animals are easiest to spot from November through to April, and hardest to spot in the summer as they migrate to cooler waters once it starts getting warm.
If you're lucky you might row past one on a kayaking trip down one of Everglade's slow-moving rivers. They spend hours each day feeding, so a great spot to look for a manatee is in places with lots of aquatic plants, like seagrass.
12. Flamingo Visitor Center
The Flamingo Visitor Center is a great place to visit on a day trip, or to go for information about Everglades and nearby facilities. The center has lots of rangers who can help with answering your questions and helping you plan your trip in the area.
The visitor center is near lots of campgrounds and close to a public boat ramp, a marina store, and hiking and canoeing trails. The perfect place to start your adventure into the mangroves and wilderness!
The Visitor Center offers lots of ranger-led tours to its visitors. If it's your first time in Florida and its unique landscape this could be a great way to learn about the surrounding area and prepare yourself for more extreme adventures!
11. Everglades Alligator Farm
The Everglades Alligator Farm in Homestead offers you the unique chance to get up and close with alligators. These large, scaly, wild animals are common in the surrounding area and in the Everglade National Park. But in the wild they are hard to spot and dangerous to get up close to.
The alligator farm has hundreds of alligators of all ages, that are kept in safe enclosures within the farm. During your visit you can walk around the grounds and find out more about these impressive animals.
You can also watch the alligator shows put on each day, take a boat ride down the farm's alligator riddled river, and even sit on an alligator! Your trip to the farm is sure to be unforgettable, a great day out for all kinds of travelers.
10. Ten Thousand Islands
Some of these incredible island formations of the coast of Florida are high spots on a submerged coastline, whilst others were produced by mangroves growing on oyster bars. The chain of islets has lots of sandy white beaches and extreme adventures to offer!
It's a top destination for enthusiastic kayakers and canoers, but it's not for the faint hearted. You can paddle from the islands to the Gulf of Mexico or take on the week-long 99-mile Wilderness Waterway. You can camp on the sandy white beaches and sleep under the stars along the way.
For those looking to explore the islands, but not up for an extreme adventure, there are boat tours available at the Gulf Coast Visitor Center in Everglades National Park.
9. Pa-hay-okee Trail
The Pa-hay-okee Trail is a short 0.2 mile walk. The trail is accessible year-round as it is a raised wooden pathway, so no matter how wet the marshland below gets you can enjoy the loop!
Along the pathway there is a wooden lookout area with spectacular views over the grassy land below, that extends for miles into the distance. The trail also allows its visitors to look at the many flower species growing below, without damaging the delicate flora.
The trail is short, accessible, and great for all skill levels! There's really no reason to not visit this little hidden treasure on your trip to Everglades.
8. Nine Mile Pond Canoe Trail
Despite its name, the trail is actually a 5-mile loop that is accessible to kayakers and canoers. The trail takes some four or five hours to paddle; you might want to bring a picnic to have on board your boat, you won't be touching land.
The sights of the vast marsh around you, with its scattered mangrove islands and unique fauna and flora are sure to leave an impression. There are even some tight mangrove tunnels you can ride through, a nice challenge for more experienced paddlers.
The trail is marked with white PVC-pipe markers, so you shouldn't get lost! Bear in mind the trail is too shallow to paddle during the dry season. If you don't have your own kayak or canoe you can rent one nearby!
7. Royal Palm Visitor Center
The Royal Palm is one of the most visited areas of the Everglades National Park. Its visitor center is conveniently located near the entrance of this expansive National Park. It has lots of convenient facilities like restrooms and parking.
You can park your car and head off on one of the nearby nature trails, or stop to have a picnic in between activities. The visitors center is also very beautiful itself, a great place to stop and do some bird watching if you aren't up for a long walk. Visitors have even reported seeing alligators at the visitors center!
There's a small visitors shop and lots of information maps at the center. If you need any information, you can ask one of the friendly staff to give you a hand!
6. Go Cycling
The Everglades National Park has five different bike trails that visitors can explore. The trails range in length from three to fifteen miles, so whether you're looking for a full day of cycling or a short bike ride, there's an option for everyone!
Each trail has a unique landscape, and all of them allow you to immerse yourself in the natural beauty of Everglades National Park. It's also a great way to spot local birds and wildlife. The ideal activity for a warm, sunny day.
If you don't have your own bike, you can hire a bike for the day or the length of your trip from one of the many bike rentals in the area. There are lots of options, so you're sure to find something that fits your budget.
5. Ernest F. Coe Visitor Center
A popular visitors center within Everglades National Park, the center has lots of practical facilities and is a convenient place to start a hike in the national park, or ask for information about activities, walking trails and anything else you need help with!
The visitors center is open all-year round, so you can stop by no matter the time of year and weather. They have educational displays, informational brochures, and helpful orientation films on at the center to help you get your bearings.
There is also a small bookstore at the center, so if you forgot to bring a book on holiday you can easily pick up a good read.
4. Anhinga Trail
This short trail is within the Royal Palm area of the Everglades National Park. It's just 0.8 miles long so if you're just passing through the national park this is the best place to stop. It'll take about an hour and it's accessible to everyone!
Although it's only a short trail that can only offer you a glimpse of the expansive swampland and mangroves around, the walk has lots of wildlife year-round. There's plenty of birdwatching, and if you're lucky you might even spot an alligator.
A convenient place to start the trail is the Royal Palm Visitors Center, the trail leads away directly from the parking lot. They also have picnic grounds and restrooms.
3. Shark Valley
The Shark Valley sits within the Everglades National Park and is visited by tourist year-round who come to the Shark Valley Visitor Center and observation tower that offers views for some 20 miles into the distance.
The trail through shark valley to the observation tower is great for all skill levels, and not too long! So, if you're tight for time this could be a great stop. The trail leads to the area's famous observation tower where, from 65 feet up in the air, you can look over the mangroves and wet marshland that extends in every direction around the tower.
Shark Valley is also known for being riddled with alligators; in fact it would be hard no to see one! But be careful, they're not always friendly.
2. Airboat Tour
Airboats are a unique way to get around in Everglade's wetlands. These peculiar boats have a large fan at the back that propels the boat forwards through the water. If you're looking to explore Everglades water trails, but you aren't a kayaker or canoer, this is a great way!
The whole family is sure to enjoy an airboat tour. The boats pass through mangrove tunnels and get you up close to the parks wildlife. The scenery is second to none.
There are lots of different companies offering airboat tours in everglades, and they all seem to run all-year round. Do some research in advance to grab the best holiday deal, some companies add in free activities like alligator shows with their tours.
1. Kayak Eco Tour
Everglades National Park is full of unique and scenic kayak trails. There's something for every experience level, budget, and time frame! Whether you're a regular kayaker or it's your first time on the water, you'll find the perfect tour in Everglades.
The tours take you along the extensive waterways that run through the National Park, leading you through mangrove tunnels and into the open wetlands in Everglades marshy terrain. You can enjoy birdwatching along the way and keep an eye out for the park's famous locals, the alligators!
You can spend some time researching the perfect tour before going on your trip to Florida, or head to one of the visitors centers to ask for information once you're there.
Map of Things to do in Everglades