Set on the southwest side of the Florida peninsula is the stylish and sophisticated city of Naples. Bordered by the sparkling waters of the Gulf of Mexico, Naples boasts beautiful white sand beaches, gorgeous parks and gardens, and nature sanctuaries.
One of the wealthiest cities in the States, it offers chic boutiques, gourmet restaurants, and fancy hotels, and bills itself as the 'Golf Capital of the World'. Aside from enjoying exquisite shopping and dining, other things to do in Naples include exploring interesting historic tourist attractions and stately mansions.
Offering the perfect mix of rest and relaxation with splendid scenery, sunsets, and nature, Naples has long been a popular destination and is certainly well worth checking out if you have the chance.
12. Historic Palm Cottage
Ebyabe / Wikipedia
The oldest house in the city, Historic Palm Cottage makes for an interesting visit; the house can be found just a block east of Naples Pier. Now a National Historic Landmark, it was built for the newspaper editor Henry Watterson and later offered overflow accommodation for the Old Naples Hotel.
Completed in 1895, the charming cottage exhibits attractive architecture and lies amidst lush and leafy grounds. Painted white and wonderfully well-restored, it represents a rare example of tabby mortar construction and is preserved by the Naples Historical Society.
On tours of the property, visitors can explore rooms full of period furnishings and learn what the lives of people in the last century looked like.
11. Tin City
One of the best places in Naples to shop for souvenirs, or stop off for a quick coffee or bite to eat, is the unique and eclectic Tin City. Home to creative boutiques, antique stores, and excellent eateries, it lies along the waterfront, just a short stroll from Downtown Naples.
Once a busy wharf that lay at the heart of Naples' thriving fishing industry, the area is now a specialty shopping district. Popular with locals and tourists alike, there are dozens of shops and in colorful tin-topped buildings that face onto the waterfront.
Besides shopping, enjoying the ambience, and exploring the picturesque boardwalks, visitors can also hop on tour boats that take you all around Naples' amazing waterways.
10. Naples Zoo
Just north of the city center is the marvelous Naples Zoo, situated in the Caribbean Gardens. Boasting an astounding array of exotic animals, it's a fun and family-friendly place to visit with countless birds and reptiles also on show.
Since opening in 1919 it has been a firm favorite with visitors to Naples due to its huge collection of animals and lush tropical gardens. Here you can see everything, from alligators and antelopes to panthers, cheetahs, and tigers. The zoo is particularly known for its rare fossas from Madagascar.
In addition to learning all about its wonderful residents, guests can also touch tortoises, feed giraffes, and take narrated boat tours around the zoo's island exhibits.
9. Third Street South
Known as the birthplace of Naples, Third Street South is a treat to explore with its beautiful old buildings, interesting artworks, and colorful flowers and trees. Home to over a hundred shops and restaurants, with innumerable art galleries, it is one of the most popular places to visit in Naples.
While the lively street certainly has enough chic boutiques and bistros to keep visitors occupied for days, strolling along its scenic sidewalks never gets old. This is because fabulous flowers, fountains, and public artworks dot the charming cottages and courtyards that line the street.
Set just a short walk from Naples Pier, Third Street South is definitely not to be missed with its weekly farmers market being one of the best times to stop by.
8. Clam Pass Park
h2kyaks / Flickr
Located in North Naples is the delightful Clam Pass Park, which boasts stupendous scenery, landscapes, and nature. As well as a white sand beach and sprawling mangrove forest, it has a large tidal bay that is an important breeding and feeding spot for local wildlife.
Sure to delight both nature lovers and outdoor enthusiasts alike, the park has a lovely boardwalk for visitors to amble along peacefully. This leads onto its picture-perfect beach and the glittering Gulf of Mexico. Lining the route are mangroves and blooming flowers with nesting birds—and even alligators—to be spied amidst the undergrowth.
Besides sunbathing and swimming, you can also go kayaking and canoeing and there are picnic areas, a snack bar, and other facilities on offer.
7. Revs Institute
Just ten minutes drive to the northeast of Downtown Naples you can find the Revs Institute, which is a very interesting automotive museum. Aside from its large collection of classic cars, it also has fascinating exhibits on the history and evolution of the automobile, and looks at its role in society and sport.
The educational institute opened in 2008 and is dedicated, not only to the preservation of rare automobiles but to their conservation and restoration, too. In addition to antique cars, it hosts a huge library with an enormous archive of photos, books, and magazines that focus on the history of the automobile.
The undoubted highlight is the hundred or so rare race cars which include shiny Cadillacs, Porsches, and Ferraris, all dating to between 1896 and 1995.
6. Delnor-Wiggins Pass State Park
Widely considered to be home to some of the most beautiful beaches in Florida, Delnor-Wiggins Pass State Park is well worth visiting if you have the chance. Located half an hour's drive to the north of town, it occupies a scenic and serene barrier island that lies at the mouth of the Cocohatchee River.
Due to its gorgeous white sands and the shimmering waters of the Gulf of Mexico, both locals and tourists flock to the state park at weekends and holidays. Protected during the turtle-nesting season, its pristine confines are home to eagles, ospreys, and manatees among many other animals and birds.
Besides basking in its stupendous scenery, visitors can enjoy swimming, snorkeling, and surfing with picnic areas, kayak rental points and boardwalks also on-site.
5. Everglades City
Just under an hour's drive southeast of Naples is Everglades City; a picture-perfect fishing town that lies along the edge of Chokoloskee Bay. It is home to a handful of attractions, but it is the scenic setting and proximity to the wilderness that attracts most people to town.
Interesting sights include the Bank of Everglades Building and Old Collier County Courthouse, with the small museum on the history of the region being its standout sight. In addition, the town's restaurants are noted for serving up some delicious seafood dishes.
From here, you can arrange epic excursions around the vast tropical wetlands of Everglades National Park and nearby 10,000 Islands with countless outdoor activities and wildlife viewing trips on offer.
4. Corkscrew Swamp Sanctuary
Another of the area's outstanding outdoor attractions is the stunning Corkscrew Swamp Sanctuary, about an hour's drive northeast of Naples. Home to a diverse array of landscapes, ecosystems, and wildlife, the picturesque park makes for a memorable day out for all of the family.
In total, it has six different environments to explore; marshes, grasslands and prairies lie next to towering cypress trees that are remarkably over 600 years old. As you wander along the pretty boardwalk you can spot alligators and otters, as well as many beautiful birds.
Besides ambling about and snapping photos of the amazing animals and nature, guests can also stop by the visitor centre or take guided tours that teach you all about its fauna and flora.
3. Lowdermilk Beach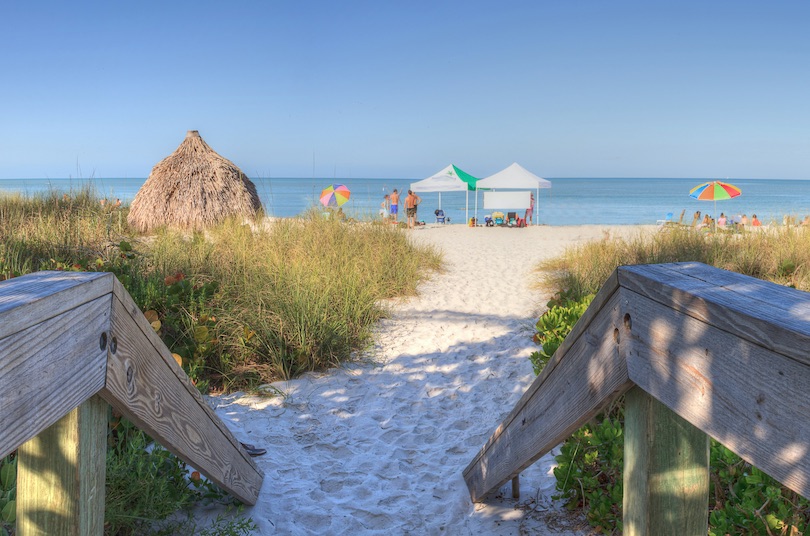 One of the most popular places to sunbathe, swim, and spend time in town is the lovely Lowdermilk Beach. Located just five minutes drive from Downtown Naples, its beach boasts bright white sand, as well as phenomenal views over the sparkling waters of the Gulf of Mexico.
Due to its soft sands and sublime scenery, Lowdermilk has long attracted locals and tourists and it has a wealth of excellent amenities and activities also on offer. Aside from sunbathing and swimming, guests can enjoy playing volleyball, and there are two playgrounds for children.
In addition, there are plenty of picnic areas while its cafe rents deck chairs and umbrellas, plus kayaks and paddleboards should you want to take to the water. At sunset, keep your eye out for the fleeting 'green flash' that can often be spotted from Lowdermilk Beach.
2. Naples Botanical Garden
Home to an astounding array of colorful flowers, plants, and trees, the sprawling Naples Botanical Garden is a treat to explore. Just a ten minute drive southeast of the center, it has myriad paths to wander along, with spectacular scenery and nature wherever you look.
Founded in 1993, its gorgeous gardens are lovingly laid out with some scenic sections focusing on flora from Florida or the Caribbean, while others feature plants from Brazil and Southeast Asia. Its lush green grounds also house superb buildings and artworks that represent different peoples, cultures, and countries.
On top of this, it also has a wonderful water garden for guests to enjoy, and a large nature preserve that is home to hundreds of kinds of plants and animals.
1. Naples Pier
Near the historic heart of the city is one of its most famous landmarks and must-see sights: the iconic Naples Pier. Stretching over 1,000 feet into the glittering Gulf of Mexico, the pier is perfect for a peaceful stroll and particularly famed for its incredible sunsets.
First built in 1888 to serve as a dock, the iconic pier now stands as an important symbol of the city and reflects both Naples' rich history and resilience. This is because the pier has been rebuilt numerous times over the years after it was destroyed by either fierce fires or hurricanes.
Aside from enjoying the fabulous views and sunsets, many people also head to the pier to go fishing with even the odd dolphin to be spotted swimming about from time to time.
Map of Things to Do in Naples, Florida