The largest city in West Central Florida, Tampa has long been a popular place to vacation. Due to its multicultural population, the city has several different neighborhoods each with its own identity.
Some of the best things to do in Tampa revolve around the downtown area and riverwalk, which are home to museums, theaters and parks, Ybor City is renowned for its thriving bar scene and nightlife. In the north of town is where you can find many of Tampa's enticing animal attractions and amusement parks with the world-famous Busch Gardens being the city's standout tourist attractions.
In this post, we'll cover:
12. Glazer Children's Museum
The Glazer Children's Museum can be found in the center of the city alongside the Tampa Riverwalk and Curtis Hixon Waterfront Park. It's a fantastic museum containing an astounding array of interactive exhibits, from art and the human body to science, maths and technology.
Established in 1986, the colorful children's museum now occupies a state-of-the-art center in the Waterfront Arts District. Besides boasting more than 170 hands-on exhibits and activities, it also has numerous themed areas for young ones to experiment and engage.
In addition to exploring its bank, boat, and fire station sections, there is also an excellent Engineers' Exhibit where children can design and build to their heart's content.
11. Adventure Island
rickpilot / Flickr
Located next to the popular Busch Gardens is another of the city's top attractions: the wild and wet Adventure Island. Twenty minutes drive northeast of downtown, the water park is one of the best places to head if you want to cool off and splash about.
Since opening in 1980, it has been a firm favorite with locals and tourists due to its countless pools and waterslides. Amidst its lush tropical-themed grounds you can find a long lazy river, man-made beaches, and a wave pool, as well as lots of splash areas and slides.
There are also areas where you can sunbathe or play volleyball with outdoor cafes and ice cream stands.
10. Tampa Bay History Center
A must-visit for those interested in learning about the city, state and bay's history, the Tampa Bay History Center is set along the Tampa Riverwalk in the lively Channelside District. Across its three floors are innumerable artifacts and exhibits that cover over 12,000 years of the area's history.
While some sections focus on the bay's first native inhabitants, others offer an interesting look at Spanish conquistadors, influential Floridian figures, and Cuban cigar workers. Its galleries are a treat to peruse with impressive exhibits and historic items wherever you look.
Besides exploring its huge collection of maps and enormous array of interactive displays, there are also educational films and activities to enjoy. Plus there's a museum cafe and gift shop on-site.
9. Henry B. Plant Museum
Just across the Hillsborough River from the city center you can find the massive and majestic Henry B. Plant Museum. Originally a luxury resort, the building's exquisite antique-filled interior now highlights how the wealthy used to live and holiday during the Gilded Age.
Built in 1891 by railroad tycoon Henry Plant, the hotel showcases Moorish Revival-style architecture with shiny silver minarets and glinting cupolas lining its rooftop. Inside is just as alluring; lavish furnishings and period pieces decorate its suites. Exhibits also delve into the history of the hotel and its former owner.
Now part of the University of Tampa, the National Historic Landmark has gorgeous grounds and gardens dotted with fountains, flowerbeds, and statues.
8. Big Cat Rescue
While Tampa is home to many amazing animal-related tourist attractions, the best place to see lions, tigers, lynxes, and leopards is undoubtedly the Big Cat Rescue. At the wildlife sanctuary, you can spot over sixty incredible creatures roaming about spacious enclosures that mimic their natural habitat.
Since 1995, the sanctuary has taken in injured, abused or abandoned wild cats both large and small and provided them with care and a safe space to live. On tours around the complex, you can learn about the exotic animals, their habitats and behaviors, and the work Big Cat Rescue does to protect and preserve them.
Besides seeing bobcats, jaguars and ocelots up close, visitors can take tours where you can feed or photograph them, with nighttime safaris also offered.
7. Florida Aquarium
Located along the city's waterfront in the Channelside District is the fabulous Florida Aquarium, which boasts a massive collection of marine life. Home to several aquaria and animal exhibits, it certainly makes a fun day out for all the family.
Opened in 1995, the enormous aquarium houses over 9,000 aquatic animals and plants from all over the globe. Exhibitions mainly focus on Tampa Bay, the Gulf of Mexico, the Florida Keys and Cuba, but you can also explore colorful coral reefs from the Indian Ocean, and see waddling penguins from South Africa.
As well as stroking starfish and sea anemones in its touch tank, you can also enjoy its water park, or even swim with sharks, stingrays, and sea turtles in one of its aquaria.
6. Amalie Arena
If you're after an exciting event to attend when in town then watch Tampa Bay Lightning play a fast-paced ice hockey match at the Amalie Arena. The colossal stadium lies along the Tampa Riverwalk, overlooking the Garrison Channel.
Originally known as the Ice Palace, the arena was opened in 1996 and has since hosted countless NHL games. It also regularly holds college basketball games, arena football matches, and wrestling competitions, as well as the occasional motorsports event.
There is always something interesting and enticing going on at the arena with concerts and ice shows held alongside innumerable sporting spectacles.
5. Ybor City
Just a short drive northeast of downtown you can find Ybor City; a historic district with lots to see and do. Once the center of the city's cigar industry, it is now a vibrant area; countless art galleries and unique boutiques lie alongside cafes, restaurants, and microbreweries.
Founded in the 1880s, its red-brick factories attracted thousands of immigrants from Cuba, Spain, and Italy. While the cigar industry has long since collapsed, the neighborhood still lies at the heart of Tampa's Latino community. It offers great Cuban cuisine, salsa clubs, and flamenco nights to enjoy.
While noted for its dining and nightlife, the area also has some attractive architecture and interesting historic sites to check out. It has been designated a National Historic Landmark District.
4. ZooTampa at Lowry Park
Another of the city's amazing animal-related attractions is ZooTampa, which is ten minutes drive north of the center in Lowry Park. Widely regarded to be one of the best zoos in the States, it houses everything from elephants and alligators to rhinos, tigers, and Komodo dragons.
Since founded in the 1930s, its collection has expanded considerably, and now includes birds and beasts from as far away as Africa, Asia, and Australia. While strolling about its diverse exhibits and enclosures you can learn about the animals and ecosystems they inhabit.
In addition, you can also take a safari ride through its African area, feed Indian rhinos, and splash about in the zoo's water park.
3. Lettuce Lake Regional Park
Twenty minutes drive to the northeast of downtown is Lettuce Lake Regional Park. Offering all kinds of outdoor activities, it has diverse ecosystems with educational exhibits and displays. You can also learn about the park's animals and nature at its visitors' center.
Protected since 1982, its sprawling confines encompass a wide array of Floridian ecosystems. Fresh water wetlands and a floodplain are found alongside woods, swamps, and the winding Hillsborough River. Besides wandering along beautiful boardwalks, visitors can also kayak or canoe along waterways; playgrounds and picnic areas also on offer.
2. Tampa Riverwalk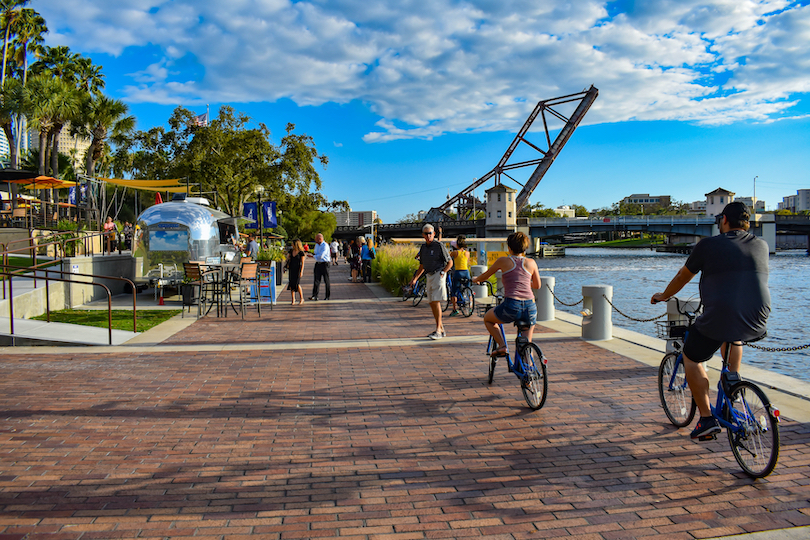 Stretching just over 2.5 miles in total, the Tampa Riverwalk meanders its way alongside the Hillsborough River and connects many of the city's main sights. Very peaceful and picturesque, it takes you from downtown Tampa and the Arts District to the arena and aquarium in the Channelside District.
Constructed in the seventies, the pretty pedestrian path has helped to rejuvenate and revitalize the city's waterfront with parks, public artworks, and playgrounds lining the route. As you stroll along the promenade, you can also enjoy fine views over the river and stop off at its numerous cafes, restaurants, and shops.
Additionally, the Tampa Riverwalk passes enticing attractions such as the Tampa Museum of Art and the Straz Center for the Performing Arts, among many others.
1. Busch Gardens
No trip to Tampa is ever complete without exploring the world-famous Busch Gardens, one of the most iconic theme parks in the US. Since opening in 1959, the African-themed park has delighted countless generations with its endless array of amusement rides, animal exhibits, and live entertainment shows.
Located just fifteen minutes drive northeast of the center, the park covers a huge area and has ten different zones to explore. While the Serengeti Plain is home to hundreds of free-roaming animals such as giraffes, rhinos and zebras, the Egypt and Congo zones both boast thrill rides and rollercoasters.
Besides all its exciting rides and animal attractions, Busch Gardens also has superb shopping and dining, spellbinding shows, and music performances in the Pantopia and Morocco sections of the park.
Map of Things to Do in Tampa, Florida