Known as "The Sunshine State", Florida is heavily focused on the tourist trade. The beaches are one of the most popular tourist attractions in Florida, along with some of the world's best known theme parks, including Disney World, Universal Studios, and SeaWorld. However some of the state's best secrets are in secluded locations away from tourist areas and well worth seeing. Regardless of preference Florida has something to offer for any kind of traveler.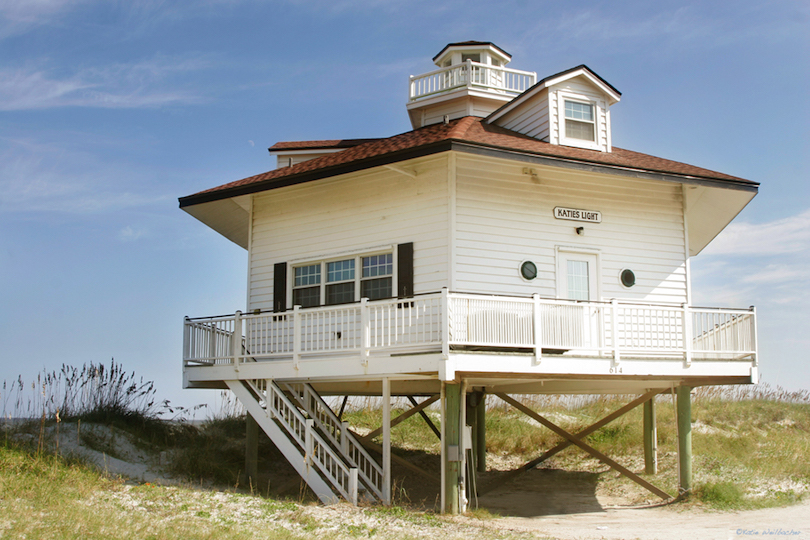 flickr/katiew
Amelia Island is one of the southernmost of the Sea Islands, a chain of barrier islands that stretches from South Carolina to Florida. Amelia Island is home to Fernandina Beach, a charming shrimping village with 50 blocks of historic buildings, delightful eateries, and unique B&Bs and six golf courses.
9. Castillo de San Marcos
[SEE MAP]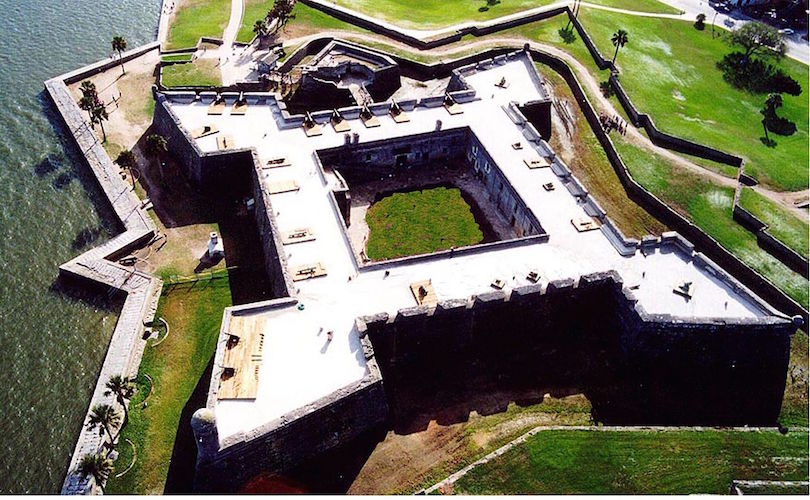 Located in the city of St. Augustine, The Castillo de San Marcos site is the oldest masonry fort in the United States. Given the fine state of the Castillo de San Marcos National Monument it's difficult to believe that the fortress was built in the late 1600s. Its longevity is due to its design: a diamond-shaped rampart at each corner maximized firepower, and 14 feet thick walls reduced its vulnerability to attack. St Augustine itself is a small jewel of a city known as the oldest European settlement in the United States, full of romantic ambiance and old world charm.
8. Universal Orlando Resort
[SEE MAP]
flickr/Photography MC
Universal Orlando Resort is the top ranked challenger to Disney, as the largest of the Universal Studios Theme Parks. The resort consists of two theme parks: The original Universal Studios Florida and the second theme park, Islands of Adventure. Other attractions include a nightclub and restaurant complex, CityWalk, and three resort hotels.
The Universal Studios Florida opened in 1990 as a theme park that lets visitors "Ride the Movies." The themes of Universal Studio's are targeted at making guests feel like they are in a movie set with rides, shows, and attractions inspired by popular film, television, and music productions. The park consists of 6 themed areas – Hollywood, Production Central, New York, San Francisco, World Expo and Woody Woodpecker's Kidzone.
Universal's Islands of Adventure is a theme park composed of 7 distinct "islands" that are themed to various forms of adventures. Visitors start off in the Port of Entry and make their way through the various islands.
7. Fort Lauderdale Beach
[SEE MAP]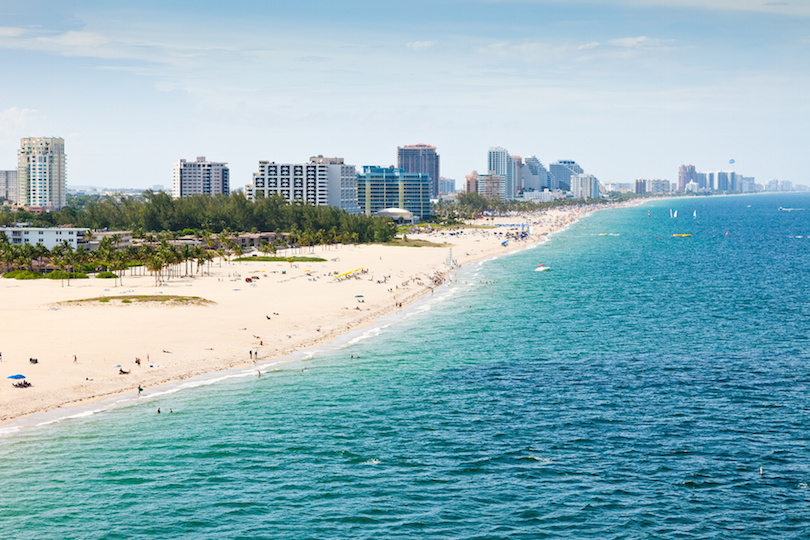 Located on the Atlantic coast, Fort Lauderdale is known as the "Venice of America" due to its expansive and intricate canal system. The city is most famous for its beaches and boats. Once a major spring break destination it is now a stylish and sophisticated city. Central along the beach strip is Fort Lauderdale Beach, with its crisp, new, wavy-walked promenade separating the beach from the low-rise lodgings, restaurants, and beach shops.
6. Kennedy Space Center
[SEE MAP]
flickr/nasa hq
Kennedy Space Center has been the launch site for every US human space flight since 1968 and currently operates as a launch site for unmanned rockets. It is also one of Florida's tourist attractions and the Kennedy Space Center Visitor Complex offers museums, movies, a rocket garden and bus tours of important shuttle preparation and launch facilities. Before a rocket launch, the Visitor Complex also sells "launch passes" but keep in mind that for safety reasons, the closest approach available is at least 4 miles away, and often much further.
5. Walt Disney World
[SEE MAP]
flickr/Etrusia UK
Walt Disney World, located in Lake Buena Vista near Orlando, is the flagship of Disney's worldwide theme park empire and the most popular tourist attraction in Florida. It is also by far, the world's largest and most-visited theme park resort. The centerpieces of Walt Disney World are the four theme parks: The Magic Kingdom, Epcot, Disney's Hollywood Studios, and Disney's Animal Kingdom. Some visitors describe it as a place of fun, magic and fantasy while others complain of crowds, artifice, and unrelenting tackiness.
Walt Disney World, located in Lake Buena Vista near Orlando, is the flagship of Disney's worldwide theme park empire and the most popular tourist attraction in Florida. It is also by far, the world's largest and most-visited theme park resort. The centerpieces of Walt Disney World are the four theme parks: The Magic Kingdom, Epcot, Disney's Hollywood Studios, and Disney's Animal Kingdom.
Magic Kingdom, is the first-built of the four theme parks at the Walt Disney World Resort. Opened in 1971, its layout and attractions are similar to Disneyland Park in Anaheim, California, and is dedicated to fairy tales and Disney characters. In 2012, the park hosted over 17 million visitors, making it the most visited theme park in the world.
Epcot is more than twice the size of the Magic Kingdom park. It is dedicated to the celebration of human achievement, namely technological innovation and international culture, and is often referred to as a "Permanent World's Fair." Disney's Hollywood Studios is dedicated to show business, drawing inspiration from the heyday of Hollywood in the 1930s and 1940s.
Despite popular misconceptions, the Florida resort is not within Orlando city limits, but is actually about 34 km (21 miles) southwest of downtown Orlando, much of it in southwestern Orange County.
flickr/jacreative
Key West is known as the southernmost city in the continental United States and is located closer to Havana than to Miami. For many years, Key West was the largest town in Florida, and it grew prosperous from the valuables of shipwrecks. Improved navigation led to fewer shipwrecks, and Key West went into a decline in the late 19th century. Although Key West today has been heavily restored and revitalized for the one million tourists that visit the island each year, the town has retained some of its sense of individualism and isolation, somewhat detached from the rest of Florida. Tourist attractions on Key West include Ernest Hemingway's former home, the Southernmost Point, the lighthouse and several drinking establishments.
flickr/Brian Evans
To the uninitiated, the Everglades might appear as a big swamp but it is actually a vast, shallow, slow moving river of grass that extends from Lake Okeechobee to Florida Bay. During the dry season it dries up except for the deeper places. It is an incredibly unique ecosystem, a subtropical wilderness that supports creatures such as alligators, bottlenose dolphins, manatees and bald eagles. And amid the mangroves, cypress, hardwood hammocks and miles of grass, there are endless opportunities in the everglades for hiking, bicycling, canoing, kayaking, boating, camping and fishing.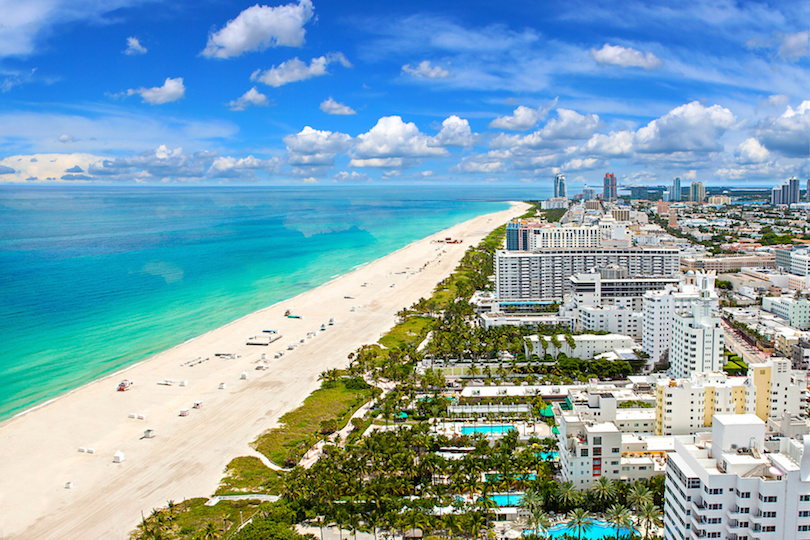 Before Miami Vice, South Beach was a place where crime kept residents indoors at night and hotels stood mostly vacant. In the late 1980s helped by the TV show's popularity a renaissance began in South Beach, with an influx of fashion industry professionals moving into the area. Today South Beach is the most popular and richest area of Miami Beach and one of the top tourist attractions in Florida. The area is known for its hip clubs and wild nightlife as well as its famous art deco design.
1. Overseas Highway
[SEE MAP]
The Overseas Highway, also known as U.S. Highway 1, connects the Florida Keys with the mainland. It stretches 127.5 miles (205.2 km) into the Gulf of Mexico, from Key Largo, Islamadora, Marathon, Lower Keys and finally to Key West, the most distant and most famous island. Much of the highway uses a route that was originally a railroad, originally built by the Overseas Railroad that was finished in 1912, but was pretty much destroyed by a major hurricane in 1935. The present highway opened in 1938, with one bridge that is almost seven miles long. The Seven Mile Bridge has been featured in films such as True Lies, 2 Fast 2 Furious, and Mission Impossible III.