This coastal city along the Gulf of Mexico in Florida has it all! The white sand beaches, great entertainment, and numerous wildlife hotspots are just some of the reasons you'll love your time in Fort Myers.
The city's trendy Downtown River District is where the old and urban come together and the nearby islands are another reason tourists visit year round (Florida tends to have pretty great weather). Some of the things to do in Fort Myers include spending lazy days on the beach on Estero Island or go snorkeling and spot some of the best local wildlife off the shore of Captiva Island.
The city has so much to offer that it has even attracted famous inventors like Thomas Edison and Henry Ford who once called Fort Myers home. You can visit their labs and put your mind to work designing the next great invention!
14. Hammond Stadium
This large outdoor stadium in Fort Myers is home to the Fort Myers Miracle, a fantastic minor league baseball team. The stadium was built in 1991 and can fit almost 10,000 fans at once.
Let's be honest, you can't come to a city in the US and not catch a game. The loud cheers, cold beers, and lively atmosphere will leave you in high spirits for sure. Check the dates for the next game and make sure you don't miss it.
They have plenty of drinks and food on offer, plus there is a gift shop that has every souvenir a fan could dream of.
13. Bowditch Point Park
Bowditch Point Park is located along the northern tip of Estero Island. There are beautiful white sand beaches you can come and relax on, so bring your suntan lotion and a good book. The palm trees will make you feel like you're in the tropics.
If you fancy being a bit more active you can explore the easy hiking trails through the park. Come with friends or family and make the most of the picnic and grill area by cooking up a tasty lunch. The park is also a hotspot for birdwatching.
You can get there by car in just 30 minutes from downtown Fort Myers. The drive takes you through San Carlos Island and along San Carlos Boulevard, across the bridge and onto Estero Island. It is a great place to see the best of the coastline of the Gulf of Mexico near Fort Myers.
12. JetBlue Park
This stylish ballpark is the spring training grounds for the Boston Red Sox team. Lots of features of this ballpark are inspired by Fenway Park that's just around the corner, like the Green Monster seating area and the manual scoreboard.
The JetBlue Park opened up in 2012 as a new addition to the Fenway South training complex. It's big and modern, accommodating up to 11,000 fans. There are six different practice fields.
It's just 20 minutes drive away from downtown Fort Myers, so there's really no excuse not to visit. Check the dates of the next big match and get your tickets in advance so you can join in on the fun.
11. Bunche Beach Preserve
This stretch of the San Carlos Bay is well-known amongst locals but kept more secret from tourists. The landscape along the Bunche Beach Preserve changes from sandy beaches to salt flats and mangrove forests.
In winter the park gets a curious, and rather famous visitor – pelicans! Birdwatching here is fantastic in general, but the pelicans attract a lot of attention. There are lots of kayaking trails through spectacular mangroves creeks, like the paths though Rock Creek, that you can't miss out on during your time in Fort Myers.
It takes about 20 minutes driving to get here from downtown Fort Myers, you can also easily combine your visit with a trip to San Carlos Island or stop there on your way to Estero Island.
10. Lakes Park
Looking to have some fun with friends and family outdoors? The Lakes Park has it all! There are plenty of play areas for kids; playgrounds, a rock climbing wall, splash park, and train themed attractions are all on the list. The kids will especially love Train Village and the Miniature Railroad that takes them on a 1.5 mile ride along the lake.
Bring a picnic and spend a slow afternoon in the sun. Take a stroll around the gardens or rent a bike or paddle boat and go on an adventure in Lakes Park. Another reason to visit is the host of rare birds, like the Scarlet Ibis and Black-crowned Night Heron, that visit in the nesting season.
If you're visiting in May don't miss the annual lakeside Country Bash that is hosted here, this small festival brings together all the best country artists from the region.
9. Butterfly Estates
The main attraction at the Butterfly Estates is the Florida Native Butterfly Society's conservatory. This little glasshouse is home to countless species of native butterflies from Florida and beyond.
Get up close to a wiggly caterpillar, then check out the incredible cocoons they metamorphosize in before coming out as colorful butterflies. If you get here in the morning you can watch the butterflies be released into the wild!
Once you are done exploring the butterfly house, eat one of Florida's signature dishes at the restaurant on the estate, or buy some souvenirs at the gift shop and bookstore. The estate is in the Downtown Fort Myer River District.
8. Captiva Island
Captiva Island makes a perfect day-trip from Fort Myers. There are lots of ways to explore this little island, like by biking or hiking the trails around the island or from the sea on a sailing boat.
Keep a lookout for wildlife, the island is a hotspot for bird watching and there are giant frogs hopping around. And it doesn't stop there, put your snorkels on and marvel at the tiny starfish off-shore.
Enjoy the slow-pace of island life for the day and relax on a sandy white beach, then catch a sunset at Turner Beach. If you want to do something a little more adventurous, go on a dolphin cruise.
7. Fort Myers River District
The Fort Myers River District is riddled with art, music, and great places to eat and drink. Come and spend the morning here at a cozy cafe drinking a hot coffee and reading a book before heading out to explore some of the best and most boutique shops in Fort Myers.
Get to know the history of Fort Myers with a trip to the Edison and Ford Winter Estates; there are acres of botanical gardens to stroll around. Then head to the Georgian mansion, the Burroughs Home and Gardens, and imagine how your life would be in this luscious home.
Later on, fill up on a barbecue or burger and end the night with a cold beer at a local bar – the River District has all the best of Fort Myers in one place.
6. Lovers Key State Park
This massive park has a bit of everything. There are canals, four barrier islands, beaches, and tidal lagoons – so whatever landscape you fancy, you'll find it. The park is called lovers key after the main barrier island in the park of the same name, and because it is a popular spot for romance.
There's lots of great native wildlife around, from small coastal birds and huge bald eagles to manatees and dolphins. Luckily you can now drive to Lovers Key State Park from Fort Myers; it's hard to believe it could only be reached by boat until 1965.
Start your visit at the Lovers Key Welcome & Discovery Center, where you can get handy information about the island and browse the gift shop. Don't leave the park without visiting the two mile long Lovers Key beach that was rated as one of the Top 10 in Florida by the Travel Channel.
5. Six Mile Cypress Slough Preserve
The landscape at the preserve is wet and boggy. This fine combination attracts alligators, turtles, otters, and a host of birds. People come here for the peace and quiet, but more than anything for the wildlife.
Stroll along the boardwalk around the wetland and enjoy the unique wildlife from a safe distance (alligators are best seen from afar!). Enjoy a little time away from the noise and chaos in Fort Myers, and leave feeling rejuvenated.
There's a visitors center you can head to before starting your walk. This little pocket of nature and wildlife haven is less than thirty minutes drive from the city – what's not to love?
4. Times Square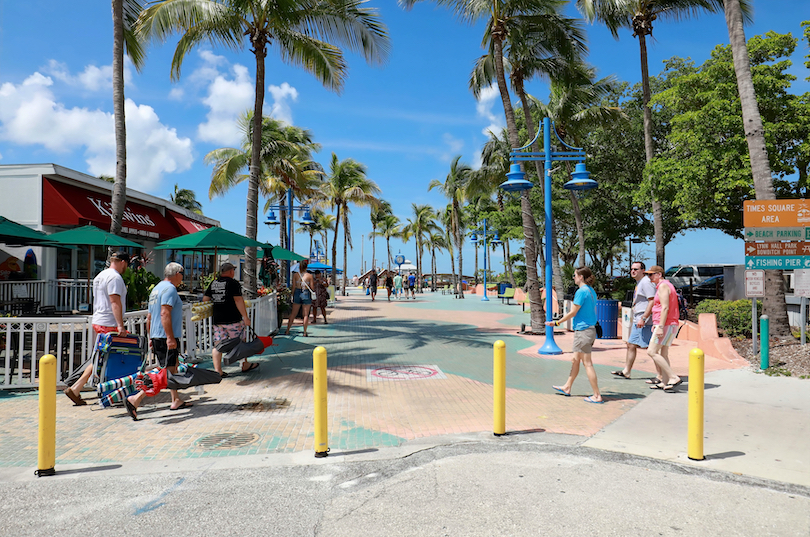 Florida's Times Square isn't as famous as New York's, but it's definitely delightful. The square is in the town of Fort Myers Beach, on the north end of Estero Island. There are lots of shops and great places to eat around the square, plus it's just a stone's throw away from a sandy beach.
After a day of shopping, lazing on the beach, and eating, catch a sunset from the square's pier and listen to some live music. The square is known for having great live musicians.
Times Square is one of the most popular spots to come on Estero Island, and it's less than thirty minutes away from downtown Fort Myers. If you fancy a mix of entertainment and relaxation, and a couple of cold beers – this is the place to come.
3. Manatee Park
FWC Research / Flickr
This park is home to Florida's most famous wildlife, the manatee. The animals' friendly nature and peculiar looks have given them the nickname sea cow – though it's also because they mainly feed on seagrasses.
Your best chance at a manatee sighting is in December, January, or February when the Gulf of Mexico gets colder and the manatees come looking for pockets of warmer water.
Manatee Park is less than 20 minutes drive away from Fort Myers and you can explore the waters by kayak – there's a kayak launch and rental shop in the park.
2. Fort Myers Beach
Fort Myers Beach is a town on the north tip of Estero Island. It's a popular tourist destination thanks to its beach, great entertainment (like live music at Times Square), and stunning sunsets.
You can come here on a daytrip from Fort Myers and spend a lazy day on the beach getting that summer tan, swimming, or doing water sports. Popular activities like kayaking and parasailing await – there are lots of rentals along the town's beachfront.
If you fancy doing something a little different, book a local dolphin tour or go on a fishing charter adventure.
1. Edison and Ford Winter Estates
The Edison and Ford Winter Estates have been open to the public since 1947, and there really is something for everyone to see and do here. If you love architecture you can visit the home where the great inventor Thomas Edison spent warm winters with his family. Most of the furnishings are originals left behind by the Edisons.
After, explore the Ford's property just across from the Edison's family home. If you like the outdoors, wander the beautiful botanical gardens instead and marvel at the 1928 Edison Botanical Research Laboratory.
Science fans will be in awe of the scientific labs where these two great inventors put their minds to work, and you'll love the museum that has old Ford automobiles and artifacts that helped Edison to create electric lighting!
Map of Things to Do in Fort Myers, Florida