Appropriately nicknamed 'The Natural State,' Arkansas is home to both the Ozark and Ouachita mountain ranges, with plenty of spectacular scenery on show. Coated in verdant forests, it boasts beautiful landscapes and natural wonders, with rivers roaring past rocky outcrops and spectacular state parks.
While its outstanding natural tourist attractions and incredible wilderness lends itself perfectly to all kinds of outdoor activities, Arkansas is also home to some lovely little towns and cities.
Map of Places to Visit in Arkansas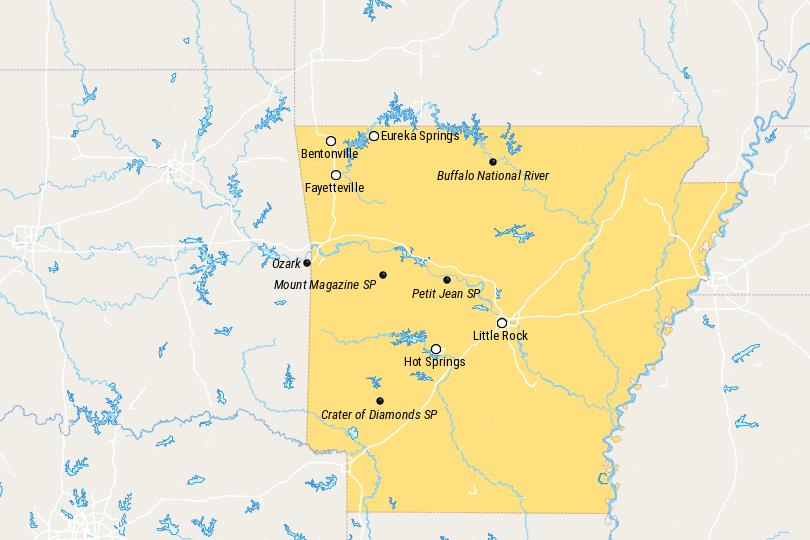 © OpenStreetMap © MapTiler © Touropia
For instance, Eureka Springs and Hot Springs are great places to visit in Arkansas as each has its own rich history, heritage, and architecture, while Little Rock is the economic, cultural, and political capital of the state.
10. Bentonville
Brandonrush / Wikipedia
Nestled away in the northwest of the state, Bentonville is best known for being the birthplace and headquarters of Walmart – the largest retailer on the planet. Over the years, its booming business has transformed what was once a sleepy town into a charming and quite cosmopolitan city.
While it's many corporate offices and unending urban sprawl are unremarkable, the center is full of artisanal stores, cosy cafes, and local restaurants. A handful of pretty parks and interesting museums can also be found scattered about, with the state-of-the-art Crystal Bridges Museum of American Art the pick of the bunch.
A very friendly and welcoming place, Bentonville sees lots of corporate visitors during the week, with weekends being quite peaceful and relaxed. On top of all this, the small city is an excellent base from which to visit places such as Eureka Springs and Branson, while the stunning scenery of Buffalo River and the Ozark Mountains also lies nearby.
9. Petit Jean State Park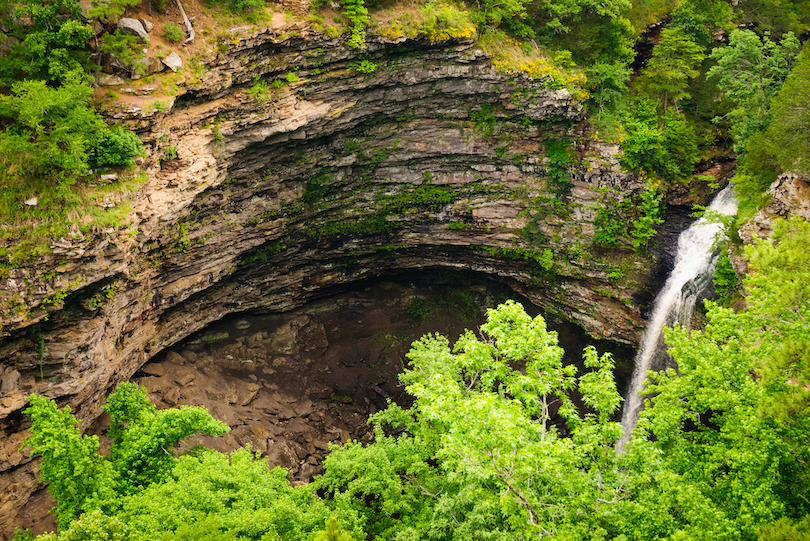 © Zrfphoto / Dreamstime
Home to wonderful wilderness, the picturesque Petit Jean State Park can be found in the north of Arkansas, not far from Morrilton. Local legend has it that the park is named after a young 18th-century French woman who tragically died while exploring the region.
As the story goes, she disguised herself as a man so she could accompany her lover on the expedition, only revealing her true identity on her deathbed. Set amid some lovely scenery, her grave can still be seen atop of the magnificent mount lying at the heart of the park. From its summit, visitors can enjoy superb views over the Arkansas River Valley, with epic caves, canyons, and forests dotted about its lower slopes.
While some great hiking can be had in the park, as well as fishing and boating on Lake Bailey, one of its most enchanting attractions is the sparkling Cedar Falls, which plunges 29 meters down a jagged cliff face.
8. Mount Magazine State Park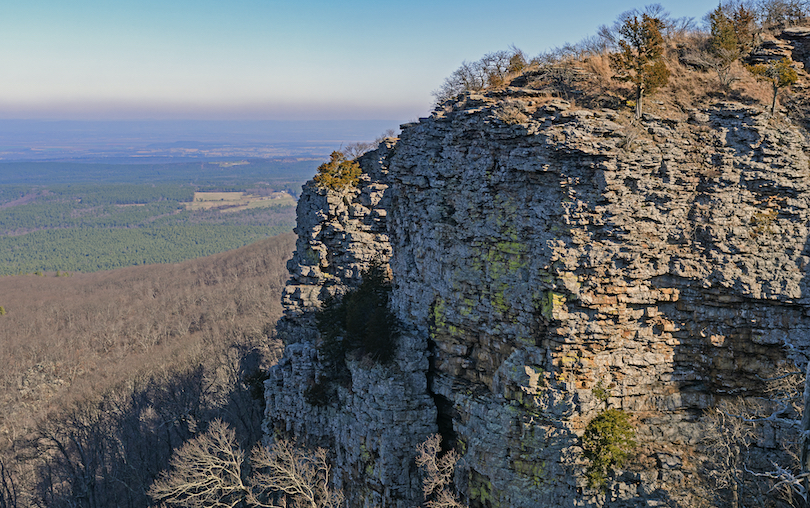 © Steven Prorak / Dreamstime
The highest point in Arkansas, Mount Magazine dominates and defines the state park of the same name with its hulking presence. Rising to 839 meters, the mighty mount gazes out over its surroundings, with forests, hills, and the sublime scenery of the Arkansas River Valley dropping away below.
Snaking about its slopes are many hiking trails and cycle paths for visitors to explore, while rock climbing, rappelling, and hang gliding are up for grabs in the higher reaches of the park. At the visitor center, there are interesting and interactive exhibits on the park's pristine nature and protected wildlife, as well as campsites and barbecue facilities for guests to make use of.
A number of glittering lakes can also be found dotted here and there, with fishing and swimming both on offer. Due to its wealth of recreation opportunities, splendid scenery, and fabulous views, Mount Magazine State Park is a very popular place to visit.
7. Crater of Diamonds State Park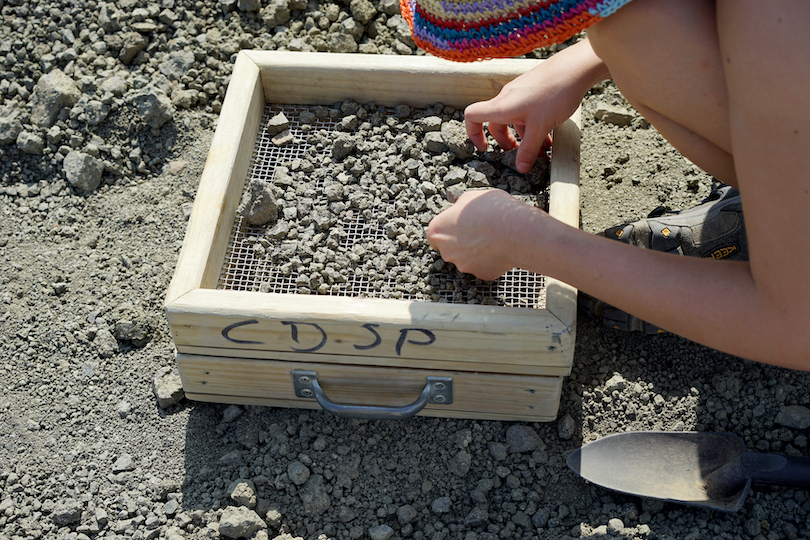 © Linda Williams / Dreamstime
Set in the southwest of the state is Crater of Diamonds State Park – the only place in the world where you can dig up your own diamonds. Since John Huddlestone first found two glimmering crystals all the way back in 1906, the area has enticed prospectors with the latest 'diamond rush' of tourists coming to try their luck.
Over the years, a remarkable 29,000 gems have been unearthed by visitors, who are allowed to keep whatever they find. While digging for precious gemstones is the main attraction, there is also a Diamond Discovery Center for visitors to check out, which offers a fascinating look at prospecting's past.
In addition, there is a cafe, a shop, and an aquatic playground on the premises, as well as some historic buildings to explore. While visitors find an impressive two diamonds a day on average, in 1990, Shirley Strawn found the Strawn-Wagner Diamond, which to this day is considered the only perfect diamond ever discovered.
6. Fayetteville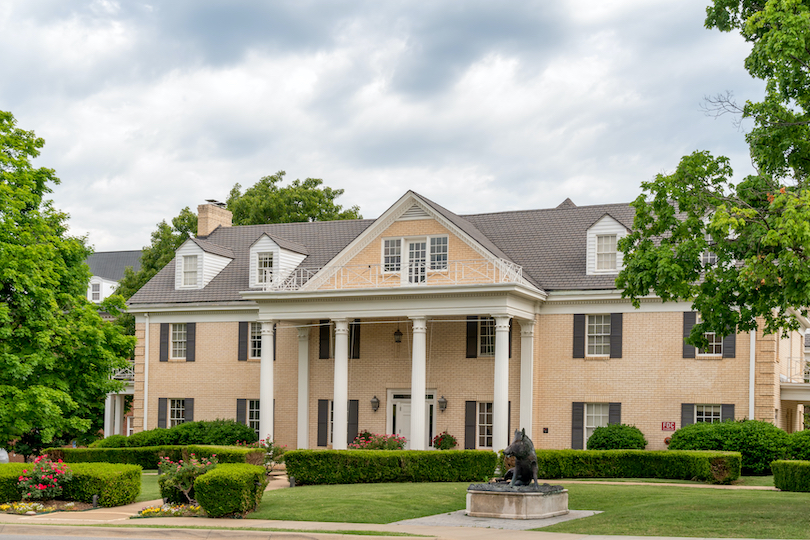 © Ken Wolter / Dreamstime
The third-largest city in the state after Little Rock and Fort Smith, Fayetteville lies deep within the Ozarks, not far from the Boston Mountains. As it is home to the main campus of the University of Arkansas, there is a lively and youthful feel about town, with plenty of bars, restaurants, and shops to discover.
Thanks to its large student body, it also has a thriving arts and culture scene, with live music, theater performances, and fun festivals. While it can get taken over by fans during college sports games, the historic downtown square boasts some beautiful old buildings and lovely landscaped gardens.
Together with Dickson Street, it is the center of life in the city; public buildings and boutiques are found alongside historic landmarks, nightclubs, and a weekly farmers' market. The area surrounding Fayetteville is home to lots of terrific hiking trails and cycle paths should you want to escape the center when game day comes around.
5. Buffalo National River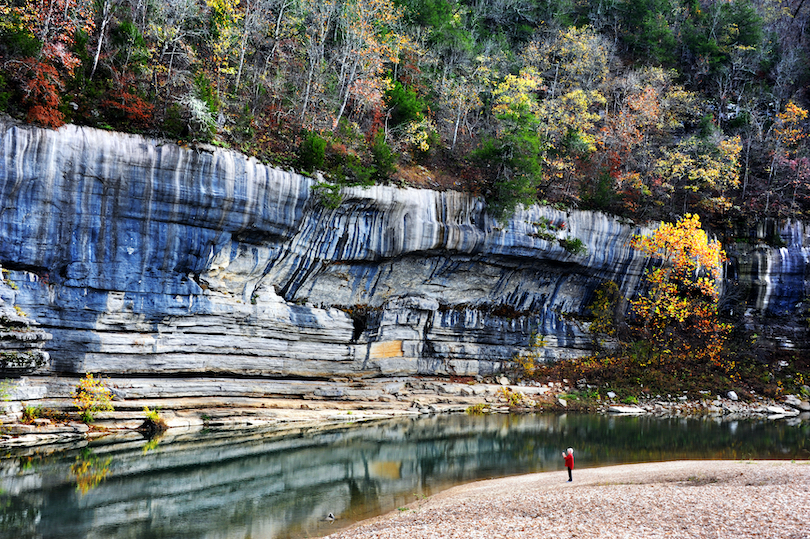 © Bonita Cheshier / Dreamstime
The first designated National River in the States, Buffalo River meanders magically through the divine landscapes of the Ozark Mountains. Protected since 1972, it is delightfully undeveloped, undammed and unpolluted, with its fresh free-flowing waters passing by breathtaking scenery.
Along its scenic banks, you can find everything from lush forests and sparkling waterfalls to massive limestone bluffs and jaw-dropping rock formations. There are even more than three hundred caves in the area. Besides its outstanding beauty and the countless ecosystems it encompasses, Buffalo National River offers a plethora of outdoor recreation opportunities.
Hiking and horseback riding along its banks are a treat, while kayaking or canoeing down the river is the best way to see all the stunning sights up close. On top of this, the area is home to some interesting historic sites, such as ancient bluff shelters and terrace village sites once used by Archaic Indians, and old cabins which housed early settlers.
4. Eureka Springs
© Patricia Cale / Dreamstime
As it is full of wonderfully well-preserved Victorian-style cottages, manor houses, and mansions, visiting Eureka Springs is like stepping back in time. Set across the steep slopes of a valley hidden away in the Ozarks, its mesmerizing mess of winding cobbled streets are a delight to explore, with lots of striking streetscapes on show.
Founded in 1879, it quickly became a popular resort town due to the numerous cold-water springs, which were believed to have healing properties. While its heyday has long been and gone, the entire city has now been placed on the National Register of Historic Places to preserve its delightfully distinct look and identity.
Besides wandering around town, visitors can go cycling, hiking, and horseback riding in the nearby mountains and forests. One of Arkansas' top tourist attractions, Eureka Springs is not to be missed out on for its unique architecture and heritage.
3. Ozark National Forest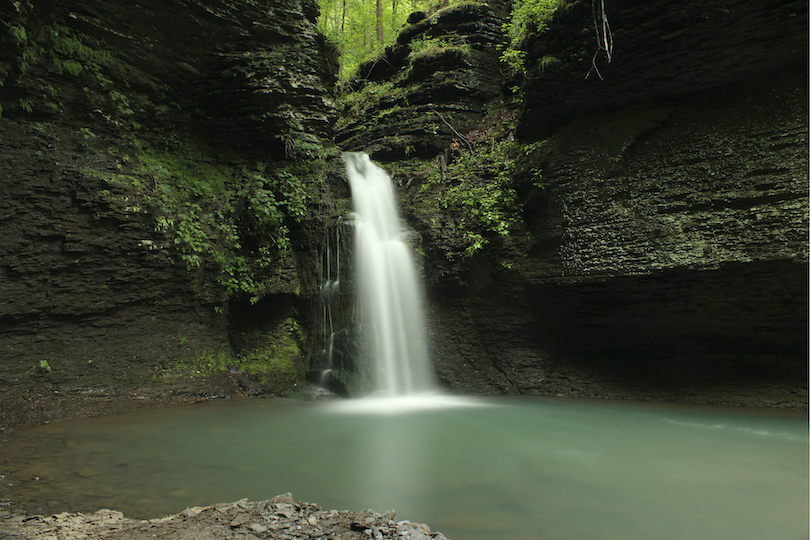 © Kelsey Manlove / Dreamstime
Covering a vast swathe of Arkansas, the vast Ozark National Forest boasts breathtaking scenery and landscapes and is usually grouped alongside the much smaller St. Francis National Forest. While the former encompasses the highest mountains in the state, the latter is one of the smallest yet most diverse forests in the country.
Together, they have more than 630 kilometers of hiking trails for visitors to explore, as well as nine swimming areas, 23 campsites, and countless scenic drives and picnic sites. Very mountainous and hilly, they are home to lovely old-growth forests, with 600 kilometers of bubbling streams and rivers coursing through the dense undergrowth.
Due to all the untouched and unspoiled nature, Ozark National Forest is a great place to hike or mountain bike. Swimming, fishing, and boating can be enjoyed on its beautiful waterways. Many people camp in the forest so they can wake up to the magnificent trees and natural beauty.
2. Hot Springs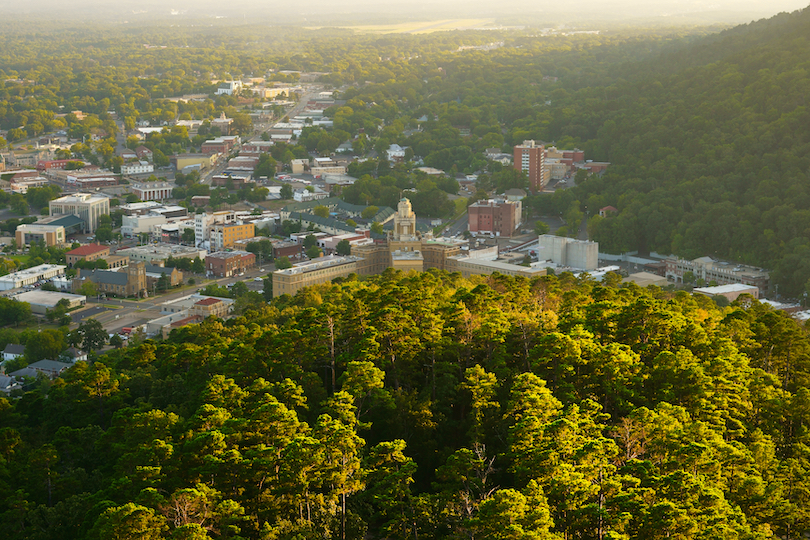 © 44Photography / Dreamstime
Lying amid the Ouachita Mountains, Hot Springs is a ravishing resort city named after its healing waters, which have long attracted people to the town. Founded in 1832, it developed into a popular spa town in the late 19th and early 20th centuries, with elegant bathhouses springing up around its thermal springs. As gambling and bootlegging also proliferated, mobsters such as Al Capone and Lucky Luciano used to vacation here – and presumably do business, too.
Nowadays, Hot Springs is noted for its attractive architecture, with fine Art Deco, Neoclassical, and Mission-Revival style buildings and bathhouses on show. Visitors can still relax in the warm, welcoming waters at Bathhouse Row, which is protected as part of Hot Springs National Park. Besides its restored spas and various museums and exhibits dedicated to their history and heritage, the town has loads of delightful mountain scenery and nature for visitors to enjoy.
1. Little Rock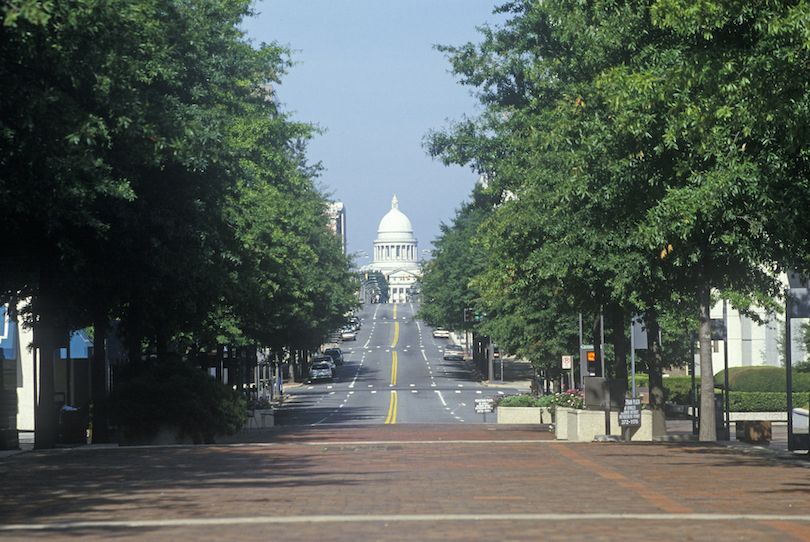 © Joe Sohm / Dreamstime
The capital and largest city of Arkansas, Little Rock is set almost slap bang in the centre of the state, on the banks of the Arkansas River. Named after a rock formation once used as a landmark and crossing point, it now acts as an important cultural, economical, and transport hub for the region.
Lively yet laidback, its historic downtown area has lots of exciting attractions; impressive landmarks and museums lie alongside art galleries, theaters, and cultural centers. It is also home to some peaceful and pretty parks, with Riverside Park proudly exhibiting the distinctive rocks after which the city is named.
Lots of fantastic cafes, restaurants, and bars can be found scattered here and there, while hiking, biking, and boating can be enjoyed in its stunning surroundings. While Little Rock feels quite small and unassuming for a state capital, it has more than enough to keep guests entertained for days, with both Ouachita National Forest and the Ozarks lying not far away.