This small town, nestled in the Ozark Mountains of Arkansas, is an area of outstanding beauty and the perfect destination for enthusiastic hikers, and all kinds of nature lovers. With plenty of rivers and lakes nearby, there are lots of opportunities to try out different water sports in the area.
The town itself is exceptionally lively for its size, and very picturesque. Most of the town's homes are old Victorian houses built into the mountain's landscape and its cliffs. Besides all the things to do in Eureka Springs, you'll be pleasantly surprised by how many events are hosted each year in this small mountain village. Whether you want to spend a luxurious and relaxing weekend away or get into the wilderness, Eureka Springs has it all.
In this post, we'll cover:
12. Lake Leatherwood
This man-made lake was born in the 1940s when a limestone dam was built to store the large amounts of natural spring water that feeds into the reserve. It is still one of the largest hand-cut limestone dams in the US!
The lake is surrounded by acres of beautiful woodland that you can visit on foot or by bike. There are over 25 miles of trails, with a variety of terrains, that you can explore during your visit.
If the water looks enticing, you can also go kayaking or canoeing on the lake or stand on the lake's edge and do some fishing. The nature, solitude, and adventures offered by Lake Leatherwood make it a must-visit during your holiday.
11. Onyx Cave Park
This is an ideal stop-off for visitors who have always wanted to explore underground caves, but aren't looking to spend hours in the cool, damp, dark environment within. The Onyx Cave Park is home to a small network of underground caves that take about half an hour to explore.
You'll get to see the incredible geographical formations within the caves that continue to grow and change throughout the years! Once you get cold and tire of the musky smell below, you can come up and try your hand at axe throwing or go wild in one of the Onyx Smashing Rooms.
After all your adventures at Onyx Cave are done you can head over to their shop and buy some unique souvenirs, like natural crystals, to take home.
10. Basin Spring Park
This small Park in the center of the town is a place of historical significance and legend. The natural spring, Basin Spring, that trickles away beneath the park was an important healing spring that was honored and used by Native Americans who lived on the land of Eureka Springs.
The spring attracted visitors who came with the promise of having their wounds healed and being cured of diseases by the spring's water. It later became the center of the town as plans were made in the late 1800s to build homes and streets around the Basin Spring.
You can stop for a rest in between activities at the small park, catch your breath, and soak in the impressive history of this little spring before continuing your holiday adventures.
9. Christ of the Ozarks
This large, imposing religious statue was erected in 1966 above the town. The statue of Christ is the village's own Christ the Redeemer. Though it's smaller than Rio's version, the Christ still stands 67 feet high!
The statue is on top of the nearby Magnetic Mountain, at some 1,500 feet of altitude. It's one of the town's most visited attractions. Each year hundreds of tourists climb the steep hill up to the statue, and marvel at its size.
Another interesting fact to spark your curiosity – the statue was built using 340 tons of concrete! A short walk from the town, the Christ of the Ozarks is a must-see on your visit.
8. Turpentine Creek Wildlife Refuge
psovart / Flickr
Eureka has its very own exotic rescue center, the Turpentine Creek Wildlife Refuge. The refuge has a variety of species of big cats within its walls. If you've always wanted to see one of these impressive animals but you had ethical concerns, this is a great way to do it!
The wildlife refuge provides a loving home for big cats that have been abandoned, abused, or neglected by their previous owners. You'll see tigers, lions, leopards, and cougars on your visit.
The refuge is a great opportunity to get up close to these extraordinary animals and learn about how they are cared for. A fun and educational day out for the whole family!
7. Quigley's Castle
Brandonrush / Wikipedia
Quigley's Castle was built by the Quigley family in the 1940s. This strange home is a one-of-a-kind, and its history is even more peculiar! Mrs. Quigley moved to the states from Italy as a young girl and grew up in the local area. She later happily married and had children in town.
But, she wasn't satisfied with the home they lived in. So, when her husband went to work one day, she and her children tore it down and moved into the chicken coop! Now she could get to work building the home of her dreams, Quigley's Castle.
The building's design and interior haven't changed since Mrs. Quigley passed away, and the gardens and home all reflect her love of nature. There's lots to explore in this unique house and its beautiful gardens!
6. Eureka Springs & North Arkansas Railway
This unique museum and its attractions are a blast into the past, taking its visitors back into a time when the railway was the most effective and used way to get around the country. A must-see for train enthusiasts, curious engineers, and anyone looking to do something out of the ordinary.
You can put your mind to work contemplating the old steam locomotive exhibits and wonder at the 1940s diesel locomotive in action!
The Railway center also offers its visitors the chance to ride the 1940s locomotive and enjoy a 1920s themed meal whilst onboard. If you fancy riding an old train but aren't looking for a meal, then you can hop on board a short excursion ride instead!
5. Blue Spring Heritage Center
Melanie / Flickr
This ancient land was once the home of the Cherokee, who found and were nurtured by the land during the Trail of Tears. The center has a rich history and areas of outstanding natural beauty for visitors to explore and contemplate.
A great day trip from the town, the Blue Spring Center has gardens full of native fauna and flora. There are lots of idyllic benches where you can stop and rest on your way around the winding paths that run through the grounds.
Another treasure of the Center is the Blue Spring. This natural spring pours 38 million gallons of freshwater into the center's lagoon each day and it is a hotspot for native trout species.
4. Beaver Lake
inc / Flickr
This big, crystalline lake is a popular tourist destination for water sport lovers and all kinds of nature enthusiasts. Beaver Lake is surrounded by green forests and grassy meadows with lots of hiking trails zig-zaging through them.
It's also an ideal place for bird watching, a gentle stroll around the lakeside, or a picturesque place to stop and read a book in the sun. You can also bring your fishing pole and try your hand at catching a bass!
If you want to get out onto the water you can boat, scuba dive, water ski, wakeboard, kayak, canoe, or go for a quick dip. You aren't short on options at the Beaver Lake, no matter what your interests.
3. St. Elizabeth's Catholic Church
The St. Elizabeth Catholic Church is a small, picturesque church nestled among greenery and nature on a small hill in Eureka. The church was built in 1908 and replaced the original chapel that was previously visited by worshipers from the area.
The church was erected using dolomite limestone from local quarries, giving it a stone cottage appearance. The bell tower was constructed later, in 1910, adding to the church's unique charm. The church underwent lots of remodeling after its construction, but the original structure still stands today.
Visitors can attend a daily mass at the church or walk around the church's grounds and interior and admire its unique appearance. You can also get married in the church!
2. Eureka Springs Historical Downtown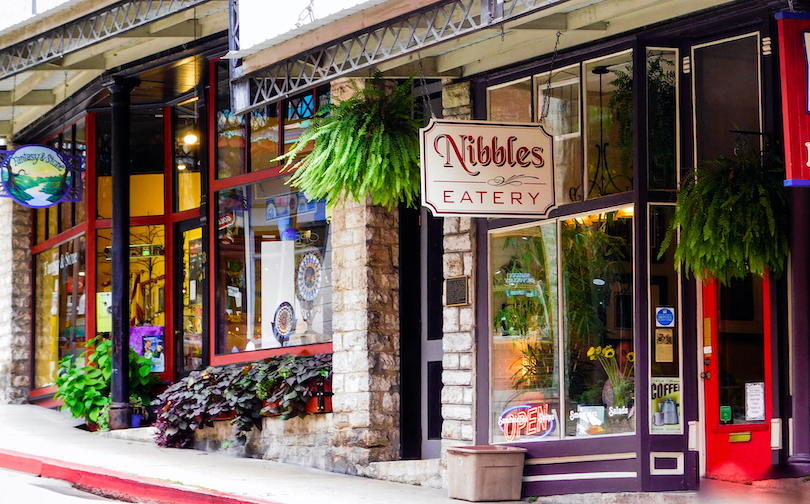 Downtown Eureka is the town's most lively area, full of locals and tourists enjoying the sun at a café in the morning and joining in the town's bustling nightlife later on. The streets of Downtown Eureka are great for shopping, dining, and meeting new people.
During your visit you can take a Downtown Walking Tour to learn about the town's unique history or sit peacefully and people-watch in Basin Spring Park, where it all began. If you head up to Spring Street, you can hop between art galleries and boutiques till your heart's content.
Eureka's Downtown has lots of accommodation for a range of budgets. It's near popular tourist attractions and practical facilities, the perfect place to live out your holiday adventures.
1. Thorncrown Chapel
This is one of the most unique and beautiful chapels you'll ever see. The chapel is nestled in between native woodlands, surrounded by nature. The chapel's exterior is made up of a simple wooden structure with lots of windows!
To be precise, there are 425 windows on the chapel's walls. With that much natural light and the incredible views around, you'll get the feeling that you aren't even indoors. There's trees and wilderness in every direction.
The chapel's magnificent setting and unique design have earned the Thorncrown lots of architectural awards since its construction. This woodland chapel is a must-see during your visit in Eureka Springs, there's really nothing like it anywhere else.
Map of Things to do in Eureka Springs, AR