This little city in Arkansas has a population of around 80,000 and is divided by the Arkansas river that passes through it. Fort Smith was founded in 1817 when a military post was constructed in what is now the center of the city.
The post became a popular spot for fur trade in the area. Once there was trade, the city was born organically and continued to expand over the coming centuries. Though quaint, there are a lot of things to do in Fort Smith with historical buildings and sites that offer visitors a glimpse into the past. History and modern life come together in Fort Smith.
In this post, we'll cover:
12. Clayton House
The Clayton House was built in 1882 as a family home for William Henry Clayton, his wife, and children when they moved into the city. The house has been maintained ever since and has become a popular attraction in Fort Smith.
You'll be greeted by the charming, colorful yellow exterior of the home. Once inside, you can browse all the original 19th century period furniture. This historic house really is a blast into the past and has been kept in excellent condition.
There is also a gift shop where you can buy souvenirs to take home after your tour of the house. The Clayton House is open to visitors every day of the week apart from Mondays.
11. Fort Smith Brewing Company
If you're a beer fan, then you need to head on over to the Fort Smith Brewing Company. They serve lots of delicious and cold craft beers on tap. Their entire beer selection is made locally using traditional brewing methods.
The lively taproom and patio at the brewery are great places to socialize with locals and other travelers, over a refreshing beer of course. So, get out and enjoy Fort Smith's nightlife with a trip to the Brewing Company.
The brewery even has a beer called 1817 that is brewed and served to celebrate the year Fort Smith was founded. The brewery occasionally hosts events like comedy shows, be sure to check their website in advance to see if they have anything going on!
10. Park at West End
This idyllic fair ground is close to the Arkansas River in Downtown Fort Smith. It is very quaint and styled to feel old-fashioned. It's a great place for families to spend a sunny afternoon; the rides and enthusiastic staff dressed in circus costumes will keep everyone entertained!
At the Park at West End, you'll be able to ride a unique Ferris Wheel that was a part of the 1935 World's Fair. There are plenty of other peculiar, old-fashioned rides at the park, most of them are likely older than you!
You can combine your visit to the West End with a walk along the Arkansas River or another activity in the city's bustling downtown area – you won't struggle to find things to do nearby!
9. The Unexpected Murals Project
This artistic project began in Fort Smith in 2015. The city wanted to bring art into its downtown neighborhoods and did it by using the urban landscape as a canvas. There are more than 30 pieces scattered around downtown Fort Smith to date.
As you walk around downtown Fort Smith you'll see huge graffities on brick walls, delicate sculptures on what was once empty floor space, and many more weird and wonderful pieces created by renowned artists.
The Unexpected Murals Project has added to the urban appeal of downtown Fort Smith by bringing art into the city in a modern and accessible way. If you like any of the pieces, you can pop into Miss Laura's Visitors Center to buy prints!
8. Belle Grove Historic District
This beautiful, old-fashioned area of Fort Smith was added to the National Register of Historic Places back in 1973 because of its charm and history. The district offers its visitors the opportunity to experience Fort Smith as it was during different periods of history.
There are outstanding properties in the district dating from the mid-1800s until now. Each home or public building in the area was built using a different architectural style. Whilst many of the properties have been restored, they still have lots of original features.
You can travel through time in Belle Grove and experience the city changing. Some of the most popular houses are The Clayton and Bonneville House, be sure to visit them! If you're interested to see the properties' interior, you can take a tour and explore the period furnishing.
7. Lake Fort Smith State Park
This popular recreational park is in the Boston Mountain Valley of the Ozarks, a hotspot for all kinds of nature enthusiasts. There's lots of different activities available to visitors, you'll find something whatever your interests.
If you want to spend some time out on the lake you can go fishing or kayaking. But if you'd rather explore the nearby nature from the ground, there are plenty of hiking and mountain biking trails around. Whatever you choose, you'll be able to enjoy the scenic views of the lake and surroundings.
If you want to begin exploring, but you're out of your comfort zone, you can ask staff about their lake and nature tours and let a friendly local take you on an easy and fun adventure. There are also accommodation options nearby for every budget! From low-cost camping to luxurious mountain cabins.
6. Farmers Market
This little farmers market is full of quaint stalls run by local farmers and artisans from Fort Smith and nearby towns. There are food stalls, jewelers, artists, florists, and so much more!
The market is on Garrison Avenue and runs all year-round, so no matter when you visit Fort Smith, you'll be able to enjoy the Farmers Market. But be aware that the market days and timetable change in the winter because of the weather.
The market often has musicians and street performers who come along and provide unique entertainment to locals and tourists. The market is a fantastic place to buy gifts to take home and sample delicious, local produce. The market gives visitors the chance to enjoy Fort Smith's community and meet the locals.
5. Trolley Museum
Fort Smith used to be full of old-fashioned streetcars that looked something like modern day trams and were historically the city's main form of public transport. The old streetcar routes around the city have mostly been removed, but you can still see parts of the old tracks around the city today!

The Trolley Museum has lots of exhibits of working and broken railcars. The museum tries to fix all their old-fashioned locomotives, so as you walk around you'll be able to watch the museum's mechanics at work.
One of the most famous railcars at the Museum is the 1926 Birney Streetcar, this electric locomotive is still running today! You can hop on board and ride the short ¾ miles of tracks left.
4. Fort Smith Museum of History
National Park Service
The museum is within the historic 1907 Atkinson-Williams Warehouse and has over 40,000 artifacts that visitors can contemplate. A visit to the museum is a fun way to learn about the history of Fort Smith.
There is lots of information about the life of William Darby, who founded the Darby Rangers in the city during World War II. You can explore old-fashioned woodworking tools, and an exhibit on the history of Fort Smith's African American community.
There's also lots of exhibits of 19th century furnishings from the court of Judge Isaac C. Parker, who became known as the hanging judge after sentencing 160 people to death during his career. Fort Smith's history really comes alive when you're in the museum.
3. Parrot Island Waterpark
This outdoor waterpark is a great summer destination for families. The waterpark has lots of fun play areas and rides that will keep the kids entertained. In the meantime, you can sit back and relax!
There are water slides, swimming pools, and a lazy river. There is also an aquatic play area that's safe for toddlers to splash around in. Plus, if you don't want to worry about packing a picnic, you can grab a bite to eat there.
There are lots of deck chairs and lawn spaces where you can sit and read your new book whilst the kids run around. Downtime is an important part of any holiday! All that said, make sure you pack your swimsuits for your holiday in Fort Smith, you'll need them!
2. Miss Laura's Visitor Center
Tom Holland / Wikipedia
This historic building is by the riverside in downtown Fort Smith. The old mansion is a reminder of the city's lesser-known past. It was once one of seven brothels in the city's historic red-light district.
The house was restored and is now a luxurious Victorian mansion, big and dazzling. You can take a free guided tour and get to know the history of the building, which is now the town's visitors center.
The interior is decorated with period furniture and statues of women dressed in old-fashioned and exotic costumes. The center also sells prints of the pieces of art in The Unexpected Murals Project and has helpful city maps you can take with you.
1. Fort Smith National Historic Site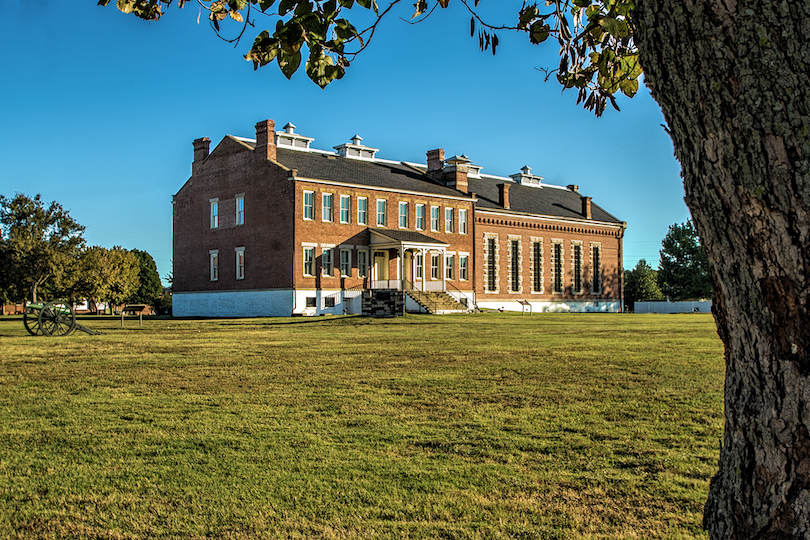 The National Historic Site is another great place to explore the curious past of this frontier city which lived through the Trail of Tears and had a scandalous reputation. The original 1817 fort was built on the site, and was later replaced by a second fort that became a military base.
In 1875 the site became a courthouse. The court once had jurisdiction over western Arkansas and the surrounding Indian Territory. The first appointed judge was Isaac C. Parker, now known as the hanging judge because of how many people he sentenced to death.
The National Historic Site is where it all began, and today it is open to visitors who can explore the remnants of the old forts and the old courthouse.
Map of Things to do in Fort Smith, Arkansas