Appropriately known as the 'Natural State', Arkansas is home to everything from rugged mountains and roaring rivers to vast forests and reflective lakes. Amidst all its stunning scenery and nature are some wonderful towns to live in and visit, with Little Rock being both its largest city and capital.
Set in the south-center of the States, its largely rural landmass includes both the Ozark and Ouachita mountain ranges. Hidden away amongst their wild reaches, you can find quiet communities such as Bella Vista and lively college towns like Fayetteville. Among the best cities in Arkansas is also the popular resort town of Hot Springs with its historic Bathhouse Row now being preserved as part of a national park.
Very underrated, both as a tourist destination and place to live, Arkansas is a very affordable state to settle down in with a lot going for it.
12. Siloam Springs
Tucked away right in the northwestern corner of the state on the border with Oklahoma is the small college town of Siloam Springs. A very friendly and vibrant place, it has a lovely historic downtown and happening arts scene for locals and tourists alike to enjoy.
Named for the numerous natural springs that dot the area, it sits atop a plateau in the Ozarks region of Arkansas. Thanks to its healing waters, the city first flourished as a health resort in the late 1880s before developing into a commercial center and transport hub.
Nowadays, it is instead mainly students who move here to attend the private, Christian John Brown University. Besides contributing to the buzz around town, they benefit from its safe streets, low cost of living and the epic activities on offer in the city's scenic kayak park.
11. Bella Vista
Also located in the Ozarks, the peaceful and picturesque Bella Vista is an increasingly popular place to put down roots and raise a family. Nestled away just north of Bentonville along the state line with Missouri, its calm and quiet neighborhoods lie next to gorgeous forests, valleys, creeks and lakes.
Originally founded in 1917 as a summer resort destination, it later became a retirement community before opening up to the public. While the city is still predominantly home to wealthy pensioners, a large number of young families have moved here in recent years due to its beautiful houses, brilliant schools and close proximity to Bentonville.
Hidden away amongst its verdant woods are seven sparkling lakes where residents can fish, swim or water ski to their heart's content. Loads of hiking and mountain biking trails also crisscross the area which even has some small waterfalls lining its charming creeks.
10. Texarkana
Jeff Keyzer / Flickr
One of only a few such cities in the States, Texarkana actually straddles the Texas-Arkansas border, with the state line running right through the middle of it. Although they are technically two separate settlements with the same name, the 'Texas Side' and 'Arkansas Side' usually function as one entity.
Both towns were established in 1873 at an intersection of two railroads which helped them thrive as a center of trade and transport. While TXK's rather unusual history, setting and identity is probably its most interesting feature, the city is a perfectly pleasant place to live with good housing, schools and jobs all being on offer.
Other than a handful of small museums and historic houses, entertainment comes in the form of the superb shows and concerts put on at the historic Perot Theater.
9. Rogers
Yet another attractive area to live in the Ozarks region is the medium-sized city of Rogers. Covering a massive part of the county southeast of Bentonville, it has a wealth of fun outdoor and recreational opportunities for people to enjoy.
As it lies within one of the fastest-growing metropolitan areas in all the country, lots of new houses, shops and businesses have sprung up in recent years. This means there are an increasing number of great bars and restaurants to try out in its historic downtown with the jobs market and housing stock also having kept pace.
Despite this rapid development, plenty of parks and green spaces still dot its neighborhoods. Right on its doorstep for instance is the spellbinding Hobbs State Park where you can hike, bike and camp amongst its lush forests and lakes.
8. Jonesboro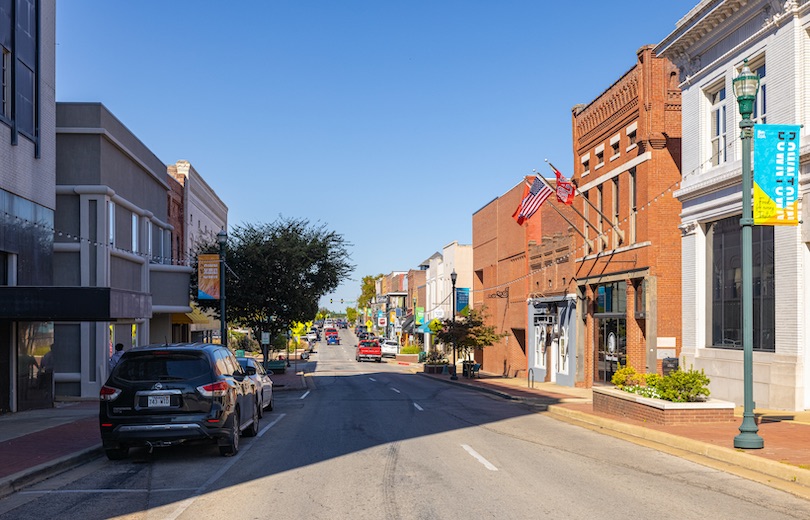 An important economic and cultural center for Northeast Arkansas, Jonesboro lies within the Delta region of the state. As well as a quaint historic downtown, it has a lively college town feel thanks to Arkansas State University's sizeable student population.
Founded in 1859, the ever-expanding city sits atop Crowley's Ridge with rolling hills and farmland lying all around it. While the large university campus houses several museums that either look at art or the natural history and culture of the region, countless shows and sporting events also take place.
The city's public school system, friendly community spirit and affordable cost of living attract loads of families to the area with some fantastic parks also dotted here and there. Another added bonus is that all Memphis' attractions and entertainment options lie only an hour's drive away.
7. Fort Smith
The third-largest city in the state, Fort Smith is located in the River Valley, right on the border with Oklahoma. Due to its size, it has some of the best shopping, dining and nightlife in Arkansas with many museums and theaters also being on offer.
Set at the spot where the Arkansas and Poteau rivers meet, it started life as a frontier military post in 1817 before becoming a popular stop for both westward expansionists and gold rush diggers. Now a huge economic hub, its endless employment opportunities and excellent amenities encourage plenty of families and young professionals alike to move to the city.
While some sights and museums whisk you back in time to the days of the Wild West, a very active music scene and packed events schedule help keep people entertained. As it is also a gateway city to the Ozarks, some stunning mountains and nature can be found nearby.
6. Hot Springs
Set amidst the Ouachita Mountains is one of the Natural State's most popular and picturesque tourist destinations. For well over a century now, visitors have flocked to Hot Springs for its healing waters with it now also being noted for its attractive architecture and beautiful old bathhouses.
In the late nineteenth and early twentieth centuries, everyone from celebrities and baseball teams to gamblers and bootleggers frequented the scenic little spa town. Over the decades, refined Art Deco, Neoclassical and Mission Revival-style buildings sprung up all along Bathhouse Row which is now protected as part of Hot Springs National Park.
Aside from visiting the well-preserved bathhouses and relaxing in their warm waters, you can hit up its casino and race track or splash about at the fun Magic Springs theme park. Hot Springs is a great city to live as lots of shops and restaurants occupy its historic buildings while residents also benefit from top public schools and low costs of living.
5. Conway
Well-loved by everyone who lives there, Conway has all the amenities and opportunities of a larger city but still retains its small-town community feel and charm. Nicknamed the 'City of Colleges' due to its three institutes of higher education, it boasts a dynamic cultural scene with idyllic nature spots like Lake Conway also lying nearby.
Although it is situated just half an hour's drive northwest of Little Rock and is actually considered a suburb, the city is somewhat unusual as most residents do not commute to the capital for work. This is because its colleges and tech start-up companies provide enough employment opportunities with Conway also acting as a shopping, sports and healthcare hub for the surrounding county.
Alongside its gorgeous campuses and nature trails, you can find pockets of bars and restaurants with an impressive number of festivals like the Faulkner County Fair also lighting up its social calendar.
4. Fayetteville
Second only in size to Little Rock, Fayetteville is now one of the most exciting cities in Arkansas as its large university lends its streets a lively, youthful feel. As all kinds of incredible concerts, shows and theater performances constantly take place, the 'Athens of the Ozarks' is a fabulous spot to settle down and start a career or a family.
Located deep within the Ozarks, not far from the Boston Mountains, its historical downtown square and Dickson Street act as the main center of activity in town. While the former is bordered by pretty old buildings and gardens, the latter is lined by countless bustling bars and nightclubs with a weekly farmers market also being held here.
Other than exploring its surrounding mountains and forests, watching the Arkansas Razorbacks play football, basketball or baseball is an absolute must due to the frenzied, festival-like atmosphere that takes over the city. Thanks to its outstanding quality of life and innumerable attractions, Fayetteville is often ranked among the best places in the States to live, work, study and retire.
3. Little Rock
Although it feels quite small and unassuming, Little Rock is somewhat surprisingly both the capital and largest city of Arkansas. Dotting its downtown area are dozens of museums and theaters for you to explore with its bright white capitol building being LR's standout sight.
Straddling the Arkansas River, it is actually named after a small rock that served as both a landmark and crossing point in the past. Since being founded in 1831 at a spot close to the state's geographical heart, it has grown into a key economic, cultural and transport center for the region.
As well as being very affordable for a capital, many families and young professionals live here for its endless attractions and entertainment options. Besides biking and boating about Riverfront Park, you can catch top-class shows at the Arkansas Arts Center or learn about the city and state's history at the Old State House.
2. Bentonville
While it is perhaps solely known for being the birthplace and headquarters of Walmart, Bentonville is actually a wonderful place to live and raise a family. Formerly a small, sleepy town, it has slowly transformed into a quite cosmopolitan city full of cozy cafes and little local restaurants.
Tucked away in the northwest of the Natural State, its unending urban sprawl is quite unremarkable for the most part as corporate offices and warehouses coat much of it. This however is very good for businesses and the local economy as countless corporate visitors pour in during the week.
As it is quite an affluent place, Bentonville consistently ranks highly for its excellent school system, housing stock and the public services provided. The Crystal Bridges Museum of American Art is its main attraction as priceless colonial and contemporary pieces are displayed and a splendid sculpture garden lies outside.
1. Cave Springs
AN / Wikipedia
Despite being part of the Northwest Arkansas metropolitan area, the quiet little community of Cave Springs feels a world away from the hustle and bustle of the cities around it. Usually named the best suburb to live in the state, residents enjoy a relaxed pace of life while Bentonville and Fayetteville's untold attractions and eateries only lie a short drive away.
Set in between them, next to the Northwest Arkansas National Airport, its peaceful neighborhoods are home to lots of beautiful houses and gardens. While property prices are steeper here, there is an astonishingly high rate of ownership with most people commuting to work in the nearby cities.
Aside from its outstanding schools and immaculate streets, locals also enjoy its small-town feel and welcoming nature.
Map of Cities in Arkansas to Live and Visit