Part of one of the fastest-growing metropolitan areas in the US, Rogers lies nestled away amidst the Ozarks of Northwest Arkansas. While much of it is made up of almost endless suburban sprawl, lots of spectacular scenery and nature can be found nearby.
Established in 1881, the same year that the St. Louis – San Francisco Railway arrived, the medium-sized city has a very attractive historic downtown area for visitors to amble around. While a handful of interesting museums and scores of excellent restaurants and shops line its quaint streets, the city's ample natural riches all lie along its eastern edge.
Here you'll find some of the best things to do in Rogers with the scenic waterways of Beaver Lake and Hobbs State Park to explore as well as incredible underground caves and towering limestone bluffs. Much more than just the site of the very first Walmart store, Rogers has a huge list of outstanding outdoor activities for you to enjoy.
12. Rogers Historical Museum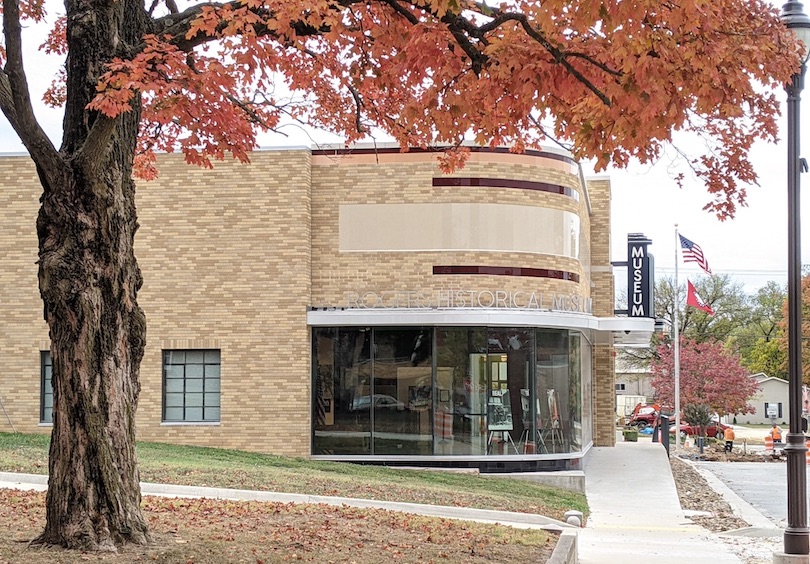 Rogers Historical Museum / Facebook
For those interested in learning more about the city and county's storied past, the Rogers Historical Museum is an absolute must. Set towards the southern end of downtown, its interactive exhibits and authentic artifacts cover everything from early pioneers and Native American tribes to rail transport and the White River.
Founded in 1974, it now occupies a beautiful brick building that was once an old Ford dealership in the forties. Inside, guests will find well-done displays on how the land was settled and farmed while other parts focus on Rogers' local industries, police force and rich rail heritage. Young ones can also play and build til their heart's content in the museum's children's gallery.
Across the road, the restored Hawkins House from 1895 offers up an interesting look into what life was like around the turn of the century.
11. War Eagle Cavern
wrcochran / Flickr
One of the most arresting natural attractions in the area, War Eagle Cavern lies around half an hour's drive east of Rogers, right next to Beaver Lake. On tours, your expert guide will teach you all about its age-old history and geology as you marvel at its dramatic-looking rock formations.
Once used by moonshiners for making the 'Devil's Brew', the pristine natural cave was formed over the course of millennia by the small stream that runs through it. Stunning stalactites and stalagmites line the route which also has a wonderful waterfall for you to snap photos of.
After taking in all its amazing features, visitors can pan for gems at its old prospector's camp above ground before heading off to explore the rest of the lake or adjacent Hobbs State Park.
10. Pinnacle Hills Promenade
Law7833 / Wikipedia
If instead of sightseeing you want to shop until you drop, then Pinnacle Hills Promenade is certainly the place to go. Lying alongside US Route 40 between Bentonville and Lowell, the sleek and stylish shopping center has scores of top-class shops and restaurants for you to try out.
Sprawling across a huge site, the lovely landscaped outdoor mall was opened in 2006 with Dillard's, JCPenney and Malco Theaters now anchoring it. In total, it has almost exactly a hundred businesses to peruse with chic local boutiques and big-name clothing brands lying next to cosy cafes, computer shops and Chinese restaurants.
Only adding to the attractive mall's appeal are the pretty fountains and flowerbeds dotted about and all the latest releases shown in its cinema.
9. Crystal Bridges Museum of American Art
Full of fantastic paintings, photos and sculptures, the Crystal Bridges Museum of American Art can be found in nearby Bentonville. One of the Ozarks region's top cultural institutes, its state-of-the-art campus lies in an idyllic spot amidst lush woods and reflective lakes.
First opened to the public in 2011, the magnificent museum was established by the wealthy heiress of Walmart Alice Walton. Its gorgeous glass-and-wood galleries house an incredible range of works that take you from colonial times right up to the present day. On show are masterpieces by Jackson Pollock, Georgia O'Keeffe and Andy Warhol among other big names.
Outside, you can wander around sculptures by Dale Chihuly and the reconstructed Bachman-Wilson House designed by famed architect Frank Lloyd Wright. Its satellite site The Momentary also hosts phenomenal performing arts shows, visual installations and festivals.
8. Ozark Beer Company
After all the sightseeing, shopping and shows, the Ozark Beer Company is the perfect place to catch your breath and enjoy a freshly pulled pint in peace. At their friendly and welcoming taproom right next to Railyard Park, you can sample some of their award-winning ales, IPAs and lagers.
Located on the eastern edge of downtown, the marvelous microbrewery was set up back in 2013 by local beer lovers Lacie Bray and Andy Coates. Its aging yet atmospheric old warehouse now makes for a very pleasant spot to sip their signature bestselling brew the Bourbon Double Cream Stout.
Aside from chatting to some affable locals over one of the successful company's small batch brews, you can also buy some beers and merch to take back home. It also regularly hosts live music nights and food trucks that attract locals and tourists alike.
7. Downtown Rogers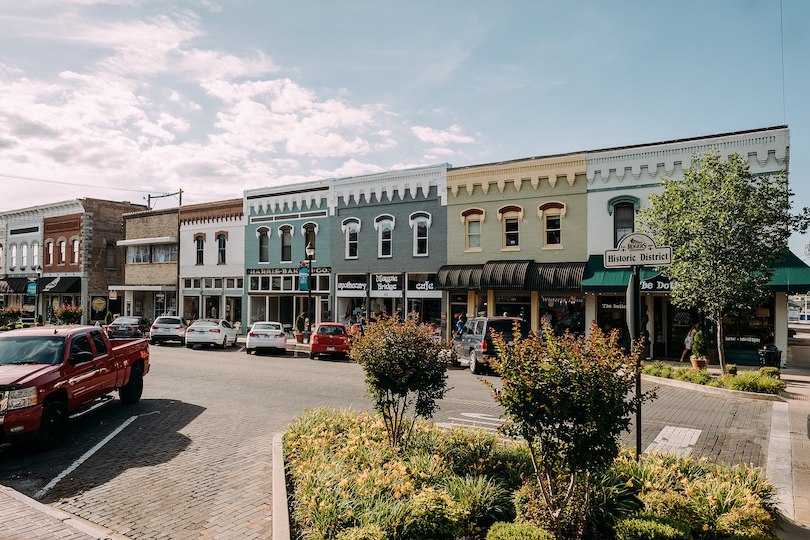 Law7833 / Wikipedia
The heart and soul of life in town, Downtown Rogers is where most of its best shops and restaurants can be found. Lined by loads of colourful old buildings and businesses, its brick-paved streets really are a treat to amble around and take in the ambience.
Spread across several blocks, its charming Colonial Revival and Italianate-style buildings dating to the late 1800s and early 1900s make a nice change from the suburban sprawl all around them. Many now house locally-owned restaurants and boutiques with eclectic art galleries and antique stores set alongside coffee shops and spas.
The delightful district also contains one of the city's main attractions the Daisy Airgun Museum and historic Victory Theater where you can watch concerts, plays and shows. In summer, a fun farmers' market is also held downtown.
6. Rogers Aquatics Center
Rogers Aquatics Center / Facebook
If Lake Atalanta or Beaver Lake don't appeal, you may instead want to head to the Rogers Aquatics Center. At the ginormous public water park, you can shoot down slides, plunge into pools or simply sunbathe on its spacious decks.
Long a firm favorite with families, the over eighty-year-old municipal pool was transformed into a regional destination and outdoor aquatics center in 2013. In addition to a lazy river and splash pads, it now has thrilling forty-foot speed slides and a whirling jet-propelled vortex pool to try out.
Besides all its plentiful pools and water features, there are also basketball courts, volleyball nets and a rock climbing wall to make use of. With concession stands and picnic areas also scattered about, you can easily spend all day at the park during the scorching summer months.
5. Lake Atalanta
Just east of downtown is yet another of the area's most popular places to head for awesome outdoor activities. Surrounded by lush woods and green spaces, the lovely Lake Atalanta has lots of peaceful picnic areas, playgrounds and fishing piers for people to enjoy.
Formed in 1936 following the damming of Prairie Creek, the sizeable man-made lake and its scenic shores are ideal for those looking to immerse themselves in nature. Although it was once lined by a swimming pool, ice skating rink and restaurant among many other facilities, these were demolished just over a decade ago as they'd fallen into disrepair.
Now restored to its former glory, the park has over ten miles of tranquil trails for you to hike or bike along with nature observation decks and covered pavilions also bordering the lake.
4. Hobbs State Park
Granger Meador / Flickr
Head just fifteen minutes drive further east and you'll find yourself amidst the stunning landscapes, scenery and nature of Hobbs State Park. Sure to delight outdoor enthusiasts, its endless trail system and countless campsites cover a huge part of Springfield Plateau, just south of Beaver Lake.
The largest conservation area in the state, it was created in 1979 with a myriad of sparkling streams and springs riddling its limestone landscapes. As you hike, bike or horseback ride around its woods, you'll pass loads of local fauna and flora with sublime scenery and views on show wherever you go.
In its superb visitor center, you can learn more about the area's ecosystems, animals and rich human history. Camping and kayaking are some of the expansive park's other popular pastimes with a gun shooting range and regulated seasonal hunting also on offer.
3. Daisy Airgun Museum
Back in the center of town is one of its top tourist attractions: the educational yet entertaining Daisy Airgun Museum. Here visitors can learn about the history of the American airgun manufacturer and see its amazing collection of old firearms and vintage promotional posters.
Initially formed in 1882 as a steel windmill manufacturing company, it soon moved into producing B.B. guns and pellet youth rifles as part of a successful sales promotion. Synonymous with airguns for well over a century, its memorabilia-filled museum now occupies a historical building that itself dates to 1896.
Aside from learning about its unlikely origins and perusing hundreds of old makes and models, you can also see the world's largest BB gun sculpture propped up outside and buy souvenirs in its store.
2. Beaver Lake
One of the most popular destinations to visit in Arkansas is the beautiful Beaver Lake which lies nestled away amongst the Ozark Mountains. Boasting almost 500 miles of spectacular shoreline, its towering limestone bluffs and vast forests offer up all kinds of exciting outdoor activities.
Remarkably enough, the enormous lake is actually man-made as the United States Army Corps of Engineers created it by damming the White River between 1960 and 1966. Besides Beaver Dam, they also built a dozen parks all with picnic areas, boat launching ramps and campsites dotted along its shores.
As such, nature lovers can hike alongside the lake, lounge on its beaches or fish and sail about while taking in its staggering scenery and views. The nearest point to downtown Rogers, Prairie Creek, its marina and campsite, is located just ten minutes drive away.
1. War Eagle Mill
A fascinating place to visit, the wonderful War Eagle Mill is tucked away in the scenic valley of the same name, just south of Hobbs State Park. Now the only working watermill in Arkansas, the quaint old landmark presents a charming picture of what rural life in the Ozarks used to be like.
While the first mill along the little creek was constructed in 1832, the current replica using the exact same blueprints only dates to 1973. This is because the historical mill has previously been destroyed three times by floods, fires and Confederate Army forces.
After crossing the century-old cantilever bridge before it, you can snap some fabulous photos of the bright red mill and even see its eighteen-foot-high cypress water wheel in action. Before heading off to explore the nearby park, it is well worth grabbing a tasty bite to eat in its restaurant and picking up some homemade flours and jams in its gift shop.
Map of Things to Do in Rogers, AR