Fittingly known as 'The Natural State', Arkansas boasts lots of simply spectacular scenery with cute little towns and interesting historic sights also scattered about. Due to all its diverse landscapes and pristine state parks, it really is a treat to travel around with plenty of fun outdoor activities on offer.
Set in the south-center of the States, it contains both the Ozark and Ouachita Mountain ranges while the beautiful Buffalo National River also winds its way through the state's untouched wilderness. As there are so many picture-perfect parts to explore, hiking, biking and kayaking are all very popular things to do in Arkansas. Countless cool caves and immaculate gardens also lie amidst its craggy karst landscapes.
Although Little Rock is its economic, cultural and political capital, most visitors instead head to Hot Springs and Eureka Springs. Both spa towns are home to exquisite architecture and relaxing thermal baths while, as always in the state, stupendous nature spots never lie very far away.
In this post, we'll cover:
23. Petit Jean State Park
A very pretty and peaceful place to explore, Petit Jean State Park lies in the centre of Arkansas, only an hour's drive northwest of Little Rock. Asides from basking in all its stunning scenery and nature, you can also enjoy all kinds of exciting outdoor activities amidst its wild and rugged reaches.
Founded in 1923, the attractive mountaintop park is supposedly named after a young French woman who died whilst exploring the area back in the eighteenth century. As the legend goes, she disguised herself as a boy so she could accompany her fiance on the expedition, only tragically revealing her true identity on her deathbed.
From her grave high up on the hillside, you can now take in spellbinding panoramas of the Arkansas River Valley below. Its forested slopes also have some incredible caves and canyons to explore with the jet-white waters of Cedar Falls being another of the park's standout sights.
22. Botanical Gardens of the Ozarks
Tanya Impeartrice / Flickr
Home to loads of colourful plants, flowers, trees and shrubs are the Botanical Gardens of the Ozarks on the north-eastern outskirts of Fayetteville. Very lovingly landscaped, it has plenty of tranquil trails for you to wander along and the state's only butterfly house to see.
Since being opened to the public in 2007, the gorgeous gardens have grown and grown with twelve scenic sections now lining its winding paths. While some parts contain fragrant lavender and lemon balm, others sport roses, perennials and herbs with much of its flora and fauna thriving throughout the four seasons.
There is also a wonderful Japanese Garden replete with calming rock and water features for visitors to amble about peacefully and a fun Children's Garden for kids to run around. Countless community events and small festivals are also held at the serene site over the course of the year.
21. Wegner Quartz Crystal Mines
Guaranteed fun for all the family, the Wegner Quartz Crystal Mines have numerous different areas where you either dig for glittering crystals or sluice for shiny gemstones. Located in an isolated yet idyllic spot amongst the Ouachita Mountains, it also has a great gift shop for you to stop by before heading home with all your precious finds.
In 1979, Richard J. Wegner moved to this picturesque part of west-central Arkansas after falling in love with the alluring beauty of the mountains. He soon unearthed seams of sparkling stones in his garden and so his successful business mining quartz crystals began.
Nowadays, his productive mines are visited by thousands of people each year, come to dig its open pits or chip away at exposed veins in the rock. As you take home all the valuable crystals you find, the tourist attraction is a fantastic place to pick up hard-won souvenirs while having fun at the same time.
20. Downtown Eureka Springs
As it is so remarkably well-preserved, a trip to the Victorian resort town of Eureka Springs really is like stepping back in time. Coating the sides of a steep valley in the Ozarks, its mess of meandering cobbled streets are lined by hundreds of cute little stone cottages and amazing old manor houses.
Just a year after being founded in 1879, the rural spa village had already expanded into a major city and tourist destination thanks to the healing nature of its cold-water springs. Its European look, feel and architecture saw it nicknamed the 'Little Switzerland of the Ozarks' with all the quaint city now protected as part of the Eureka Springs Historic District.
As you stroll about downtown or climb up its steep flights of steps, you can take in the impressive mansions and mountain views all around you. Studding its streets are some outstanding art galleries and restaurants with there of course being several spas and stately hotels to stay at should you want some pampering.
19. Mammoth Spring State Park
Right in the northeast of Arkansas on the border with Missouri is the magnificent Mammoth Spring State Park. Very fittingly named, it boasts one of the largest natural springs in the States with hiking trails, playgrounds and picnic areas lying all around the rushing waterway.
Already in 1887, a dam had been constructed across the spring to make use of its phenomenal flow rate that still averages a staggering nine million gallons per hour. Visitors to the park can now snap some fabulous photos of the small waterfall created by the hydroelectric dam and saunter along the shores of the shimmering Spring Lake.
A restored 1885 Victorian train station and its Frisco Railroad caboose also lie in its grounds while a very old mill helps convey the economic importance of the spring to the small city. From here, lots of people go kayaking or trout fishing along the Spring River.
18. Canoe the Buffalo National River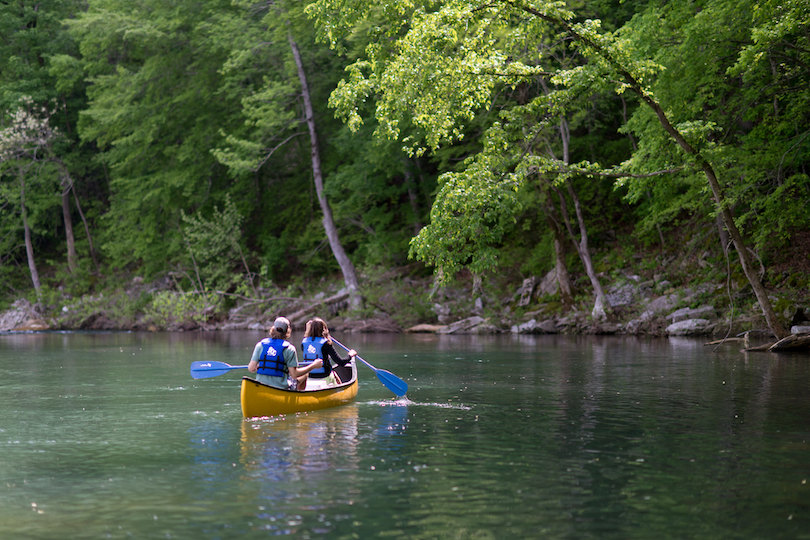 Buffalo Outdoor Center / Flickr
A lovely way to see even more of the state's striking scenery is to canoe along the Buffalo National River. Snaking its way for more than 150 miles through the majestic Ouachita Mountains, its waters pass vast forests, spectacular rock formations and twinkling waterfalls with jaw-dropping views on show wherever you go.
Since 1972, its fresh, free-flowing waters have thankfully been protected as part of the first National River to be designated in the States. As its banks are untouched and unspoilt and the entire course of its waters undammed, you can really immerse yourself in nature and enjoy the epic scenery.
Besides gliding gracefully along the river, you can stop off to hike along its banks or explore the secluded caves and sinkholes that riddle its karst landscapes. The region also has ancient bluff shelters used by Archaic Indians and the cabins of early settlers for you to uncover.
17. Walmart Museum, Bentonville
If you were wondering how one small local store became such a world-conquering brand, then don't miss out on the Walmart Museum in Bentonville. Through interesting exhibitions, short videos and photos, it charts the stunning success of Sam Walton's company which now runs over 10,000 shops in dozens of different countries.
As 'Vendorville' was the birthplace of what is now the world's largest retailer, it is only appropriate that the museum is located in what was once the original 'Walton's Five and Dime'. First opened in 1990, it looks at the early origins of the family, Sam's growth as a leader and businessman and how he founded Walmart in 1962.
As well as seeing his actual office and original artifacts, you can explore a timeline of the incredibly successful corporation's achievements. After learning about the gigantic retailer, head to the 1950s-style Spark Cafe next door for some soda and ice cream – Sam Walton's favourite frozen treat.
16. Mount Magazine State Park
Certain to delight both nature lovers and outdoor enthusiasts alike, Mount Magazine State Park lies in the northwest of Arkansas, amidst the endless Ozark National Forest. Home to the state's highest peak, its rambling forests, hills and valleys have all kinds of fun activities for you to enjoy.
Dominating and defining the park is the massive Mount Magazine which towers 2,753 feet in height with precipitous cliffs and steep drop-offs lining the mesa. Other than rock climbing and rappelling up and down its sheer sides, you can hike and hang glide about its upper reaches while enjoying all the commanding views over the Arkansas River Valley.
To make the most of its picturesque nature and wildlife, you can either camp or stay in The Lodge; a rustic, upscale mountain resort. The park's visitor center also has more information on the region's fauna and flora while some superb swimming and fishing can be had in its many glittering lakes.
15. Fort Smith National Historic Site
Once an important outpost established deep in Indian Territory, Fort Smith is now preserved as part of a National Historic Site. Set in a strategic spot overlooking the Arkansas River and Oklahoma, its complex covers law and order in the Old West and the forced displacement of local Indian tribes.
From 1817 to 1871, the US Army operated two frontier forts here in western Arkansas with a small town eventually springing up around them. They played a key role in the young country's westward expansion and also sadly later served as a major stop for the Choctaw and Cherokee peoples along the Trail of Tears.
In its visitor center, you can learn all about the forts' fascinating past and the lives of local lawmen, soldiers, Indians and settlers. While strolling around the sprawling site, you can see the foundations of the earliest fort and the reconstructed courtroom of the renowned 'Hanging Judge' Isaac Parker.
14. Bathhouse Row, Hot Springs
For almost two centuries now, Hot Springs in the Ouachita Mountains has been a popular resort city and spa town. Along its historic Bathhouse Row, you can amble about and take in the old buildings' attractive architecture or soak in the relaxing waters of its steaming springs.
Now protected as part of Hot Springs National Park, the row of eight elegant bathhouses were built about the thermal springs in the late nineteenth and early twentieth centuries. Back in their heyday, notorious gamblers, bootleggers and mobsters like Al Capone and Lucky Luciano used to vacation here amidst their opulent Art Deco and Mission Revival interiors.
While the Neoclassical-style Buckstaff is the only one to still serve as a spa, the Fordyce has tons of informative exhibits on the rich history and heritage of Bathhouse Row for you to peruse.
13. Clinton Presidential Library, Little Rock
Offering up a very interesting look into the life and legacy of the 42nd president of the United States is the Clinton Presidential Library. Located right in the heart of Little Rock, along the south bank of the Arkansas River, it has three floors full of artifacts and exhibits relating to the famous figure for you to explore.
Inaugurated in 2004, its large, gleaming building exhibits a distinctive design as its cantilevers over the river reflect Clinton's campaign promise of 'building a bridge to the 21st century'. Inside its well-done museum are numerous displays, photos and documents about the esteemed Arkansas politician and his presidency. Particularly impressive are its replicas of the Oval Office and Cabinet Room.
After seeing a timeline of his two terms and watching various video clips on Clinton's life, you can wander all around the lush, leafy park outside. It contains the historic old Choctaw Station and Rock Island Railroad Bridge which respectively date to 1901 and 1899.
12. Anthony Chapel
Asides from Bathhouse Row, Anthony Chapel and the idyllic grounds about it are the other standout tourist attractions in Hot Springs. Perched on a hillside overlooking Lake Hamilton, the lovely little church boasts some exquisite architecture that almost makes it feel as if you're still standing outside amidst all the park's towering pine trees.
Hidden away amongst the gorgeous Garvan Woodland Gardens, the serene sanctuary was built back in 2006 out of native wood, metal and glass. Propping up its 57-foot-high vaulted glass ceilings and gigantic windows is an intricate yet elegant system of crossbeams and columns. These seamlessly blend with the woods around the chapel with dancing sunlight streaming in all through the day.
Its spellbinding setting and unique design make the charming chapel a treat to visit and photo before exploring the rest of the peaceful lakeside gardens.
11. Blanchard Springs Caverns
While the Natural State certainly has a lot of stupendous scenery for you to enjoy above ground, the karst-riddled landscapes of the Ozarks in the north also contain some awe-inspiring caves. The most magical to visit are undoubtedly the Blanchard Springs Caverns which have three fantastic tours to choose from.
Tucked away in the Ozark-St. Francis National Forest, not far from Mountain View, the three-level cave system was opened to the public in 1973 after a decade of development. The largest cave in the state by volume, its surveyed passageways currently stretch just over eight miles in total with small streams still carving their way slowly through the limestone.
On ranger-led tours, you'll pass shining stalactites and stalagmites, through cavernous halls and see phenomenal formations like the Giant Flowstone which is one of the largest in the States.
10. War Eagle Mill
Jeff Weese / Flickr
Lying in the scenic valley of the same name in Northwest Arkansas is the wonderful old War Eagle Mill. The only working watermill still remaining in not just the Ozarks but all the state, it presents a very pretty picture of what rural life in the region used to be like.
While the current gristmill only dates to 1973, a mill has stood in the same exact spot alongside the creek since at least 1832. Over the years, various versions have been destroyed by floods, fires and even the marauding forces of the Confederate Army.
Now painted bright red, the mill and its eighteen-foot-high cypress water wheel were rebuilt using a set of the original blueprints from over a century ago. Other than watching it in action and snapping some pictures of the charming mill and cantilever bridge alongside it, you can buy homemade flours here or enjoy a meal in its restaurant.
9. Christ of the Ozarks
Balaji / Flickr
Long one of Arkansas's most popular tourist attractions, the Christ of the Ozarks looks out lovingly over Eureka Springs from atop of Magnetic Mountain. Visible for many miles around, the massive monument makes for some great photos while relaxing walks can be enjoyed in the park at its foot.
Erected back in 1966 as part of Gerald L. K. Smith's 'Sacred Project', the colossal sculpture of Jesus Christ stands 65 feet in height with its outstretched arms reaching exactly the same length. Designed by Emmet Sullivan who also worked on Mount Rushmore, it features a very modern and minimalist look. Few facial expressions are depicted and the lines and forms of the statue are quite simple.
After ogling at its staggering size and snapping some pics, you can visit the complex's gift store or see a section of the Berlin Wall. In summertime, many people come to watch the Great Passion Play performed at its outdoor amphitheater.
8. Turpentine Creek Wildlife Refuge
Just twenty minutes' drive south of Eureka Springs and the monumental sculpture is the Turpentine Creek Wildlife Refuge. At the sprawling sanctuary, guests can see over a hundred big cats prowling about with informative tours teaching you all about their natural habitats and behavior in the wild.
Very much a haven for abandoned and abused animals, the refuge has now been caring for leopards, lions, tigers and cougars since 1992. Over the decades, they have also taken in poor bears, monkeys and a macaw, all rescued from the exotic animal trade.
On either open-air tram tours or comfortable SUV safaris, you'll explore its large, natural areas and see the incredible creatures playing, eating and basking in the sun. A must for animal lovers, the site also has tree houses and glamping tents should you want to spend longer with the beautiful big cats.
7. Thorncrown Chapel
Remarkably similar to the Anthony Chapel is the equally special and serene Thorncrown Chapel. Nestled away amidst the woods to the northwest of Eureka Springs, the gorgeous wood and glass structure is a very memorable place to visit with lots of weddings taking place here each year.
Built in 1980, the lovely chapel was designed by E. Fay Jones, an apprentice of the famed architect Frank Lloyd Wright. Inspired by the Gothic Sainte-Chapelle in Paris, the towering wooden beams are clad in 425 glass windows that sparkle in the sun and blend perfectly with the forest around them.
Due to its exceptional artistry, it was accepted early onto a list of National Historic Landmarks with countless millions having visited over the decades.
6. Pinnacle Mountain State Park
In just twenty minutes' drive from Little Rock, you can find yourself amidst the sublime landscapes, scenery and nature of Pinnacle Mountain State Park. Named after the iconic landmark that offers up such arresting views over the Arkansas River, it has loads of fun outdoor activities for you to enjoy.
Since the 1800s, nature lovers have headed to the mount from the nearby capital to hike, rock climb and now bike about its forested and boulder-strewn slopes. From atop its lofty summit, visitors can gaze out over the glittering waters of the rushing rivers and reflective Lake Maumelle to either side.
Besides hiking along its numerous trails, other popular things to do include fishing and canoeing along its peaceful waterways.
5. Little Rock Central High School
Back in the center of the city is one of the most important historic sites in not just Arkansas but the country as a whole. It was at Little Rock Central High School in 1957 that the forced desegregation of schooling finally began in what was a hugely significant moment for the Civil Rights movement.
Still in use today, the absolutely enormous building with its imposing facade was built back in 1927 featuring some exquisite Gothic Revival-style architecture. On September 23, 1957, brave African American students later known as the Little Rock Nine succeeded in attending the high school that had previously only been open to whites. As they faced an angry mob, an army escort accompanied them as they courageously brought the segregated education system to an end.
At its excellent visitor center, you can see multimedia displays and watch an interpretive film on the integration crisis before taking a tour around campus. These provide more context on desegregation in the twentieth century and the Civil Rights movement.
4. Garvan Woodland Gardens
Along the shores of Lake Hamilton just south of Hot Springs is another picture-perfect spot for you to spend some time: the Garvan Woodland Gardens. As well as being home to the ethereal Anthony Chapel, it has plenty of pristine woods and waterfalls to wander around.
Named after the self-taught gardener Verna Cook Garvan who developed the site over a number of decades, its peninsula protrudes into the mirror-like lake around it. Now owned and operated by the University of Arkansas, the botanical garden contains all kinds of fauna and flora from the Ouachita Mountains with streams and trails winding their way amidst the trees.
Aside from strolling along its lakeshore, you can visit the chapel, picnic upon its banks and enjoy amazing holiday light displays at the end of the year.
3. Crater of Diamonds State Park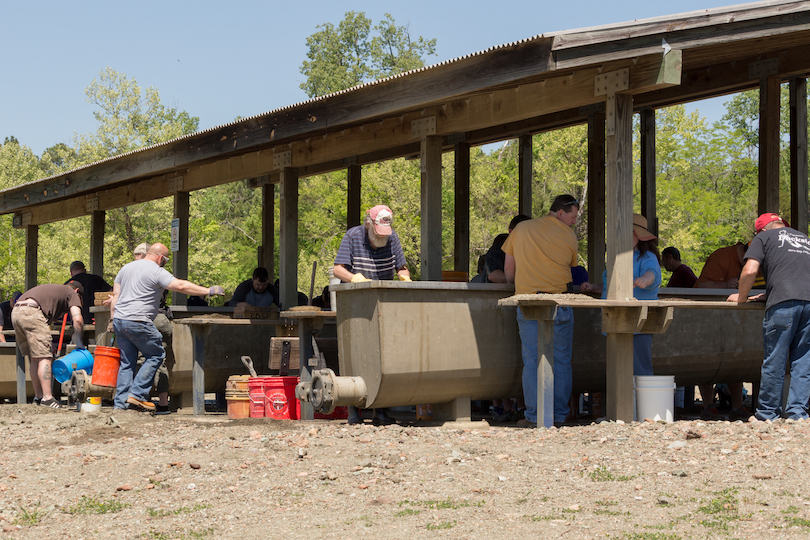 Impressively enough, Crater of Diamonds State Park is the only mine in North America where you can actually dig up your own diamonds to take home. Set in the southwest of Arkansas, just outside Murfreesboro, it also has a top-class Discovery Centre to stop by which provides an interesting look at the history of prospecting.
Since John Huddlestone first found two glimmering crystals on his farm in 1906, over 75,000 of the precious stones have been unearthed from the eroded surface of the volcano crater. On average, two visitors a day find diamonds at the state park with Shirley Strawn having discovered what many say is the world's only perfect diamond here in 1990.
Once you've had enough of all the hard work in the sun, you can check out its cafe and gift shop or splash about at the aquatic playground on the premises.
2. Hot Springs National Park
While Bathhouse Row and all its historic architecture is understandably what attracts most people's attention, much of the centre of Hot Springs and its surroundings are actually protected as a national park. As such, guests can hike about the Ouachita Mountains and explore downtown before kicking back and relaxing in some of its soothing springs.
One of the smallest yet most accessible national parks in the States, it was set aside as an important recreation area all the way back in 1832. Very mountainous in nature, its lush woodlands have more than 26 miles of trails to explore that take you past twinkling streams and bubbling springs.
In the heart of Hot Springs, you can amble along Bathhouse Row and enjoy all its grandiose Gilded Age architecture before learning more about the spa town's storied past in the Fordyce.
1. Crystal Bridges Museum of American Art
Boasting a world-class collection of paintings, photos and sculptures is the Crystal Bridges Museum of American Art in Bentonville. At its state-of-the-art campus, you can see astonishing masterpieces by renowned artists such as Andy Warhol, Georgia O'Keeffe and Jackson Pollock among others.
Set amidst some gorgeous woods and gardens with sparkling lakes also lying around it, the museum was founded in 2011 by Alice Walton, the wealthy heiress of Walmart. Its sleek and stylish building displays over 400 arresting artworks ranging from colonial times right up to the present day.
Outside, you can see stunning sculptures by Dale Chihuly and the brilliant Bachman-Wilson House which was designed by Frank Lloyd Wright and reconstructed on its grounds. As performing arts and visual installations can also be enjoyed at its satellite site The Momentary, the museum really is one of Arkansas and the Ozarks' top cultural institutes.
Map of Things to do in Arkansas