The second-oldest city in South Carolina, Beaufort is renowned for its scenic setting and charming Historic District. Full of amazing antebellum architecture, majestic magnolias and live oaks clad in Spanish moss, its peaceful streets are a delight to stroll around with interesting historic tourist attractions and centuries-old churches.
Located on Port Royal Island, the colonial city lies alongside the Beaufort River with marshes, islands, and the ocean nearby. As such, many of the best things to do in Beaufort include outstanding outdoor activities with phenomenal views and local wildlife viewing.
Although often overlooked in favor of Savannah and Charleston, Beaufort has a rich history and heritage and is often used as a filming location due to its picture-perfect streets and stunning setting.
In this post, we'll cover:
12. John Mark Verdier House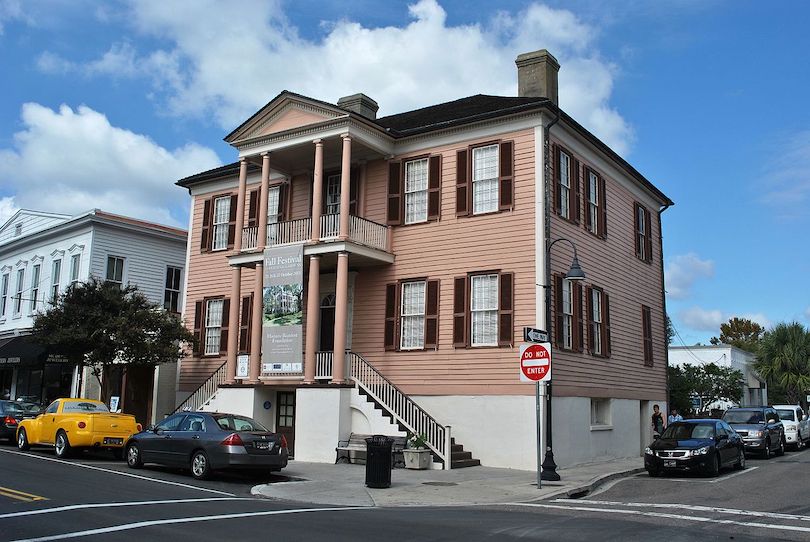 Elisa Rolle / Wikipedia
One of the most beautiful buildings in Beaufort, the grand John Mark Verdier House lies right in the center, a stone's throw from its other main attractions. Located just a block inland from the lovely Waterfront Park, it exhibits antebellum architecture and tours are available around its delightfully decorated interior.
A historic house museum, it was built in 1804 and is named after its former owner, John Mark Verdier, a second-generation French Huguenot. The elegant estate and its pretty two-story portico are a visible statement of his success as both a planter and merchant.
Nowadays its fine furnishings, period pieces, and excellent exhibits offer a fascinating insight into how the wealthy lived before the Civil War. The massive mansion also being recognized as a National Historic Landmark.
11. Beaufort History Museum
Just a short stroll away is the Beaufort History Museum. Full of amazing old artifacts and exhibits, it impressively covers over four centuries of the city's history in a very engaging and informative way.
Lying within the Historic District, the museum occupies the city's old Arsenal, which itself dates to 1798. Its extensive collection looks at Native American peoples, European explorers, plantation culture, the antebellum decades, and the American Civil War.
10. St. Helena's Anglican Church
One of the oldest churches in not just the city, St. Helena's is just to the north of the charming Beaufort Historic District. Still in use to this day, the church was established in 1712 with its soaring steeple towering above gorgeous grounds.
Although the original church dates to over a century earlier, the current building with its fetching facade and blindingly bright white exterior was erected in 1842. Used as a hospital by Union troops during the Civil War, its light-filled interior has graceful balconies and columns look down over its pulpits and pews.
It is also well worth strolling around its atmospheric old graveyard that contains historic markers, Palmetto trees, and live oaks.
9. Old Sheldon Church
The crumbling ruins of the Old Sheldon Church lie half an hour's drive north of Beaufort. Set in a scenic spot, its remaining brick walls, foundations, and portico make for a stunning sight with leafy trees rising dramatically all around them.
Built between 1745 and 1753, it was burnt down just decades later by the British during the Revolutionary War. Despite being rebuilt, it was again set ablaze by General Sherman in 1865 with only the shell of the massive Greek Revival-style structure still standing today.
Due to its scenic splendor and striking silhouette, Old Sheldon Church attracts locals and tourists alike, come to take photos or even hold romantic wedding ceremonies amidst the remarkable ruins.
8. Beaufort National Cemetery
One of the most moving and majestic cemeteries in the States, the Beaufort National Cemetery is a short walk or drive to the northwest of the center. Its lush green grounds are now the final resting place of over 19,000 service men and women.
Founded in 1863, the cemetery mainly contains the weathered graves of both Confederate and Union soldiers who fought and died during the Civil War. Over the decades, fallen comrades from every major American conflict have been buried here, including soldiers from the Korean, Vietnam, and Gulf wars.
Among them you can also find the graves of numerous generals, colonels and Medal of Honour recipients with lovely live oaks coated in Spanish moss dotted here and there.
7. Beaufort Kayak Tour
Beaufort is almost entirely surrounded by water, so a wonderful way to see as much of the city and its scenic surroundings as possible is to take an unforgettable kayak tour. From the center of town, numerous companies run excursions out to the nearby wetlands, sandbars and creeks, while others take you past the handsome homes of the Historic District.
Whichever option you choose, you are guaranteed a great time with stunning scenery, nature, and views. As you paddle peacefully about its endless waterways, your knowledgeable guide will teach you all about the local ecology and animals or about the history of the magnificent mansions you pass and the city itself.
In addition, some of the kayak tours take you out to see local wildlife with ospreys and herons to be spied alongside playful bottlenose dolphins.
6. Fort Fremont
The historic Fort Fremont lies at the entrance to the Beaufort River, just twenty minutes drive south of the city. Set on Saint Helena Island, the massive military installation was built in 1899 to protect both the city and strategic Port Royal Sound from attack.
One of only two surviving coastal fortifications in the country from the Spanish-American War era, the fort's dilapidated buildings, barracks and batteries are atmospheric to explore. While it once covered a huge area, most of it now lies in ruin, overgrown with plants, trees, and shrubs.
While an interpretive center, paths and other facilities are currently under construction, the fort is still well worth wandering around now as its decaying armaments and outbuildings make for such an arresting sight.
5. Spanish Moss Trail
Winding its way through South Carolina's Lowcountry, the scenic Spanish Moss Trail is a treat to hike, run or bike along. Popular with locals and tourists alike, it takes you past spellbinding scenery with interesting historic sites, beautiful views, and charming neighborhoods also dotted along the route.
Now stretching 14 miles in length, the paved path follows the bed of the former Port Royal Railroad as it meanders its way alongside the Beaufort River. Opened in 2012, it connects Seabrook to Port Royal and passes through parts of Burton and Beaufort on the way.
Aside from basking in phenomenal views of the wetlands and their wildlife, you can also see some incredible old antebellum homes with Spanish moss-covered trees – one of the symbols of the South – wherever you go.
4. Pat Conroy Literary Center
Just ten minutes' walk west of Waterfront Park you can find another of the city's top attractions: the Pat Conroy Literary Center. Named after the acclaimed South Carolinian author who lived in Beaufort, it has excellent exhibits on his life and literary works for you to peruse.
Founded in 2016, the state-of-the-art center is a fitting tribute to one of America's best loved authors who passed away earlier that same year. As well as housing a collection of his memorabilia, it also displays passages from his books that highlight his love for the Lowcountry and the city which inspired his famous works such as The Great Santini and The Prince of Tides.
As it regularly hosts talks, readings and writing classes, the center aims to keep his legacy alive by encouraging and supporting writers of all ages to follow in his footsteps.
3. Bay Street
Lined by bustling businesses, handsome historic homes and innumerable art galleries, the busy Bay Street lies right at the heart of life in town. Running alongside the Beaufort River, the vibrant street has a wealth of things for you to see and do and boasts delightful views out over the river and bay.
Set at the center of the Beaufort Historic District, it has countless shops and waterfront restaurants with interesting historic sites and museums. Aside from visiting places, such as John Mark Verdier House and the Santa Elena History Center, there are also unique and exquisite art galleries to check out.
In addition, visitors can take horse-drawn carriage rides along the scenic street which is bordered by pretty parks and the reflective river.
2. Waterfront Park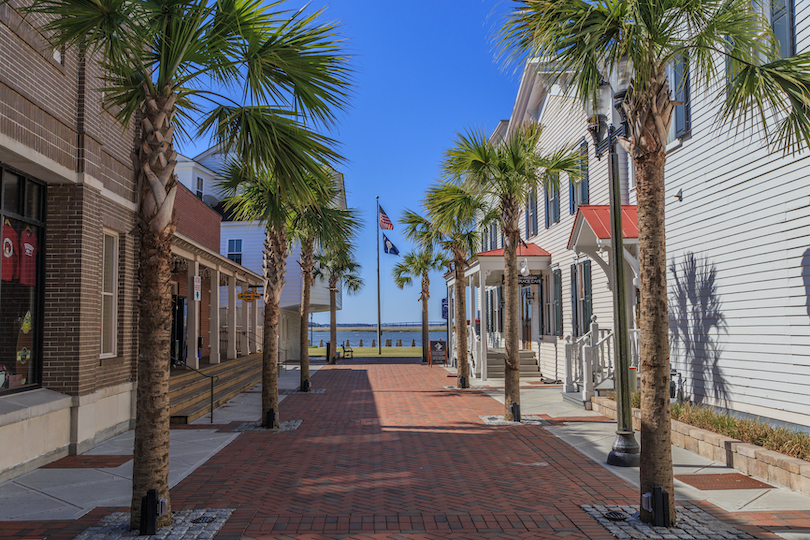 Located between both the Beaufort River and Bay Street is another of the city's most popular and picturesque places to visit: the wonderful Waterfront Park. Home to some lovely scenery and views, its green spaces lie in the Historic District, just a stone's throw from many of Beaufort's main tourist attractions.
Founded in 1975, it is actually named after the town's former mayor Henry C. Chambers who spent much of his career campaigning for parks and public spaces to replace the dilapidated old docks that used to clutter the waterfront. Thanks to his efforts, locals and tourists enjoy its peaceful paths, picnic areas and playgrounds.
Stop off for a coffee at a cafe, shop in the nearby stores or attend one of the numerous cultural events and festivals that take place in the park each year.
1. Hunting Island State Park
Half an hour's drive east of town you can find Hunting Island State Park, home to some of the most stunning coastal scenery in the state. Besides a breathtaking beach, it has an amazing old lighthouse with countless outdoor activities on offer.
One of the only undeveloped Sea Islands in the Lowcountry, the secluded semitropical barrier island offers spellbinding scenery and views. As well as its pristine beach and tidal lagoons, the park also includes maritime forests and marshes. Many of Forrest Gump's Vietnam War scenes were shot here.
Learn about the local wildlife, and see alligators, turtles, racoons and rattlesnakes. Stop by its nineteenth century lighthouse and enjoy fantastic views from up high. With excellent hiking, swimming and camping also on offer, the picture-perfect Hunting Island State Park is definitely not to be missed out on when in Beaufort.
Map of Things to Do in Beaufort, SC