Offering up romantic images of the Old South, Charleston is home to a huge historic district that is full of beautiful old buildings, charming cobbled lanes, and centuries-old tourist attractions. Both the oldest and largest city in South Carolina, it was founded in 1670 and occupies a peninsula in between the Ashley and Cooper rivers, just inland from the Atlantic.
Due to its rich history, heritage, and culture, Charleston attracts lots of visitors who come to see its attractive antebellum architecture and explore its vast plantations and gardens. While visiting the historic houses and museums is undoubtedly one of the top things to do in Charleston, the city is also renowned for its Southern hospitality which only adds to the charm of its atmospheric old streets.
In this post, we'll cover:
14. Drayton Hall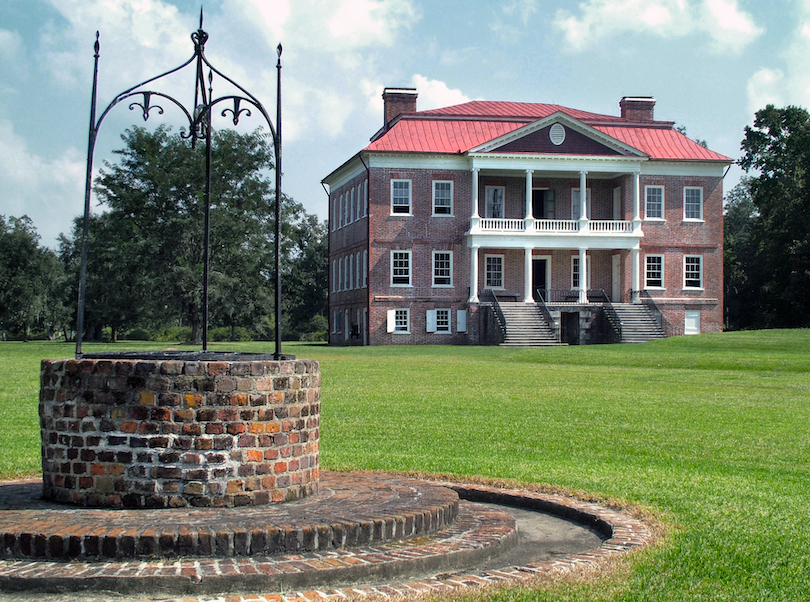 Nestled away just twenty minutes' drive to the northwest of the city center is Drayton Hall which is impressively the oldest surviving plantation house in the States. Very well-preserved but unrestored and unfurnished, it was built in 1738 and exhibits some outstanding Palladian architecture.
As its interior has lain untouched for centuries, the massive mansion and its elegant halls and rooms are fascinating to explore. Its tours and visitors' center offer an interesting insight into how both the plantation owners and the African Americans they enslaved used to live. Besides learning about its history, you can also stroll around the expansive estate's gorgeous grounds and gardens.
13. Aiken-Rhett House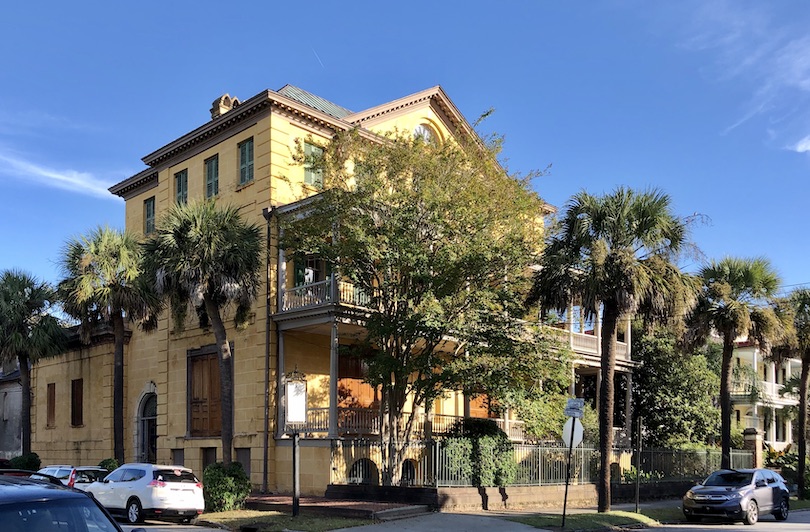 If you want to delve deeper into what life on plantations was really like, then it is well worth visiting Aiken-Rhett House which lies in the center of the city. Now a museum, the historic house, its slave quarters, stables, and kitchen are very thought-provoking to wander around and, like Drayton Hall, are conserved but not restored.
Considered to be one of the best preserved urban antebellum complexes in the country, the property highlights how cities such as Richmond, Savannah, and Charleston were home to huge populations of enslaved people. Aside from all its artifacts and artworks, visitors can take in the fine features of the house itself which was built in 1820.
12. The Citadel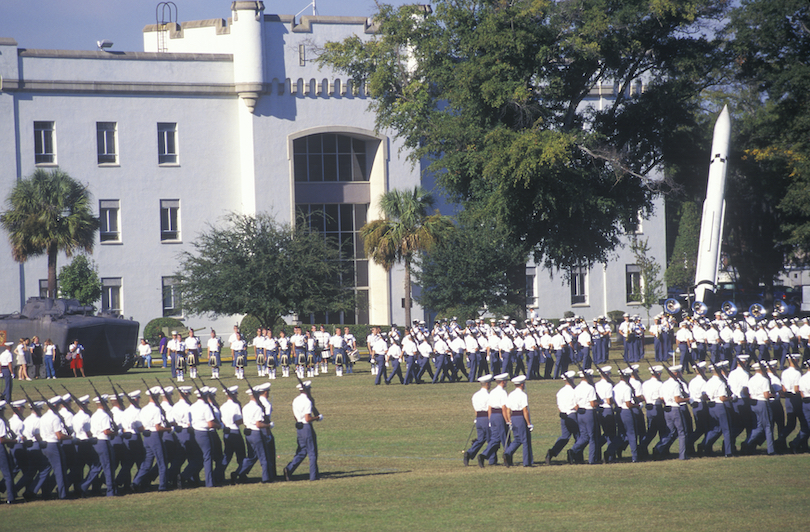 Home to lots of interesting landmarks, monuments, and memorials, the large campus of the Citadel can be found just ten minutes' drive northwest of the center. A very prestigious and historic military college, it was established in 1842 with tours taking you to see its splendid Spanish Moorish-style schools, barracks, and parade ground.
Besides strolling about the colorful Checkerboard Quadrangle of Padgett-Thomas Barracks, guests can stop by the lovely Summerall Chapel and distinctive Howie Bell Tower. Also scattered here and there are monuments and memorials to military campaigns and personnel. Once a week, visitors can watch a full dress parade where the regimental band and pipes put on a rousing performance.
11. Charleston City Market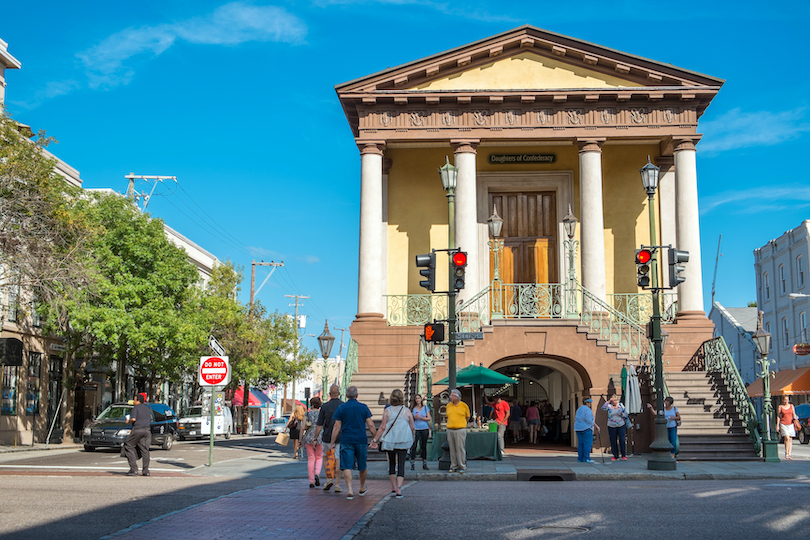 Right in the historic heart of town is the colorful and chaotic Charleston City Market which is very popular with locals and tourists alike. Home to some three hundred stands and stalls, the sprawling market is centered on its grand Greek Revival-style Market Hall which was built back in 1841.
Lots of fun to peruse, the massive open-air market and its many vendors sell everything from fresh food and produce to clothes, toys, and souvenirs. In addition, you can also sample local snacks, stop off for a coffee, or buy one of its highly-prized traditional baskets. In the evenings it is replaced by a night market where local artists sell their handicrafts and artworks.
10. South Carolina Aquarium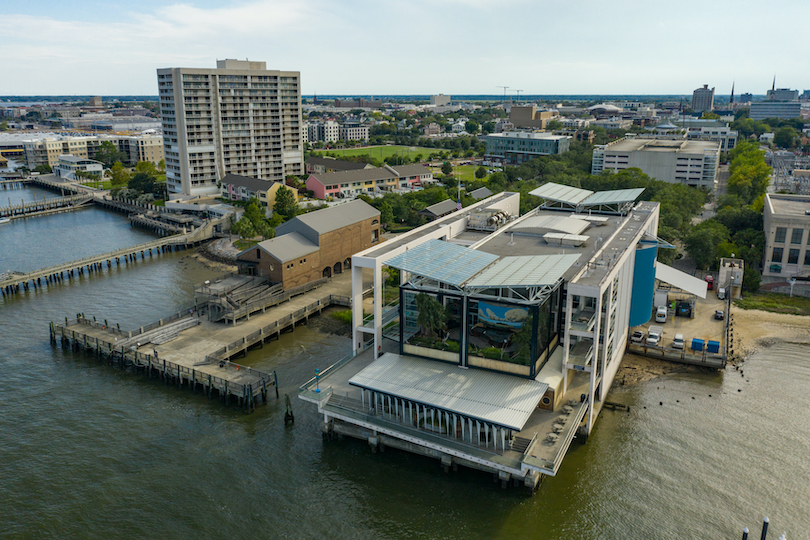 Since opening in 2010 at the historic Charleston Harbour, the South Carolina Aquarium has been a firm favorite with families, and it is easy to see why. Its huge aquaria house a huge array of fish and marine animals with everything from alligators and otters to sharks, starfish, and sea turtles on show.
Aside from learning all about the state's underwater ecosystems, its coastal climes, and salt marshes, visitors can touch crabs, stingrays, and even sharks in its terrific touch tank. With the deepest tank in North America on display alongside birds and reptiles too, the amazing aquarium is certainly not to be missed out on.
9. Nathaniel Russell House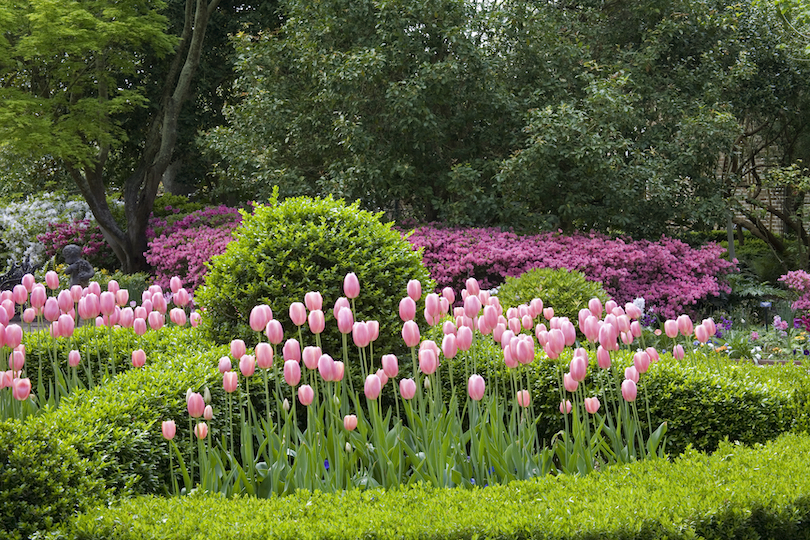 Another of the city's many historic homes that is well worth visiting is the refined Nathaniel Russell House which lies just to the south of the center. Now a National Historic Landmark and museum, it is widely considered to be one of the best examples of Neoclassical architecture in the States.
Built in 1808 by the wealthy slave trader and merchant Nathaniel Russell, it boasts a breathtakingly beautiful interior with fine features and fabulous furnishings wherever you look. While its period pieces and elaborate plasterwork decorations do look impressive, the pretty property is most known for its incredible cantilevered spiral staircase which winds its way up through the building.
8. Charleston Museum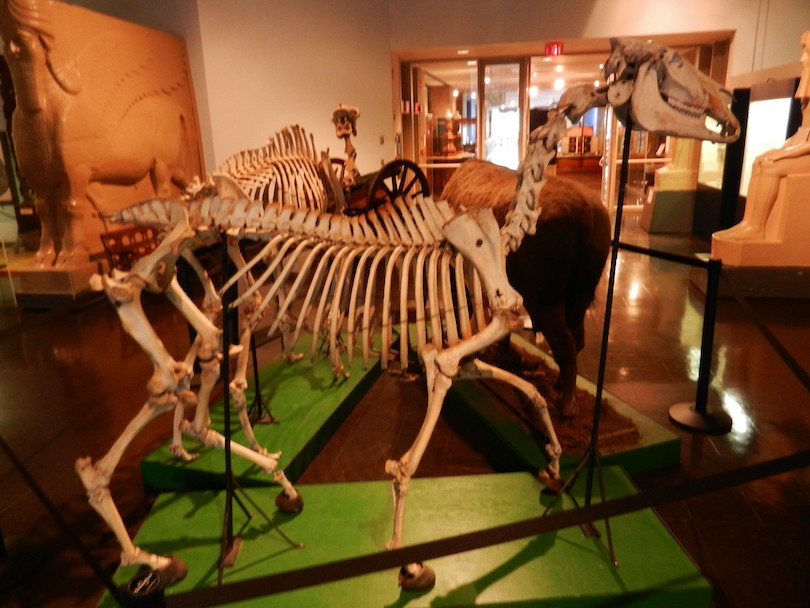 Travis / Flickr
If you are interested in learning more about the city's rich history and heritage, then you simply can't miss the Charleston Museum. Thought to be the nation's oldest museum, it was first opened in 1773 and now contains a captivating collection of artifacts, artworks, and archaeological findings.
Mainly focusing on Charleston and South Carolina, its extensive exhibits are fascinating to peruse with local and natural history displays on show next to furniture, firearms, and fossils. While some of its sections look at life during the Revolution or Charleston's role in the Civil War, others instead contain unusual items such as an Egyptian mummy and the full skeleton of a whale.
7. Folly Beach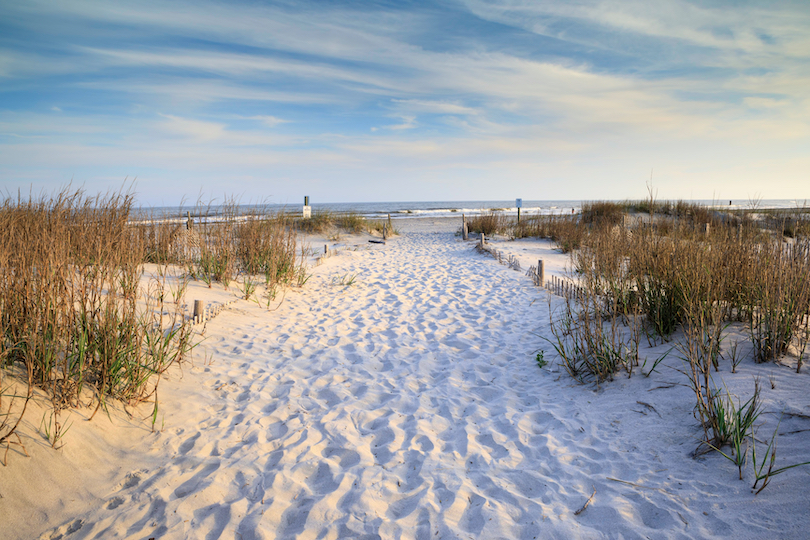 Although most people visit Charleston for its interesting historic tourist attractions, incredible architecture, and old-world charm, the city also lies not far away from some beautiful beaches. After having spent a couple of days wandering around town, it is well worth heading to the nearby Folly Beach where you can relax, catch some rays, and enjoy the waves.
Situated twenty minutes' drive south of the center, Folly Beach has a huge stretch of Atlantic Ocean coastline where guests can sunbathe, swim, and surf. Although it can get busy as it is popular with local Charlestonians and tourists, there is more than enough sand to go around with beachfront bars and eateries for you to try too.
6. Middleton Place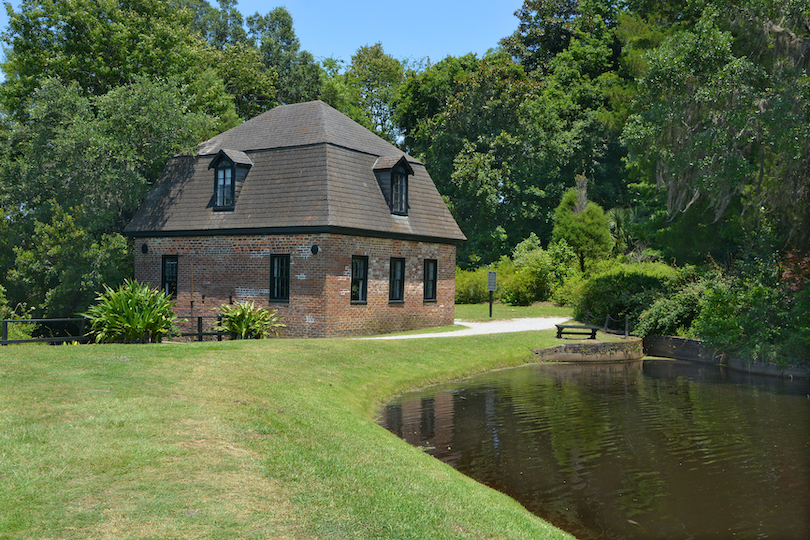 Another of the area's main plantations that people visit is the vast Middleton Place which is located half an hour's drive to the northwest of the center. Now a very peaceful and picturesque place, it is impressively home to the oldest landscaped gardens in the US with countless woods and walkways, pretty pools and flowerbeds for you to explore.
Established in the late 1730s, the enormous estate and its marvelous mansion are now protected as part of a museum. While touring about the property you'll learn about the generations of Middletons who lived here and about the enslaved people who spent years preening and perfecting the gardens and grounds.
5. Angel Oak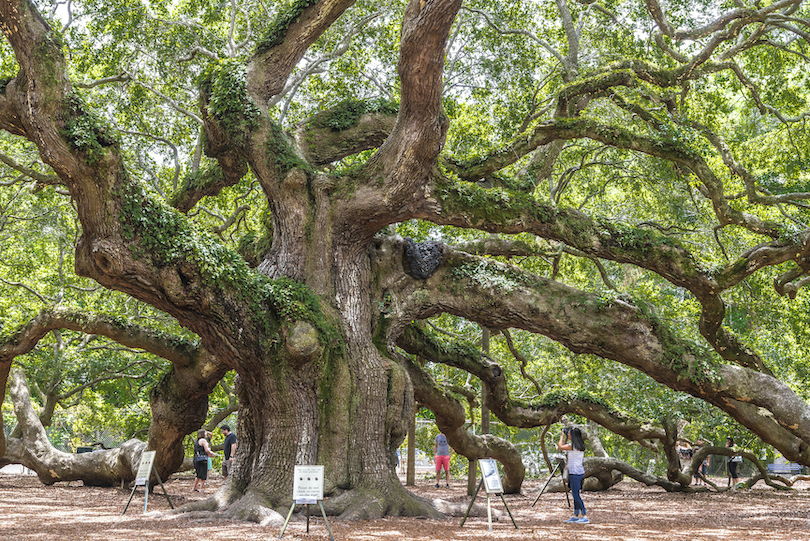 A simply stunning sight, the awesome Angel Oak is believed to be both one of the oldest and largest living organisms east of the Mississippi. While some reckon that the majestic tree and all of its thick branches is over 1,500 years old, most estimates put it at a still considerable 4-500 years instead.
Due to its towering height and the impressive span of its canopy, the old oak is now one of the most popular and photographed places in Charleston. Set just thirty minutes' drive to the southwest of the city, its mesmerizing mess of branches and tangled twisting limbs make Angel Oak a must-see sight.
4. Fort Sumter National Monument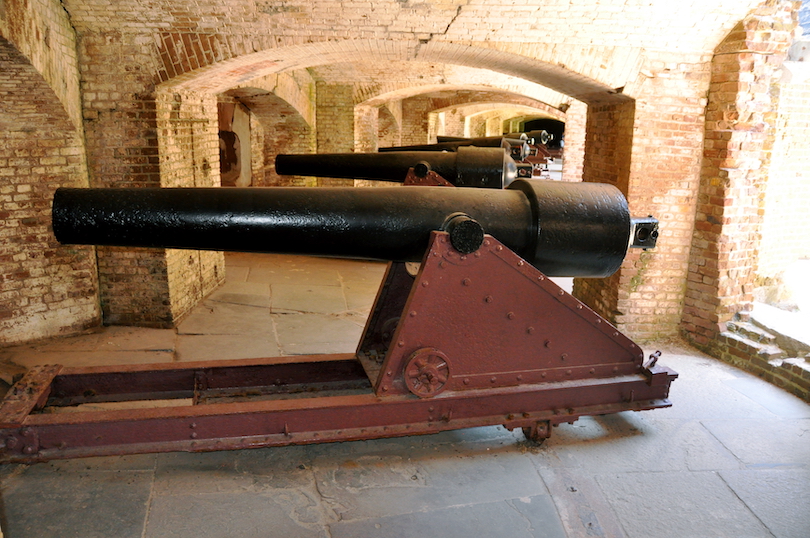 Famed for being the place where the first shots of the American Civil War rang out, Fort Sumter is now protected as part of a National Monument. Perched on a small, pentagon-shaped island at the entrance of Charleston Harbour, it can be reached by ferry in just half an hour from the city center.
On the 12th of April 1861, the sturdy sea fort was attacked by the Confederacy, marking the start of the Civil War. Visitors can learn about the role it played in the war while exploring its fortifications and museum with epic views to be enjoyed of the harbor and Atlantic from atop of its ramparts.
3. Battery and White Point Gardens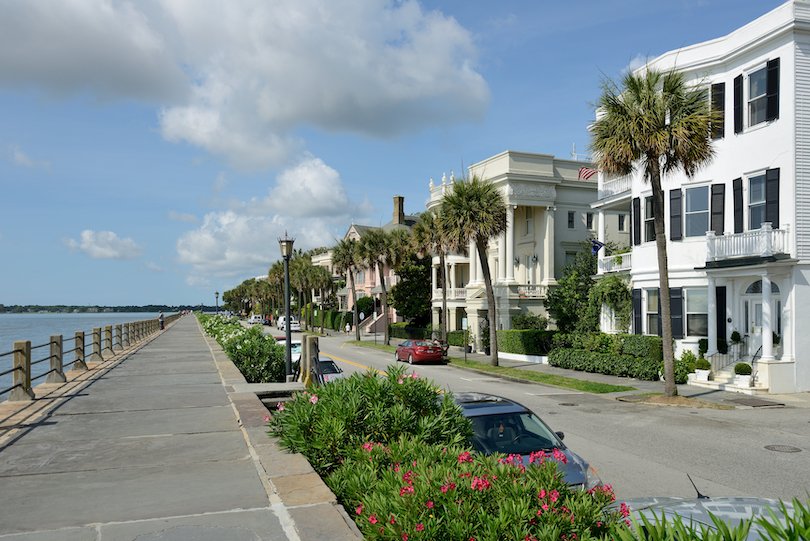 Set right at the southern tip of Charleston peninsula are the Battery and White Point Gardens which offer up absolutely incredible views out over the harbor. Dotted about the park and promenade are lots of interesting monuments and memorials with some lovely Southern-style mansions to be found lining its edge.
Originally a public garden, the area's defensive seawall was reinforced, fortified, and turned into a battery during the American Civil War. As such, many of its monuments have a military theme with historic cannons and statues of military heroes located next to leafy paths, fountains, and flowerbeds which are very pleasant to wander around.
2. Magnolia Plantation & Gardens
Not far from Drayton Hall and Middleton Place you can find the magnificent Magnolia Plantation and its gorgeous gardens. One of the oldest plantations in the South, it dates to 1676 with its historic house, Romantic-style gardens, and arresting array of attractions and exhibitions making it a popular place to visit.
Besides strolling around its endless gardens, visitors can explore the attractive interior of the house and learn about the history of the enslaved African Americans who worked on the plantation. With a petting zoo to stop by, boat cruises through the rice fields to enjoy, and tours of the swamp to take, Magnolia Plantation is definitely not to be missed out on.
1. Riley Waterfront Park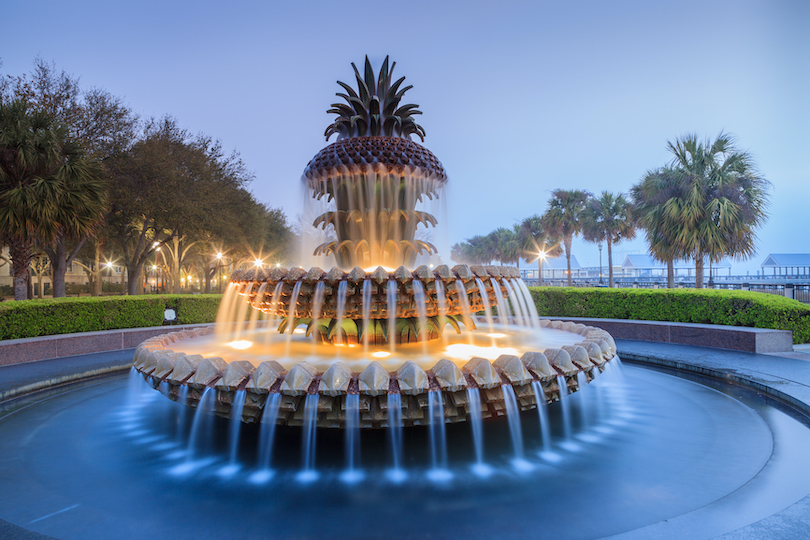 One of the most popular places to relax, unwind and spend time in the city is the wonderful Riley Waterfront Park which lies just a short walk from the historic heart of Charleston. Set on the shores of the Cooper River, it has lots of pretty paths and flowerbeds for visitors to amble past with gently waving palms and a wooden pier also dotted about.
Once home to wharves and shipping terminals, the waterfront area was turned into a park in 1990 and has since drawn plaudits for its excellent landscape architecture. Aside from enjoying the lush gardens and beautiful views on offer from its esplanade, the park's standout sight is undoubtedly its eye-catching Pineapple Fountain which is so delightfully lit up at night.
Map of Things to do in Charleston, SC