The capital of South Carolina and its second-largest city, Columbia lies almost exactly in the center of the state right at the spot where the Saluda, Broad and Congaree rivers meet. While it is home to lots of important historic tourist attractions and interesting museums, the city also has a lively and youthful feel thanks to its sizeable student population.
One of the first planned cities in the States, it has a rich history, heritage and culture with Southern charm and hospitality on show wherever you go. Although it was established in the 1700s, most of the city's old buildings and streets were sadly burnt down by General Sherman and his men during the Civil War with only some monuments, mansions and mills still remaining.
Nowadays, visitors can instead find countless gorgeous parks and green spaces to explore both in and around the city. Attending the festive sporting spectacles at the sprawling University of South Carolina campus are also fun things to do in Columbia. Although most people head straight to the colonial cities along South Carolina's coast, Columbia is certainly well worth stopping by for all that it has to offer up.
In this post, we'll cover:
12. Hampton-Preston Mansion and Gardens
mogollon_1 / Flickr
Located just a short stroll to the northeast of the center, you can find the historic Hampton-Preston Mansion and its gorgeous gardens. A very popular place to visit, it offers up a fascinating insight into the life and times of the wealthy planters and the poor enslaved people who worked for them.
Built back in 1818, the magnificent mansion is one of the finest remaining examples of antebellum architecture in town. While a huge veranda and sturdy Doric columns front it facade, its light and airy interior is delightfully decorated with fine furnishings and period pieces. Aside from learning about the Hampton and then Preston planter families who owned the property, interesting artifacts and exhibits also highlight the experience of their enslaved workers.
After exploring the National Historic Landmark, guests can amble around its lovely, landscaped gardens which feature plants, flowers and trees from all around the world.
11. Williams-Brice Stadium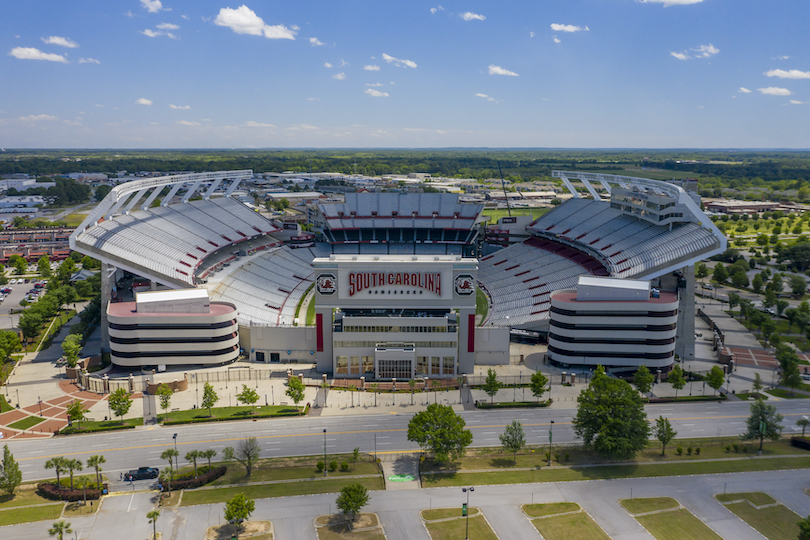 If instead of history and culture it is sports and entertainment that you are after, you'll certainly want to attend an unforgettable game at the massive Williams-Brice Stadium. Routinely praised for its electrifying atmosphere and fun and festive pre-game tailgates, it is the home of the Gamecocks – the University of Columbia's college football team.
Sometimes called 'The Cock Pit' by local fans and media, it was opened in 1934 with action-packed sporting spectacles having taken place ever since. Impressively enough, the stadium is often said to boast one of the loudest and most passionate fanbases with chants, cheerleaders, a college marching band and 'Cocky' the mascot all encouraging their team on to victory.
When it is packed with 80,000 screaming Gamecocks fans, parts of the stadium actually vibrate, and the roar of the game can be heard for miles around.
10. Tunnel Vision Mural
Ed Helms / Flickr
Although it is located in a car park, the mind-boggling Tunnel Vision Mural is certainly well worth visiting if you are in the area. Painted on the side of a large blank wall, the arresting artwork and its amazing optical illusion make for some fantastic photos and lies just a short walk from downtown.
Painted over the course of 1974 and 1975 by Blue Sky, arguably the city's most famous artist, it depicts a road and tunnel leading to a glowing sun off in the distance. Due to its use of depth and the trompe-l'oeil technique, it really does look like you could drive through the craggy portal to the other world.
Strikingly lit up at night, it also lies right next to the artist's other enormous and just as impressive artwork 'The Busted Plug' which is the largest sculpture of a fire hydrant in the world.
9. EdVenture Children's Museum
Yeonsang / Flickr
A very fun and family-friendly place to visit, the excellent EdVenture Children's Museum lies right next to the Columbia Canal and Riverfront Park. Home to an endless array of interactive exhibits, it has exciting educational activities and hands-on experiments for visitors to enjoy.
Established in 2003, EdVenture is now the second largest museum of its kind in the world with over 350 exhibits dotted about its spacious galleries. These look at everything from maths and science to the natural world and space and has fun themed areas such as 'Wags and Whiskers', the 'World of Work' and 'Maker Works' for kids to explore.
At the entrance you'll come across Eddie, the largest statue of a child on Earth. As with the rest of the museum, young ones are encouraged to learn through play by climbing up and even inside his giant frame which teaches them all about human anatomy.
8. Columbia Museum of Art
Another of Columbia's top tourist attractions is undoubtedly the Columbia Museum of Art which can be found right in the heart of town. Besides boasting one of the best art collections in the southeast, it acts as a thriving community center with countless classes, concerts and cultural events taking place each year.
Since opening in 1908, the museum has delighted generations of locals and tourists alike with all its incredible artworks which impressively cover over 5,000 years of history. While it is particularly known for its extensive European and American holdings, its grand galleries also display interesting photo installations, decorative art and sculptures alongside Chinese ceramics and carvings.
Aside from highlights such as its captivating Chihuly chandelier and Botticelli's Nativity, there are also masterpieces by Monet, Tintoretto and others for you to enjoy.
7. University of South Carolina
Not far away you can find the sprawling campus of the University of South Carolina which covers a huge part of the city center. Home to lots of attractive old buildings and gorgeous green spaces, it is well worth wandering around for its lively yet laidback ambience and enticing array of attractions.
Founded back in 1801, the university has a fascinating past for visitors to delve into with its historic Horeshoe being surrounded by centuries-old college buildings. The center of campus life, its leafy grounds are dotted with various monuments and memorials with a theater, center for the arts, library and the McKissick Museum all lying nearby.
On top of all this, the campus contains numerous multi-purpose sports stadiums with the university being renowned for its basketball, baseball and football teams and their raucous support.
6. Columbia Canal and Riverfront Park
Randy Nichols / Flickr
Running its way alongside both the Broad and Congaree rivers is the scenic Columbia Canal which borders the city center to the west. Right next to it is the picturesque Riverfront Park which has lots of pretty paths for you to explore with superb scenery and views on offer the whole way along.
The only remaining canal in the state, it was built in 1824 to provide a direct transportation water route to Charleston. Unfortunately, it became obsolete almost immediately once the railroads came to Columbia and was later widened so it could instead generate hydroelectric power for the city.
Nowadays, the canal is the focal point of Riverfront Park, attracting locals and tourists alike with its paved paths that are perfect for walking, running or cycling along. Stretching over 4.5 kilometers in length, its route passes old mills, pump houses and nature spots with local wildlife to be spotted here and there.
5. Lake Murray
Lying just half an hour's drive to the west of Columbia, you can find the massive and majestic Lake Murray which offers up all kinds of fun watersports and outdoor recreation opportunities. Boasting over 650 miles of scenic shoreline, it makes for a great day trip destination as it has lots for you to see and do.
Remarkably enough, the enormous lake was actually formed in 1928 following the damming of the Saluda River. Once the largest earthen dam in the world, it now makes for a striking sight, towering to over sixty meters in height with an endless expanse of water stretching away from it.
Aside from fishing, swimming and boating, visitors can also hike or cycle along the lakeside with beautiful beaches, marinas and recreational areas dotted about its shores.
4. South Carolina State House
Back in the center of town is another of Columbia's standout symbols and sights – the stunning South Carolina State House. Home to the state's seat of government, it exhibits some absolutely exquisite Classical Revival-style architecture with lush grounds lying all around it.
Built in 1855, the important and impressive building showcases a fantastic facade with a distinctive copper dome resting atop of its humongous portico. Inside is just as alluring as incredible artworks and portraits line its marble-clad walls with stained glass windows and some elaborate woodwork also on show.
After having taken a tour around its elegant interior, it is well worth strolling around its green and leafy grounds which are dotted with monuments and memorials to soldiers, senators and enslaved people.
3. Congaree National Park
Home to lots of stupendous landscapes, scenery and nature, Congaree National Park can be found just half an hour's drive southeast of the city. A very popular and picturesque place, its tantalizing trails and waterways are a treat to explore with deer, raccoon and opossums regularly spotted amidst the wilderness.
Only established in 2003, it protects the largest swathe of old growth bottomland hardwood forest in the States with its tall trees often towering to more than 100 feet in height. Meandering its way here and there amidst the vast floodplain is a brilliant boardwalk which stretches 2.5 miles in length and takes you past many of the prettiest parts of the park.
While hiking, kayaking and camping in Congaree is always a delight, one of the best times to visit is during summer when thousands of twinkling fireflies light up the night's sky so magically.
2. South Carolina State Museum
Melissa MB Wilkins / Flickr
If you want to learn more about the history, culture and nature of the state, no visit to town can ever be complete without stopping by the superb South Carolina State Museum. Set on the banks of the Congaree River, it has a huge array of interesting artifacts and interactive exhibits for you to peruse.
First opened in 1894, it is now the largest museum in the state with its galleries containing around 70,000 objects in total. Across its four floors, you can learn about everything from art and culture to science and technology. Its main attractions include life-size replicas of a massive 3.6-million-year-old megalodon named Finn, a mammoth and the first locomotive built in America.
On top of this, the museum has a state-of-the-art planetarium and interactive 4D theater for guests to enjoy with an amazing observatory, talks and regular temporary exhibits also on offer.
1. Riverbanks Zoo and Botanical Garden
Widely considered to be one of the best zoos in the States, Riverbanks Zoo lies just across the river from downtown. Straddling both banks of the Saluda River, it boasts an incredible collection of animals from around the world and also encompasses an awesome aquarium and botanical gardens.
A firm favorite with locals and tourists alike, the zoo, its exhibits and enclosures have expanded considerably since opening in 1974. Nowadays, it contains over 2,000 animals, birds, reptiles and fish with everything from giraffes and gorillas to lions, koalas and even komodo dragons on show.
Besides learning all about the awe-inspiring animals and seeing them up close in enclosures that replicate their natural habitats, you can also stroll around its huge collection of local and exotic plants. As its animal exhibits, picnic areas and playgrounds are set amidst lush and leafy grounds, the Riverbanks Zoo really is a very pleasant and picturesque place to explore.
Map of Things to do in Columbia, SC