Home to renowned tourist destinations like Myrtle Beach, Hilton Head and Charleston, you may have a decent idea about what life in South Carolina is like. But with a lower cost of living and lower taxes complemented by the storied beaches and beautiful nature, the Palmetto State is more than meets the eye.
The state features a number of historic towns that date back to the American Revolution. The charming mix of history and architecture which can be found in many of the best cities in South Carolina, along with modern dining and nightlife, attracts many newcomers. So too does the employment opportunities on offer with some of the less-heralded towns home to major companies and thriving economies.
In this post, we'll cover:
12. Clemson
A quintessential college town, Clemson's population rises and falls with the semesters. Like any college town, the university is intertwined with the local community. While this isn't always a good thing, it works in Clemson. Which is good news for you as there is so much to enjoy in the city aside from watching the Tigers rack up another ACC win.
The town itself is beautiful, with several historic sites to visit, museums to wander through, and performing arts venues for a different kind of night out. Almost half of the permanent population comprises young families, with strong local schools and many ways to keep the young ones entertained.
11. Georgetown
The third oldest town in South Carolina, Georgetown, is found on the picturesque Winyah Bay. Its historic downtown is flooded with fantastic museums, including the Kaminski House Museum and the Rice Museum, which tell the story of Georgetown from the very beginning.
Georgetown has a small population of under 10,000 people and exemplifies what small town living is all about. Residents can enjoy the waterfront area, Front Street, home to quaint boutique shops and cafes along with the scenic RiverWalk, with views of Lafayette Park. The cost of living here is 17% below national average and the town is under an hour from Myrtle Beach.
10. Summerville
With a long history spanning more than 300 years, Summerville elegantly mixes the past with the present. Today, residents of Summerville can enjoy a high quality of life, with a number of community festivals and gorgeous scenery with just a short drive to the coast or sprawling lakes.
Importantly, despite these attractions, the cost of living remains below the national average. This is especially true when it comes to the housing market. Summerville also offers strong employment opportunities in the tech and military industries, while Charleston is a brief 30-minute commute away.
With its proximity to Charleston, a relaxing pace of life and abundance of natural landscapes, Summerville is a popular destination for retirees.
9. Mount Pleasant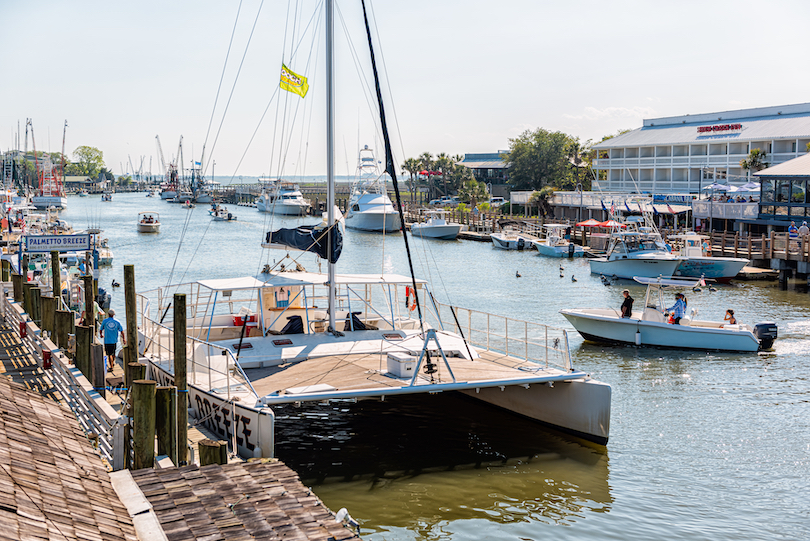 Just 20 minutes from downtown Charleston, Mount Pleasant offers all the connections of the most populous city in South Carolina in combination with a more relaxing lifestyle. With a strong 20-something population, there is an element of youthfulness to Mount Pleasant. Local employment opportunities have attracted a lot of young professionals and graduates who can also make use of the short commute to Charleston.
From Mount Pleasant, you'll have all the best local beaches at your disposal with day trips to Myrtle Beach and Savannah, Georgia, possible. For those hanging out in Mount Pleasant for the evening, you'll have some spirited nightlife at your disposal.
8. Rock Hill
Featuring South Carolina's first cultural district, Rock Hill has always been at the forefront of the arts. Its downtown area is teeming with art galleries, museums and theaters complemented by several art schools and studios. All combine to make a creative community that has boosted the local economy.
Home to over 70,000 people, Rock Hill is the 5th largest city in the state with just a brief drive between the mural-laden downtown streets and the major city of Charlotte. Its proximity to major hubs, a strong population and Winthrop University allow residents to enjoy a modern lifestyle that doesn't overgrow the town's artistic endeavors.
7. Aiken
Rated by Southern Living as one of the best small towns in the United States, Aiken's popularity is on the rise. With lower cost of living, including rates and taxes, your dollar will go a lot further here, allowing you more opportunity to enjoy what is a unique town. Renowned for its equine roots, you'll discover a flurry of horse statues around town, along with equine boutiques, galleries and themed restaurants.
Aiken's delightful climate provides ample opportunity for residents to get outdoors and enjoy the expansive local parks, gardens and hiking trails. You'll also have miles of horseback riding trails to make use of. After a big day of adventure, you can settle in at one of the many fantastic local restaurants or load up at the longest continuously run farmers market in the state.
6. Columbia
South Carolina's capital, and until recently its most populous city, there is so much to Columbia despite lower levels of tourism. The inner-city population is just over 130,000 people, which should tell you a great deal about the quality of the local job market, while families can also take advantage of the standout local schools.
Despite its size (800,000 call the great metro area home), the cost of living in Columbia remains 4% below the national average, perfectly blending big city living with a reasonable price tag. Home to the University of South Carolina, residents also have a blend of art, culture and live sport to choose from. While neighboring Congaree National Park and Lake Murray offer ample opportunities to get outdoors.
5. Spartanburg
Covering each end of the budget, Spartanburg's housing market offers both budget-friendly and entry-level prices along with a series of high-end neighborhoods that allows everyone to enjoy a history-rich and scenic town. In South Carolina's Upcountry, Spartanburg is one of the oldest towns in the state, dating back to the American Revolution.
Spartanburg's Historic District is on the National Register of Historic Places, so you can enjoy your morning coffee among 19th-century buildings and fabulous architecture. Spartanburg is community-oriented, with the Zimmerli Amphitheater a great example. But with a number of major company headquarters in town, the employment opportunities on offer belie its small town personality.
4. Hilton Head
Bringing you some spectacular beaches, world-class golf courses and ample fine dining by the sea, it's no surprise that Hilton Head is an expensive place to live. The cost of living in the beachside town is 34% higher than the national average owing to the competitive housing market, with oceanfront properties like rare gold.
But if Hilton Head suits your budget, or if you're looking for a place to retire, it's easy to see why the town is so coveted. With great year-round weather, you'll be able to enjoy the beach almost every day of the year. Its popularity as a tourist town has led to the development of a strong dining, shopping and lifestyle-focused culture. Hilton Head is also well situated, being directly between Savannah and Charleston.
3. Greenville
A revitalized downtown has brought a lot of positive attention to the small city of Greenville, which also boasts a growing employment market. Whether it's the walkable downtown area, its development as a foodie haven or proximity to the gorgeous Blue Ridge Mountains, Greenville continues to attract major companies, with GE Power and Michelin being two examples.
While Greenville doesn't offer sparkling beaches like a lot of the top cities in the state, life at the base of the Blue Ridge Mountains is nothing to scoff at. Despite its development, Greenville continues to have a small town vibe about it with a tight knit community who love where they live. In addition, it's a great place to break into the housing market as housing is 22% cheaper than the national average.
2. Myrtle Beach
The tourist town of Myrtle Beach is renowned for its expansive sugar sand shoreline, epic sunrises and a waterfront teeming with exciting attractions. For many, the reasons Myrtle Beach rose to such prominence are the same reasons they settled here. For others, they find it isn't difficult to escape the noise of the waterfront thanks to the dozen plus neighborhoods spread around Myrtle Beach.
Beyond the theme parks and other exciting attractions, there are plenty of ways to enjoy yourself that don't include mingling with travelers. Life in Myrtle Beach grants daily access to the stunning Waccamaw National Wildlife Refuge and the Myrtle Beach State Park. The town also has plenty of restaurants and cafes to complement the famed nightlife, while newcomers will also enjoy a lower cost of living.
1. Charleston
Having become the biggest city in South Carolina over the recent years, Charleston continues to grow in popularity and with greater work opportunities. This is complemented by the things we have long known and loved about the city. Namely, its amazing location, along the Atlantic, white sand beaches and the proximity to the beloved towns of Myrtle Beach and Savannah.
When you aren't enjoying the abundance of natural scenery around Charleston or embarking on exciting road trips, you'll discover a tree-lined city where modern amenities mix with a rich history and welcoming hospitality. Wander the cobblestone streets to enjoy the great dining options, along with Charleston's buzzing nightlife.
Families will be happy to know that the school district is one of the strongest in the state, with plenty to do after the school bell rings.
Map of the Best Cities in South Carolina
© OpenStreetMap © MapTiler © Touropia