A delightfully diverse state, South Carolina boasts everything from breathtaking beaches and barrier islands to centuries-old colonial cities and historic sites. While most people go straight to its Grand Strand stretch of coastline, plenty of pretty plantations, state parks and waterfalls dot its interior.
Part of the Deep South, it lies beside the Atlantic Ocean with rugged mountains and forests slowly giving way to beaches, bays and barrier islands. Here you'll not only find some stunning swathes of sand but attractions, resorts and watersports at places such as Myrtle Beach and the Isle of Palms.
While the Palmetto State certainly contains lots of striking scenery, it also has a rich history, culture and heritage. Exploring the colonial city of Charleston, for instance, is one of the most popular things to in South Carolina while historic plantations, forts and gardens all lie nearby.
In this post, we'll cover:
23. Brookgreen Gardens
Just inland from the hugely popular Huntington Beach State Park, you can find the absolutely lovely Brookgreen Gardens. While its sprawling confines contain lots of lush green grounds, it is mostly known for its stupendous sculptures and wonderful wildlife preserve.
Formerly the site of four plantations, the entire area was purchased by the Huntingtons and turned into a series of sculpture gardens in the thirties. Nowadays, there are all kinds of scenic sections to explore with over 2,000 sculptures dotting its flowerbeds and woods, lawns and lakes.
Aside from strolling its leafy paths and taking in its fine flora, fountains and figures, you can stop by its brilliant galleries and zoo. As they combine art, nature, history and animals, the gorgeous gardens make for a great day out for all the family.
22. Chapel of Ease
While the above's ancient oak-lined avenues certainly are attractive, the ruins of the Chapel of Ease are just as atmospheric. Set almost at the center of Saint Helena Island, its crumbling remains now make for some fantastic photos with the Spanish moss-clad trees surrounding them.
Built between 1742 and 1747, the quiet chapel served the isle's rice and cotton planters who couldn't regularly attend services in Beaufort. It was almost completely abandoned, however, when the Civil War started and the planters were evacuated. In 1886, a fierce forest fire reduced it to ruins and the Colonial-era chapel was never rebuilt.
Remarkably intact, its tabby walls and cemetery are very charming and picturesque to stroll around. Besides taking some profile pictures, you can also learn about its past from the informative plaques scattered about.
21. Lake Murray
Offering up a wealth of fun watersports and outdoor recreation opportunities is the marvelous Lake Murray just west of Columbia. Apart from swimming, sailing and splashing about, visitors can also explore the plentiful parks and nature spots that line its reflective waters.
Formed in 1928 by the damming of the Saluda River, the endless man-made reservoir impressively has more than 650 miles of shoreline to hike, bike or camp along. Pristine beaches, a bird sanctuary and innumerable marinas and recreational areas also lie alongside the sparkling lake.
In addition to fishing for striped bass and enjoying some leisure activities, it is well worth checking out the hulking great Saluda Dam. Once the largest earthen dam in the world, it stands 220 feet high with fabulous views and photos available from atop it.
20. Botany Bay Plantation Heritage Preserve
Covering a considerable part of Edisto Island is the Botany Bay Plantation Heritage Preserve. Home to beaches and wetlands, historic sites and wildlife, it lies just an hour's drive from Charleston.
Untouched and unspoiled for the most part, it encompasses pine hardwood forests, agricultural fields and estuarine wetlands. Lots of amazing twisted trees, driftwood and shells stud its 'boneyard' beach with sea turtles sometimes spotted in the surf. These all make for some memorable photos as people decorate the fallen trees with countless scallops and shells.
Away from the beach and wetlands are beautiful oak-lined avenues to drive along and Colonial-era outbuildings and ruins to explore. These mostly date to around the 1840s with one estimated to even be a century older. Once a cotton plantation and farm, it was turned into a wildlife preserve in 1977.
19. Table Rock State Park
Another idyllic nature spot to hit up is the terrific Table Rock State Park, some forty minutes drive northwest of Greenville. Lying at the edge of the Blue Ridge Mountains, it has myriad diverse landscapes to explore with fine scenery and views wherever you go.
While Pinnacle Mountain – the state's highest peak – presides over everything, it is actually named for the flat-topped mountain at its heart. Reaching 3,415 and 3,124 feet respectively, they are a treat to hike and climb with twinkling waterfalls and streams coursing down their slopes.
Outdoor enthusiasts can also camp amidst its verdant forests and swim or fish at one of its secluded lakes. Black bears, bobcats, deer and raccoons can sometimes be spied amidst its undergrowth.
18. Fort Sumter National Monument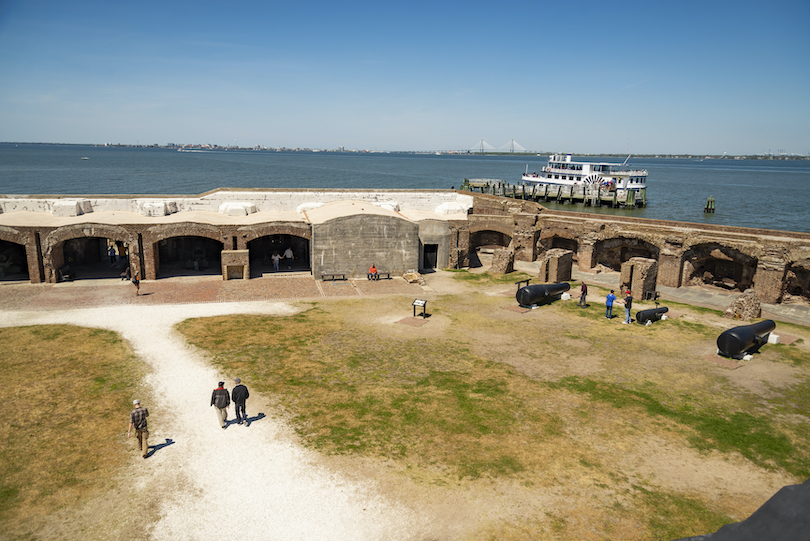 Only accessible by ferry, the interesting Fort Sumter National Monument lies right at the entrance to Charleston Harbor. Set upon a small, pentagon-shaped island, it is famed for being the place where the first shots of the Civil War rang out.
Although work on the fort and its artificial isle had been ongoing since 1829, it was still incomplete when the Confederacy attacked on the 12th of April 1861. After 34 hours of relentless bombardment, the Union forces surrendered and the war had officially begun.
Visitors can now amble around its decaying fortifications and small but superb museum. This contains artifacts, weapons and exhibits on slavery, plantation culture and the main figures and events from the war. From its ramparts and the half-an-hour boat ride, you can enjoy sweeping views over the harbor and Atlantic.
17. Isle of Palms
Located right next to Sullivan's Island and Charleston is the popular vacation destination of the Isle of Palms. Lined by upscale condominiums, hotels and eateries, its delightful beaches have umpteen outdoor activities and watersports for holiday goers to enjoy.
As it is much more developed than many of the other barrier islands hugging the coast, it is ideal for people looking to relax and unwind in comfort. As well as a pier, it has a marina where you can rent kayaks and surfboards or organize fishing trips, sunset cruises and jet ski excursions.
Aside from soaking up some sun and swimming in the sea, there are plenty of playgrounds, parks and playing fields to make use of. What's more, the peaceful town contains two championship golf courses and hosts numerous festivals each year with sea turtles nesting along its shores in summer.
16. Issaqueena Falls
Just outside of Walhalla in the northwest corner of the state is one of South Carolina's most stunning natural sights: the awe-inspiring Issaqueena Falls. A tranquil spot, the gorgeous waterfall lies at the end of a short hiking trail not far from Stumphouse Tunnel; another attraction in the area.
Tucked away within the Sumter National Forest, it cascades its way merrily down the side of a 100 feet high cliff. As overgrown trees, shrubs and plants threaten to engulf it on all sides, the falls make for some great photos from their observation deck.
At their foot, an informative plaque relates the local legend they are named after. As the story goes, a Cherokee girl leapt from the top to escape capture by the Cherokee and lived happily ever after with her white settler husband.
15. Charleston Tea Plantation
Situated just half an hour's drive southwest of the port city you can find the sprawling grounds and gardens of the Charleston Tea Plantation. At the pretty estate, guests can take tours of its factory and fields and learn all about the history of the plantation.
Only established in 1987, its endless rows of manicured bushes and incredible old oak trees occupy a quite large chunk of Wadmalaw Island. The only farm of its kind in the States, it is responsible for American Classic Tea and Charleston Breakfast alongside other tasty brews.
On fascinating trolley bus tours, you'll learn how they cultivate, harvest and produce tea and sample some of their best blends. After having taken in its lovely scenery and setting, you can also buy gifts and souvenirs in its little shop.
14. Caesars Head State Park
Nestled next to the border with neighboring North Carolina is the rugged and remote Caesars Head State Park. Mountainous in nature, its elevated confines lie about an hour's drive north of Greenville alongside US Route 276.
Part of the Blue Ridge Escarpment, the prominent rocky outcrop for which it is named impressively towers 3,208 feet in height. From its summit and mountainsides, you can bask in phenomenal vistas of the forest-coated hills and rock formations tumbling away below.
Besides visiting its viewpoints and hiking along the leafy trails, outdoor lovers can also check out its shimmering rivers and waterfalls. At its visitor center, you can find out more info on the state park's amenities and activities. Picnic areas and campsites are also scattered here and there.
13. South Carolina State Museum
MB Wilkins / Flickr
When in Columbia, the South Carolina State Museum is an absolute must for its enthralling exhibits and artifacts. Lying on the banks of the Congaree River, it teaches you all about the history, culture and nature of the Palmetto State.
South Carolina's largest museum, it was first opened in 1894 with over 70,000 objects, artworks and specimens now crammed within its galleries. Its four floors feature not just a mammoth and the first American-built locomotive but a ginormous 3.6 million-year-old megalodon named Finn too.
In addition, its interactive exhibits cover everything from art and culture to science, technology and the origins of the state. With a top-class planetarium, 4D theater and temporary exhibitions also on offer, the marvellous museum is definitely well worth stopping by.
12. Alligator Adventure
If instead of history and nature, it's amazing exotic animals you are after then Alligator Adventure is certainly the place to head. Located next to Barefoot Landing in North Myrtle Beach, it has much more than just gigantic gators to gape at.
One of the largest reptile facilities in the world, it is remarkably home to around 800 alligators with caiman, crocodiles, snakes and lizards also featuring. Aside from all the cold-blooded creatures, you can also spy mountain lions, bobcats and hyenas prowling about their spacious enclosures.
While wandering around the wildlife park is already an exciting experience, live feeding shows and snake and alligator handling sessions make it even more memorable. Thanks to its entertaining yet educational animal exhibits, it has been a firm favorite with families since opening back in 1995.
11. Magnolia Plantation and Gardens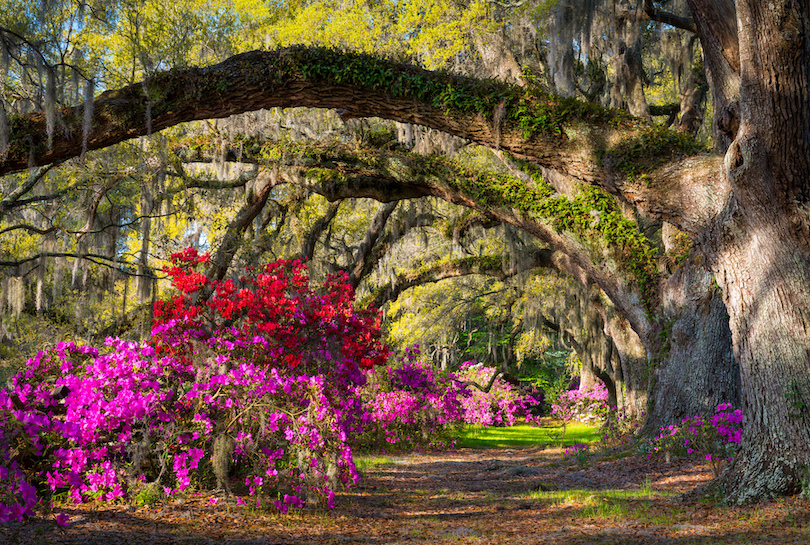 A popular place to explore, the Magnolia Plantation and its attractive gardens can be found just north of Charleston alongside the Ashley River. As well as strolling around the picturesque property, you can also venture into the massive main house and see exhibits on its captivating past.
One of the oldest plantations in the South, it was founded in 1676 by the Draytons who also erected the famous hall nearby. As the original house burnt down during the Civil War, the current one with its wonderful wraparound porch and tower only dates to 1850. On tours of its exquisite interior, and the much starker slaves' quarters, you'll learn about the lives of those who lived and worked on the plantation.
After having mosied around the immaculate Romantic-style gardens, you can take relaxing cruises through its rice fields and swamps or visit its small petting zoo.
10. Huntington Beach State Park
Just along the coast from Myrtle Beach is the striking scenery and nature of Huntington Beach State Park. At the smallish coastal preserve, visitors can fish, swim, hike and camp til their heart's content while basking in divine views over the Atlantic.
Delightfully wild and untouched for the most part, the park encompasses quiet creeks, marshes and miles of beautiful beachfront. As such, both birdwatchers and anglers flock here to either spot loons, gannets and razorbills or cast their lines into its fish-filled waters.
Other than learning about the native flora and fauna in its nature center, you can hike, camp or tour around the elegant Atalaya Castle. Completed in the thirties, the mansion exhibits some magnificent Moorish-style architecture with lush lawns and trees lying all around it.
9. Riverbanks Zoo & Garden
ucumari / Flickr
Set just across the river from downtown Columbia is the brilliant Riverbanks Zoo. Besides boasting one of the best collections of animals in the country, it also has a stunning botanical garden for you to stroll around.
Since opening in 1974, the highly rated zoo has grown enormously with over 2,000 animals, reptiles and birds now inhabiting its enclosures and aviaries. These include not just gorillas and giraffes but koalas and komodo dragons too while shimmering shoals of fish flit about its aquariums.
On the other side of the Saluda River to the zoo are the botanical gardens that are home to pretty flower beds, picnic areas and playgrounds. In total, around 4,200 species of native and exotic plants line its paths with sculptures and splash pads dotted here and there.
8. Patriots Point Naval & Maritime Museum
An interesting and educational institute to visit is the Patriots Point Naval & Maritime Museum in Mount Pleasant. On top of all its artifacts and exhibits, it remarkably has a hulking great aircraft carrier, destroyer and submarine for you to explore.
Permanently moored at the mouth of the Cooper River, the USS Yorktown, Laffey and Clagmore all lie alongside the Charleston Harbor, facing the city. Visitors can now explore both above and below their decks, which highlight how the sailors lived and worked at sea for months on end.
Historic photos, displays and short video clips also cover various conflicts, such as the Cold War and WWII. Most impressive, however, are the dozens of old aircraft and fighter jets that dot the decks of the USS Yorktown.
7. Congaree National Park
For those looking to immerse themselves in nature, the pristine woods, waterways and wetlands of Congaree National Park are one of the best places to head. Easily reached in just half an hour from the center of Columbia, it offers all kinds of outdoor activities and wildlife watching opportunities.
Encompassed within its sprawling confines is the largest remaining tract of old-growth bottomland hardwood forest in the nation. Many of these trees tower more than a hundred feet in height. Down below, its boardwalk loop takes you around the vast floodplain with raccoons, deer and opossums sometimes spotted amidst the undergrowth.
Despite its undoubted beauty, it is actually one of the least-visited national parks in the States. This means you can camp beneath its firefly-filled night skies and kayak along its twenty-mile marked canoe trail with nary another soul in sight.
6. Myrtle Beach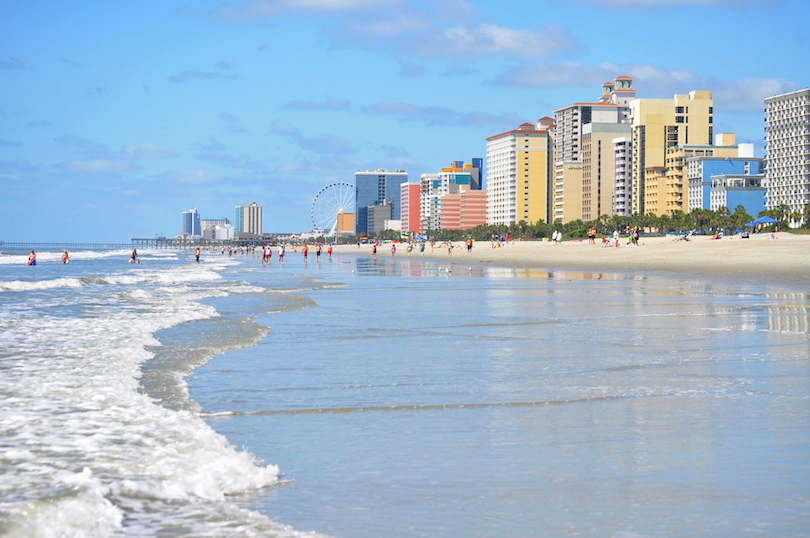 The central focus of South Carolina's glittering Grand Strand coast is the amazing Myrtle Beach. A top holiday destination, the seaside city has countless attractions, eateries and entertainment options for families and spring breakers alike to enjoy.
Lining its endless golden sands and enticing waters is a bustling boardwalk to stroll along. Here you can find everything from fun arcades and souvenir shops to seafood restaurants, luxury resorts and trendy nightlife spots. Plenty of amusement parks and miniature golf courses are also on offer, as are spas and theaters putting on sensational live shows.
Aside from all this, you can just simply lounge on its beach or swim, splash about and enjoy some thrilling watersports. While the city is often quite crowded and chaotic, the intoxicating atmosphere and umpteen attractions make it one of the state's most visited vacation spots.
5. Middleton Place
Slightly up the road and river from the Magnolia Plantation is another of Charleston's main historic estates to stop by. At Middleton Place, guests can take informative tours about its majestic mansion and the oldest landscaped gardens in the US.
Dating to the 1730s, the former rice plantation covers a huge area with manicured flower beds, pools and lawns lying next to wild woods and murky swamps. A stableyard, springhouse and several other outbuildings that housed the Middleton's many slaves also dot the expansive property.
The central feature of the plantation however is, of course, its Antebellum-era mansion and museum. In both of them, you can learn about the generations of Middletons and unfortunate enslaved people who lived and toiled on the estate for all their lives.
4. Falls Park on the Reedy
Right at the center of Greenville is one of the city's standout natural sights: the gorgeous Falls Park on the Reedy. Besides cascading waterfalls, a dramatic ravine and lush green spaces, it includes the lovely Liberty Bridge which offers up superb views from its curved walkway.
Due to its rushing waters and rapids, the area was formerly used by textile mills before being turned into a park in 1967. Since then, locals and tourists alike have enjoyed its picturesque nature, picnic areas and public art installations.
From the bridge, you can take in sweeping panoramas of the park and snap some photos of the falls and rock formations below. As the site is considered to be the birthplace of Greenville, downtown's stores, restaurants and attractions lie just a stone's throw away.
3. Angel Oak Tree
One of the most popular and photographed spots to hit up, not just in Charleston but South Carolina too, is the incredible Angel Oak Tree. Situated on the southwestern outskirts of the city, its tangled mess of branches and twisting limbs make for some fabulous viewing and photos.
While the ancient tree stands just 66.5 feet tall, some of its largest branches extend a whopping 187 feet with its colossal canopy covering a gigantic area. Impressively enough, the old oak is believed to be over 1,500 years old, although some estimates instead put it at 'only' around 4 or 500.
If the former date is correct, then Angel Oak is one of the oldest and largest living organisms east of the Mississippi River. In any case, the gnarled old tree is well worth checking out due to its startling size, scale and splendor.
2. Hilton Head Island
Renowned for its beautiful beaches and world-class golf courses, the idyllic Hilton Head Island lies along the state's southern coastline. As it was the first eco-planned tourist destination in the country, resplendent nature, views and wildlife are on show wherever you go.
Although only narrow channels separate the barrier island from the mainland, it was connected by a bridge only in 1956. Consequently, much of it remains wonderfully unspoiled with its restaurants and resorts, shops and marinas blending perfectly with their sub-tropical surroundings.
In addition to practicing your swing and taking sightseeing tours around the island, you can also top up your tan at Coligny Beach. After having enjoyed some watersports and sighted some alligators, dolphins and manatees you can always head to the charming colonial city of Savannah in Georgia.
1. Charleston's Historic District
Packed with attractive antebellum-era buildings, centuries-old landmarks and quaint cobbled lanes, Charleston's Historic District really is a treat to explore. Covering almost all of the city's peninsular heart, its scenic streetscapes conjure up romantic images of the Old South.
Founded in 1670 at the confluence of the Ashley and Cooper Rivers, it soon developed into a major center of trade for the southeastern seaboard. This wealth and prosperity fueled the building of all the historic houses, colonial churches and landscaped gardens we see before us today.
Thanks to its rich history, heritage and culture, the center of Charleston is fascinating to stroll about with relaxing horse-drawn carriage rides also on offer. Whether in its shops and restaurants or museums and markets, the friendly and welcoming nature of its residents shines forth throughout.
Map of Things to Do in South Carolina