The largest alpine lake in North America, Lake Tahoe straddles the California-Nevada state line and is tucked away amidst the soaring Sierra Nevada mountains. Lining its scenic shores are lush forests and beautiful beaches which offer up all kinds of fun outdoor activities.
A popular tourist destination, the large lake has numerous cities, towns and even casinos to stay at while countless ski resorts are dotted about its snow-capped mountains.
Aside from skiing and snowboarding in the mountains, other things to do in Lake Tahoe include hiking, mountain biking, and camping, with watersports also to be had. With its wealth of recreation opportunities both in summer and in winter, it is no wonder that Lake Tahoe attracts so many people.
12. Alpine Meadows Ski Resort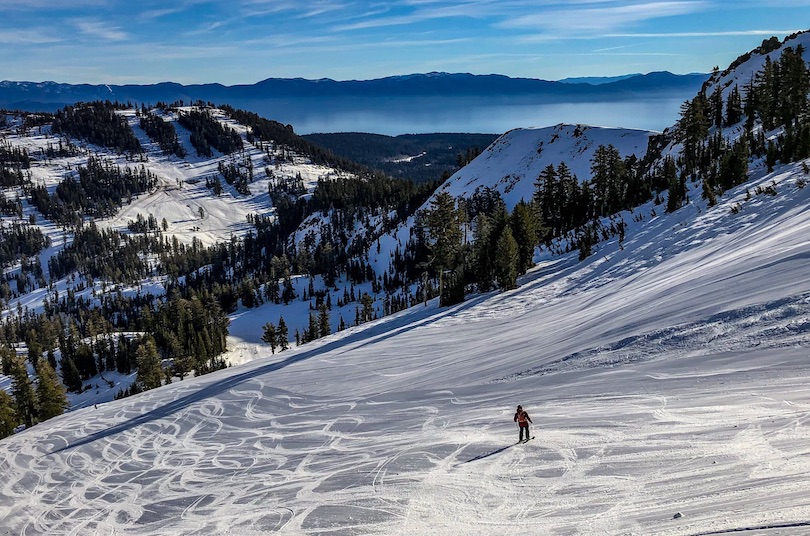 © Dreamstime
Just ten minutes drive to the west of both Tahoe City and the shimmering lakeshore you can find the excellent Alpine Meadows Ski Resort. Home to over a hundred snowy slopes, it offers epic skiing and snowboarding, with hiking and mountain biking to be enjoyed in the summertime.
Now owned and operated by the adjacent Squaw Valley Ski Resort, Alpine Meadows first opened in 1961. Both resorts are connected by a shuttle and operate under the same single-season pass. Reaching 8,638 feet in height, the resort's runs and six terrain parks are serviced by a dozen chairlifts with a lodge, restaurants, and cafes.
Besides shooting down its snow-coated slopes, which cater to all ages and abilities, you can bask in beautiful views over Lake Tahoe or hike and bike about the mountain in the summer months.
11. Mt. Tallac Trail
© Dreamstime
Lying not far from the southern shore of the lake is one of the most popular and picturesque trails to hike in the area. Winding its way to the summit of the towering Mount Tallac, it takes you past lots of stunning scenery and nature with panoramas over the lake to be enjoyed at the top.
Stretching almost 10 miles in length, the out and back trail passes lakes, ponds, and creeks before meandering its way over rocky ridges and through flower-filled alpine meadows. While it is quite steep in parts, the route is certainly very rewarding due to its incredible landscapes and views.
From Mount Tallac's lofty 9,737 foot high peak, you can gaze out over Lake Tahoe stretching away endlessly before you, hemmed in by majestic mountains. In addition to hiking along the trail, there are also several scenic spots where you can stop off to swim or enjoy a picnic.
10. Heavenly Ski Resort & Gondola
© Dreamstime
If you're looking to enjoy some splendid skiing and snowboarding when in town then another great place to head is the Heavenly Ski Resort. Straddling the California-Nevada state line, it lies along the south shore of the lake.
Tucked away amidst the Sierra Nevada Mountain Range, the aptly named ski resort has been very popular ever since it opened in 1955. Nowadays it has almost a hundred runs for guests to enjoy and boasts a total vertical drop of over 3,000 feet – the highest on the West Coast.
While its skiable terrain, excellent amenities, countless shops, restaurants, and lodges all make Heavenly well worth visiting, the highlight is going for a scenic ride on its gondola. Stretching almost 2.5 miles in length, the trip takes you to the summit of the mountain with astounding views of Lake Tahoe on offer the whole way.
9. Homewood Mountain Resort
Rebecca Milby / Flickr
For another scenic skiing experience, you may want to head to the Homewood Mountain Resort on the west shore of Lake Tahoe. Rising dramatically above its waters, the peaceful and picturesque resort sprawls across two mountains, with spectacular scenery and views on show.
Opened in 1962, it now has sixty-seven runs for visitors to ski or snowboard down with four terrain parks full of jumps, rails, and boxes. Remarkably, it's only 280 steps from the lift to the lake, such is the steep and sudden rise in elevation.
Aside from stupendous slopes and views, Homewood Mountain Resort is also blessed with more than 300 days of sunshine a year which makes it the perfect place to hike and mountain bike in summer.
8. Donner Memorial State Park & Emigrant Trail Museum
© Dreamstime
Although it encompasses spellbinding scenery and nature, Donner Memorial State Park was actually the setting of one of the most shocking moments in American pioneering history. Set just twenty minutes drive northwest of the lake amidst the soaring Sierra Nevada mountains, it is an interesting, if sombre, place to visit with lots of outdoor activities on offer.
During the harsh winter of 1846-1847, emigrants of the ill-fated Donner Party got stuck in a severe snowstorm, later resorting to cannibalism as they struggled to survive. Their tragic story is now told at the Emigrant Trail Museum with a Pioneer Monument also standing to those who attempted the hardy trek across the States to reach California in the 1840s.
In addition to learning about the unfortunate pioneers, visitors can hike and camp amidst the park's forests and mountains or fish and swim at the reflective Donner Lake.
7. Lower Eagle Falls
© Dreamstime
One of the most striking sights along the southern shores of the lake is lovely Lower Eagle Falls, located within Emerald Bay State Park. While it can be spied from the nearby parking lot, the best views of the sparkling waterfall are from the base that lies just a short hike away.
Towering to 137 feet in height in total, the two-tiered waterfall certainly makes for some fantastic photos and views. Cascading its way down a rocky mountainside, the white waters stand out delightfully against the lush foliage and undergrowth all around them.
While the roaring falls look a treat, it is best to visit in spring as this is when their flow is greatest due to the snow melt in the mountains. In addition, it is well worth exploring the surrounding area as Upper Eagle Falls, the Emerald Bay Lookout, and Vikingsholm are all located nearby.
6. Sand Harbor Beach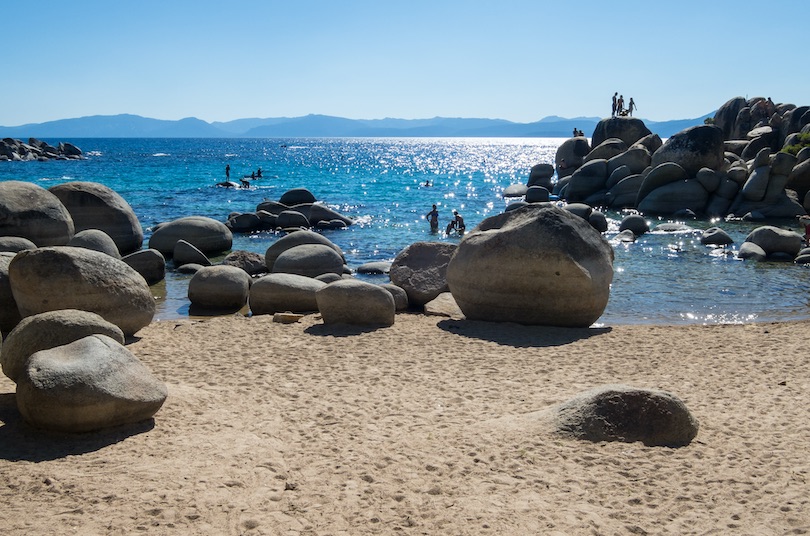 © Dreamstime
If you're after sun and sand, then you can't beat heading to beautiful Sand Harbor Beach. Lying along the northeast shore of the lake, its crystal clear waters and wonderful swathes of white sands offer all kinds of fun outdoor activities.
Set on the Nevada side of Lake Tahoe, the popular beach stretches over 820 yards in length and lies within the stupendous state park of the same name. Lined by remarkable rock formations with secluded coves dotted about, it boasts breathtaking views of the lake and mountains in the distance.
Aside from sunbathing and swimming, visitors can enjoy hiking and camping in the nearby forests with fishing, kayaking and water-skiing also on offer. To top it all off, Sand Harbor hosts the annual Lake Tahoe Shakespeare Festival with its picture-perfect waters making a very scenic backdrop.
5. Northstar California Resort
© Dreamstime
Although much smaller than either Squaw Valley or Heavenly, Northstar California is regularly ranked among the best resorts in the West. This is because many of its snowy slopes are perfect for beginners and families, with excellent on-site lodging and summer activities also on offer.
Nestled just fifteen minutes drive to the northwest of Lake Tahoe, the resort and its hundred runs lie atop Mount Pluto – a long extinct volcano. Established in 1972, it now has eight terrific terrain parks, Kids Adventure Zones and a total vertical drop of 2,263 feet for guests to enjoy; all serviced by twenty chairlifts and two gondolas.
In addition, countless shops and restaurants are dotted about the mountain with a spa, movie theater and cozy condominiums also found in its village. In the summer months visitors can also hike and mountain bike about its trails or play a round on its eighteen hole golf course.
4. Take a Cruise
© Dreamstime
Since it boasts spectacular scenery and is surrounded by snow-capped mountains, no trip can ever be complete without taking a cruise on Lake Tahoe's reflective waters. A wonderful way to see as much of the lovely lake as possible, sightseeing cruises depart regularly from almost every town and city along the lakeside.
While some take you out to see amazing Emerald Bay, others instead pass by rows of beautiful historic mansions or alongside Sand Harbor's striking stretch of shoreline. As you sail about, your knowledgeable captain will point out standout sights, cities and mountain peaks and explain about the history and nature of the lake.
Aside from sightseeing cruises, you can also opt to learn how to sail yourself or book a fishing trip. Dinner, sunset and party cruises are also popular. While some are upmarket and chic, others are more casual and laid back with the scenery, views and experience sure to appeal to everyone.
3. Squaw Valley Ski Resort
© Dreamstime
When it comes to amenities, activities and of course its huge expanse of skiable terrain, no resort in the region can rival that of Squaw Valley. One of the most renowned resorts in the world, it sprawls across six peaks along the western shore of Lake Tahoe and even hosted the 1960 Winter Olympics.
Established in 1949, the world-class resort has delighted countless generations of skiers and snowboarders alike. In total, it now has almost 180 runs with three terrain parks, thirty chairlifts, and an incredible aerial tram on offer.
At High Camp there is even a swimming pool, roller skating rink, and disc golf course for guests to make use of while outstanding shopping and dining can be had in its restaurants and lodges. With hiking and mountain biking to be enjoyed in the summer months and phenomenal panoramas all year-round, Squaw Valley Ski Resort is definitely not to be missed.
2. Vikingsholm
© Dreamstime
Lying along the shores of Emerald Bay you can find one of the most majestic mansions in the area: Vikingsholm. Often called a castle, it exhibits some exquisite architecture and unique design features with tours taking you all around the property and its gorgeous grounds.
Set in a scenic spot along the bay, the former summer home of heiress Lora Knight can only be reached by hiking a mile from the state park car park. Built in 1929, it is one of the finest examples of Scandinavian-style architecture in the nation with intricate wooden carvings and sturdy stone walls on show alongside sod-covered roofs coated in wildflowers.
The Scandinavian motif is continued inside with its thirty-eight rooms featuring lovely wood furniture and antiques with many of its walls and ceilings being painted in delicate colors. Now a National Historic Landmark, it also has a charming tea house to visit on the nearby Fannette Island.
1. Emerald Bay State Park
© Dreamstime
The undoubted highlight of Lake Tahoe has to be Emerald Bay State Park. Set at the southwest corner of the lake, the teardrop-shaped cove makes for a stunning sight and is a very popular place to visit and photograph.
Formed over the course of millennia by slowly moving glaciers, its twinkling waters are lined by towering trees and colorful granite cliffs. Placed perfectly in the middle of the bay is Fannette Island with Vikingsholm also spotted along its shoreline.
In addition to snapping photos of Emerald Bay and basking in its breathtaking views, the park also has a couple of campsites to stay at with hiking, kayaking, and even scuba diving on offer.
Map of Things to Do in Lake Tahoe