Since the early twentieth century, Santa Monica has been a popular seaside resort and it's easy to see why. Besides its beautiful beach and bustling pier, the city is renowned for its warm weather, laid back ambience and thriving alternative scene.
While most people visit for its sun, sea, and sand, other things to do in Santa Monica include fine dinning and shopping, as well as exploring its excellent museums and farmers' markets. Aside from this, it also boasts lots of wonderful watersports and outdoor activities as well as art galleries, an aquarium and amusement park.
As it is surrounded on three sides by Los Angeles, SaMo makes for a great base from which to see its tourist attractions, or unwind and escape the hustle and bustle.
In this post, we'll cover:
12. Annenberg Community Beach House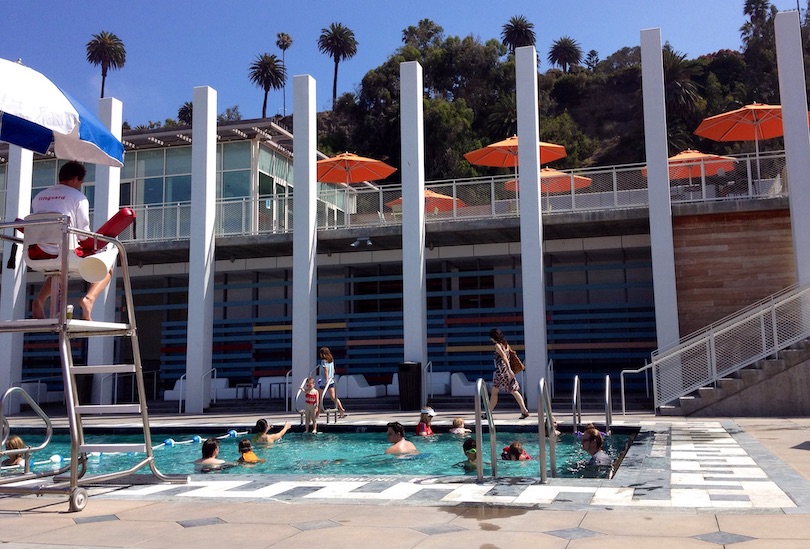 Joe Utsler / Flickr
Lying alongside the city's golden sands you can find Annenberg Community Beach House, which offers all kinds of fun activities. Set just north of the city center and pier, the fantastic facility has everything, from playgrounds and a pool to volleyball and tennis courts.
Built in 1929 for actress Marion Davies, it was in this massive mansion that she hosted Hollywood's elite during California's Gold Coast era. While much of the house has been demolished, the historic pool, grand guesthouse, and gorgeous grounds that remain are reminiscent of the roaring twenties.
Nowadays, the public beach facility is a lovely place to kick back and relax, enjoy some activities or simply take in the appealing aesthetic and ambience.
11. Santa Monica Mountains National Recreation Area
The sprawling Santa Monica Mountains National Recreation Area lies just a short drive northwest of downtown. Made up of over twenty different parks, it contains everything, from beaches and mountains to canyons, valleys and forests.
Since being established in 1978, the protected area has grown considerably and is now the largest urban national park in the world. While some parks look out over the Pacific and include sheltered coves and beaches, others are nestled amidst soaring mountains or lie tucked away in vast valleys.
Due to its scenic splendor, the national recreation area is very popular with locals and tourists alike and offers great hiking, mountain biking, and horseback riding. In addition, there are incredible archaeological and historic sites to check out, and wonderful wildlife watching.
10. Museum of Flying
Offering a fascinating look into the history of aviation, the marvelous Museum of Flying can be found right next to the Santa Monica Airport. Besides artifacts, exhibitions, and aviation art, it also has dozens of vintage aircraft and gleaming jet engines to peruse.
Founded in 1974, the museum mostly focuses on the development of the aviation and aerospace industries in Southern California. As such, its huge exhibition spaces are full of informative displays on companies such as Boeing, Lockheed, and Hughes Aircraft, among others.
While learning about the history of flight, you'll come across interesting photos and short film clips with the highlight being its replica of a Wright Flyer. In addition, visitors can try out its interactive flight simulator or watch educational films and documentaries in the theater.
9. Montana Avenue
Justin Higuchi / Flickr
As it is lined by over 150 unique boutiques and brilliant restaurants, Montana Avenue is one of the most popular places to shop, dine, and go out in the city. Stretching all the way from Ocean Avenue in Santa Monica to the Brentwood district of LA, the lovely tree-lined street really does have a lot to see and do.
While most of the long road is home to huge residences, countless bustling businesses can be found between 7th and 17th streets in Santa Monica. Here you'll find everything from cozy coffee shops and exclusive restaurants to small art galleries, upscale boutiques and relaxing spas.
Due to its lively vibe, delicious dining, and extensive shops and outdoor cafes, Montana Avenue is also known for being a favorite haunt of A-list celebrities.
8. Santa Monica Farmers Market
If you're after fresh produce and street food, then you can't beat the splendid Santa Monica Farmers Market. Held all year round on Wednesdays, Saturdays, and Sundays, the sprawling market is fun to explore with its innumerable vendors selling everything under the sun.
Since 1979, locals and tourists, chefs, and celebrities have flocked to the market to buy fresh fruit and vegetables or locally produced cheeses, condiments, and baked goods. Dotted about are little coffee stands and stalls selling savory snacks and sweet treats to try.
Due to its popularity, the market is now held in multiple locations across the city with Main Street and Arizona Avenue hosting the biggest and best. With live music often on offer and fresh food to sample or buy, the vibrant Santa Monica Farmers Market shouldn't be missed.
7. Santa Monica Place
Another of the main places in the city to shop until you drop is the massive outdoor shopping mall of Santa Monica Place. Set right in the city center, just a short stroll from the pier, it has over ninety shops and restaurants spread across three floors, with a cinema also on offer.
First opened in 1980 before being redesigned and reopened in 2010, the mall is mainly home to big name brands and upscale shops, such as Burberry, Louis Vuitton and Emporio Armani. Aside from high-end fashion boutiques, you can find shops selling accessories, beauty products, and jewellery.
On its third floor are countless excellent eateries and restaurants, such as The Dudes' Brewing Company and The Cheesecake Factory with fantastic views on offer from its dining deck.
6. Palisades Park
Running its way alongside much of Santa Monica State Beach and Ocean Avenue is Palisades Park; a very popular place to relax and unwind or enjoy some outdoor activities. Set right next to many of the city's main sights, it boasts sublime scenery and offers up beautiful views over the Pacific.
Stretching over one and a half miles in length, the pretty park is dotted with towering palm trees and pines, with paved paths weaving in between. Amidst its green spaces you can find park benches, picnic areas, and petanque courts, as well as public artworks and a rose garden.
In addition, some interesting historic sites, such as a Civil War cannon and Native American totem pole, can be found within its confines, while sunsets from the clifftop park are simply spectacular.
5. Pacific Park
Pacific Park is just one of Santa Monica Pier's many amazing attractions, and a fun, family- friendly place to visit. The old-fashioned oceanfront amusement park is home to thrilling rides and exciting games with a Ferris wheel, rollercoaster and arcade also on offer.
Since 1909, Pacific Park has delighted countless generations with its enticing array of attractions, eateries, and amusement rides. Besides taking an exhilarating ride on its rollercoaster or a hair-raising drop on the Pacific Plunge, there are also classic carnival games, like Whac-A-Mole, ring toss, and bumper cars to enjoy.
Aside from its lovely ambience and charming old-time look and feel, Pacific Park has food stalls and gift shops with fine views over the ocean and beach wherever you look.
4. Bike Path
Affectionately known as 'The Strand' to locals, the iconic Santa Monica Bike Path takes you past some simply spellbinding coastal scenery. Stretching 20 miles in length, the paved cycle path curves its way gently along the shore of Santa Monica Bay with phenomenal views over the Pacific the whole way along.
Founded in 1989, the coastal path now reaches from Will Rogers State Beach to the north of the city right the way to Torrance County Beach in the south. As you cycle peacefully along the path you'll pass sights, such as the Santa Monica Pier and Marina Del Rey, as well as numerous nature spots, beaches, eateries, and attractions.
In addition, the Bike Path also connects Santa Monica to a number of beachfront communities, such as Venice Beach and Manhattan Beach.
3. Third Street Promenade
Carving its way through the heart of Downtown Santa Monica is the Third Street Promenade; one of the most popular places to shop, dine and drink in the city. Particularly known for its vibrant street life, it has innumerable shops and restaurants to explore and dine in.
Stretching across three blocks there are countless unique boutiques and brand name stores with excellent eateries, outdoor cafes, and tantalizing restaurants. In addition, the pedestrian promenade hosts a fantastic farmers market and has a handful of theaters and nightlife spots.
Thanks to its numerous public artworks, fountains, and trees, the street has a lovely look to it while street performers and entertainers lend it a lively atmosphere.
2. Santa Monica Beach
For sun, sea, and sand, you can't beat beautiful Santa Monica Beach which lines the shimmering waters of the bay. Stretching more than 3 miles in length, it offers watersports, beach activities, playgrounds, picnic areas and, of course, the pier for you to enjoy.
Attracting both locals and tourists alike, the broad beach is renowned for its soft sands, sunny weather, and wealth of attractions. Besides sunbathing, swimming, and surfing, you can also play volleyball on its courts or cycle along its bike path.
In addition, the beach also lies next to a multitude of brilliant restaurants and cafes with the piers' enticing attractions and Pacific Park's amusement rides just a stone's throw away.
1. Santa Monica Pier
No visit to Santa Monica can ever be complete without strolling along its bustling pier. The iconic pier juts out into the bay, and boasts countless attractions and eateries, as well as an amusement park, arcade, aquarium, and much more.
While Santa Monica has had many piers over the course of its history, the current one dates from 1909 with retro-style rides and a classic old carousel alongside more recent additions and modern amenities. Aside from checking out all its small shops and cafes, the pier is a great place to fish, gaze out over the city and ocean, or enjoy a memorable sunset.
Having featured in numerous films, TV shows, and even video games, Santa Monica Pier and all its amazing attractions certainly should be top of your list when in town.
Map of Things to Do in Santa Monica