Occupying an almost mythic place in the American psyche are the spellbinding coastal scenery and views of California's Big Sur. Considered to be one of the prettiest stretches of coast in the world, its rugged reaches are home to beautiful beaches, colossal cliffs and gorgeous groves of redwoods.
Located along the Golden State's glittering Central Coast, it includes not just pristine state parks and wilderness areas but sights such as Bixby Bridge and Pfeiffer Beach too. Due to its never-ending nature, it has long been associated with unencumbered freedom with millions road-tripping along its Pacific Coast Highway each year.
With so many scenic spots to stop off at and innumerable active things to do in Big Sur, this coastal region is one of the most memorable and magical places to visit in the States.
12. Andrew Molera State Park
As they are mostly untouched and undeveloped, the lovely landscapes of Andrew Molera State Park really are a treat to explore. Set at the mouth of the Big Sur River, its sprawling confines offer up all kinds of fun outdoor activities and recreational opportunities.
The largest state park along Big Sur, it encompasses everything from secluded beaches and coves to scenic redwood groves, meadows and waterfalls. Aside from hiking, biking and horseback riding around the park, visitors can swim and surf in the sea or enjoy divine views from atop its ridges.
Some brilliant camping and beachcombing can also be had amidst the dramatic bluffs and beaches that line the Pacific. Established in 1968, the pretty park can be found just forty-five minutes drive down the coast from Carmel.
11. Partington Cove
Cruise half an hour further along California State Route 1 and you'll come across the picturesque Partington Cove. A phenomenal spot to stop off, explore and photo, it lies just outside the gorgeous Julia Pfeiffer Burns State Park.
After parking at the trailhead, you'll have to hike down through a craggy canyon to the scenic cove and its sparkling sapphire-blue waters. On the way, you'll pass through a historical tunnel and over a quaint wooden bridge with the views only getting better and better the closer you get to the ocean.
Once you arrive at the isolated inlet and its rugged beach, you can finally sit back, relax and take in the scenery while snapping some photos. As not many people know about it, you'll often find you're the only one clambering about the cove's tidal pools and visiting its twinkling waterfall.
10. Sand Dollar Beach
As picture-perfect as they come, the stupendous Sand Dollar Beach is the largest unbroken swathe of sand in Big Sur. Part of Los Padres National Forest, it lies just across the highway from Plaskett Creek Campground with bathrooms, barbecue pits and picnic areas all being available.
While it is well-protected from the wind, swimming and wading are not recommended as the strong currents and surf can be quite dangerous. This, however, means that its coastal cliffs and sea stacks look even more impressive with the rough waves pounding away at them.
Besides basking in the sweeping views from atop its grassy bluffs, you can hike along its trails or top up your tan on the beach. Sunset is a particularly memorable time to visit while at low tide you can explore its caves and rock pools.
9. Henry Miller Memorial Library
Fabrice Florin / Flickr
The beating cultural heart of Big Sur, the Henry Miller Memorial Library hosts live music, readings and art shows each week at its cute and cozy center. Aside from perusing its truly special bookstore, you can attend its fantastic fashion shows, film festivals and writing workshops.
Like many other artists, poets and musicians, Henry Miller was greatly inspired by the breathtaking beauty of Big Sur. In the mid-sixties, his friend Emil White, a colorful character himself, built the charming house for him to work in. He later turned it into a memorial to the novelist and gallery for local artists following his death in 1980.
Nestled amidst towering redwoods just off the road, the ramshackle house is set in a stunning spot with its photo-filled library and art-cluttered exterior being just as magical. With so many fun events and exhibitions taking place all the time, it really is a must-visit when road-tripping along the coast.
8. Point Sur State Historic Park
Visible for miles around, the protruding Point Sur State Historic Park lies just half an hour south of Carmel, right next to Andrew Molera State Park. As well as offering up attractive seaside hikes and prominent viewpoints, it is also home to a lovely old lighthouse of the same name.
While the smallish park overlooks a vast stretch of rough and rugged coastline, its focal point is the handsome, historic lighthouse that watches over it. Built in 1889, its stone walls and antique lantern make for some striking photos and views of the shimmering waters of the Pacific stretching away endlessly into the distance.
Guests can take tours of its interior and learn more about its history and wind-swept setting from expert guides. Afterwards, you can hike up the hulking great volcanic rock upon which it is perched and enjoy awe-inspiring panoramas over the Pacific.
7. Garrapata State Park
Even closer to Carmel you'll find the craggy coastal cliffs and epic canyons of Garrapata State Park. With snaking trails, sunbathing and swimming all to enjoy, it is one of the best places to head at the northern end of Big Sur.
Covering a huge part of the coast, the park protects rocky headlands, quiet beaches and coves with flower-filled valleys and canyons lying inland. Whether hiking through groves of redwoods, up into the St. Lucia Mountains or to the top of Soberanes Point, splendid scenery and views are guaranteed wherever you go.
What's more, California sea lions, harbor seals and sea otters are often spotted offshore alongside pods of gray whales during their yearly migration. While some stretches of its coast are too rugged for swimming and sunbathing, others are the perfect place to relax and unwind amidst nature.
6. Limekiln State Park
Despite being one of Big Sur's smallest state parks, Limekiln certainly packs a punch with all that it has to offer. Named after the four rusting old kilns that dot its confines, it boasts not just spectacular ocean views and coastal canyons but a remarkable redwood forest full of campsites too.
Also located within the Santa Lucia range, its steep scree slopes were initially harvested for limestone between 1887 and 1890. While the quarry was soon exhausted, the historic limekilns hidden away amidst the trees now make for some fabulous photos as does the park's 100-foot-high waterfall.
Besides hiking and camping amongst the colossal redwoods, visitors can venture down to its pretty beaches or wander along the top of its towering cliffs.
5. Ragged Point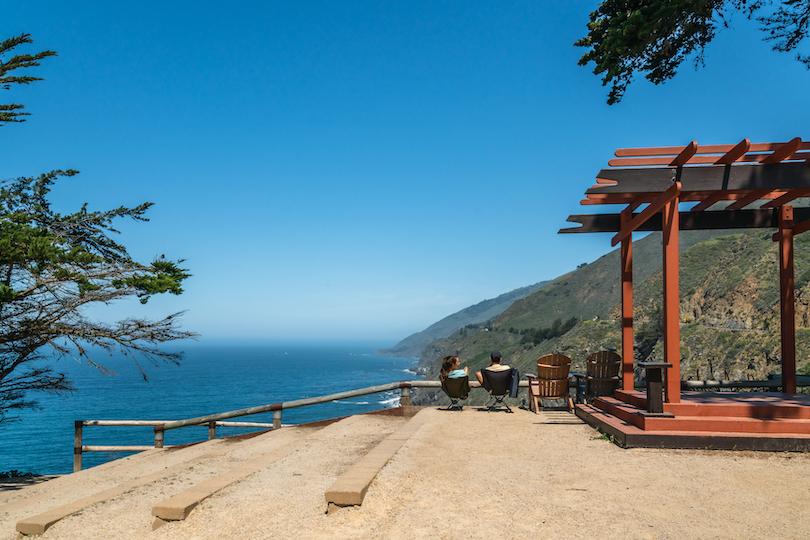 The southern entrance to Big Sur, Ragged Point is the perfect spot to pull over and experience all its incredible coastal scenery for the first time. Here too, you can stop for the night at either its modern resort or atmospheric inn and stock up on supplies from its store and petrol station.
Lying along California's Central Coast, the humongous headland looms roughly 300 feet above the glinting waters of the Pacific far below. As well as enjoying exquisite views through its 'Window to Big Sur', you can navigate a steep path down to the ocean's edge where gigantic elephant seals often lounge in the sun.
Before heading onwards, many people stay at Ragged Point and build up anticipation for the scenic journey to come. Its gourmet restaurant is also well worth trying out for its delicious dishes, desserts and snacks.
4. Bixby Creek Bridge
One of the most iconic man-made landmarks along the whole of Big Sur's coastline is of course the impressive Bixby Creek Bridge. Spanning a large, rugged canyon, its graceful architecture and spellbinding setting make it a very popular photo spot and viewpoint.
Despite being completed in 1932, it remains one of the highest single-span arch bridges in the world with it standing 260 feet tall in total. Held up by huge concrete columns and retrofitted steel beams, its precipitous road reaches 714 feet in length.
From either end of the bridge and the mountains surrounding it, you can take phenomenal photos of the striking structure standing out against the sea. Sunrise and sunset are particularly special times to visit or when the bridge and canyon are shrouded in the early morning mist.
3. Pfeiffer Beach
Another of Big Sur's top attractions is the picturesque Pfeiffer Beach. Known for its purple sands, sea stacks and the stunning Santa Lucia Mountains, the beautiful beach really is one of Big Sur's must-see sights.
Located within Los Padres National Forest, its secluded yet expansive purple sands lie at the end of Sycamore Canyon amidst rearing rock formations and vegetation-clad cliffs. Just offshore, you can spy one of its most famous features – the Pfeiffer Keyhole Rock. At low tide, you can actually stroll up to its distinctive arch, snap photos through it and explore the tidal around it.
Sunset is, again, the best time to see the arch and beach as this is when a radiant beam of light shines through it and coats the whole area in a lovely warm hue.
2. Pfeiffer Big Sur State Park
Just up the road from the beach are the sublime landscapes, scenery and nature of Pfeiffer Big Sur State Park. Sprawling across the western slopes of the soaring St. Lucia Mountains, it is best known for its romantic redwood groves which have earned it the nickname of 'mini Yosemite'.
Centered around the Big Sur River, the large park is unique for the region as it lies inland instead of along the coast. Its meadows, forests and riverbanks have lots of shady hiking trails to explore with a comfy guest lodge and campgrounds dotted here and there.
Amidst its lush undergrowth and remote reaches, visitors can often spot local wildlife with bobcats, deer and raccoons all residing within the tranquil park.
1. Julia Pfeiffer Burns State Park
Arguably Big Sur's standout spot to visit, however, is the glorious Julia Pfeiffer Burns State Park. As well as the majestic McWay Falls, which courses off the top of a cliff into the ocean, it has loads of captivating coastal scenery, redwoods and viewpoints to enjoy.
Named after a respected resident and rancher of the region, it was founded in 1962 to protect the pristine wilderness and wildlife. Alongside giant granite cliffs and gorgeous coves, hikers will come across bubbling creeks and big old redwoods, some of which are over 2,500 years old.
The highlight though has to be McWay Falls which sparkles in the sun as it plunges over eight feet into the Pacific. With so much spectacular scenery on show, and excellent hiking and camping to be had, the state park is, for many, the most memorable part of their entire trip.
Map of Things to Do in Big Sur, California