Straddling the border between California and Nevada, Lake Tahoe's landscape captivates and entices visitors to its shores like a scene from an epic movie or a page from a book. The sun is often shining in this alluring American landscape, and Lake Tahoe is a magnet for those who want to spend time in the alpine air, relaxing on the water's edge, and indulging in all things good in life.
Life around the lake brings plenty of opportunity for visitors to enjoy various different experiences. The South Shore of the lake has undergone much development, and casinos in the area have brought big business, with big resort hotels to match. The West Shore still has one foot firmly in the past with family-fun hotels, while the East of the lake is a great place to stay in Lake Tahoe if you want lodges and nature. The North Shore offers a little more luxury and peacefulness.
Map of Lake Tahoe
© OpenStreetMap © MapTiler © Touropia
South Lake Tahoe
The South Shore of Lake Tahoe is a fun, vibrant place to stay. This is the area where you will find indulgent spas, a choice of golf courses, and a huge selection of restaurants, meaning you won't get bored easily.
This is a sociable area, where young families, couples and keen snowboarders hang out in the evenings and let their hair down. It's all about spending days on the slopes enjoying the views and the beautiful natural wonders, and then as night falls, eating, drinking and dancing.
Development on the south of the lake is moving at a fast rate, and as such, there are many new hotels to choose from. Much of the accommodation here is made up of high-end resorts which come fully stocked with restaurants, lounges and childcare. There are also some lodges which boast an unbeatable position among the pines and are great for families who want to spend some quality time together on vacation.
Best Places to Stay in South Lake Tahoe
luxury
The Landing Resort and Spa – With its location right on the shores of the lake itself, staying in this hotel means enjoying views across the water from the hotel lounge. In the summer months, guests can rent sun loungers on the beach or soak up the sun on the rooftop terrace. In the winter, why not sip wine in comfortable surroundings whilst lounging in an armchair in front of an open fire? Or go for a workout in the fitness center and take a dip in the pool. Rooms here are decorated with chic touches and traditional lodge decor such as tartan prints, stone walls, and custom headboards. They also feature large beds, heated floors, and bathrooms with rain showers.
midrange
Hotel Azure – Warm, welcoming, and modern rooms make this hotel – close to the shores of Lake Tahoe – a great all round accommodation. Rooms are large and very clean with a natural color scheme and boast balconies with views of the trees and lake. There's a pleasant outdoor pool and lounge area for guests to soak up some sun in the summer months, as well as a cafe for a spot of lunch. Each day the hotel restaurant serves up hearty dishes; you can work off the food by taking one of the complimentary bicycles out to explore the nearby trails.
budget
The Beach Retreat & Lodge – This hotel features bright, fun and airy rooms which create a relaxing space to unwind after a busy day exploring the area. Located on the beach of the lake itself, the hotel is situated less than half a kilometer away from Bijou Golf Course. Offering great value for money, the family-friendly atmosphere is great for people who want to enjoy a holiday relaxing around the open fire in their hotel room in the winter, or swim in the summer months in the outdoor pool, sipping cocktails at the beachfront bar.
Stateline
Home to five casinos, the Stateline area is all about bright lights and late night fun. Many visitors to the lake travel to Stateline in order to try their luck in the casinos and enjoy evenings eating meals at classy restaurants. Several of the casinos also double as resorts, as they have hotels along with restaurants, swimming pools and ski resorts attached.
There are large resorts situated on the Californian side of Stateline, offering luxury stays for those looking to try out a spot of gambling but looking to return somewhere to sleep in peace and tranquility. Hotels often offer shuttle bus services to ski resorts and casinos, and they also come with essential amenities and luxury services to make your holiday completely stress free.
Best Places to Stay in Stateline
midrange
Hard Rock Hotel – A superb and very comfortable place to stay at Lake Tahoe, a vacation here means you'll be able to enjoy all the amenities that come with the hotel. The hotel's casino is a fun place to spend an evening or two; you can also dine in the delicious seafood restaurant, tuck into steak at the Alpine Union restaurant, and drink cocktails in the bar. Boasting a fun and lively atmosphere with views of the lake, the Hard Rock Hotel is close to the lake gondola as well as Edgewood Tahoe Golf Course.
budget
Lodge at Kingsbury Crossing – Cozy, clean and convenient, this lodge offers friendly accommodation that's a great option for families. Rooms come packed full of home comforts, such as a well-equipped kitchen, dining area, and lounge – alongside an outdoor patio area. As well as the small indoor pool, there's a games room with a pool table, jukeboxes, and outdoor barbeque areas, so everyone can be entertained during their stay. Its location under two kilometers from the lake keeps you close to the action but surrounded by peace and quiet. Staff are on hand to make sure your stay runs smoothly and will answer any questions you have about activities in the area.
Truckee
With its streets dotted with charming historic buildings, and a railway that runs through the center of town, the attractive town of Truckee mixes history with modern ski resort. The beautiful brick buildings house local shops and restaurants with the American flag flying high over the front door.
Truckee has a welcoming, residential feeling, which amalgamates in fun street fairs, markets and classic rodeos. The town is popular with visitors who are in the area to ski and socialize. Because of this popularity, concept stores have found their way into renovated buildings, selling craft beers and healthy snacks to a new generation of locals and annual visitors.
Accommodation in the town comes in the form of luxury lodgings right on the slopes or local hotels in the main part of town where you can stay in historic buildings. If you want to try out hiking in the area, there are walking routes that start in town, or you can catch the bus to other resort towns.
Best Places to Stay in Truckee
Truckee Donner Lodge – Located inside Donner Memorial Park and within walking distance of Donner Lake, this lodge is close to shops and restaurants as well as the highway – perfect if you're arriving by car. After a fun-packed day enjoying the shopping and dining options in the area, return to your room and sink into one of the sofas next to the open fire or warm up in the hot tub. Its large, clean bedrooms come complete with equally large and comfortable beds and pillows. After a good night's sleep, guests can tuck into a continental buffet breakfast.
Best Western Plus – Traditionally decorated in warm neutrals, rooms at this hotel provide a calm environment to spend time relaxing. Situated close to the downtown district, the highway is also nearby, but this means easy access to the lake and surrounding attractions, such as Ponderosa Golf Course. Guests can work out in the hotel gym or swim in the seasonal outdoor pool. Big, hot breakfasts are served up every morning and there's a handful of dining options only a stone's throw from the hotel itself.
Carson City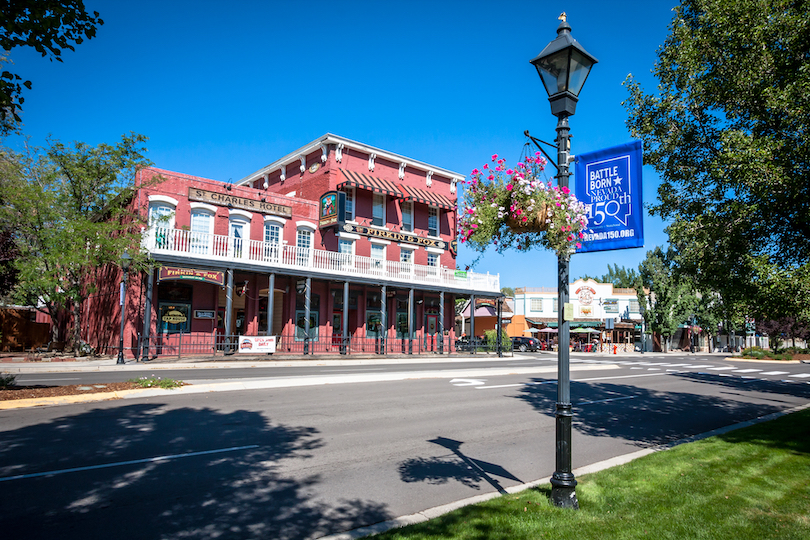 The laid-back capital of Nevada is surrounded by picturesque scenery and is an excellent jumping point to explore what Lake Tahoe has to offer. If you want your break to Lake Tahoe to be action-packed, then Carson City is for you; there is the option to choose from a selection of adrenaline-filled fun; such as hang-gliding, horse riding and kayaking, as well as snowboarding and skiing.
There's also a buzzing nightlife scene in the town with a choice of restaurants and bars providing evenings spent indulging in culinary delights and meeting new people.
It is easy to travel around the city and to nearby local areas via the bus network, or you can rent a car and drive along the beautiful mountain roads. Hotels in Carson City offer a range of choices; from global hotel chains to smaller family-run inns that cater for those interested in budget accommodation.
Best Places to Stay in Carson City
Gold Dust West – Offering a wide range of rooms – from singles to suites with spa baths – this budget option boasts great amenities as well a top location only one minute from Lake Tahoe. Take some time out in the small but clean outdoor swimming pool surrounded by sun loungers and offering views of the mountains, or work up a sweat in the hotel gym. The hotel's main attraction is its onsite casino with over 400 games, as well as its 24-hour restaurant; there's a Mexican eatery, too. There are also some top dining options and shopping opportunities close by.
Carson Tahoe Hotel – A great location if you want to be within walking distance of all of the sights of Downtown, staying here means you'll be next to museums, close to casinos, and only a stone's throw from delicious eateries, as well as the Carson Shopping Center. The homely, traditional decor throughout the hotel creates a comfortable atmosphere and you can choose from one of the various room types to fit your budget and needs. The staff at this hotel are very welcoming and friendly – they are always willing to help guests with local recommendations and tips.
Tahoe City
Bohao Zhao / Wikipedia
Located on the north shore of Lake Tahoe, the small mountain town of Tahoe City has a history that dates back to the gold rush. The modern downtown community is an alluring mix of history, culture and beautiful natural scenery; boasting museums, boutique shopping, family restaurants, and fantastic accommodation. In summer, the town comes alive with concerts and campers who set up their tents on the water's edge.
Spend happy family days jumping from the town's pier into the lake and drying off in the sun on its sandy shores. If camping isn't your thing, then you can choose from charming cabins and lodges with views that look out across the lake.
Where to Stay in Tahoe City
Basecamp Tahoe City – If you're looking for a smart and seriously stylish hotel but are traveling on a budget, this could be the place for you. Decorated in tones of charcoal and dark natural wood, the hotel's lounges are design-based and have a touch of boutique style about them. Rooms come with cool, quirky artwork and warm, trendy fabrics. The location is also fantastic; it's a ten-minute stroll to the beach and the ideal place to get outdoors to enjoy the lakes and hiking trails. Return to the hotel and spend the evening melting marshmallows over the fire pit while enjoying reasonably priced drinks from the hotel bar.
Olympic Valley
UnofficialSquaw / Flickr
Home to the 1960 Winter Olympics, Olympic Valley sits on the banks of the Truckee River, close to Lake Tahoe. This is the place to stay in Lake Tahoe if you want to be among the winter sports action. Accommodation in the area is centered around skiing and snowboarding; hotels offer rooms which are just a short walk away from the slopes for keen sports enthusiasts.
If you want to spend time away from the action of the slopes, you could easily spend days browsing the fashion boutiques and art galleries. Try out a spa treatment or luxuriate in a hot tub surrounded by snow.
There are a choice of dining options and bars for you to relax and unwind in, or it's easy to travel to neighboring towns, as much of the accommodations around the Olympic Valley offer shuttle services to various ski resorts.
Where to Stay in Olympic Valley
Resort at Squaw Creek – Sat in rambling green grounds, this resort boasts a plethora of activities and amenities for guests to enjoy. The various suites on offer come with various views; choose from forests or a valley vista and lap it all up from in front of your own open fireplace. Summer months at the hotel mean enjoying the large outdoor pools shaded by pine trees, listening to live music played poolside. The hotel also boasts its own 18-hole golf course, ski lifts to ski slopes, and an ice-skating rink.
Incline Village
Ken Lund / Flickr
Incline Village is bursting with choice when it comes to outdoor activities; with ski trails, golf courses, a skate park, water sports, as well as the great trails into the surrounding pine forests. All in a town that's situated on the banks of a serene lake, it seems like Incline Village really does have it all when it comes to vacationing on Lake Tahoe.
Well known for being the place to stay for a mountain retreat, the town's many amenities and activities mean there's something for everyone, and makes it a fantastic spot for families. There is also a selection of eateries to try out; offering everything from a casual dining atmosphere to upscale food choices. Don't forget the excellent shopping and spas.
Where to Stay in Incline Village
Club Tahoe Resort – Centrally located close to shops and restaurants, this hotel offers great value for money. The spacious apartments come with a full kitchen and homely living room and are spread across two floors. The warm and welcoming decor creates the feel of a log cabin. Guests can enjoy spending time in the clubhouse – which is great for families – or have fun in the games room together. There's a handy free shuttle service to Diamond Peak ski resort, too.
Kings Beach
Rojer / Flickr
A fun beach vibe makes King's Beach a charming place to stay on the lake. The allure of King's Beach is its unchanging, easygoing atmosphere set alongside historic buildings, a fun dining scene and trendy shopping. Life in the town is centered around the lake, and summers are spent on its shores, kayaking, paddle boarding or swimming in the cool, crystal-clear waters. There's also the chance to rent a mountain bike, or try out hiking in the mountains along the trails.
The beach is a popular spot on a sunny day for groups of family and friends to hang out together with picnics and barbecues. Stay in one of the locally owned hotels which have been a mainstay of the town for decades, or for something a little more modern you can choose one of the newly built hotels.
Where to Stay in Kings Beach
Ferrari's Crown Resort – This family-run hotel has been in operation since 1957 and is an enjoyable place to spend your holiday. The rooms may be a little small and basic, but the location of the hotel makes it an enticing place to stay. Featuring its own private beach – located next to Kings Beach – it's close to top restaurants, ski resorts, hiking trails, and casinos. This is a fun and easygoing place to stay for people who want to spend their time making the most of the amazing outdoors activities on offer.
Homewood
Located on the West Shore of Lake Tahoe, Homewood is the perfect destination for a quiet mountain getaway. The friendly area boasts incredible views across the lake and excellent slopes for first-timers and families. Staying in Homewood means fun and enjoyable times outdoors in the mountains with family and friends.
The best thing about staying in this peaceful spot is the lakeside après; sip on cocktails by the shore and enjoy dinner with breathtaking views of the lake. Where better to stay than in a family lodge with a warming fire and easy access to the slopes.
Where to Stay in Homewood
Cedar Crest Cottages – Choose from one of the large cottages on offer and spend your holiday enjoying quality time with your family or spending time with your partner on a romantic getaway. The cottages feature open fires and are decorated in rustic, warm colors. Make meals in your own well-stocked kitchen and enjoy dinners together around the large dining table. Spread over two floors, the cottages are well-maintained and immaculately clean. There are sublime views of Lake Tahoe to soak up and a handy free shuttle bus that connects to Homewood ski slopes – located less than a mile away.
Tahoe Vista
If you love beach life then you should stay in Tahoe Vista. With a nice sandy beach, great facilities and the chance for a barbecue, this is the ideal area for families who love to be in and around nature. Boating is big on this part of the lake and there are many options for hitting the water for a cruise; there's even an annual wooden boat show that takes place here.
But it's not all about summer activities; as winter comes, the ski resorts hot up, and with 10 ski resorts within easy reach of Tahoe Vista, there's plenty of opportunities to sample the snow.
Sleep in one of the cozy wooden huts situated along the bay or nestled in the woods, with nature on your doorstep. There is parking close to the beach, or to get around you can take the bus to other nearby towns.
Where to Stay in Tahoe Vista
Mourelatos Lakeshore Resort – What more could you want than a place to spend time amidst the beauty of Lake Tahoe? This hotel is set on 275 feet of private beach; rooms feature lake views that are stunning in any season. Decorated in cozy cabin style, with high wooden ceilings and big beds, each suite comes with its own kitchen. Make the most of having prime views of the lake, cooking up a storm on the barbecue, or getting cozy around a fire pit. In the summer, there's an ice cream shop and kayaks to explore the lake itself.